Vegan Sloppy Joe Tacos sound unusual don't they? They are! Easy, unusual and delicious and it will all take you under 20 minutes. Just hold these not too sloppy tacos over your plate and take a big bite.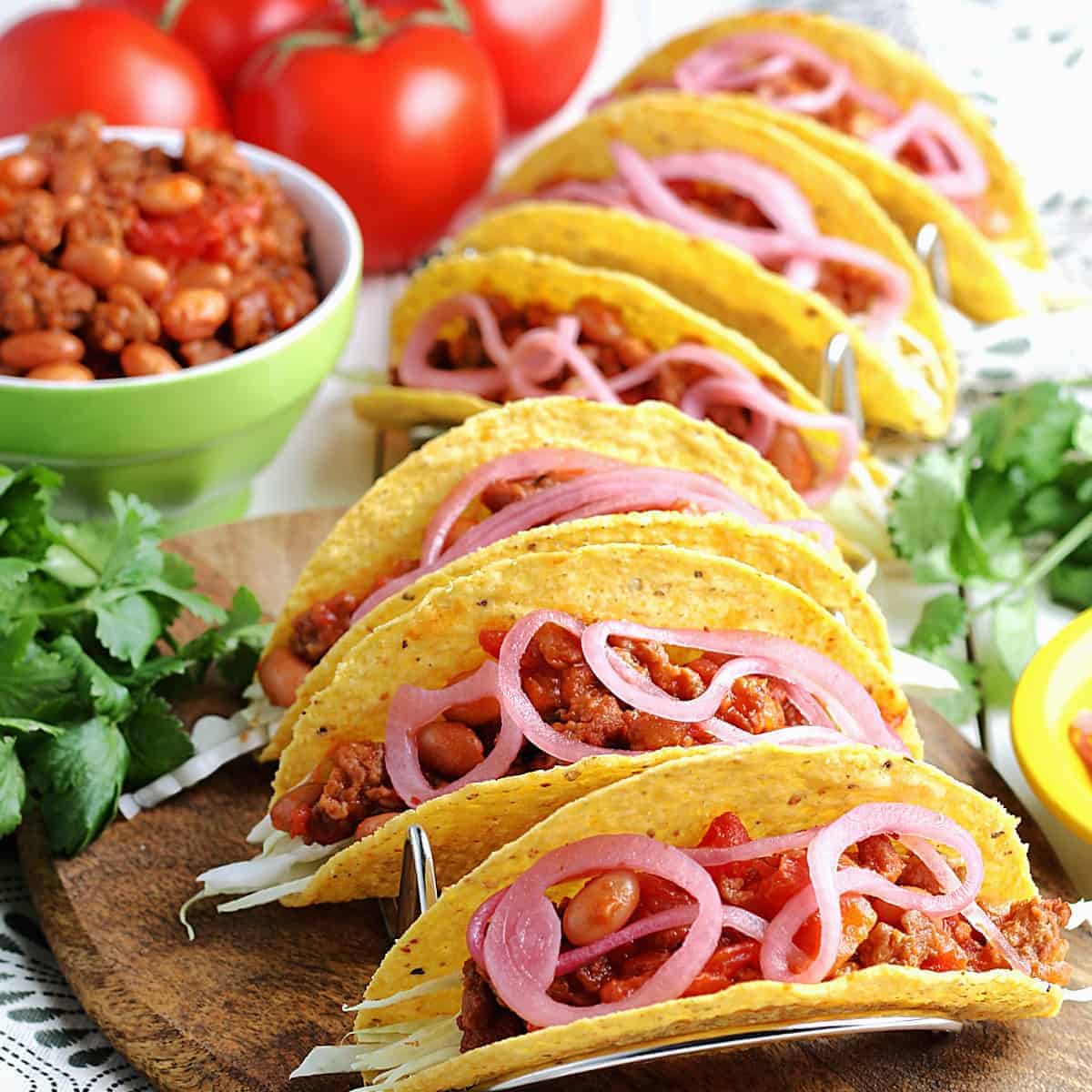 These Vegan Sloppy Joe Tacos have a tangy taco filling that comes from a few very unusual ingredients. It's based on the original sloppy joe recipes but with some Mexican style spices added. You've got to check it out!
Not only that, down below, I have included some solid information on throwing a Taco Party. There would be a full buffet with a variety of food and drinks.
Tacos are good - all the time. The weekly Taco Tuesday tradition is such a smart idea. Handy little corn tortillas filled with an array of veggies and sauces is a dream come true.
This time I used a ground plant based 'meat' substitute. I have also used Gardein's frozen crumbles and that was delicious too.
I first put this recipe on the blog in 2013 and have had made it several times using some of the new products that have come out since then. There is such an array to choose from and everybody has their favorite.
You can buy store bought varieties, already crumbled, or buy your favorite product and crumble it yourself. Don't forget you can always make your own seitan too.
The older photos are way down at the bottom of this page. I actually like them but I wanted to update this post with a few process photos.
Ingredients
Beefless ground beef is the first main ingredient and it plays well with others.
Extra virgin olive oil
Pinto beans is the bean of choice and blends well with the strong flavors.
Tomatoes cook up really well with the added spices.
Salsa is for even more contrasting flavors. Serve it as hot as you think your family and/or friends would like.
Red wine vinegar is for a little bit of tangy flavor that mellows with the other ingredients.
Vegan Worcestershire sauce is easy to find nowadays.
Coconut sugar mellows out the red wine vinegar.
Taco shells
Cabbage or coleslaw or lettuce is for an addition to filling up the shells.
Easy instructions
This recipe is happily a one skillet recipe where all you have to do is add all of the ingredients to a pan and cook for a few minutes.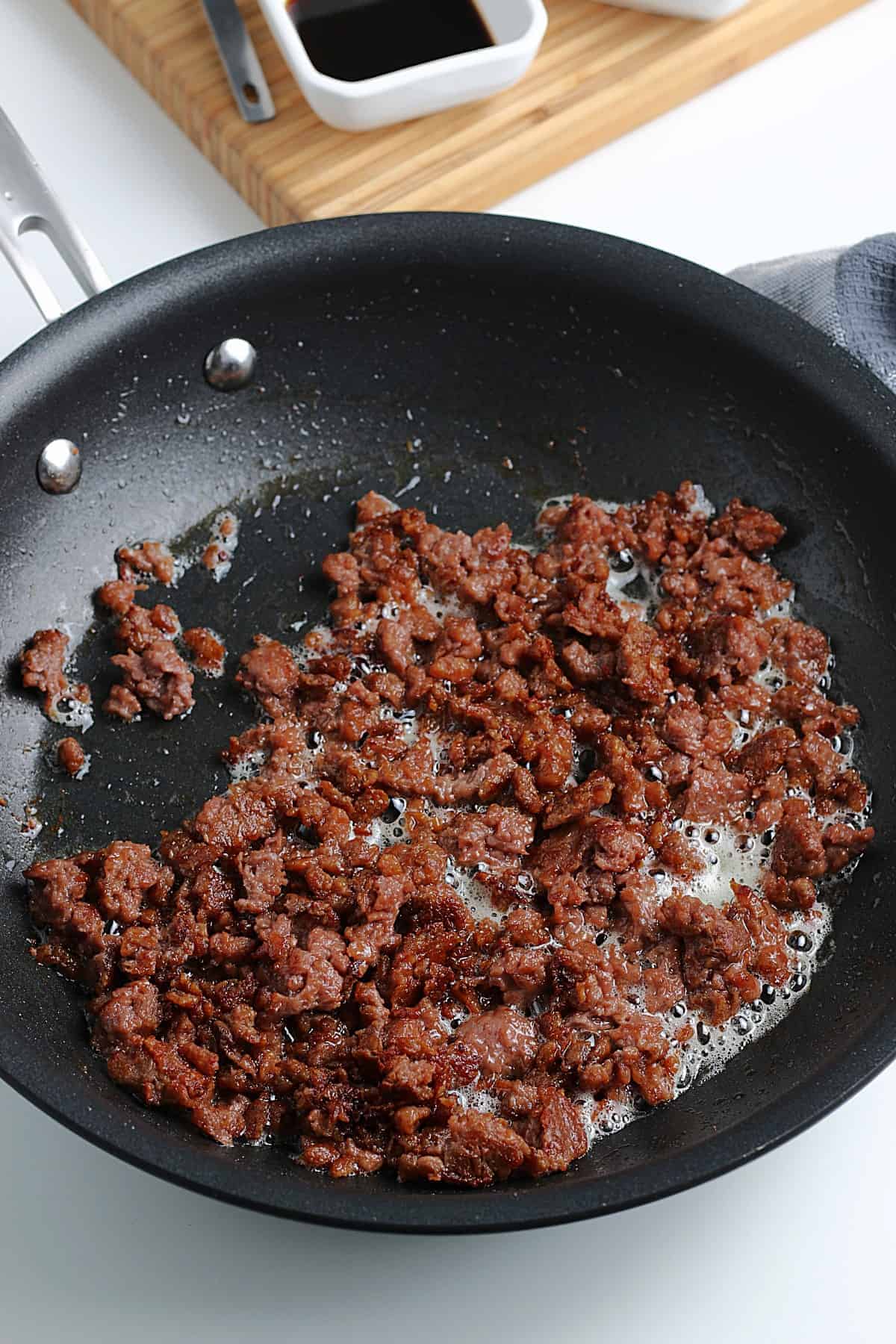 Plant based 'meat' does need oil so add the oil to a pan over mediun high heat. Then start to brown the crumbles.
Add all of the ingredients except the shells and cabbage.
Make sure the heat is on medium to medium high and cook for 15 minutes. This is enough for all of the ingredient flavors to meld together. That's it! Stuff those taco shells, eat and even throw a party!
Fiestas are also a really fun theme to plan for a party. Use your most colorful plates and napkins. A big pitcher of margaritas for adults and a pitcher of lemonade slushies for the kiddies would be a perfect party.
Why not have two different taco choices but just make sure Vegan Sloppy Joe Tacos is one of them. It has a unique flavor and people love them.
Shredded cabbage mix makes this taco assembly really easy. For some reason the combination is super good together. You can add a whole lot more shredded cabbage to your taco too.
Just hold it over your plate and eat up.
How to throw a taco party
To set the stage have colorful props. Placemats, napkins. streamers, glasses, pitchers, bowls and plates. Anything you can think of.
A variety of finger foods to compliment the food such as Easy Pickled Carrots and Hot Pinto Bean Dip. Serve the dip with veggies and tortilla chips. Remember, everything in colorful bowls.
It's amazing how Mexican style recipes all seem to go together. Spanish Rice with Pinto Beans would be a good side dish and don't forget the Refried Beans. These are from the slow cooker.
Ice cold beer is always welcome and helps cool off the hot spices in so many of the dishes. There is also a very fun drink to make that's called a Michelada. Beautiful to look and and delicious to drink.
Besides these Vegan Sloppy Joe Tacos you might want to have a big pile of pre-rolled burritos all ready to go. Something like these Slow Cooker Black Bean Burritos.
Three different salsas with different temperatures of spicy heat will be appreciated.
Something sweet for dessert would make everyone happy and these Mexican Wedding Cookies would be perfect.
FAQ's
Can I use plant based sausage?
Yes, any variety that you like. Chop finely and precook in the pan as you would Impossible ground burger.

If it's the 'sausage' that needs a quick heating through such as Field Roast's breakfast links then you can cook them at the same time with the other ingredients.
Can I add regular lettuce and tomato slices?
Yes! You can add any ingredients that you usually like on a taco.
More tacos for more good eating
📋 Recipe
Vegan Sloppy Joe Tacos
Vegan Sloppy Joe Tacos are unusual and delicious and they will take you under 20 minutes
Ingredients
10

ounces

beefless ground beef, about 10 ounces

1

tablespoon

Extra virgin olive oil

15

ounces

pinto beans

- drained

18

ounce

diced tomatoes

½

cup

salsa, your favorite

2

tablespoons

red wine vinegar

1

tablespoon

Worcestershire sauce

- make sure you get a vegan variety

1

tablespoon

coconut sugar
Extras:
8

taco shells

1

cup

cabbage
Instructions
Heat the oil over medium high heat.

Place in the beefless ground beef and brown.

Add the beans, tomatoes, salsa, reds wine vinegar, Worcestershire sauce, and coconut sugar. Heat to medium/medium high.

Cook and stir occasionally for 15 minutes.

Serve on taco shells. I kid you not!
IF SERVING NOW or in a COUPLE OF DAYS:
Heat through right before serving. I put the cabbage in the shell first. Then scoop in as much filling as you like leaving room for avocado and maybe some onions. Anything you like.
Notes
IF FREEZING:
Let cool to room temperature and then pack in rigid sided freezer safe containers.
TO PREPARE AFTER FREEZING:
Remove from the freezer and put in the refrigerator a few (4 to 6) hours before serving. Put the filling in a saucepan to heat through and serve.
Nutrition
Serving:
1
Taco
Calories:
223
kcal
Carbohydrates:
30
g
Protein:
13
g
Fat:
6
g
Saturated Fat:
1
g
Trans Fat:
1
g
Sodium:
328
mg
Potassium:
526
mg
Fiber:
8
g
Sugar:
4
g
Vitamin A:
165
IU
Vitamin C:
10
mg
Calcium:
67
mg
Iron:
4
mg