Massaged Kale Salad with Lemon Tahini Dressing is fresh & satisfying. Kale is massaged to tenderness & then combined with flavor & contrasting textures.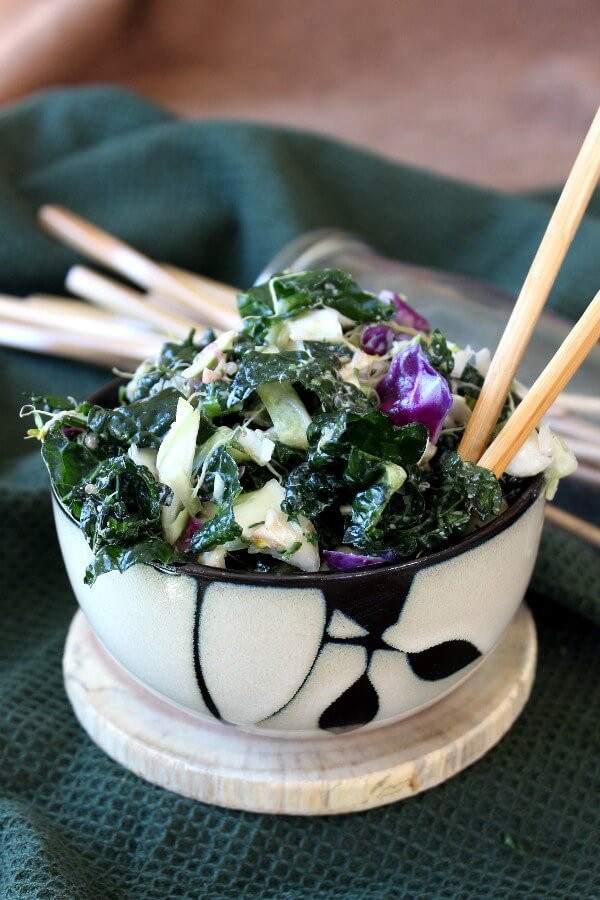 Where had kale been hiding while I was growing up! I 'd never heard of it before about 10 years ago in any form let alone as a very versatile and healthy food.
You guessed if. It had been in Europe and even as far back as the Ancient Greeks. One of the reasons it has been around so long beside tasting good it's that it will grow in freezing temperatures. And it grows abundantly.
Isn't that nice. We won't hear about how we're wiping out a region half way around the world just so we can have it. We can grow it in our yards and that means in the Northwest and Northeast. Everywhere.
It turns out there are about 14 different kinds too. Most aren't so perfect right off the plant though. There are ways to make it tastier.
Cooking is one way and my nephew cooked us an amazing black eyed peas, brown rice and kale dinner last week. It was so so good. He's only 17 by the way.
He had to choose 5 fresh ingredients and make a meal out of it and video and edit it! OMG! School nowadays! I just know he's going to get an A.
Oops, back to kale. Another popular way is raw as in salads. That is what this article is all about. A delicious raw massaged kale salad with the right preparation.
You see kale really doesn't taste that good as it's a litter bitter and well, tough. I'm going to tell you, just a little bit below here, how to make it perfect, raw, just like the best restaurants.
Another huge kudos for kale is that it is over-the-top healthy! It's low in calories and has no fat. There are plenty of nutrients like iron, Vitamins A, C, K and calcium.
It's also great at detoxing. So that makes it's doubly advantageous in smoothies. P.S. I've got to get one of my delicious kale smoothies on the blog. Coming soon!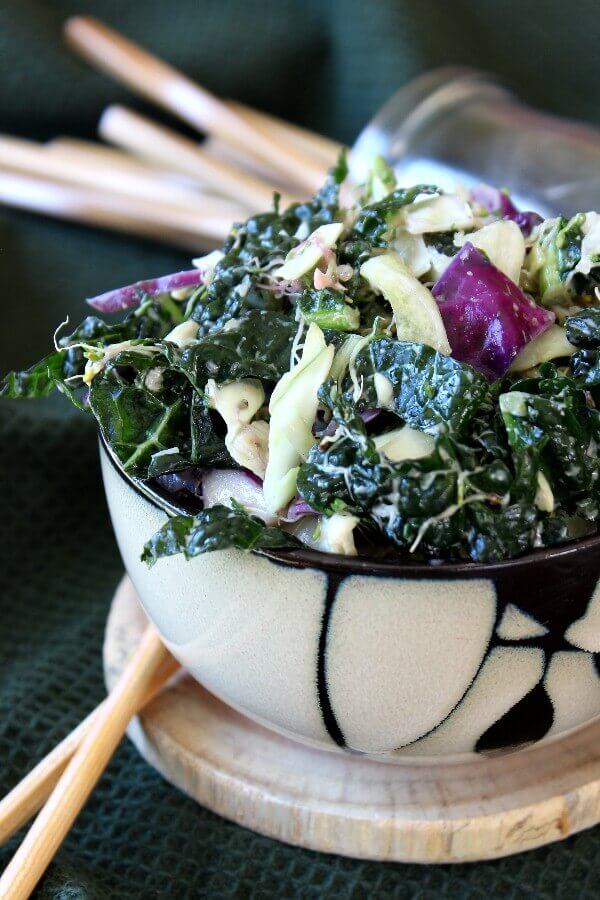 So let's get to some of the preparations for beautiful kale.
How Do You Remove the Stems From Kale?
The tough ribs need to be removed. A super simple way to do this is to fold your kale in half right down then stem.
Take a sharp knife and slice just to the side of the stem.
Start at the top and come on down to the bottom of the leafy part and cut that stem away. Beautiful! No holes anywhere and no tears.
Some people tear the leaves off the stem but it takes longer and it looks messy. You'll probably have holes in the leaves.
So I prefer the single cut per leaf and done.
Now is the time to chop up or slice the kale. As you can see in the photo that I sliced the kale for this recipe. You don't want too big of pieces.
Cut crosswise, not lengthwise. The pieces will be better, smaller, for the salad.
When you slice you get pieces about 3 inches to 4 inches long because the stem has been removed. And after massaging the size shrinks some more. Sometimes even as much as half.
Yes, you massage. It's important for fresh kale. It may sound crazy but if you want to enjoy raw kale in it's very best state you need to massage it.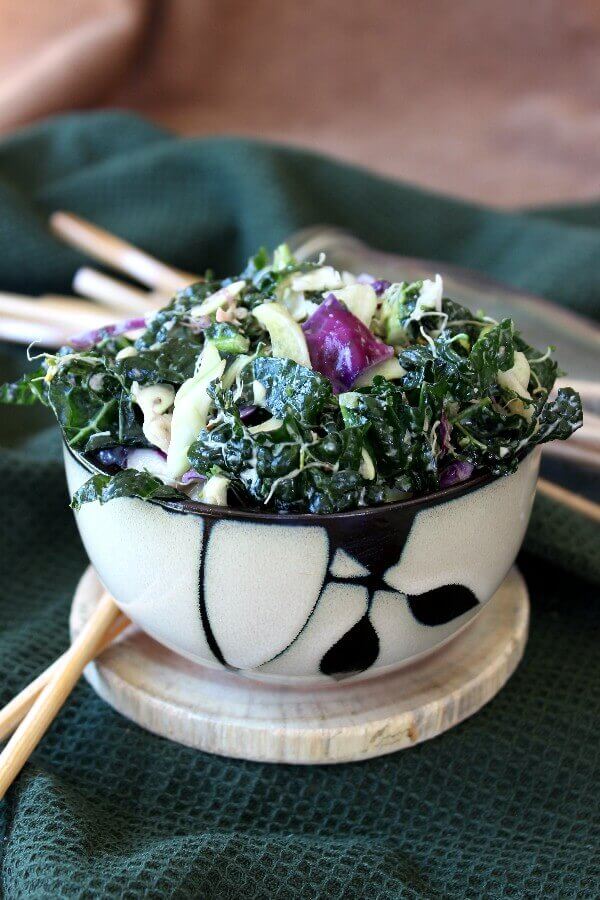 What Kinds of Kale are There?
As I mentioned up above there are about 14 different kinds. I mostly find two different varieties in the grocery store.

Curly Kale is the most common. It's so pretty and a bright green.

Lacinato Kale (Dinosaur Kale) looks like deep purple/green and very much how we would think dinosaur skin (scales?) look.

Some others are Red Russian, Chinese Kale (tastes really good), Redbor Kale and ones that are ornamental. If they are in the produce department you can bet they're eidble.
How Do You Massage Kale?
There is a simple technique to your Massaged Kale Salad!
You can't get your thumb on a certain spot and push hard but you can get a clump between your fingers and squeeze.
Not too hard. There's no deep muscle here but there are a lot of leafy greens that break down beautifully with a little oil or fat (the good kind) added. Just like your skin. A little oil goes a long way in manipulating the tissue.
So dab on some avocado oil or extra virgin olive oil onto you kale and squeeze and rub and squeeze and rub.
Keep going for a very few minutes and you will have lovely tender kale. It's up to you how tender you like it. I massaged for about 2 minutes for this recipe.
Fresh salads are such treat. They add year-round diversity to meals and some salads are even full meals. I'll have Broccoli and Apple Salad for dinner and often I'll have this Massaged Kale Salad for lunch.
Vegan Apple Broccoli Salad has everyone's favorite vegetables and fruits. Everything goes in a bowl and then you pour on the slightly sweet and tangy dressing. Take a look below!
I'm not in the mood for broccoli salad today though. I want some perfectly dressed kale and veggies for lots of flavor, fiber and tons of potassium. I mean who needs a banana when you've got a nice bowl of food that will completely fill you up.
📋 Recipe
Massaged Kale Salad with Lemon Tahini Dressing
Massaged Kale Salad with Lemon Tahini Dressing is fresh and satisfying.

Ingredients
Salad Ingredients:
4- 5

cups

kale, stemmed according to instructions above

1

tablespoon

avocado oil, if you don't wish to use oil you can use tahini instead

½

cup

purple cabbage, sliced thin or chopped

½

cup

green cabbage, sliced thin or chopped

2

ounces

alfalfa sprouts

2

tablespoons

homemade vegan parmesan cheese
Dressing Ingredients:
½

cup

tahini

¼

cup

water

3

tablespoons

lemon juice

1

tablespoon

maple syrup

1

clove

garlic, minced

¼

teaspoon

salt

pinch

cayenne pepper
Instructions
For The Dressing:
To a medium bowl add all of the dressing ingredients together and mix well.

Taste and see if you would like a little more salt. Maybe another tablespoon lemon juice. You may also want 1 to 2 tablespoons more water. It really depends how oily and wet the tahini was. Set aside while you're making the salad.
For the Salad:
After the kale is stemmed cut in strips across the width of the kale, you can also chop it in small pieces.

In a bowl add the kale and 1 tablespoon of avocado oil. If you'd like to skip the oil you can absolutely use a couple of tablespoons of tahini. It will work great for massaging, it will just be a bit messier.

Get you hands in there and start to massage the kale pieces. Squeeze and scrunch and squeeze and scrunch. Do this for about 2 to 4 minutes or until it is the softness that you like. The kale will shrink.

Add cabbage, alfalfa sprouts and dairy free parmesan cheese..

Pour about half of the prepared dressing over the salad and lightly toss. Add more dressing as to your taste. Ready to serve.
Nutrition
Serving:
1
Serving
Calories:
273
kcal
Carbohydrates:
15
g
Protein:
8
g
Fat:
12
g
Saturated Fat:
1
g
Sodium:
170
mg
Potassium:
352
mg
Fiber:
2
g
Sugar:
4
g
Vitamin A:
2265
IU
Vitamin C:
41.7
mg
Calcium:
105
mg
Iron:
2.1
mg