Vegan Parmesan Cheese enhances so many dishes. There are only four ingredients and it only takes about 5 mins. Sprinkle it on pasta, soups, salads and more.
How to Make Vegan Parmesan Cheese is a talent that can be yours in minutes.  It enhances so many dishes as I am sure you can remember how regular parmesan cheese did in the old days. This recipe is so simple yet so useful.
There are only four ingredients and is complete in about 5 minutes.  You can sprinkle it on, at least,  pasta and soups. I love sprinkling quite a lot of it into my salads.  That sounds good!  I have to have a salad tomorrow.
I would love to hear how you would use vegan parmesan cheese.  Leave a comment below so I can make notes.  You aren't really suppose to eat if off a spoon but it is pretty good.
Connect with Vegan in the Freezer
Facebook   |   Pinterest   |   Instagram   |   Bloglovin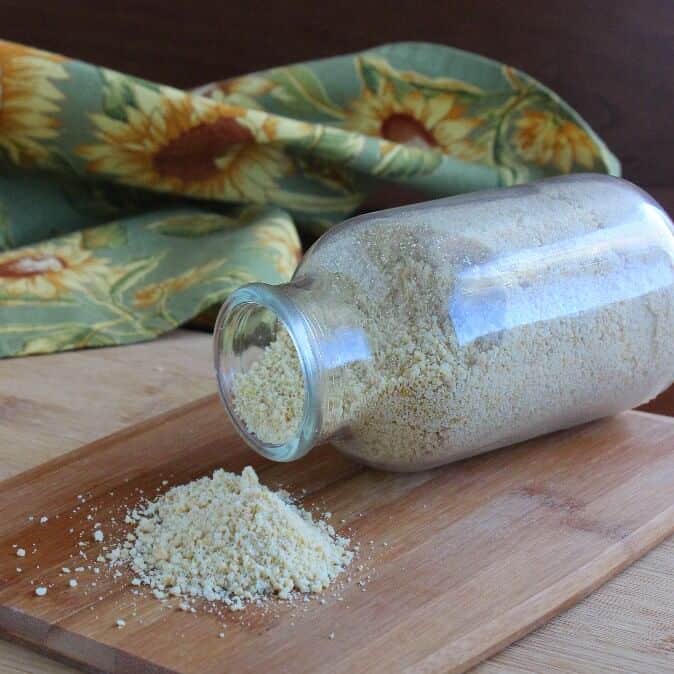 How to Make Vegan Parmesan Cheese
Instructions
Add all of the ingredients to a food processor.

Pulse until a fine crumb mixture forms. Literally seconds.

Use in just about any savory dish you can think of.
Recipe Notes
Keep in the refrigerator for about a month or keep in the freezer in a freezer container for up to 12 months.