Vegan Muffins Chocolate Chips with Macadamia Nuts are irresistible vegan breakfast muffins or afternoon snack! Deliciously moist and tender with everyone's favorite ingredients making the perfect flavor combination. A must-try recipe!
The soft and almost creamy texture of Macadamia nuts paired with semi-sweet dark chocolate makes the perfect combo to create the tastiest muffins.
The only regret you'll have making these muffins is that you wish that you made a double batch because they go too quickly!
Luckily they are super easy to make—these muffins can grace your table in 30 minutes!
Macadamia nuts facts
In case you never tried them before:
These pale, yellow-white round seeds have a rich buttery flavor. Probably due to their high content of healthy fats.
They are deliciously creamy, slightly sweet but with a subtle salty aftertaste.
Their texture is almost soft but still mildly crunchy!
They not only taste nourishing but are extremely satisfying as a snack.
And are out of this world when combined with chocolate to make a baked treat.
They are an Australian native.
Macadamias have to be imported from particular regions of the world.
We can't grow them here in America with Hawaii being the only exception.
They are also only harvested when ripened and fallen off the tree.
A single tree produces only a small number of these nuts per season making them even harder to get.
They are also hard to prepare before being able to sell them. They literally are one of the hardest nuts to crack.
I also have to add that they are irresistible!
🔪 Instructions
Just gather together the wet and dry ingredients. It just takes minutes.

Quickly mix together all of the ingredients EXCEPT the chocolate chips and macadamias.

Next just fold in the nuts and chocolate. The batter will be full of the extra ingredients and will already be looking very very delicious.
Now you're all set to fill up the prepared baking tins. I used one large 12 cup holder but two six-cups work just fine.
You can also use muffin cups but I choose to lightly spray the tins with organic olive oil. You can see that the cups are pretty full with batter. About ¾ full.
Vegan Muffins Chocolate Chips with Macadamia Nuts will puff up nice and full.
Bake and all is perfection. As you can see they have a little darker color from the coconut sugar. The flavor is exceptional.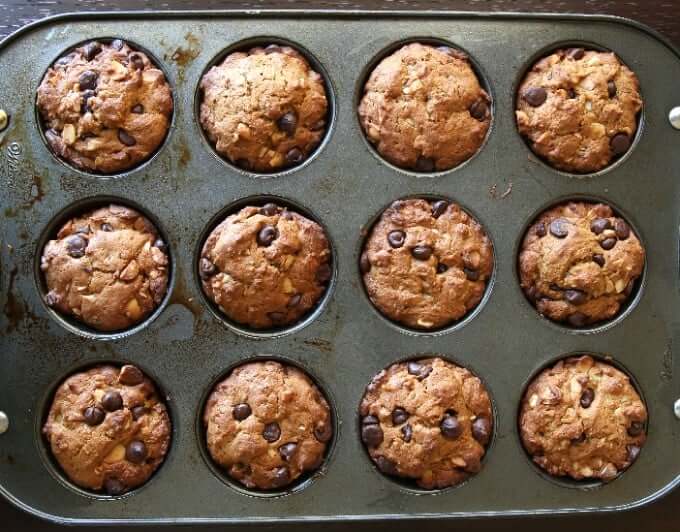 I am pleased to announce that I found macadamia nuts in a larger bag over at my local Ralph's grocery store. They are also Kroegers and Smith's and I can't think of what other stores are in the Kroeger conglomeration but there are more.
But what I'm getting at is that the price is better than it used to be. Before, it was always in a smaller jar for lots and lots of dollars. I'm snacking on them much more freely than I used to.
📖 Breakfast muffins
Healthy Morning Muffins really are over-the-top healthy and still taste great!
Are Apricots one of your favorites. Well, dried apricots are wonderful in these Vegan Apricot Muffins.
I'd better do a 'Best Morning Muffins You've Ever Had' Roundup because I just counted sixteen recipes on the blog. Ha! And they're all very different. Here's one more for you - Cinnamon Apple Crisp Muffins 🙂
I put 6 muffins in the freezer as soon as they cooled off and Ed finished the last one last night. Looks like I'll be taking them out in a week or so. Thank goodness there were twelve.
So let me know how yours turn out. And don't forget to indulge in one when it's warm and straight from the oven! Slathered with dairy-free butter is really delicious too.
📋 Recipe
Vegan Chocolate Chip Muffins with Macadamia Nuts
Vegan Chocolate Chip Muffins with Macadamia Nuts are an irresistible breakfast treat or afternoon snack!


Ingredients
2

cups

whole wheat pastry flour

¾

cup

coconut sugar

1 ½

teaspoons

baking powder

½

teaspoon

baking soda

½

teaspoon

salt

1

egg replacer

I use chia eggs or flaxseed meal egg

½

cup

dairy-free milk

½

cup

dairy-free butter, melted

1

cup

chocolate chips

¾

cup

macadamia nuts, chopped
Instructions
Lightly oil 12 muffins cups and set aside.

Mix your egg replacer with the required measurement of water and set aside.

In a large bowl add the flour, sugar, baking powder, baking soda and salt. Mix together.

In another bowl mix together the wet ingredients - the egg replacer mixture, dairy-free milk and melted dairy-free butter.

Add to the dry ingredients and mix until just combined. Add the chocolate chips and macadamia nut and fold in until combined.

Divide evenly among the 12 prepared muffin cups.

Bake at 350° for 15 minutes or until a toothpick inserted in the center comes out clean.

Let cool a few minutes before removing to cool completely on a rack.
Notes
TO FREEZE:
After they have cooled you may freeze them in any of the methods shown in my article How to Prepare Food for the Freezer
They defrost quickly so it really doesn't take any planning. The microwave will also zap them in 20 seconds.
Nutrition
Serving:
1
Muffin
Calories:
220
kcal
Carbohydrates:
35
g
Protein:
4
g
Fat:
16
g
Saturated Fat:
2
g
Cholesterol:
3
mg
Sodium:
235
mg
Potassium:
154
mg
Fiber:
3
g
Sugar:
16
g
Vitamin A:
395
IU
Vitamin C:
0.2
mg
Calcium:
53
mg
Iron:
1.3
mg