Vegan Apricot Muffins have little bits of sweet dried apricots inside and it makes all the difference in the world. Simple and satisfying.
Vegan Apricot Muffins are one of my husbands' favorites and it was a surprise to me.
We never have apricots in the house, either fresh or dried because he has a problem trying things that are 'new'.
So I borrow the trick used by many mothers and sneak veggies and other not so loved ingredients into treats. I don't usually get away with it but this time it worked like a charm.
They went fast and I am thrilled. I love to cook and bake and make my husband happy so any food that disappears so quickly is a definite keeper. I aim to please.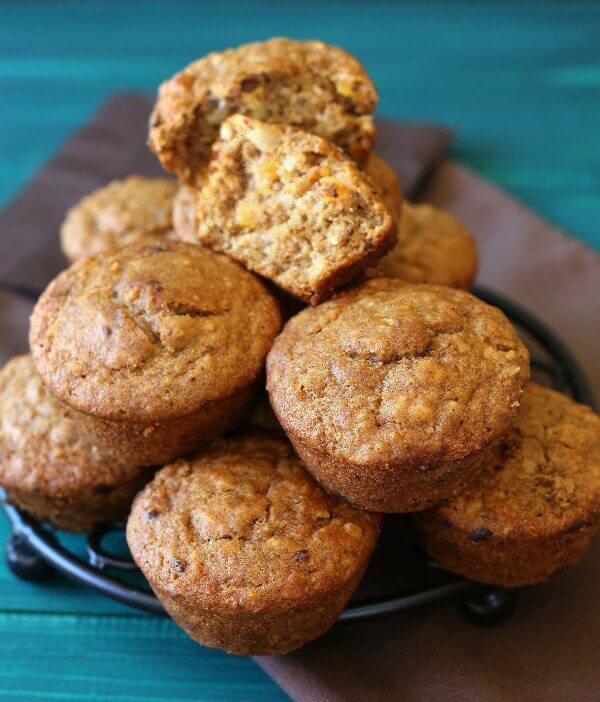 Another trick I use with some dried fruits is that I pulse them in a food processor. It chops them up nicely to give you the flavor without getting a big chunk.
Pulse as long as you like for the size that you like.
Of course, if you want to make Chunky Apricot Muffins - then chop them by hand. I am sure they would be great too.
Vegan Apricot Muffins are not too sweet so you can enjoy fruit rich muffins as is or slather some jam on for an extra treat.
Sometimes it's fun to have two different types of muffins on the table. Black Forest Cherry Muffins would make for a great duo.
Let me give you a quick pic.
Both are so simple to make it doesn't take much more effort at all. Two muffins recipes with different fruit as the star.
I used chia seed meal for these Vegan Orange Pecan Muffins and I do prefer the meal to the seeds.
How Do You Make Chia Seed Meal for an Egg Substitute?
There are white and black chia seeds on the market. You can use either one.
To get an instant egg, use the chia seed meal and not the seed. Lately, I found smallish packages with ground chia seed but if you can't find it then you can simply make your own.
The way you make meal/flour is by grinding the chia seed in a processor such as one for your coffee beans or a spice grinder.
I use mine to strictly grind seeds so that I do not mix flavors. Grind until it is a fine meal.
I do about 4 ounces at a time and keep it in a little freezer safe canning jar - in the freezer.
When I need a tablespoon or so it is all ready to go.
One egg equals one tablespoon chia seed meal and 3 tablespoons water. MIx together and it gels in seconds.
Vegan Apricot Muffins are also a perfect brunch option.
📋 Recipe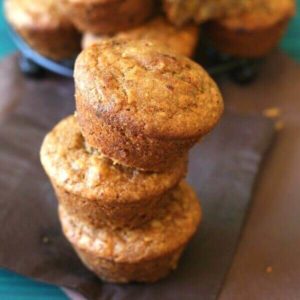 Little Bits Apricot Muffins
Apricot Muffins have little bits of sweet dried apricots inside.
Ingredients
1

tablespoon

egg replacer

mixed with 3 tablespoons water, I used chia seed meal

1 ½

cups

whole wheat flour

½

cup

all-purpose flour

1 ½

teaspoons

baking powder

1

teaspoon

baking soda

½

teaspoon

sea salt

1

teaspoon

ground cinnamon

½

cup

brown rice syrup

¼

cup

maple syrup

¾

cup

almond milk

plus 2 tablespoons

¼

cup

olive oil

1

cup

apricots

dried, finely pulsed in a food processor

½

cup

almonds

finely chopped or pulsed in a food processor
Instructions
Preheat oven to 425°.

Lightly oil muffin tin for 12 muffins.

Mix egg replacer and water and set aside.

In a large bowl, combine flours, cinnamon, baking powder, baking soda and salt.

Add to the dry mixture - syrups, milk, oil, egg replacer and stir just to combine.

Add the apricot and almonds.

Stir until just combined. Do not overwork.

Bake at 425° for 15 to 20 minutes. Until a toothpick inserted in the middle comes out clean.

Let set for 10 minutes. Remove to wire rack to cool.
Notes
TO FREEZE:
After they have cooled you may freeze them in freezer bags or containers.
They defrost quickly so it really doesn't take any planning. The microwave will also zap them in 20 seconds.
Nutrition
Serving:
1
Muffin
Calories:
211
kcal
Carbohydrates:
33
g
Protein:
4
g
Fat:
8
g
Cholesterol:
3
mg
Sodium:
224
mg
Potassium:
205
mg
Fiber:
2
g
Sugar:
14
g
Vitamin A:
255
IU
Vitamin C:
1.3
mg
Calcium:
83
mg
Iron:
1.1
mg