California Lentil Panini Burgers is enticement with a twist. Patties are cooked in a panini press before being rolled up as a wrap.  You deserve a great meal!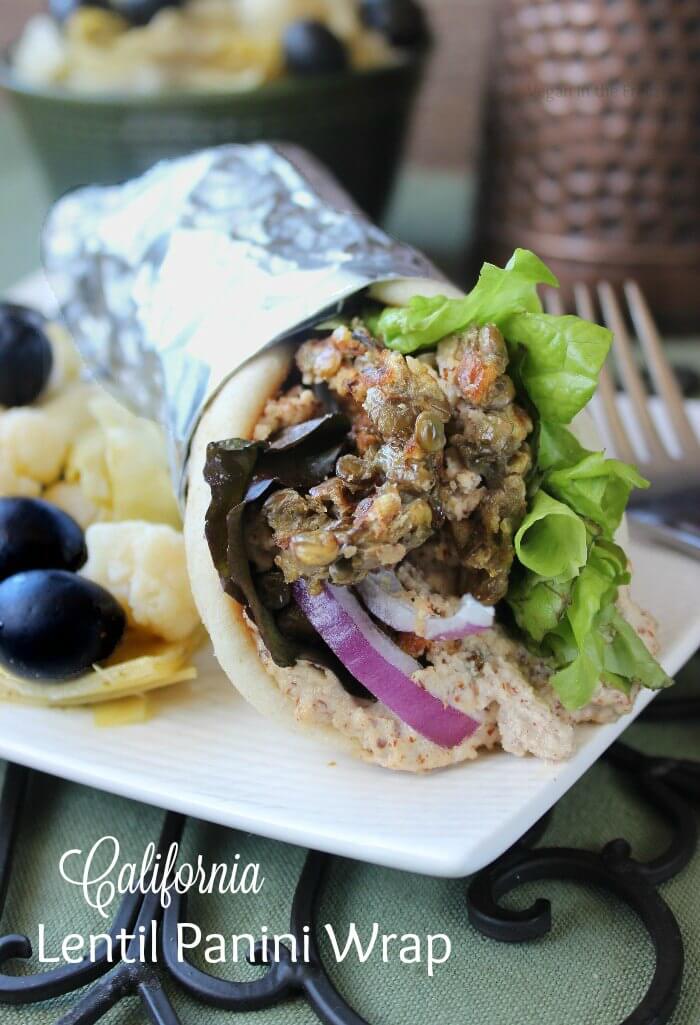 Have you noticed all of the pita pockets that don't have pockets in the stores nowadays? Yeah, they're pocketless pitas and they are stacked high on the shelves.
I kind of love them.  They are soft and rollable and make a really nice wrap.
This recipe was actually the absolute very first recipe that I ever put on my blog. It is so good that I wanted to bring it up to date and bring it back into the light.
The stack of panini pressed patties, in the photo below, is from that original post.  Because of the thinness of the patty there is a lot of crispy texture and they roll up beautifully inside of the pita.
My panini press does not get out enough and I need to remember it more often. It pressed and cooked these patties, on both sides, all at the same time so that little appliance deserves some love.
Lentil Panini Burgers has wonderful flavors and I dress it up with Homemade Almond Mayonnaise.  Try to have this on hand for the sandwich if you can. It is so good and versatile.
Connect with Vegan in the Freezer
Facebook | Pinterest | Instagram | Bloglovin
Lentil Panini Burgers
California Lentil Panini Wrap is enticement with a twist.
Total Time
1
hour
25
minutes
Ingredients
16

ounces

brown lentils

dried, rinsed

8

cups

vegetable stock

1 1/2

cups

freshly made breadcrumbs

2

egg substitutes

packaged or prepared from scratch

5

garlic cloves

finely diced or pulsed in food processor

1

green chili

finely diced or pulsed in food processor

1/4

red onion

finely diced or pulsed in food processor

2

teaspoons

Worcestershire sauce

1

teaspoon

dried marjoram

1

teaspoon

salt

1/2

teaspoon

pepper

4

tablespoons

olive oil
Instructions
Put the rinsed lentils in a large saucepan and pour in the vegetable stock. Bring to a boil and then turn down the heat to medium. Cook about 20 minutes or until the lentils are tender. Drain and put in a large bowl to cool.

While the lentils are cooking make breadcrumbs in a food processor. Set aside.

Prepare the two egg substitutes and set aside.

Finely dice the veggies, all together, in a food processor. Pulse them for less than a minute until they are very very fine.

To the large bowl that is holding the cooked lentils add breadcrumbs, egg substitutes, diced garlic, green chili, onion,Worcestershire sauce, marjoram,salt and pepper.

Combine well.

Lightly oil the panini grill with the oil.

Turn on the grill to heat.

Roll some of the lentil mixture into a ball and flatten slightly. Place in the center of the hot, oiled panini grill. Press down the lid to help flatten out the patty and cook for about 8 minutes. Check because some of the panini presses do have different temperatures. Mine has only one.

Cook all of the patties, oiling the grill in between when necessary.
Recipe Notes
FREEZE:
At this point you can freeze the patties. They will also keep in the refrigerator for 3 days.
EAT NOW:To prepare put the lentil patties on your favorite bread. As I stated above, I used pocketless pitas. You can heat the pitas in a microwave for a few seconds to make them even more pliable. You could also use tortillas or serve flat on a bun. Add lettuce, onion and you favorite condiments.
TO PREPARE AFTER FREEZING:
Defrost the patties in the refrigerator for about 4 hours. To heat you can zap them in microwave for about 30 seconds or heat quickly in a nonstick pan. All set and ready to eat.
Nutrition Facts
Lentil Panini Burgers
Amount Per Serving (1 Panini)
Calories 333
Calories from Fat 63
% Daily Value*
Total Fat 7g 11%
Sodium 1204mg 50%
Potassium 452mg 13%
Total Carbohydrates 59g 20%
Protein 15g 30%
* Percent Daily Values are based on a 2000 calorie diet.