Lemon Poppy Seed Cookies have a mild lemony flavor that will wake up your taste buds. Easy cookies that will have you licking your lips for more.
If you've never had lemon cookies before you are in for a real treat. These cookies are slightly crispy on the outside and soft on the inside.
The lemony flavor is mild but goes just right with poppy seeds. Very much like poppy seed bread. Hey! That reminds me. You might want to take a look at my Moist Lemon Poppy Seed Cake.
I had a pile of these sitting out yesterday just waiting for their picture to be taken. My husband had a friend over so that they could fly their drones in our backyard.
We are actually on a mesa overlooking a desert wash and backed up to BLM land so the flying is very easy and safe. A great place to play.
So ... here I come with all of my photography paraphernalia and I'm headed for the cookies. What do I see? A little cookie pile instead of a big cookie pile.
Thank goodness this recipe makes 3 dozen and I had some in the fridge. At least I know my husband was a good host.
Or maybe they both spied the cookies at the same time and dove right in. One way or the other they are pretty darn good.
Lemon Poppy Seed Cookies just may be a new favorite in this house. I am so glad they are easy to make.
What are Poppy Seeds?
Poppy seeds are seeds of a specific type of poppy. For baking and other food, the seeds are harvested after the pods have dried.
Most poppy seeds are not to be used in baking. They exist strictly for their flowers. Such as the California Poppy.
So, buy your poppy seeds in the little jars or tins in the baking section of the grocery store. Then bake to your hearts content.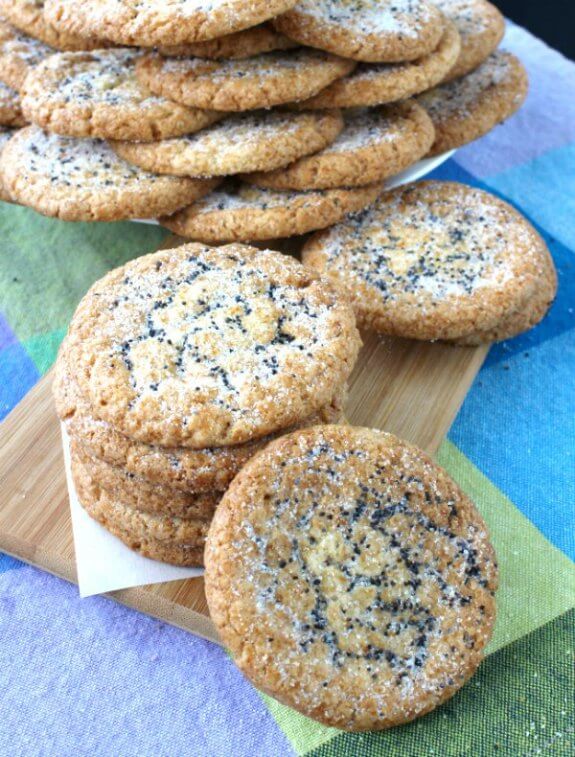 You know? Next time I think I will try to see if my husband wants to help. Maybe scoop out the balls.
I am addicted to those little scoops as they make the cookies all the same size. Also and again it makes things easier. We can all use 'easier' in our lives.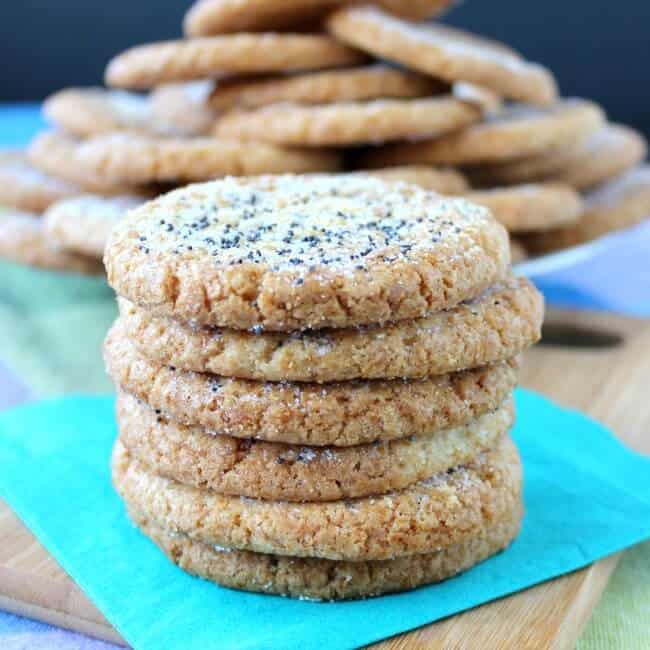 This post contains affiliate links. Read my disclosure policy here.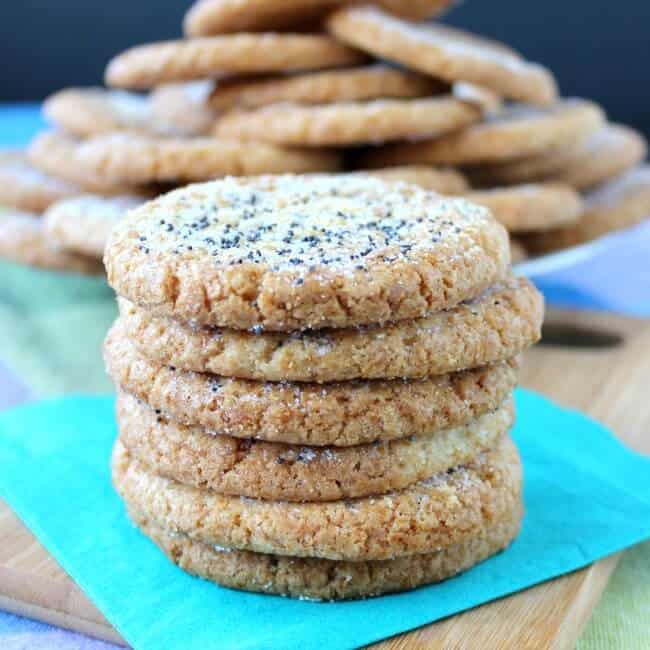 Lemon Poppy Seed Cookies
Lemon Poppy Seed Cookies have a mild lemony flavor that will wake up your taste buds.
Ingredients
1

egg substitute

I used a chia egg

½

cup

dairy free butter

softened

1

cup

sugar

organic

1

tablespoon

poppy seeds

1

teaspoon

baking powder

½

teaspoon

baking soda

½

teaspoon

sea salt

2

tablespoons

dairy free milk

1

lemon

which equals about 3 to 4 tablespoons

1

teaspoon

Vanilla Extract

2-¼

cup

whole wheat pastry flour
Instructions
Prepare the 'egg' and set aside.

In a large bowl cream the sugar with the butter, with a Hand Mixer until it is light and fluffy.

Place the flour in a medium bowl and add the poppy seeds, baking powder, baking soda and salt. Mix.

Add the dairy free milk, lemon juice, vanilla and prepared egg substitute.to the creamed sugar mixture.

Mix well.

Add the flour mix to the wet mixture and combine.

Use a 1" to 1 ½" Cookie Scoop to scoop out the batter. Place on a cookie sheet.

Only put about 8 on a cookie sheet and 2" apart. They really spread.

Flatten slightly with the bottom of a glass.

Bake at 375° for 7 minutes.

Do not over bake because you want them nice and soft-ish on the center.

Immediately sprinkle a little bit of sugar and poppy seed over the hot cookies. You can skip this part. It is just pretty.

Remove from pan to a wire rack to cool.
Nutrition
Serving:
2
Cookies
Calories:
53
kcal
Carbohydrates:
7
g
Fat:
2
g
Sodium:
69
mg
Potassium:
24
mg
Sugar:
5
g
Vitamin C:
1.6
mg
Calcium:
11
mg
Iron:
0.1
mg
TO FREEZE:
You may freeze them in any of the methods shown in my article Preparing Food for the Freezer.
They defrost quickly so it really doesn't take any planning. Just put them on a plate for an hour or so and enjoy.
You know that Moist Lemon Poppyseed Cake I mentioned above? Here's a picture to tempt you even more.