Chocolate Island Hawaiian Cookies are made with healthier ingredients while still satisfying your dessert cravings and sweet tooth.
My husband likes it so much when I make sweets for the house but he also gets a little selfish.
There is no way he can eat all the cookies that come out of my oven but he still has blinders on when I ask which ones I can share with the senior center.
Well, my new Island Chocolate Topped Cookies recipe did not change his mode of operation. He says I should keep them all.
It is funny how the next batch always seems to become his favorite.
I know I can freeze these Chocolate Island Hawaiian Cookies but we only have a standard refrigerator with the freezer at the top and, geez, it really shouldn't be full of cookies.
Thank goodness he doesn't really know how many dozens I make so I can sneak out a lot. A dozen saved for him out of each recipe seems to be a good percentage without him figuring it out. Whew!
The ingredients for these little round cookies go together so well. Almond flour is even added for a contrasting flavor.
The first time I had coconut sugar I was sold on it's flavor. The sugar taste is very close to maple syrup and brown sugar. A strange description but I think you get what I mean.
Natuarally shredded coconut adds a great chewy texture too and the whole cookie has a nice crunch. Who can argue with macadamia nuts.
There's only a half a cup measurement for the nuts so the price will be held down too.
Chocolate island came from the shape of the cute little round cookie that's filled with lots of goodies that remind me of Hawaii.
Top it with chocolate and there you have a chocolate island. It's kind of fun to think up names. it's kind of hard too but I like this one. I sure like the cookie.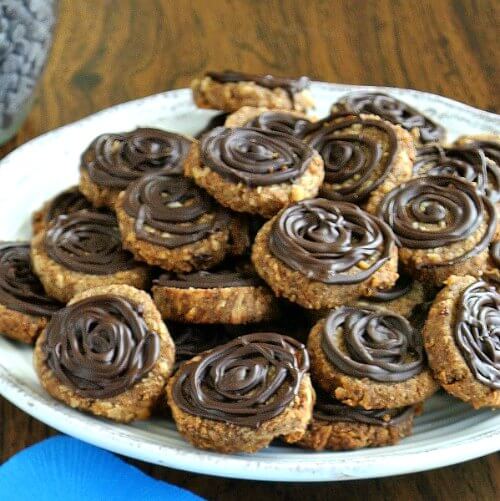 How Do you Melt Chocolate in a Microwave?
Place the measurement in a microwave safe bowl that is a bit larger than the chocolate measurement.
For this measurement for a cup cook for 20 seconds. Open the microwave and stir. It will still be mostly chips.
If your bowl turns out to not be microwave safe the bowl will be very hot so be careful.
Cook for 10 more seconds and stir and continue until the chocolate is almost melted then remove from the microwave.
The heat from the chocolate will continue to melt the remaining chocolate and it will be very smooth.
Do I Have To Use Macadamia Nuts?
Well, no but it does keep with the Hawaiian theme.
The next best thing to use that would work really well is good old roasted peanuts.
After you have all of the ingredients mixed you roll the dough out into a log that is about 2" in diameter. They can be a little smaller if you like.
Then you roll the log up using waxed paper or parchment paper and place in the refrigerator until it gets hard. It only takes about an hour.
Then you get to slice the log into little discs. I love this way of making cookies. They are called refrigerator cookies. Super simple and I've never had a refrigerator cookie I didn't like.
Helpful Tools for Making Island Chocolate Topped Cookies
You have to have a big mixing bowl. It can come with ta stand mixer or be an old fashioned type of sturdy mixing bowl.
An electric mixer is very handy as mentioned above but an electric hand mixer does great too. It's just that you are truly 'hands on'.
Stainless steel baking sheets are my cookie sheet of choice.
📋 Recipe
Chocolate Island Hawaiian Cookies
Chocolate Island Hawaiian Cookies are made with healthier ingredients while still satisfying your dessert cravings and sweet tooth.
Ingredients
1

cup

dairy free butter

1 ½

cups

shredded coconut

½

cup

macadamia nuts, chopped

⅓

cup

coconut sugar

1

teaspoon

organic vanilla extract

1 ¾

cups

whole wheat pastry flour

¼

cup

almond flour

1

cup

chocolate of your choice to melt for the topping, I used semi sweet Chocolate Chips
Instructions
In a large mixing bowl add the butter and sugar.

With a hand or stand mixer beat until it is light and fluffy. That takes about 5-10 minutes.

Add the vanilla extract and blend. Mix in the flour.

Stir in the coconut and macadamia nuts and mix in by hand.

Form into a 2" diameter roll. Roll up in waxed paper and refrigerate until firm. About 1 hour.

Take out of the fridge and slice in about ¼" to ½" thick slices as seen in the photo below.

Place on a Baking Sheet and bake at 300• for 20 minutes. Cool on a wire rack.

Melt you chocolate in the microwave just until it is melted not bubbling. It burns so be careful.

If you don't have any piping bags - scoop the chocolate into a baggie and squish down into one corner. Snip the tiniest snip at the point and pipe circles on the top of each cookie.
Nutrition
Serving:
2
Cookies
Calories:
73
kcal
Carbohydrates:
6
g
Fat:
5
g
Saturated Fat:
1
g
Sodium:
34
mg
Potassium:
25
mg
Sugar:
3
g
Vitamin A:
150
IU
Calcium:
7
mg
Iron:
0.3
mg