Irish Oatmeal Chocolate Chip Muffins Recipe has extra protein and even some chocolate. The texture is perfect because of pre-soaked oats and the recipe is easy with only 8 ingredients.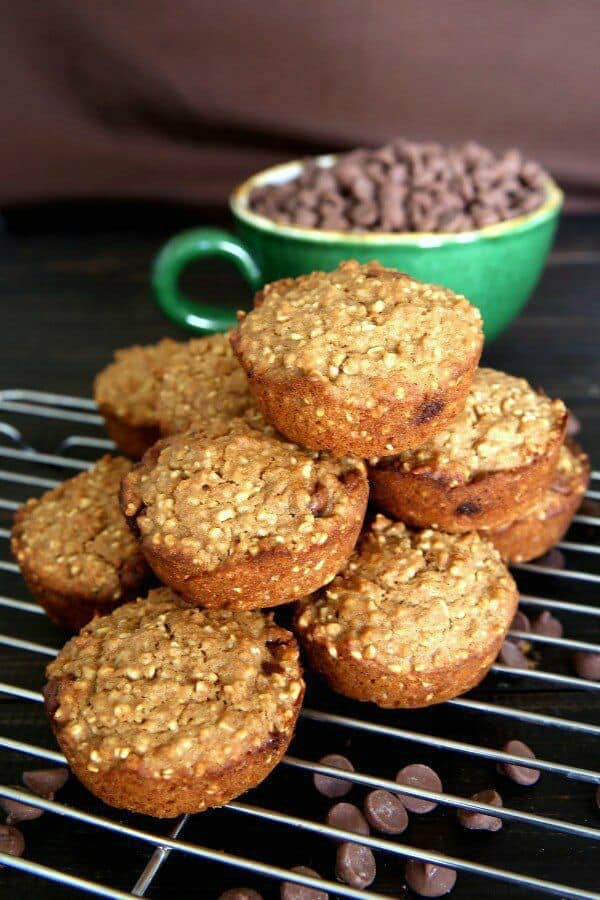 Is your morning unpredictable or is it a set routine? I think most of us have routines. If you have children then that can cause some unpredictability but in between the craziness the connecting steps are usually the same.
It's the same in my life too. Normally I start cooking or baking right after I get my morning chores done. Hopefully that's not too much but usually it's around 11:00 am.
Then I move on to my other job. I may be sipping the rest of my coffee but I'm working. A couple of days ago it was trying to make some delicious type of Irish muffins.
What could be better that using Irish oatmeal in some morning muffins? You know that in the raw state Irish oatmeal are steel cut oats which are not at all like rolled oats. This should be fun.
In fact, they are perfect for overnight soaking which also makes them ideal for the slow cooker. Check out how simple this Slow Cooker Irish Oatmeal recipe is by clicking on the link. Here's a pic too.
Steel cut oats are small little pieces or oat groats and for muffins they need to be soaked. They work out great for this recipe and are soaked for about an hour but they are
also great soaked overnight
.
That means all you have to do is mix dairy free milk and steel cut oats together and put in the fridge. In the morning a major ingredient is ready and you only have to add six more. So easy.
Next step for my day is to start measuring and adding ingredients to a big bowl. I need to add something to help lighten up this recipe for this nice chocolate chip muffins recipe.
Not chia seed or flaxseed meal this time around. They just don't sound right. I know! Applesauce! Thumbs up. So I'm mixing and baking and use paper muffin cups just to help keep the pan clean. Oops!
I couldn't even peel the paper off without taking about a quarter of the muffin with it. Sigh. Well, they tasted good anyway. Thank goodness because I'm was starving by this time and I didn't have to save all of them for pictures.
Fast forward to the next day. Since I didn't have time to get the muffins done and still take pictures, while the sun was still up, I decided to soak the oats overnight for baking first thing in the morning. Perfect.
So, this time around, no muffin cups and a tiny bit more applesauce, don't forget to add the chocolate chips and Voila! Delicious muffins! Actually, I only get to break one open and taste because photos still have to be taken.
They popped right out of the tins and look really pretty and taste perfect with a really nice texture. So far so good.
It's a bit cloudy out and my 'light' window is only letting light in - sporadically. So I start taking pics, checking pics, moving food, taking pics, changing camera settings, taking pics. You get the picture and I think I got it.
Now, I'm finally getting to enjoy these beautiful Irish Oatmeal Chocolate Chip Muffins. Chocolate Chips and oatmeal all mixed together. I am very happy.
They're a lot easier to make with the complete recipe right in front of you. I hope you try them very soon because They're Good!
What are the Differences Between Steel Cut Oats and Rolled Oats?
There are actually three kinds of oats that we run into a lot. Steel Cut Oats, Rolled Oats (also called Old Fashioned Oats) and Instant Oats.
They all start whole oat groats and all three have the same nutritional value. That means lots of good healthy stuff. Protein and fiber being at the top of my list.
Steel cut oats make Irish Oatmeal. They are whole oat groats that are roasted at a low temperature and then are chopped up into small pieces. They take longer to cook and have a chewier texture.
Rolled Oats are whole oat groats that are steamed and then rolled flat. You can even eat them raw in recipes such as Cashew Pralines.
Instant Oats are the most processed and are actually pre-cooked and then pressed even thinner that rolled oats. They cook into a very soft oatmeal.
Now you're all set and ready to get going with a great breakfast. The muffins are small so you can have two!
Let's Get Connected!
Facebook | Pinterest | Instagram | Bloglovin
📋 Recipe
Irish Oatmeal Chocolate Chip Muffins
Irish Oatmeal Chocolate Chip Muffins have extra protein and even some chocolate.
Ingredients
1

cup

Irish oatmeal

1

cup

dairy free milk

1

cup

whole wheat flour

⅓

cup

coconut sugar

2

teaspoons

baking powder

¼

cup

applesauce

¼

cup

coconut oil

½

cup

mini chocolate chips
Instructions
Combine the oatmeal and the milk in a bowl and set aside for about an hour. You can also let this sit overnight in the fridge.

Lightly grease muffin tins for 12 muffins.

In a large bowl mix together the flour, sugar and baking powder.

Stir the Irish oatmeal/dairy free milk mixture, applesauce and oil into the dry mixture and mix until just combined.

Fold in the chocolate chips.

Divide the mixture evenly between the tins.

Bake at 425° for 20 to 25 minutes.

Let cool 10 minutes and then remove to a wire rack to cool completely.
Notes
TO FREEZE:
After they have cooled you may freeze them in any of the methods shown in my article Preparing Food for the Freezer.
They defrost quickly so it really doesn't take any planning. The microwave will also zap them in 15 seconds.
Nutrition
Serving:
2
Muffins
Calories:
179
kcal
Carbohydrates:
25
g
Protein:
3
g
Fat:
7
g
Saturated Fat:
5
g
Cholesterol:
1
mg
Sodium:
14
mg
Potassium:
107
mg
Fiber:
2
g
Sugar:
8
g
Vitamin A:
15
IU
Calcium:
48
mg
Iron:
1.1
mg
Irish Oatmeal Chocolate Chip Muffins Recipe