You can easily make delicious and flavorful potatoes and carrots in an Instant Pot in under 30 minutes. This convenient method allows you to enjoy your favorite vegetables whenever you want. Compared to baking this dish in the oven, which takes at least 45 minutes and can heat up your home when it's already hot outside, using an Instant Pot saves time and energy regardless of the temperature outside. I recently acquired a new instant pot, and I'm eager to make the most of it. The recipe I'm sharing, Instant Pot potatoes and carrots, is full of wholesome ingredients. You might struggle to decide whether to mash it or simply savor a big piece. The flavors are well-balanced and absolutely delicious.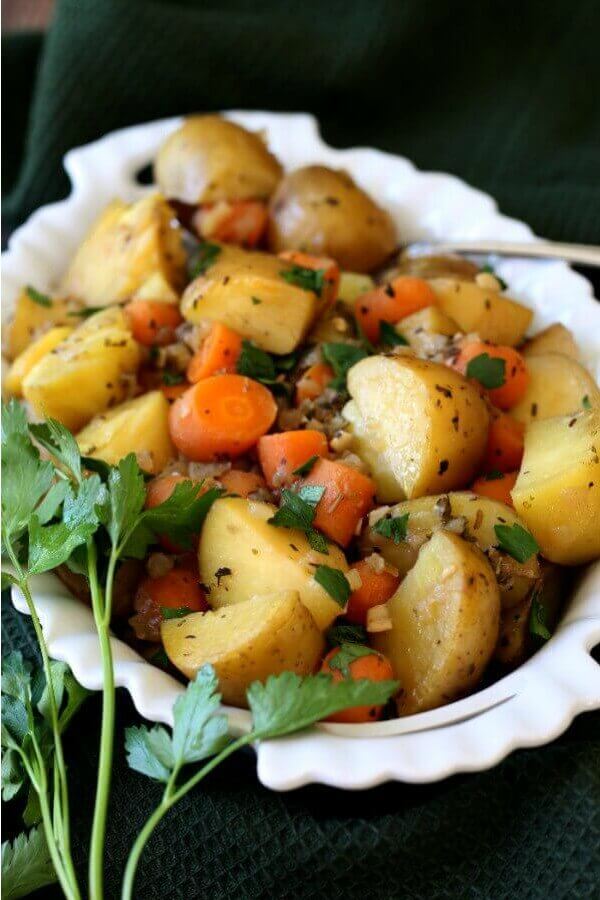 Why You'll Love This Potatoes And Carrots Recipe
Ready In Less Than 30 Minutes- With the Instant Pot, this dish is perfectly cooked in just 20 minutes.
Instant Pot Recipe- The Instant Pot is a great way to make this hearty side dish with less mess and minimal effort.
Flavorful and Delicious- The combination of ingredients and seasonings makes this dish a family favorite.
Simple Ingredients- You only need potatoes, carrots, garlic, oil, and some seasonings to make this flavorful recipe.
What Is And Instant Pot?
An Instant Pot is a brand name for an electric pressure cooker.
It is an electric appliance, so you don't have to boil water on a stove top to get pressure to rise.
It's programmable! This makes life so easy.
An Instant Pot does so much more than pressure cooking. It's a pressure cooker, slow cooker, yogurt maker, steamer, rice cooker, sauté/browning pan, and warming pan.
Close the lid, turn the sealer on instead of the vent, push the type of cooking, put in the time, and walk away.
There are many people who make electric mixers now. Instant Pot, Cuisinart, Bestek, Crock Pot, and so many more.
Originally I made this recipe in a pressure cooker that needs less liquid to come to pressure. The recipe card is correct for an Instant Pot.
I used the 6-quart size for this instant pot potato carrot recipe, but it will work in a larger size too.
Equipment Needed
Instant Pot or Pressure Cooker
Cutting Board
Knife
Measuring Cups and Spoons
Ladle for Serving
Ingredients
Extra Virgin Olive Oil- To saute the carrots and onions in.
Onion- For flavor.
Carrots- Balances out the flavor of the potatoes and provides some sweetness.
Garlic- Adds a depth of flavor.
Potatoes- Provides a thick hearty base for the dish. Yukon gold potatoes, baby potatoes, russet potatoes, and yellow potatoes all gave delicious flavor.
Vegetable Broth- For flavor and adds moisture.
Italian Seasoning- More flavor.
Spike- A delicious seasoning blend.
Parsley- For garnish
How To Make Instant Pot Potatoes and Carrots
Start by adding olive oil and onions to the Instant Pot. If using larger potatoes, you'll want to cut them all into about the same size pieces to make sure they cook evenly. Saute the onions for 5 minutes, then add the carrots and saute for another 5 minutes. Next, add potatoes and the remaining ingredients, and stir gently. After that, shut the lid of the pot, turn the knob to seal it, and click the "manual" button. Set the timer for 5 minutes, and let the instant pot complete the cooking process. Finally, allow the pressure valve to release naturally, which usually takes about 10 minutes. Serve the potatoes and carrots in a serving bowl sprinkled with fresh parsley on top for garnishing.
Popular Substitutions & Additions
Potatoes- You can change out the potatoes in this instant pot carrots and potatoes recipe for whatever you have at home. Keep in mind that cooking time will vary depending on the size of your potatoes.
Yukon Gold potatoes are large potatoes that are yellow in color and are not as starchy as russet potatoes.
Russets taste fantastic, too, but you usually need to clean up their skins some or peel them completely.
The small colorful baby potatoes that are on the market now would really add a pretty color variety with their purple, red, and gold skins.
Fingerling potatoes have nutty or earthy flavors, with different varieties also being in different colors. No need to peel.
You can even use sweet potatoes!
I would avoid waxy potatoes as they don't seem to cook as well as other steamed potatoes.
Red potatoes don't need to be peeled either, and the inside is a bright white.
Carrots- Use whole carrots that have been diced, baby carrots, or even use those beautiful new colorful carrots that come in shades of orange, purple, and red. I'd probably only change out one type of vegetable at a time just to have a visually more calming dish. Or you could go 'Alice in Wonderland' and do mixed colors of potatoes and carrots all at the same time.
Other- Add other seasonings, spices, and add-ins to the instant pot potatoes and carrots to suit your taste. Use fresh herbs, minced garlic, fresh chives, vegetable stock, fresh thyme, vegan melted butter, salt, and black pepper for even more delicious flavors. You can also use vegan chicken broth or beef broth to take the recipe up a notch.
Can You Freeze Instant Pot Potatoes And Carrots?
No. I don't suggest that you freeze this dish because potatoes tend to get a grainy texture when frozen. If you want to go ahead and save some time, I suggest cooking it in the Instant Pot and then store leftovers in an airtight container in the refrigerator for up to 5 days. Reheat on the stove or in the microwave when ready to serve.
Instant Pot Potatoes And Carrots FAQs
What type of potatoes should I use?
You can use any variety of potatoes you like, but they all cook differently. Yukon gold is a great choice, as are fingerlings and red potatoes. Make sure to adjust the cook time according to the size of your potatoes. You can get mushy potatoes quickly if they are cooked too long.
Can I use frozen carrots in this instant pot potatoes and carrots recipe?
Yes, you can use frozen carrots. Just add them in with the potatoes and vegetable broth, then set the timer for 5 minutes. The cook time may be slightly longer depending on how thickly they're sliced.
How do I know when the Instant Pot is done cooking?
When the timer goes off, and the pressure has been released, look for a little button to pop up. That means that the pot is done cooking, and you can open it.
Can I double this side dish recipe?
Yes! This recipe can easily be doubled to serve more people. For a 6-quart Instant Pot, you will need to add ¼ cup of liquid and increase the cooking time by 5 minutes.
📋 Recipe
Instant Pot Potatoes And Carrots
An ideal side dish or flavorful comfort food. Diced potatoes and carrots are a delicious and easy-to-make dish that can be ready to enjoy in 30 minutes or less.
Ingredients
2

tablespoons

extra virgin olive oil

1

onion

- white, diced

2

pounds

carrots

- baby carrots, cut in half if medium sized

3

cloves

garlic

- finely chopped

4

pounds

potatoes

- Yukon gold, cut into chunks, usually in half or fourths

1 ½

cup

vegetable broth

1

teaspoon

Italian seasoning

- click on Italian Seasoning for a homemade recipe

1

teaspoon

Spike

- original seasoning, if you don't have this get it in your cupboard. It is the best mix and is in all the grocery stores

fresh parsley for garnish
Instructions
Add oil to the Instant Pot. Sauté onions for 5 minutes.

Add carrots and saute 5 more minutes.

Add the remaining ingredients. Stir. Close the lid and turn the knob to sealing on top of the Instant Pot.

Click the "manual" button and set the time to 5 minutes.

Once cooking completes let the pressure valve release naturally (about 10 minutes)

Dish up into a serving bowl and sprinkle on a bit of fresh parsley.
Nutrition
Serving:
1
cup
Calories:
356
kcal
Carbohydrates:
70
g
Protein:
9
g
Fat:
6
g
Saturated Fat:
1
g
Sodium:
141
mg
Potassium:
1840
mg
Fiber:
11
g
Sugar:
10
g
Vitamin A:
25260
IU
Vitamin C:
70.3
mg
Calcium:
101
mg
Iron:
3.1
mg