Making homemade pita bread at home is easy! Just a few simple ingredients and steps to make the softest, fluffiest, best vegan pita bread.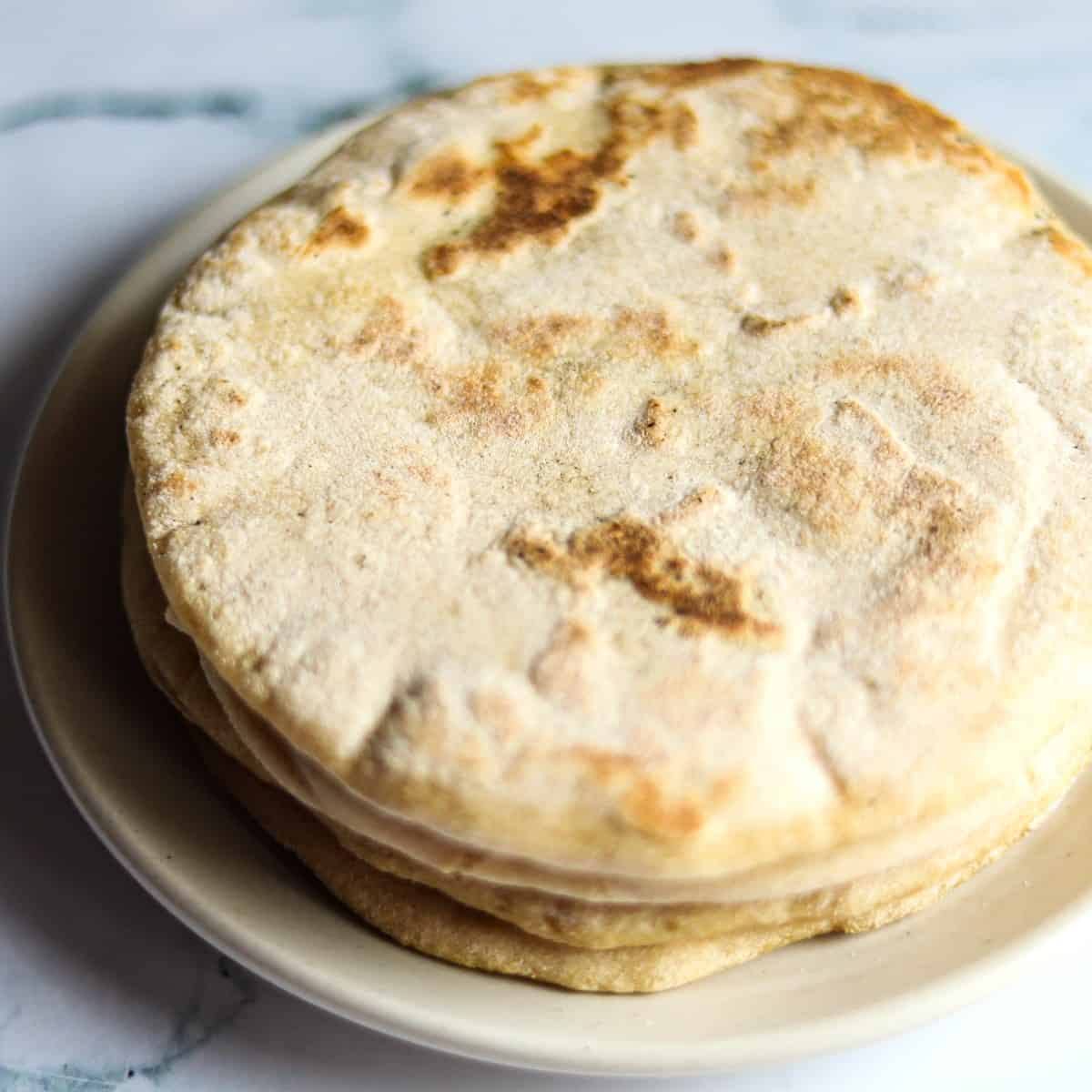 Once you make pita bread from scratch, you'll never want to buy it at the store again! It is so soft and fluffy.
This easy pita bread recipe uses a blend of all-purpose flour and whole wheat flour for even better flavor and nutrition.
Traditionally pita bread is cut into triangles and used to dip into hummus. Or really really traditionally - a piece is torn off and used to scoop up.
The bread is great on it's own but it is the perfect vessel for dipping up a multitude of varieties of hummus.
Jump to:
Ingredients
Flour - This whole wheat pita bread uses a blend of all-purpose flour and whole wheat flour. If you don't have whole wheat flour, or prefer not to use it, you can also use entirely all-purpose flour.
Sugar - just a tiny bit to help activate the yeast.
Active Dry Yeast - you can also use quick rise yeast and shorten the rise time.
Olive Oil aids in baking the rounds.
Use Water as needed to form the dough.
How to make homemade pita bread
Mix up the dough - Start by mixing the flours, sugar, yeast and oil. Then slowly add water until a soft dough forms.
Knead dough until the top is smooth. Pat into a round and allow the dough to rise until doubled in size.
Form - Divide the risen and kneaded dough into 4 portions for larger rounds or 5-6 portions for smaller. The smaller portions are still a very good size. Shape into balls and let them rest about 15 minutes.
Roll each ball of dough into a 6-7 inch circle if you made 5 to 6 balls.
Bake - Preheat the oven with a cast iron pan or pizza stone inside.
Working in batches, add the dough circles to the preheated pan and bake for 2-3 minutes then flip and bake for 2 more minutes on the other side.
The pita will puff up and get slightly browned.
They are an amazing bread as they also make a natural 'pocket' on the inside that you could stuff if you so choose.
Bakers tips
Don't forget to preheat the pan in the oven! This is key to ensuring a puffy pita. If your pita does not puff up properly, make sure your oven and pan are very hot!
Instead of using a rolling pin to roll the pita, you can also use floured hands to press it into a circle. But be sure to press the dough thin.
FAQs
Can you make larger sized pita bread?
Yes, just divide the dough into 4 balls and roll out to about 8" to 9" circles.
Is all pita bread vegan?
Traditionally, yes. But some store bought pita bread can have other added ingredients for flavor, so it's important to check the label.
What is the difference between pita bread and naan?
While both pita and naan are flatbreads, naan is typically made with an egg and yogurt base so it is not vegan. While pita bread is just made with flour, water, yeast, sugar, and olive oil.
Are flatbread and pita the same thing?
Pita and flatbread are similar, but slightly different. While flatbread is flat and thin, pita is a type of flatbread that is slightly leavened and puffy.
Can the pita dough be made in advance?
Yes, the dough can be made days in advance. After the dough has risen, store the dough in the fridge until you're ready to roll and bake.
Why use whole wheat flour
Compared to regular white flour, whole wheat flour has more fiber and also contains vitamins such as folate and riboflavin.
The fiber in whole wheat flour is because the refining process to make white flour separates the fiber-rich bran. Whole wheat flour can have 5x the fiber of white flour!
And ... it tastes darn good in this white and whole wheat pita bread recipe.
What do you serve with pita
Hummus is a classic pairing! Try this Spicy Chipotle Hummus or Roasted Garlic Hummus.
Use it for a sandwich by stuffing the natural 'pocket' with your favorite fillings.
Use a pita as the crust for a pizza.
Serve warm with your favorite tomato soup.
It is even good as a side bread with chili.
Leftovers and storing
Homemade pita is great if eaten immediately. Store leftover pita bread at room temperature in an airtight bag for several days.
Eat the leftover pita at room temperature or you can warm it in the toaster or oven.
Freeze pita bread for up to 3 months. Layer the pitas with wax paper to prevent sticking and freeze in an airtight bag. Thaw at room temperature or warm from frozen in the oven.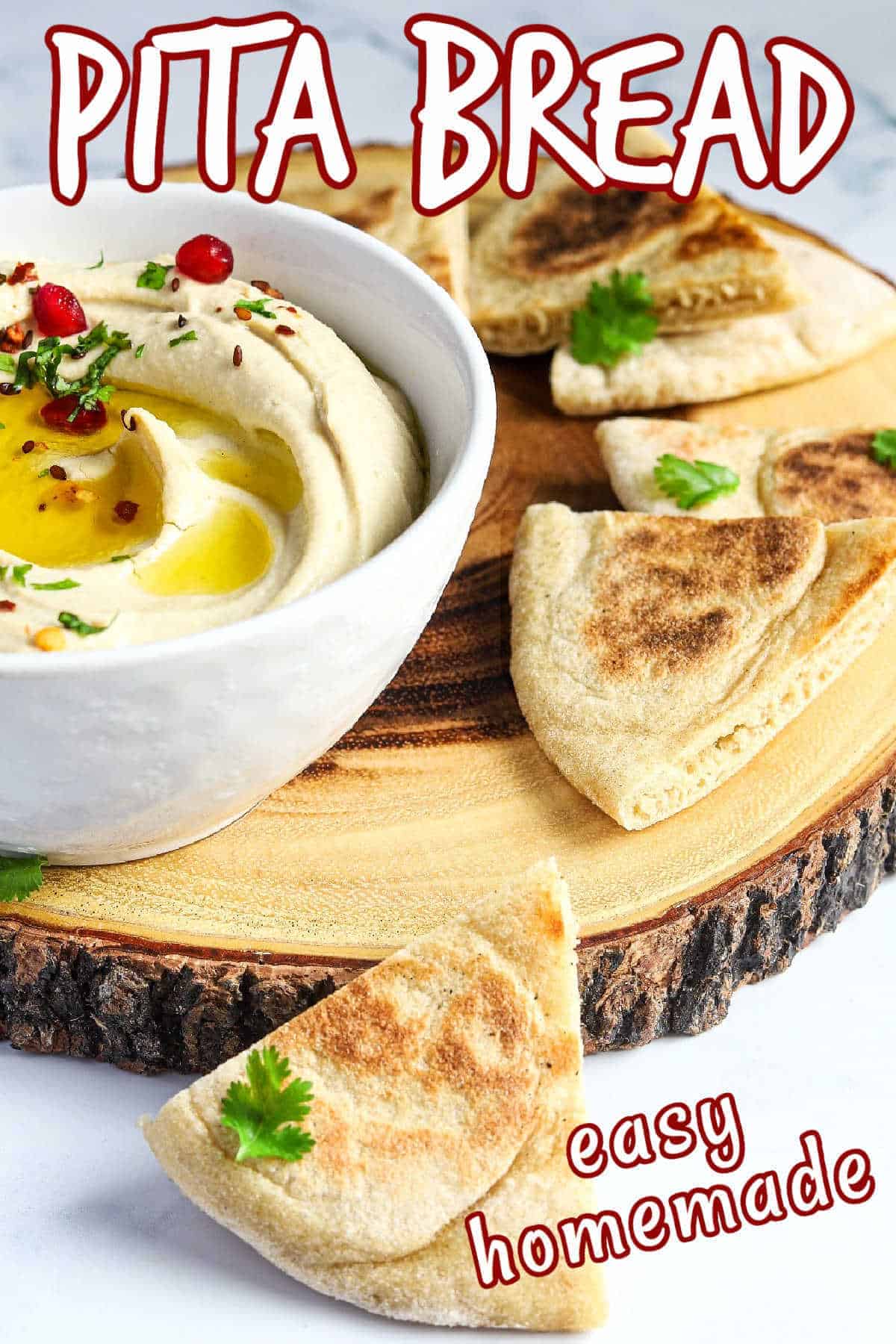 📋 Recipe
Homemade Pita Bread
Making homemade pita bread at home is easy! Just a few simple ingredients and steps to make the softest, fluffiest, best vegan pita bread.
Ingredients
1 ½

cup

organic all-purpose flour

½

cup

whole wheat flour

½

teaspoon

organic granulated sugar

1

teaspoon

active dry yeast

1

tablespoon

extra virgin olive oil

water as needed
Instructions
In a bowl, add the flour, sugar, salt, yeast, and oil.

Give it a quick mix and start to add a little bit of water at a time to form a soft dough.

Knead the dough until the top starts to get smooth.

Cover the dough with a kitchen towel and let it sit in a warm place for about 1-2 hours, until the dough almost doubles in size.

Knead the dough gently once again and divide it into 5-6 equal portions.

Shape the portions into round balls and let them rest for 10-15 minutes.

Now dust a clean work surface and a rolling pin with flour.

Roll out one ball into approximately a 6-7 inch circle.

Preheat the oven to 450 degrees F (230 degrees Celsius) with a cast iron pan or a pizza stone in the middle rack of the oven.

Place 1 to 2 rolled pitas on the skillet/pizza stone (depending on how many fits in the pan at a time) and let it bake for 2-3 minutes on one side.

Now with a pair of tongs, flip the pita carefully to the other side and let it bake for a further 2 minutes.

The pita should be cooked with slight browning and the pita should fluff up.

Take the pita out and repeat the same method for baking the remaining pitas.
Nutrition
Serving:
1
Pita
Calories:
176
kcal
Carbohydrates:
32
g
Protein:
5
g
Fat:
3
g
Saturated Fat:
1
g
Sodium:
2
mg
Potassium:
89
mg
Fiber:
2
g
Sugar:
1
g
Vitamin A:
1
IU
Vitamin C:
1
mg
Calcium:
9
mg
Iron:
2
mg