This vegan chocolate hazelnut butter is easy to make and delicious. Use it as a topping on toast, in desserts, or eat it straight from the jar. It's a great alternative to regular chocolate spreads.
Why You'll Love This Vegan Nutella Recipe
Better Than Store-Bought- Homemade vegan Nutella is gluten-free and dairy-free, making it healthier and more ethical. By making it at home, you can control the ingredients and adjust the sweetness to your liking. Plus, it's a fun and easy DIY project that can save you money in the long run.
Easy To Make- Homemade vegan Nutella only requires simple ingredients like hazelnuts, cocoa powder, coconut oil, and maple syrup.
Versatile- Use this vegan chocolate hazelnut spread on toast, as a dip for pretzels or fruit, or as a filling for baked goods like cupcakes or brownies.
What Is Nutella?
Regular Nutella, or hazelnut butter, is a delicious chocolate and hazelnut spread that is loved by many. It is made from a blend of roasted hazelnuts, cocoa, sugar, milk, and other natural ingredients. The spread has a creamy and smooth texture and is perfect for spreading on toast, pancakes, waffles, and more.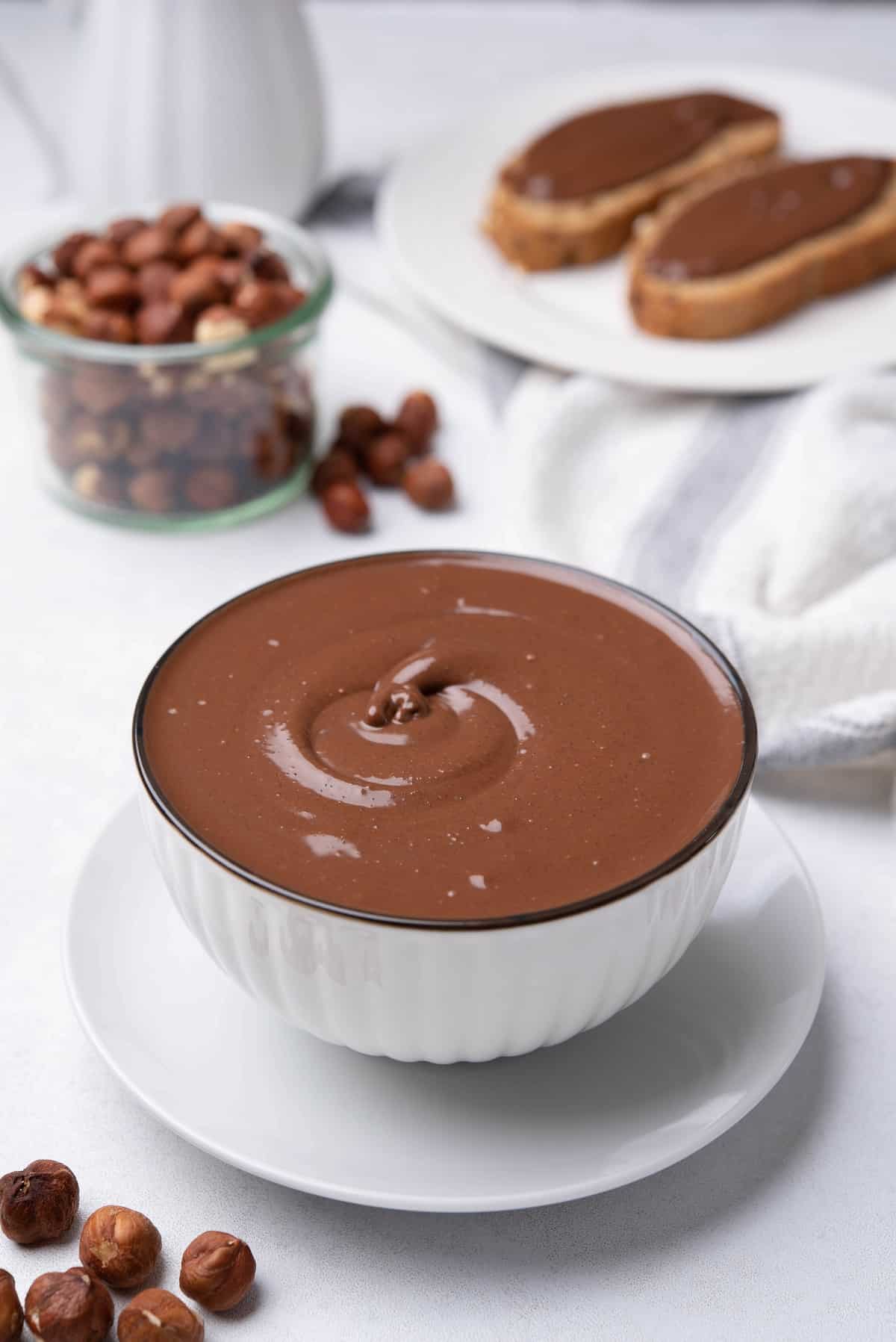 Equipment
Baking Sheet
Parchment Paper
Dish Towel
Food Processor
Airtight Storage Container With Lid
Ingredients
Raw Hazelnuts- Provides the base for the chocolate spread, giving it a nutty flavor and creamy texture.
Dark Cane Sugar- Adds sweetness.
Unsweetened Cocoa Powder- Gives the homemade Nutella its deep chocolate flavor.
Coconut Oil- Helps to bind the ingredients and provides a smooth consistency.
Vanilla Extract- Adds a subtle hint of flavor and aroma to the finished product.
How To Make Homemade Vegan Nutella
Preheat your oven and line a baking sheet with parchment paper to prepare this recipe. Place the hazelnuts in a single layer on the prepared baking tray and bake for around 10 minutes. Then let the hazelnuts cool.
Next, wet a dish towel and wring it out well. Place the baked nuts onto the damp towel. Fold the dish towel over the hazelnuts and rub firmly and quickly back and forth. Doing this will remove the shells, which will stick to the towel.
Handpick the cleanest peeled hazelnuts and add them to a food processor. Don't worry if some skins remain; the Nutella will still be delicious. Blend the hazelnuts for around 5 minutes, allowing the machine to cool after every 30 seconds or so. The hazelnuts will clump around the blades.
Finally, add the sugar, cocoa powder, coconut oil, and vanilla extract and process into a nut butter consistency. The mixture should be smooth and shiny. Enjoy your homemade vegan Nutella!
Loving Your Vegan Chocolate Hazelnut Spread
Enjoy it like you would enjoy the store-bought Nutella, of course. But since this homemade chocolate spread is much healthier, you will have no issues.
Dunk your fruit in it. Seriously, you have to try this. I suggest bananas, pineapple slices, and your favorite chopped apples.
Fold it into vegan crepes and feel good about it.
And, yes, even eating it with a spoon, because it is just that good!
And if you want some incredible recipes to use this vegan Nutella, check out some of my favorites here!
Vegan Pumpkin Waffles, smear it over the top.
Nice and warm Brown Bread Irish Scones would be perfect with a little (or a lot) chocolate spread.
Rich Whole Wheat Batter Bread can be toasted and topped with Nutella for a fantastic treat.
Popular Substitutions And Additions
Use raw hazelnuts instead of roasted.
Experiment with different sweeteners, such as maple syrup or coconut sugar
Add chopped nuts to make a crunchy Nutella.
Incorporate cacao nibs, vegan dark chocolate chips, chopped chocolate, or melted chocolate in the mixture for more chocolate flavor.
For a more creamy texture, add a splash of your favorite dairy-free milk such as coconut milk, almond milk,
Can I Freeze Vegan Nutella?
I would not suggest freezing vegan Nutella because it may affect its texture and cause separation.
Vegan Nutella FAQs
Is vegan Nutella healthier than traditional store-bought Nutella?
Store-bought versions often contain refined sugar and palm oil, which are not the healthiest options. However, this vegan homemade Nutella is a different story. The first ingredient is hazelnuts, followed by unrefined coconut sugar. Unlike its store-bought counterpart, it doesn't contain milk or artificial flavors. This homemade Nutella with cocoa powder only has 5 pure ingredients. Additionally, it's preservative-free and additive-free, making it a healthier and more nutritious option. It's packed with high protein, fats, vitamins, and minerals, making it a delicious and healthy spread.
How should I store vegan Nutella?
It's best to store homemade vegan Nutella in an airtight container at room temperature. Avoid exposing it to direct sunlight or extreme temperatures.
Do I have to roast the hazelnuts for this vegan Nutella recipe?
Roasting the hazelnuts is optional, but it adds a boost of nutty flavor to the Nutella.
Can I make vegan Nutella without a food processor?
Yes, you can definitely make vegan Nutella without a food processor. All you need is a blender or a mortar and pestle to blend the ingredients until smooth. Just take your time and be patient until you achieve the desired consistency.
📋 Recipe
Vegan Nutella
Make your own vegan chocolate hazelnut spread as a healthier version of Nutella. Use it as a dessert topping, nut butter, dip, or enjoy straight from the jar!
Ingredients
2

cups

hazelnuts

½

cup

dark cane sugar

2

tbsp

unsweetened cocoa powder

2

tbsp

coconut oil

½

tsp

vanilla extract
Instructions
Preheat the oven to 350°F (175°C). Line a baking tray with parchment paper.

Arrange the hazelnuts in a single layer over the prepared baking tray and bake for 10 minutes.

Wet a dish towel and wring it out as best you can. Dump all the baked hazelnuts into the damp dish towel. Fold the dish towel over the hazelnuts and rub firmly and quickly, back and forth. This way, you will rub off the shell coverings as they will stick to the towel.

Hand-pick out the cleanest hazelnuts and toss them in a food processor. Don't worry if all the skins won't come off; the nutella will still be delicious.

Process the hazelnuts for about 5 minutes, allowing the machine to coll after about every 30 seconds. The hazelnuts will start to clump together around the blades.

Add the remaining ingredients.

Process again until smooth and shiny.