Healthy Peanut Butter only takes minutes to make and it is ridiculously easy. First you get pure creamy peanut butter and then you can add maple syrup. Just two or three ingredients and it's an extremely versatile condiment.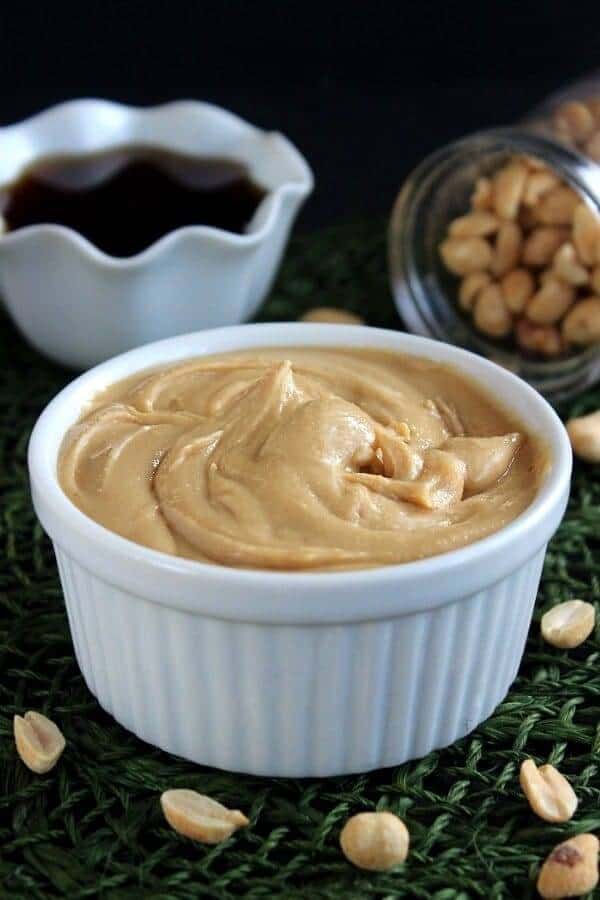 Well, look what we've got here. Healthy Peanut Butter made with just two ingredients. There isn't anything negative about this recipe except that maybe it will disappear way too quick. The big plus is it only takes minutes to make.
Besides the typical PB&J sandwich or smeared and melty on morning toast the uses are endless.
If you'd like to add maple syrup for a great spread then that is also right here on these pages too - just to temp you - daily!
Here's a picture of creamy peanut butter with maple syrup on the side. It simply gets mixed together at the end in a food processor.
Peanut Butter Uses
Ha! Where shall I start!
I think the most popular candy in the U.S. are Peanut Butter Cups and here is a vegan recipe for you.
That is just a start.
I was actually trying to come up with an ice cream recipe that could become my favorite. My mind started roaming and then it stopped, almost immediately.
And by the way, guess what I put on the blog? Yes, Chunky Maple Peanut Butter Ice Cream. But we have to start at the beginning.
It is so simple to make finger and spoon lickin' good maple peanut butter from scratch.
Just check out the notes in the recipe card and you'll be on your way.
So with no further ado let's visually check out the process.
How to Make Peanut Butter
You can double this recipe too depending on the size of you food processor but I find a couple of cups is a good amount.
I use raw peanuts but you can use roasted if that's all you have on hand. If you use roasted don't add the salt to this recipe.
As you can see in the photo below the peanuts are just starting to break down.
The nuts are starting to break down nicely and they are even starting to release some of their natural oil.
In the photo below you'll notice that the peanuts are starting to clump together. You will probably need to stop you machine and push the clump from the edges to the center and start the processor again.
Keep in mind, this is only taking seconds/minutes. If your machine isn't a very powerful one then by all means stop about every 30 seconds so that it doesn't overheat.
Don't worry about this middle part when the peanut butter is clumping. Just keep going. It is releasing its oils and is turning into healthy peanut butter.
Here we go, Almost there. Sprinkle in the salt if you didn't use roasted peanuts.
Now just keep on processing until it is as creamy as you like. This whole process takes about 5 minutes.
Now as I have already mentioned you can go one step further and make Maple Peanut Butter.
I used raw peanuts but you can definitely use salted dry roasted peanuts. That would also taste great. Leave out the pinch of salt if you go that way.
At the very end of making your peanuts creamy then add ¼ cup maple syrup. Process until smooth and you are done. It tastes great and is also wonderful on wheat bread all by itself either toasted or not.
It's pretty good on a teaspoon too.
If you want to freeze some maple peanut butter to use in this Chunky Maple Peanut Butter Ice Cream recipe then pour it all into a container that makes the peanut butter about 1" deep. Freeze overnight and it will be ready to chunk for your ice cream.
📋 Recipe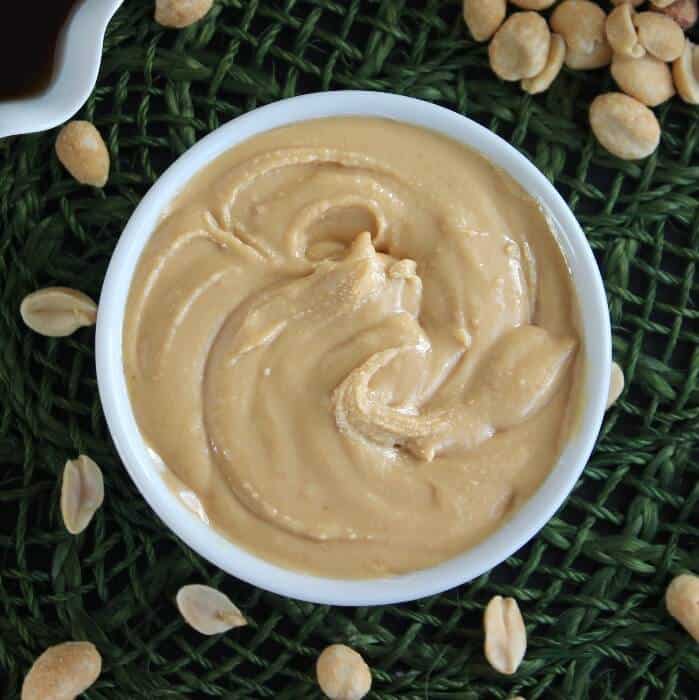 Healthy Peanut Butter
Healthy Peanut Butter only takes minutes to make and it is ridiculously easy.
Ingredients
2

cups

raw peanuts

¼

teaspoons

sea salt
Instructions
Use a food processor. It works so much more easily that a blender.

Pour your peanuts into the processor. I use a Ninja Food Processor and it does the job quickly. I am sure there are many out there that would work great.

First you will get chunky crumbs.

Then it will start to stick together and to the sides of the processor. Turn off the processor and use a spatula to scrape down the sides.

Process for another 15 seconds and scrap again. Do this about 3-4 times.

Now process a little longer in between when you scrap down the sides and the peanuts will start to heat up and release it's oil which helps make it become a peanut butter.

In no time it will be creamy. Add the salt and cream some more.


Scoop into a jar with a tight fitting lid and eat whenever you want.
Notes
Peanut Butter will keep for months in the refrigerator but believe me it be be gone way before that.
If you want to double this recipe it is not problem. Just double the ingredients and follow the above directions.
To add maple syrup to this recipe just add ¼ cup at the end of the creaming process and process some more until all is well combined.
Nutrition
Serving:
2
Ounces
Calories:
107
kcal
Carbohydrates:
4
g
Protein:
4
g
Fat:
9
g
Saturated Fat:
1
g
Sodium:
37
mg
Potassium:
120
mg
Fiber:
1
g
Sugar:
1
g
Calcium:
10
mg
Iron:
0.4
mg