Homemade Kahlua has a simple and perfect balance of sweetness that is shared with coffee and rum. Doesn't it sound good already? Aged for 2 to 3 weeks.
Homemade Kahlua takes a little effort and the rewards are huge. All you do is put 4 ingredients together and then let it age for about two to three weeks.
The result? A perfect coffee-flavored liqueur that is excellent for sipping or mixing in many recipes that call for a celebration.
It makes a wonderful sipping cocktail.
Jump to:
The holidays are coming up and if you get this Homemade Kahlua recipe going on time you could pour it into beautiful small bottles and give it as gifts.
You could even tell them that it has to stay bottled another week or so for the aging to complete.
What liquor can I use to make Kahlua
Rum is the tradition and you can use dark rum or white rum. I like dark rum as I think it gives it more warmth.
Sometimes vodka is used and that makes a nice Kahlua too. It is easier on some people and doesn't smell as strong. It makes a good cocktail.
There's a liquor called Everclear. It's powerful stuff and often used in creating liqueurs.
Brandy has also been used but that one needs to age about a month.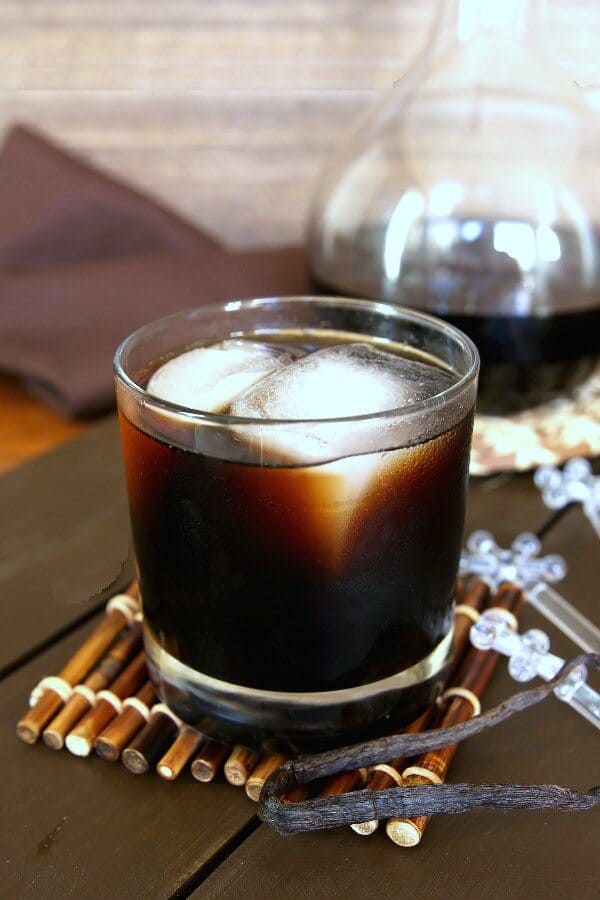 Homemade Kahlua brings back warm memories for me. Not that I got to drink it but I got to share the time with my mom while she made it.
Well, don't get me wrong. I did get a sip and even at 16, I knew Kahlua was a special drink.
I have mom's original recipe that is written on scratch paper - it is a bit dirty and I cherish it.
That recipe is now this recipe for everyone to have. Believe me, it's been tried and tested many many times.
For about 50 years. It's that good and a real family tradition.
FAQ's
How do you make a White Russian?
More liquor is added to the finished Kahlua and a heavy splash of dairy free unsweetened creamer is stirred in.
How do you make a Black Russian?
Just add more liquor to the finished Kahlua and pour over ice.
Do you have to use a vanilla bean to make homemade Kahlua
You don't have to but it gives an aged quality but you only have to use an inch of the whole bean.
They are usually 5" to 6" long so that means you can make a lot of Kahlua with one bean. That's at least 2 gallons!
So the vanilla bean doesn't sound so expensive when you look at it that way.
You can use a super good organic vanilla extract instead. The plus on this is that you can have instant gratification.
The Kahlua will still improve with a little time though but the vanilla bean recipe really makes it great.

Go ahead and double or triple the recipe for even more gift-giving. Or heck, for your own cupboard.
Keep this liqueur sealed tight and it will stay good three to four years. I kid you not.
Of course, it wouldn't last even a year in my house. Maybe a season?
Ingredients
Strong and hot fresh brewed coffee - gives a depth to the sweetened rum
Organic sugar - is the perfect addition to sweeten the alcohol
Rum - is my favorite for Kahlua. Some people use Vodka.
Vanilla bean - is a necessity but vanilla extract may be used. See the notes above if you use vanilla extract.
This Kahlua can also be used in any of your dessert recipes that call for Kahlua.
If the word Kahlua is in the title of a dessert it just sounds like something special. One recipe I have on the blog is called Kahlua Truffles.
They just seem too special for everyday snacks. That sweetened coffee rum liqueur really puts that treat over the top.
You can tell I really like Kahlua. In fact, I really like making homemade liqueurs too.
I mentioned the holidays so my Copycat Baileys Irish Cream Whisky recipe could be a recipe you'd like to try too.
You've probably heard of the cocktail, a White Russian. That is made with one-ounce of Kahlua and a splash of cream. In our case dairy-free cream.
It's that easy and is very very popular too.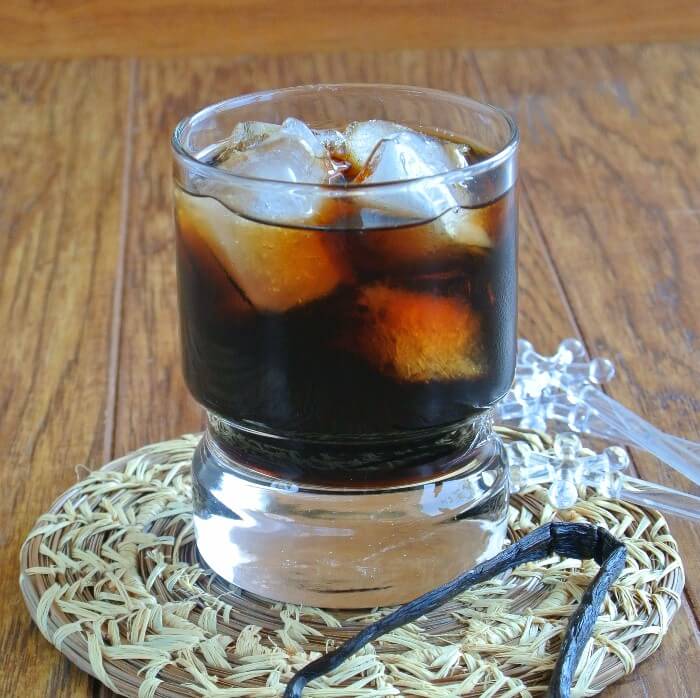 Want to make some homemade Kahlua?
PIN IT

to your Drinks or Christmas board to save for later!
Find me on Pinterest for more great recipes!
No freezing is necessary. It will keep -almost forever- meaning until you drink it all.
Joking aside it keeps about 3 years.
More homemade cocktails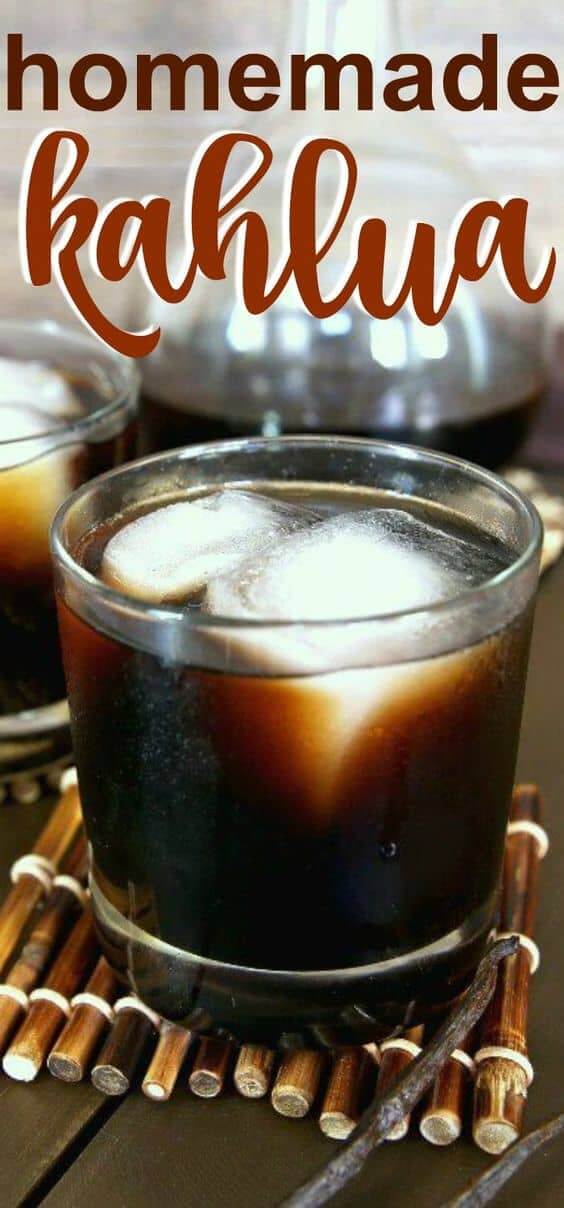 📋 Recipe
Homemade Kahlua
Homemade Kahlua has a perfect balance of sweetness that is shared with coffee and rum.
Ingredients
2 ½

cups

strong and hot fresh brewed coffee

4

cups

sugar

- organic

2 ¼

cups

rum

1

inch

vanilla bean

- cut in half lengthwise for aged quality or 1 tablespoon of a good quality vanilla extract for instant gratification
Instructions
Stir sugar into hot coffee and stir until the sugar is dissolved. Let cool.


Add the rum and vanilla pieces, stir.

Cover and let sit for 2 to 3 weeks in a cool place.


Strain, remove beans and bottle.

If you are using vanilla extract then stir in and it is ready. It won't have quite the depth of flavor but it is good.

Notes
Sugar loses a lot of its measurement when it turns to liquid so you will end up with about 46 ounces of Kahlua.
Nutrition
Serving:
1
Cup
Calories:
424
kcal
Carbohydrates:
90
g
Sodium:
1
mg
Sugar:
83
g
Iron:
0.1
mg