Homemade Chili Seasoning Mix is so easy. Two tablespoons equals one of those packets you buy at the store. Use it in chilies, tacos, casseroles, bean patty mixes and more!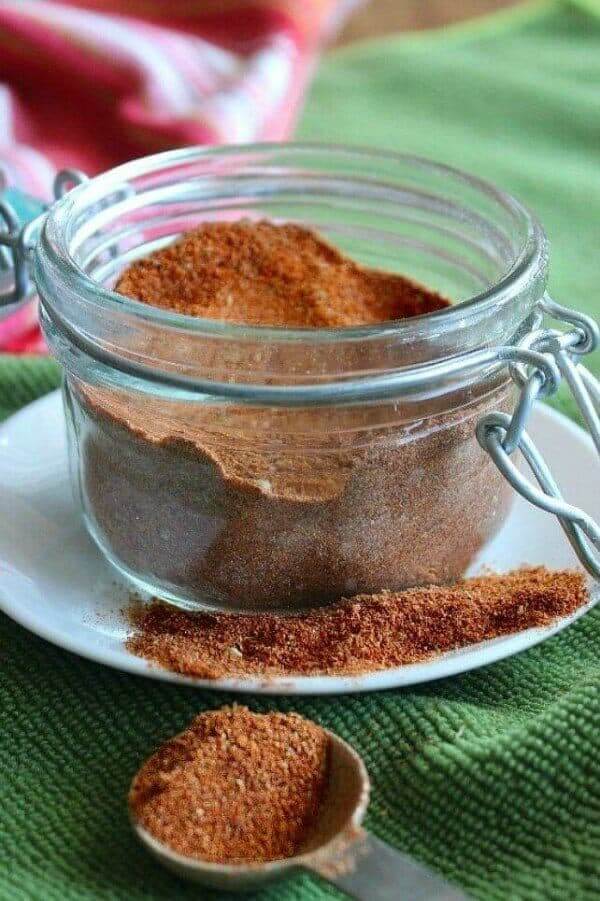 To tell you the truth I can't remember when there weren't those little packets 'for seasoning everything you can think of' in the grocery store.
I do know there didn't use to be so many of them though.
For sure, I think the first was that little box that holds two packets for onion soup mix.
People didn't buy it for onion soup. They bought it for onion dip.
Jump to:
That was a prerequisite for every single party back then - for everyone. It is still packaged the same today.
Somewhere out there, in geniusland, a wise person thought about making an assorted variety of packets for multiple dishes. The first one was probably for chili and probably by Lawry's.

🥘 Ingredients
Ground chili - of your choice.
Cumin - adds more heat but in a subtle manner.
Paprika - is another very flavorful spice that adds depth.
Oregano - is such a mild addition but it really helps meld the ingredients.
Garlic powder - seasoning is a necessity.
Onion powder - finishes off the crazy flavorful mix.
💭 How to use chili seasoning mix
It's not just for chili! Check out these delicious ideas.
Tofu Scramble - sprinkle a little in while your cooking up a nice warm breakfast.
French Fries and even Sweet Potato Fries - air-fry up a batch but make sure you've added some to the coating.
Michelada - the next time you make this special Bloody Mary add some seasoning to the salt rim.
Broccoli - steam up a batch of florets and toss it in dairy-free butter, Immediately sprinkle in some seasoning.
Almond Mayonnaise - don't forget to add some spicy flavor to the next batch of your homemade cashew or almond spread.
Rice - I kid you not. Add some tomato, pinto beans and seasoning for a really delicious side dish.
They make a lot of money off of those little packets. And you can make your own.
🔪 Instructions
All you do is measure and mix. Pack in an airtight container (a pretty little bottle) and use it whenever you like.
Homemade Taco Seasoning is another one you can make at home that is super easy. It looks like this:
It saves so much money to make your own mixes. The one below is super expensive but you probably already have al the ingredients right in your cupboard.
Garam Masala is the most expensive of the mixes but it also has ingredients that you probably already have. Here's a little peek of what it looks like.
Homemade Garam Masala Seasoning.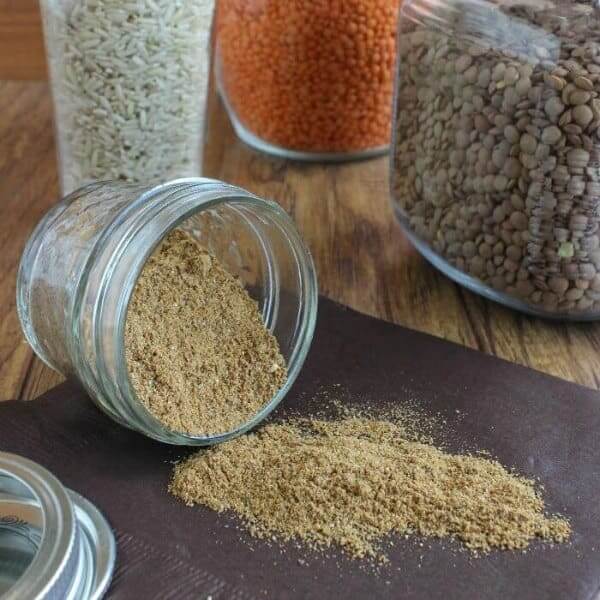 Does your to-do list get longer every day? Me too!
One thing gets taken off and another two get added.
One of the things is that I want to do a type of ranch dressing mix next. Something that can stay vegan and still have the tang of ranch.
Something that can be added to lots of recipes just like this one.
But let's get back to this homemade chili seasoning.
Now you can save some more of your money by making your own Homemade Chili Seasoning Recipe. It takes no time at all and you can make enough to last a year.
You might want to make more than you think you need because it works with so many kinds of recipes. I love to use it in my bean patties.
Go ahead and use it in chilies, tacos, casseroles and more!
Here is a beautiful and delicious named Michelada . The rim is dipped in chili seasoning and salt mix. It's a knockout and so refreshing.
It tastes as good as it looks.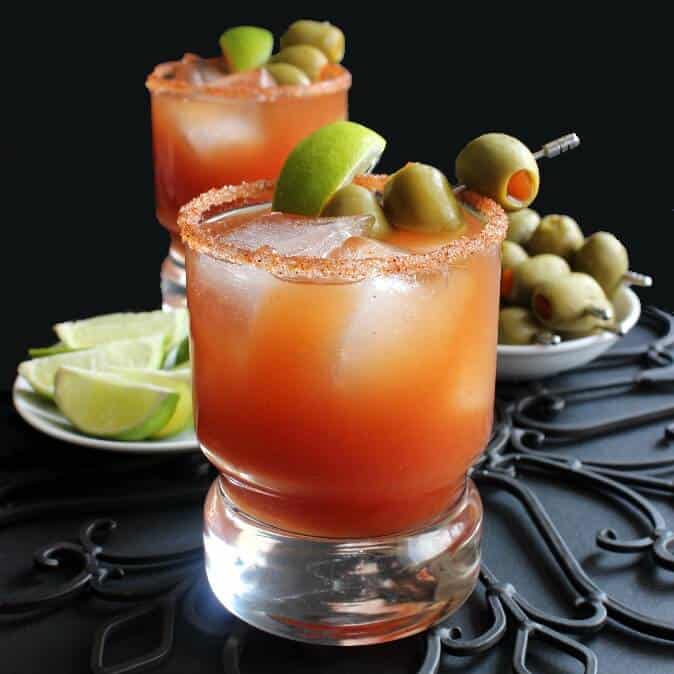 No need to freeze because the chili seasoning will keep for about a year.
Just pack in an airtight container and keep out of the bright light.
2 tablespoons equals one of those packets you buy at the store.
If you take a photo of your great chili seasoning mix I would love to see it. Follow me over on Instagram and tag me on your photo @vegan_in_the_freezer.
Your opinion means a lot to me and if you'd like to leave a comment and possibly a star rating I'd love to hear your thoughts.
📋 Recipe
Homemade Chili Seasoning Mix
Homemade Chili Seasoning. Two tablespoons equals one of those packets you buy at the store.
Ingredients
2

tablespoons

chili powder

2

tablespoons

cumin

2

teaspoons

paprika

2

teaspoons

oregano

1

teaspoon

garlic powder

1

teaspoon

onion powder
Instructions
Place all of the ingredients in a bowl and mix well.
Nutrition
Serving:
1
tablespoons
Calories:
21
kcal
Carbohydrates:
3
g
Sodium:
48
mg
Potassium:
117
mg
Fiber:
1
g
Vitamin A:
1155
IU
Vitamin C:
0.2
mg
Calcium:
38
mg
Iron:
2.2
mg