Homemade Almond Milk is so easy to make you will be amazed. Creamy and delicious. Packed full of vitamins and minerals too. I want a glass right now.
Who would dream that you could make your own milk? I never did when I was younger but you can with very little effort.
Homemade Almond Milk is not only one of the most versatile kind of milk but it is also one of the healthiest. My husband just looks at me with wonder sometimes. I don't tell him how easy it is.
I want to tell you more about its nutrients. It has some protein, the fats are unsaturated which makes it healthy for people with heart problems.
It even has mega-3 fatty acids. Lots of vitamins (vitamin E) and minerals too. You can tell I really like it!.
Oh yeah, it is so delicious.
What Do You Use to Strain Homemade Almond Milk?
You do have to strain almond milk as there is leftover almond that is very much like a moist almond meal. You can actually use this product in other recipes if you like.
I added a some information in woking with the leftovers right below the picture of the nut milk bag.
I finally bought a couple of Nut Milk Bags because the cheesecloth just never seemed wide enough.
It turned out I would have to strain the mixture in more batches. If I wasn't slow enough sometimes the mixture would squeeze out the side – so be careful and don't rush.
If you use a Nut Milk Bag you are golden. Here's a picture of one of mine.
What Do You Do With Leftover Almond Milk Pulp?
If you want to save the almond pulp here are some suggestions. I spread out the meal and bake it in a 200 degree oven for about 2 hours or until it is completely dry.
You can add it to cold or hot cereals. If you blend the dry meal in a blender it essentially turns into almond flour.
Then you can use it in any way you would use almond flour.
Not all nut milk needs to be strained though. Cashews are one of them as the cashews just seem to disappear and become a liquid.
Here's a pic of some Sweetened Cashew Creamer that I made too.
In fact, let me tease you another creamer that's really easy. This one is made with oats and its
Coconut Oat Vanilla Nut Creamer
.
Creamer is something that I seem to always run out of. More than milk. And … I always have oats so this is a recipe that comes in very handy.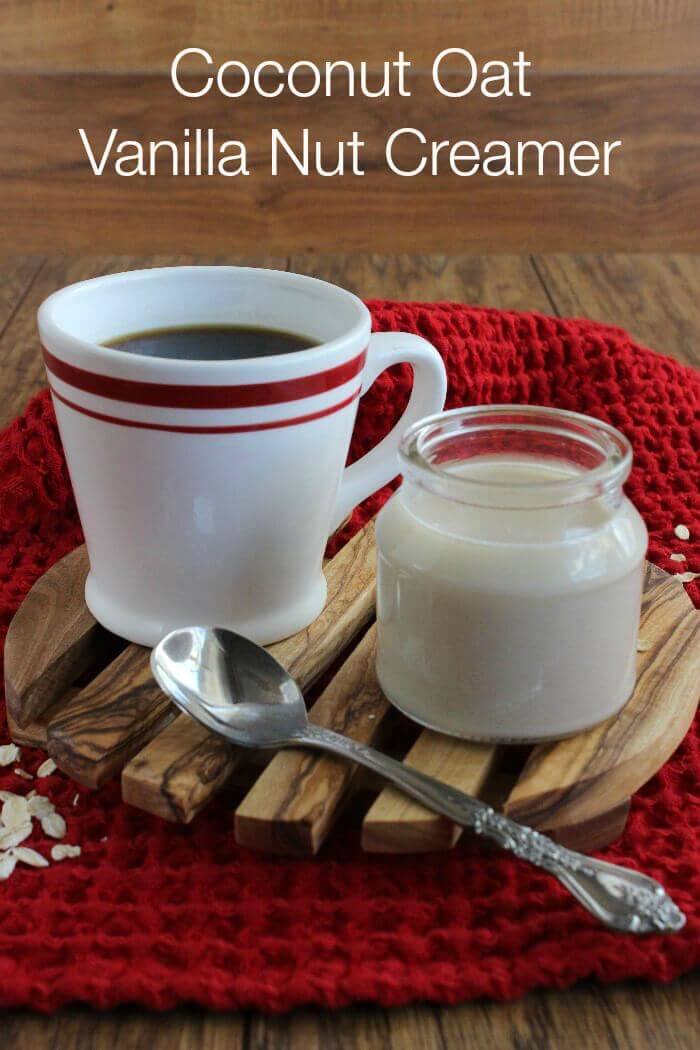 This post contains affiliate links. Read my disclosure policy here.
Print
Homemade Almond Milk
Homemade Almond Milk is so easy to make you will be amazed. Creamy and delicious.
Ingredients
1

cup

almonds

- raw, buy in bulk if you can, it is much more economical

4

cups

water plus 2 cups for soaking

1

tablespoon

Maple Syrup

Fine cheesecloth or a Nut Milk Bag
Instructions
Soak the almonds in 2 cups water from 1 hour to overnight so that they will soften a bit. If you have a very powerful blender then you don't have to soak at all.

You can even let them soak for 2 days but it's not necessary.

Drain the almonds and rinse clean in a sieve.

Put in a blender. Cover the almonds with 4 cups water.

Add the maple syrup. Blend on high speed for 2 minutes.

The almonds and water will now be milky. If you have a blender that is not very high wattage you can blend longer. You should not see any bits of almond.

If you are using regular cheesecloth - double it up. If you are using fine cheesecloth you should be fine. If you have a milk bag - use it.

Place the Nut Milk Bag or cheesecloth over the strainer.

Place the strainer over the bowl or measuring cup.

Pour some of the mixture into your Nut Milk Bag or cheesecloth.

Twist the top if using cheesecloth or pull the drawstrings on the Nut Milk Bag.

Start squeezing the mixture through the mesh. Wringing out all of the liquid. There will be meal leftover in the bag.

Open the bag and dump the meal that is left in the bag into another container to save. See the note below for ideas on how to use the leftover meal.

Continue until you are all done.

I need to do two batches in the Nut Milk Bag.

Put in a container with a lid because it separates and you'll want to shake it before pouring into your glass.

Shake it before serving. So cold, creamy and delicious.
Nutrition
Nutrition Facts
Homemade Almond Milk
Amount Per Serving (1 Cup)
Calories 40
Calories from Fat 27
% Daily Value*
Fat 3g5%
Sodium 115mg5%
Potassium 35mg1%
Carbohydrates 1g0%
Protein 1g2%
Vitamin A 500IU10%
Calcium 450mg45%
Iron 0.4mg2%
* Percent Daily Values are based on a 2000 calorie diet.
This homemade almond milk will keep about 4-5 days.