Vegan smoothies are one of the best-tasting breakfasts or lunches that you can have. Healthy smoothies are easy to make and there are tips inside to help you make even more recipes on your own.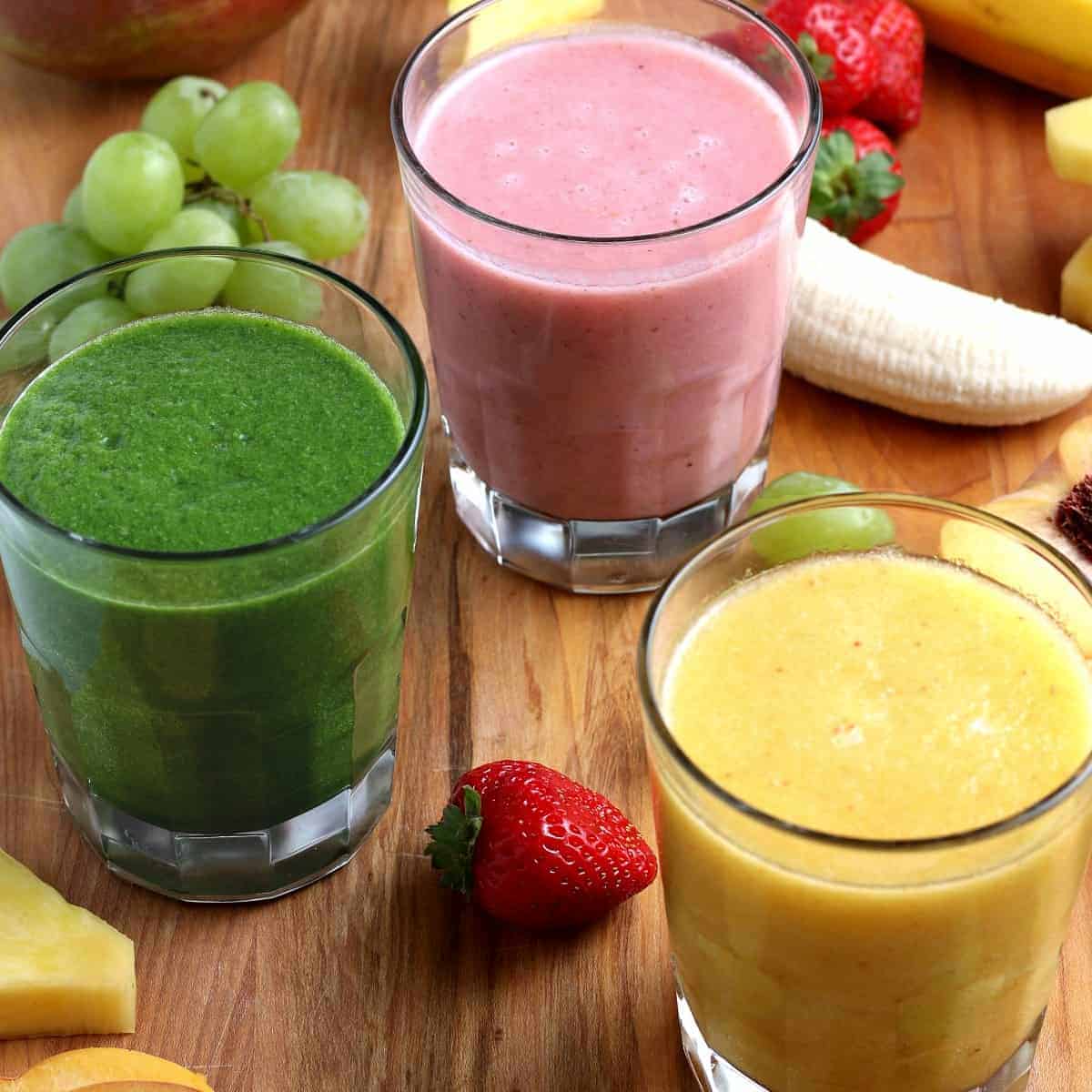 Making healthy vegan smoothies is very simple but not all are created equal. It is just as easy to make an unhealthy smoothie and that usually involves lots of sugar.
It's also easy to order smoothies that will put lots of weight on you. When you make them at home you have complete control and it only takes minutes.
This post gives you three recipes and also lots of useful information for you to start combining the ingredients that you have on hand.
It is great to have fresh fruit but frozen fruit makes smoothies that are just as good. And that also lets you make a smoothie anytime you'd like because all you have to do is pull out a bag of frozen strawberries or blueberries.
All you have to do is to be sure you buy the highest-quality ingredients to be sure that you're getting the nutrients and vitamins that you should be getting with fruit-filled vegan smoothies.
Jump to:
As long as you keep good quality frozen fruit in your fridge and also some basic ingredients such as dairy-free milk you'll be on your way to making easy, delicious, and nutritious smoothies.
How to add protein to smoothies
Besides the fruit and dairy-free milk you will want to add some protein for a fully rounded meal that will keep you going for quite a while.
On the blog, I have a recipe titled Apple Smoothie with Peanut Butter and that peanut butter adds lots of protein along with the rolled oats.
The fun thing is that you can also add very high protein counts with flax seed, chia seeds, and my favorite hemp hearts (raw hemp seeds). If you'd like to go the way of adding protein powder then pea protein powder is a great choice.
How to make healthy smoothies
Let me show you how to make a green smoothie. The recipe is below in the recipe card and the instructions are basically the same for all of the vegan smoothies.
Above is a photo of all of the ingredients you need for three different smoothies. First set up your blender.
For the green smoothie add the fruit called for in this recipe. Green grapes, pineapple, and banana are used. Then add the liquid.
Next, add the spinach and top with ice cubes. Blend until smooth. Green smoothies are pretty good when they are cold so that is why I like to add ice to this recipe.
You could also use a frozen banana. Then you could omit the ice. Freezing bananas is a handy way to always have bananas on hand.
That is truly how easy the process is. It only takes minutes.
FAQ's
How many ingredients should I use?
Keep it simple for the best healthy vegan smoothies. Choose the liquid, 1-3 fruits, a protein, and a green such as the spinach above if you're making a green smoothie. That's it.
Do I need to use fresh fruit for smoothies?
No! In fact, I always have frozen fruit on hand. You can buy fruit and freeze them or skip that step and buy high-quality frozen fruit. I always freeze my own bananas.
Do I have to use a banana?
No, not at all. The peach mango smoothie recipe I have in this post doesn't have a banana. My husband makes a daily frozen strawberry smoothie that has no banana. That's his snack.
What can I substitute for bananas in smoothie recipes?
That's easy. Just add more of one of your favorite fruits that's already in the recipe. Or you can sub with any nut butter, mango, papaya, fresh figs, avocado and more.
How can I sweeten a smoothie?
If the fruit isn't sweet enough already then you could use maple syrup and dates are wonderful. You could also use molasses.
How can I meal prep smoothies
This is a great way to have your ingredients ready to go. All you have to do is add all of your ingredients (except the liquid) to a freezer-safe container or a freezer-safe baggie.
Freeze a variety of smoothie bags or containers and then there will be absolutely no work at all when you want to through your ingredients in a blender.
You can also add smoothie ingredients to a container as seen in the photo below and hold them in the refrigerator for about 3 days.
What are the health benefits of smoothies
You will get a nice dose of fiber. Don't peel some of the fruit such as peaches and apples and you will benefit from the fiber from the skins.
Dark leafy greens such as spinach and kale are loaded with vitamins and nutrients such as vitamin K and calcium. Vitamins A and C may also help to decrease the risk of strokes and heart attacks.
Fruits will add to your nutrient intake and what would be nicer than being able to incorporate them into a smoothie.
So there you have it. Three smoothie recipes but the options are endless. What a great way to eat your fruits and veggies.
More healthy breakfasts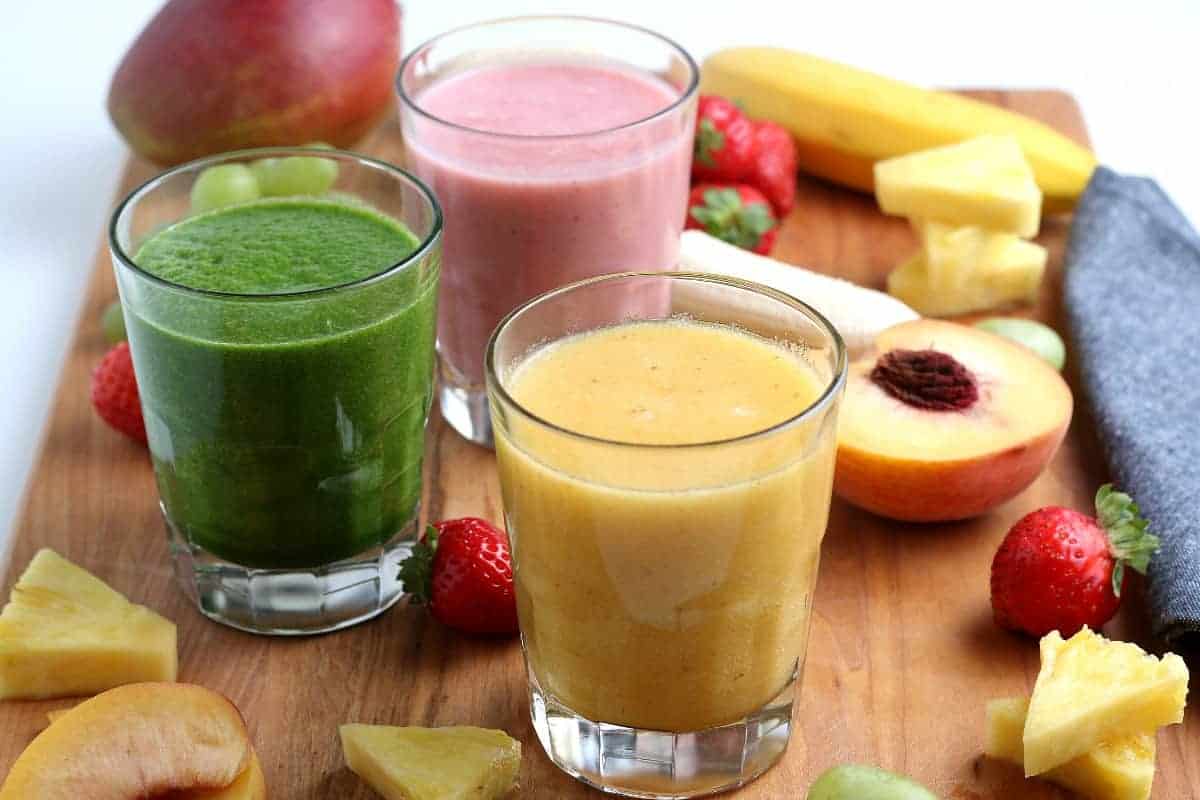 📋 Recipe
Healthy Vegan Smoothies
Healthy smoothies are one of the best-tasting breakfast or lunch you can have.
Ingredients
Strawberry Banana Smoothie
1

cup

unsweetened almond milk

- or water

2

cups

bananas

- 2 small ripe bananas

3

cups

strawberries

1 ½

teaspoon

vanilla extract
Peach Mango Smoothie
1 ½

cup

peach nectar

- no sugar added, chilled

2

cups

mango

- peeled, seeded and cut into cubes

1

cup

peach

- seeded and diced

1

cup

ice cubes
Green Smoothie
½

cup

water

- or dairy free almond milk

1

cup

green grapes

½

cup

pineapple

1

cup

banana

2

cups

spinach

½

cup

ice cubes

- optional, if the fruit is frozen then you can omit this and still have a cold smoothie
Instructions
For each separate recipe place its ingredients into a blender.

Turn the blender on low speed and slowly increase to high.

Blend for about 30 seconds or until everything is blended to a smoothie consistency.
Nutrition
Serving:
1
Serving
Calories:
202
kcal
Carbohydrates:
49
g
Protein:
3
g
Fat:
1
g
Saturated Fat:
1
g
Sodium:
73
mg
Potassium:
664
mg
Fiber:
6
g
Sugar:
36
g
Vitamin A:
1850
IU
Vitamin C:
84
mg
Calcium:
87
mg
Iron:
1
mg