Healthy Morning Muffins have multiple grains, nuts, and fruit. They make a morning ritual complete for the best and tastiest breakfast. So good and easy.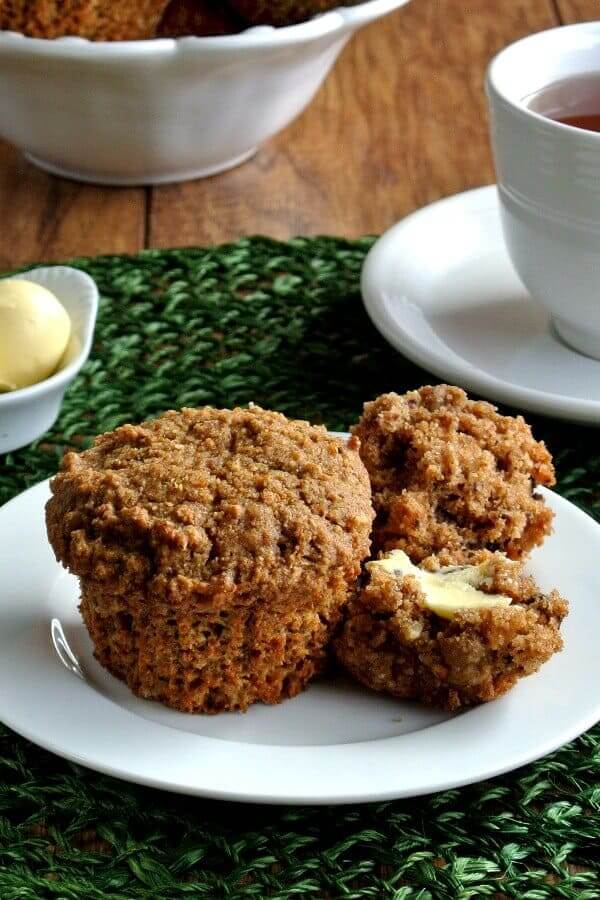 Muffins are such an easy go-to. In the case of these muffins, they are not only easy and delicious but healthy too. There are multiple grains, nuts, and fruit and it's really a fun recipe to throw together.
Do you pinch off pieces of your muffin and pop them in your mouth? If I haven't smeared them with dairy-free butter that's my habit. Sipping tea or coffee and pinching off pieces of muffins.
Really! Do you do that? It's kind of relaxing. In fact, I almost always eat them plain so they are very pinchable. Muffins are so good and these have a really good texture too.
Another question. Every once in a while do you find yourself running late and you haven't had breakfast yet? Grab a muffin. And wounldn't that be nice if it was a healthier one?
What Makes Breakfast Muffins Healthy?
Grains, Nuts, and Fruit!
For these Morning Muffins, you have a huge variety of healthy ingredients.
Bran Cereal
Whole Wheat Flour
Oats
Flaxseed Meal
Walnuts
Apple
Raisins
What are Some other Great Vegan Breakfast Muffins?
Oh, my word! I just counted and I have 17 muffins on the blog that would work for breakfast and a couple of pretty sweet ones that are best for dessert.
Let's see! Let me show you a picture of one of them. How about those Chocolate Espresso Muffins? Now those call for coffee!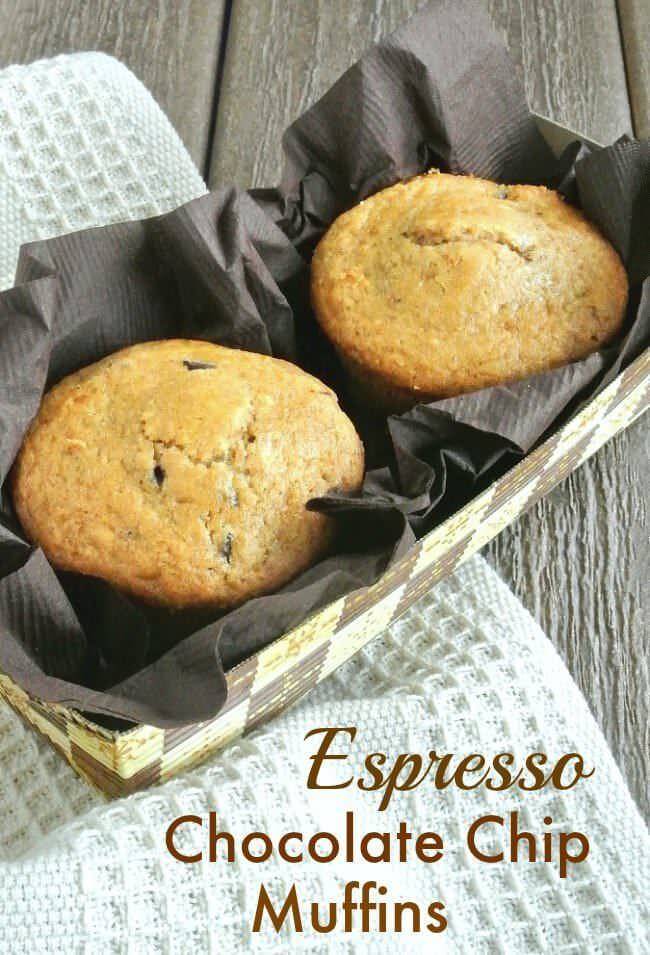 How to Make Muffins at Home
It is easy!
It's necessary to have muffins tins. For these breakfast muffins enough for 12 muffins.
Paper cups come in very handy especially if you're not sure of the recipe yet. Or if the tin in old and blackened or if you want to use as little 'grease as possible' or if you just want to make them prettier with a certain color paper cup.
Round up all of your ingredients. Sometimes there are quite a few if adding fruit and spices.
Get the equipment together. Including a mixer or large sturdy wooden spoon, measuring cups and spoons, paring knife and a large bowl.
Follow the recipe exactly. Baking can be tricky if you go off track.
Can Breakfast Muffins Be Frozen?
Most definitely!

IF FREEZING:

After they have cooled you may freeze them in any of the methods shown in my article How to Prepare Food for the Freezer.
They defrost quickly so it really doesn't take any planning. The microwave will also zap them in 20 seconds.
This post contains affiliate links. Read my disclosure policy here.
Print
Healthy Morning Muffins
Healthy Morning Muffins have multiple grains, oats, nuts and fruit. They make a morning ritual complete.
Ingredients
1

tablespoon

flaxseed meal mixed with 2 1/2 tablespoons water

- this is the egg substitute

1

cup

whole wheat flour

1/2

cup

bran cereal - ground coarsely

1/2

cup

finely ground bran cereal

1/2

cup

quick cooking oats

1/2

cup

cornmeal

1/2

cup

coconut sugar

1/2

cup

chopped walnuts

2

teaspoons

baking powder

2

teaspoons

baking soda

1

teaspoon

ground cinnamon

1/2

teaspoon

ground ginger

1/2

teaspoon

ground nutmeg

1/2

cup

raisins

1

cup

almond milk

1/3

cup

dairy-free butter, melted and cooled a bit

1

cup

1 apple - whatever the measurement turns out to be - granny smith apple, peeled and cut chunks (this will go into a food processor later. Do not peel the apple until right before using because it will turn brown - a bit.
Instructions
Mix the flaxseed meal and water and set aside.

Put muffin paper liners in 12 muffin cups.

In a large bowl, combine the flour, both bran cereals, oats, cornmeal, sugar, walnuts, raisins, baking powder, baking soda, cinnamon, ginger and nutmeg.

In a food processor add the flaxseed meal mixture, almond milk, melted butter, and apple and process for about 15 seconds.

Pour this liquid mixture into the large bowl that is holding all the dry ingredients. Stir well until just combined.

Spoon the batter into each muffin cup. The batter will pretty much be to the top of the muffin cups.

Bake at 400° for 25 minutes or until a toothpick, inserted in the center, comes out clean.

Transfer muffins to a rack and let cool.
Notes
IF FREEZING:
They defrost quickly so it really doesn't take any planning. The microwave will also zap them in 20 seconds.
Nutrition
Nutrition Facts
Healthy Morning Muffins
Amount Per Serving (1 Muffin)
Calories 177
Calories from Fat 54
% Daily Value*
Fat 6g9%
Sodium 288mg12%
Potassium 210mg6%
Carbohydrates 28g9%
Protein 3g6%
Vitamin A 85IU2%
Vitamin C 0.3mg0%
Calcium 66mg7%
Iron 1.9mg11%
* Percent Daily Values are based on a 2000 calorie diet.