Grow Sustainable Herbs Indoors so that you can enjoy a healthy hobby, save money at the grocery store and have herbs at your fingertips any time that you want.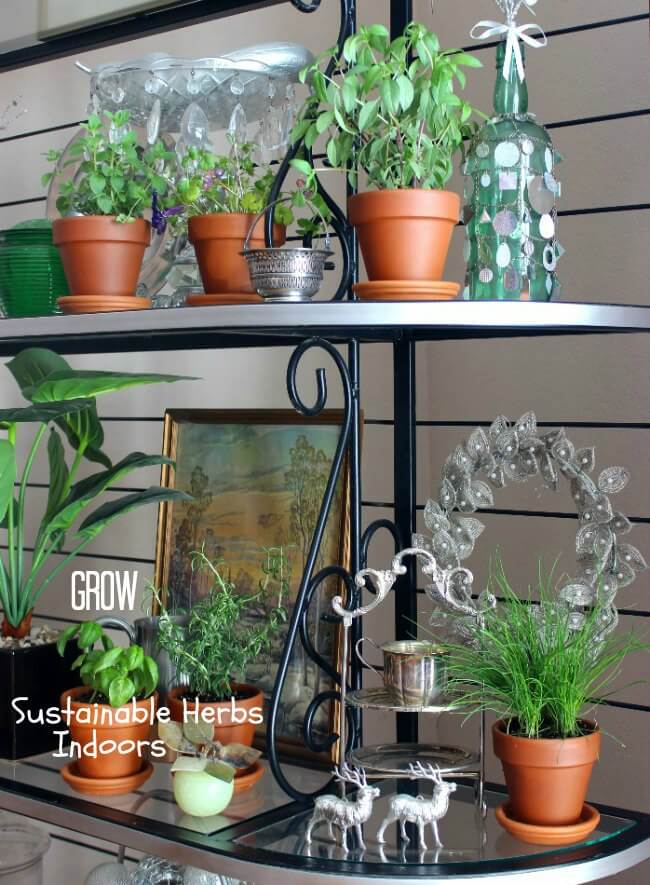 April is Earth Month and it is well on it's way. I have been thinking of ways that I can add sustainability, in regards to the earth, to my life. It has been such a rewarding project and my list is growing.
One thing that I'd like to share with you is growing herbs indoors. I think we would all benefit. It kills me when I buy a batch of parsley or basil and it goes the way of the trashcan before I have a chance to use it all up. It is in my mind to freeze the herbs in ice cube trays, along with oil, but sometimes the time just gets away from me.
Last year I planted some herbs outside but even the perennials don't thrive through the winter. I would shy away from making recipes that called for fresh herbs because of their expense. So this year it's Project: Grow Sustainable Herbs Indoors. It has worked out so well. Like this weight has been lifted off my shoulders.
Now having fresh herbs at hand is no problem. Anyone can grow herbs inside when there is a sunny window in their house. North facing windows don't work so well because herbs like light. They also don't like to be over-watered. Those are the two tricks.
Pinching off the tips is another way to keep them growing. That goes on a lot around here with cooking. The branches fork and thrive with that little bit of maintenance.
I'm also a 'wanna be designer' so I 'staged' a couple of photos to give you ideas on how to show off your herb garden. So simple, so rewarding and so sustainable. Above is a sofa table that we have tucked under a window. East side window and perfect.
If you don't have an outdoor area - a windowsill will serve you well and you'll be able to keep herbs throughout the winter.
Little pots of herbs are showing up everywhere this month. The choice is astounding and the stores know which ones are the hardy ones so that makes your purchase very easy. We can all grow sustainable herbs for indoors.
Almost all herbs are easy to grow but here are the basic ones that are often used in many culinary dishes. There are also many varieties from each family such as Thai Basil. Have fun picking the ones you use the most.
Basil
Oregano
Rosemary
Parsley
Sage
Cilantro
Thyme
Mint
Garlic Chives
Onion Chives
You know I can't leave you without a new recipe to enjoy. It's brand new! I used Silk almond milk for the creamy sauce and herbs as a garnish. I also used finely ground cashews for a thin layer over the top and what a flavor enhancer that turned out to be. Good old fashioned comfort food. Click on this link for Dairy Free Herbed Scalloped Potatoes to get the recipe and to see more photos.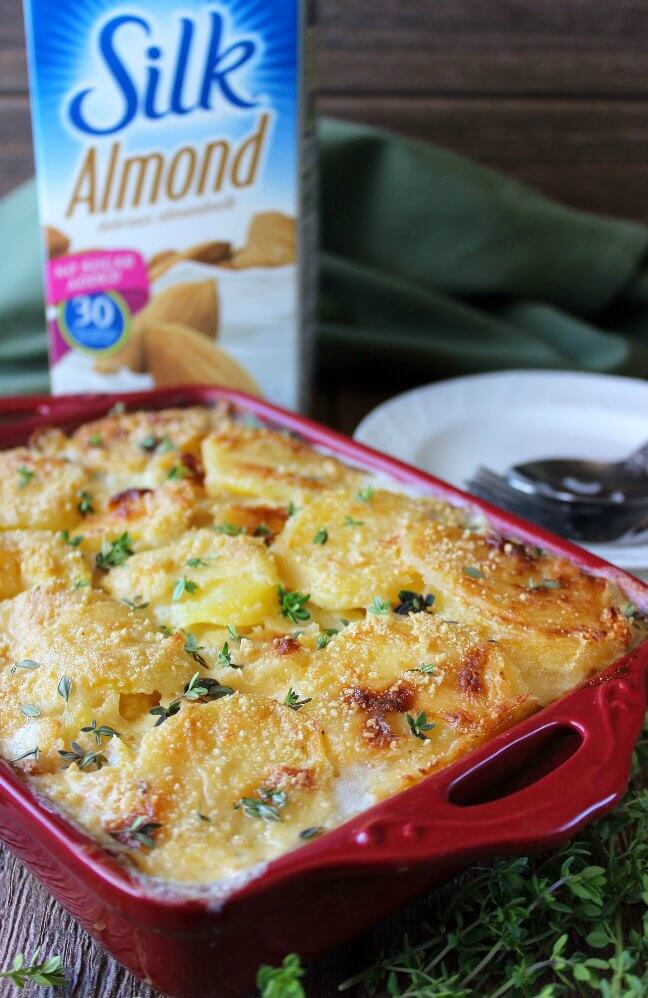 INGREDIENTS
1 tablespoon non dairy butter to grease the bottom and sides of a 9"x13" casserole or butter two smaller casseroles.
4-5 large russet potatoes russet potatoes (6 to 7 cups)
4 tablespoons dairy free butter
4 tablespoons flour
3 cups unsweetened dairy free milk (I use Silk's Unsweetened Almond Milk)
1½ teaspoon sea salt
½ teaspoon ground black pepper
¼ cup finely ground cashews
1 tablespoon fresh thyme
Click here for the complete instructions for Dairy Free Herbed Scalloped Potatoes . . .
. . .
Whether you go all out for Earth Day or celebrate the entire month we all know that carrying on sustainable habits throughout the year is the way to go. It just feels good!