Grilled Zucchini is a super way to use up some of those zukes. This is an easy how to grill zucchini recipe. It uses a simple marinade for tossing before grilling.
Zucchini season is here in full force and it is one of my favorite seasons. There are so many delicious recipes you can make such as zucchini muffins, bread, boats - the options are endless.
Vegetables prepared outside are the best. They're versatile, healthy, and delicious. From grilled asparagus to a grilled vegetable mix in foil, they're all so flavorful. But nothing tops one of my favorite sides for a summer meal - grilled zucchini.
If I'm being honest (which I firmly believe in being honest), I'd eat these as a snack any day of the week. Especially since it's inexpensive and healthy.
Jump to:
👩🏻‍🍳 Benefits of eating zucchini
It contains a wide variety of vitamins and minerals. Cooked zucchini specifically, has high amounts of vitamin A.
It's also very rich in antioxidants that protect your body from damage by free radicals. These antioxidants help your eyes, skin, and heart. Some research has found that the skin of the zucchini contains the highest levels of antioxidants.
You can see that I left the skin on the spears for grilling.
This grilled zucchini recipe is easy and delicious — made with ingredients you likely already have in your pantry.

🧾 Ingredients
Zucchini is abundant this time of year, in fact, it is so easy to grow (with enough sun and heat) you can grow it for many many months out of the year.
Extra Virgin Olive oil tastes great and aids in grilling.
Lemon juice adds the contrasting tangy flavor to the marinade.
Kosher salt is a larger crystal and tastes really good.
Fresh ground pepper adds a little spice.
Fresh garlic has the best flavor and pushes the marinade to the next level.
Italian seasoning is a nice all-around seasoning for fresh vegetables.
Italian parsley (optional) for garnish.
💭 How to pick the best zucchini
In some cases, like when using zucchini in muffins, cakes, or bread there aren't many things you need to look for while picking zucchini.
But when making zucchini that is grilled, sauteed, or roasted, you want to keep a few things in mind:
Size really does matter. When picking zucchini to use, you want to choose smaller ones. The best are about the size of a regular-sized flashlight (6-8 inches long). These are full of flavor. Larger ones tend to be watery and have large seeds.
The more vibrant color, the better the taste. Vibrant, rich colored ones are ideal for this recipe. Look for the ones that are uniform in color — the same vibrant color from one end to the other.
A soft zucchini is an indication that it will not be edible for very long if at all. You don't want wrinkly skin either.
💭 How far in advance can you prepare the zucchini
You can prepare the zucchini and lightly cover it in the fridge for a day or two. Pat it dry when you are about to coat it with the marinade.
Pour the marinade over all of the vegetables and keep at room temperature for up to three hours and grill.
You can also keep that mixture in the refrigerator overnight and then grill.
🔪 How do you grill zucchini
Cutting the zucchini is the hardest part of the entire recipe. In other words it isn't hard.
Cut the ends off and then in half, lengthwise.
Then cut those halves into halves or thirds. Place in a casserole.
Whisk together the olive oil, lemon juice, salt, pepper, garlic, and Italian seasoning until well combined.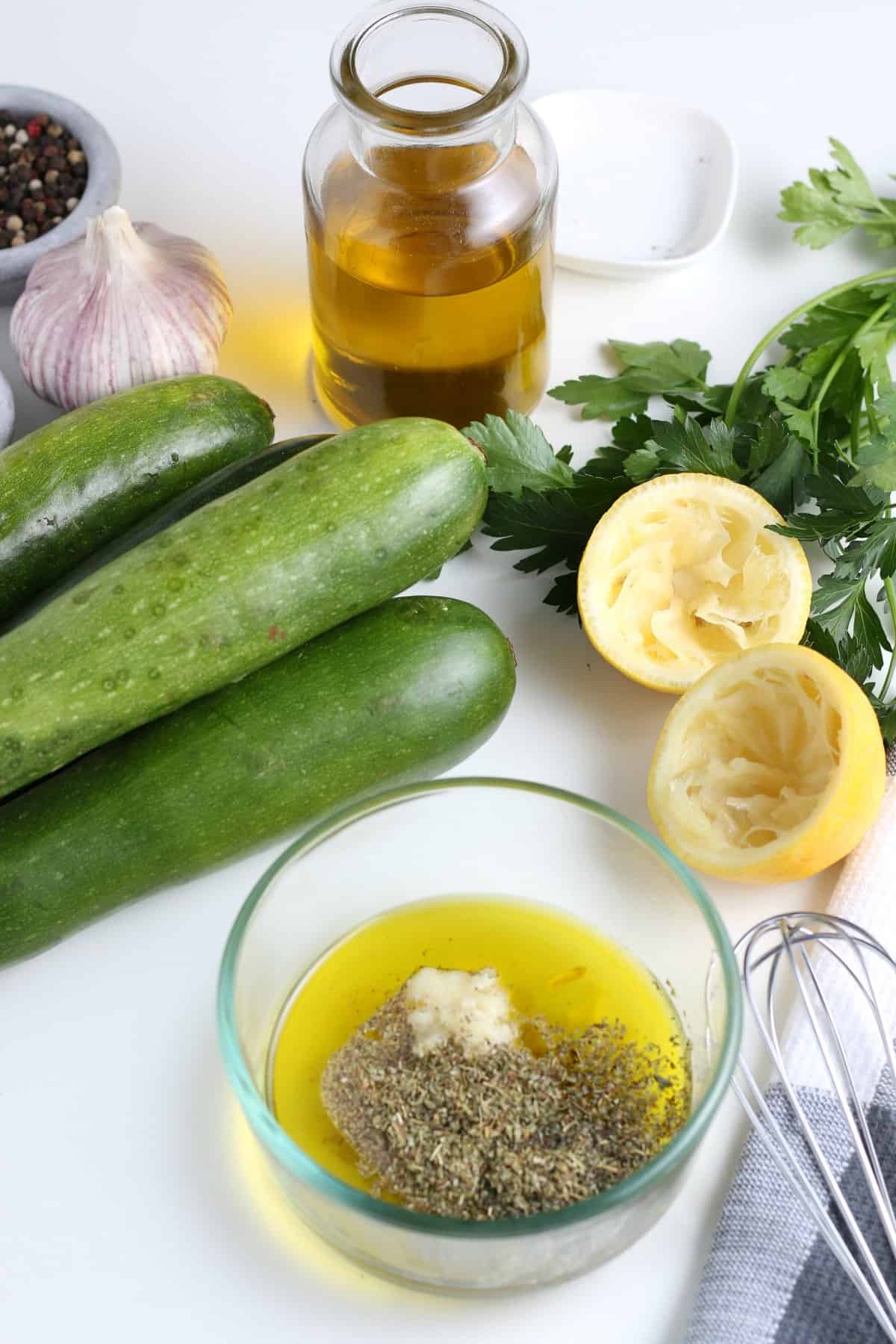 Add zucchini to rectangle pan or large bowl and toss with the olive oil mixture to coat.
Now add the olive oil mixture to the prepared veggies and toss with a spatula or your hands to coat well.
Heat your grill to medium-high heat. Be sure to brush your grill grates with olive oil, so that your zucchini doesn't stick to the grill.
Place it on the grill for three to four minutes.
For the best results, I recommend putting it skin side down for two minutes, then flip it on the grill them for a few more minutes.
Remove the zucchini from the grill, place them on a serving platter and sprinkle with salt, pepper, and parsley (if desired).

🥗 What to serve with grilled zucchini
This grilled zucchini recipe is the perfect side dish for black bean burgers or my favorite spicy green lentil burgers.

📋 Recipe
Grilled Zucchini Recipe
Grilled zucchini is a super way to use up some of those zukes. This is an easy how to grill zucchini recipe.
Ingredients
1

pound

zucchini

- small in size, up to 2 pounds total.

2

tablespoons

extra virgin olive oil

2

tablespoons

lemon juice

- one lemon

½

teaspoon

Kosher salt

¼

teaspoon

ground black pepper

2

cloves

garlic

- minced

1 ½

teaspoons

Italian seasoning

fresh parsley

- optional for garnish

red pepper flakes

- optional - very hot
Instructions
In a small bowl, whisk together the olive oil, lemon juice, salt, pepper, garlic, and Italian seasoning until well combined

Add zucchini to rectangle pan or casserole and toss with the olive oil mixture to coat.

Heat grill to medium-high. Brush grates of the grill with olive oil.

Place zucchini on grill and cook 3-4 minutes per side or until tender. Place on the grill skin side down first.

Remove from grill and place on serving plate.

Sprinkle with salt, pepper, and parsley if desired. Serve with lemon wedges if desired.
Notes
A serving is about ¼ to ½ pound. You can add another zucchini to the same mix if the zukes are very small.
Nutrition
Serving:
1
Serving
Calories:
87
kcal
Carbohydrates:
5
g
Protein:
2
g
Fat:
7
g
Saturated Fat:
1
g
Sodium:
300
mg
Potassium:
305
mg
Fiber:
1
g
Sugar:
3
g
Vitamin A:
240
IU
Vitamin C:
24
mg
Calcium:
33
mg
Iron:
1
mg