One of the best and easiest side dishes to make on a warm summer day is grilled zucchini. Not only is it nutritious and tasty, but it takes no time at all to prepare! Whether you're using an outdoor grill or an indoor grill pan, one thing is certain - that plate of perfectly cooked zucchini will make your mouth water with delight.
Why You'll Love This Grilled Zucchini Recipe
Versatile- Grilled zucchini can be served alongside just about any main course. You can also add different seasonings and spices to give it your own unique flavor.
Healthy- Zucchini is naturally low in calories and high in vitamins, minerals, and fiber. It's also an excellent source of antioxidants, which can help protect your cells from damage caused by free radicals.
Quick & Easy- There's no need to spend all day in the kitchen when making this absolutely delicious side dish. All you have to do is slice and season your zucchini, then throw it on the grill for a few minutes. You'll have a delicious plate of grilled zucchini in no time!
Taste Amazing- Every bite of this tender, smoky zucchini will make your taste buds sing! It's the perfect combination of crunchy and juicy, with just the right amount of smokey flavor.
What Is Grilled Zucchini?
Zucchini on the grill is one of those side dishes that impress you every time you make it. It's simply zucchini spears marinated in oil, garlic powder, and other spices. Then you cook the zucchini on the grill until it gets those perfect grill marks. The result is tender, smoky slices of tasty vegetables that are full of flavor!
Equipment Needed
Small Bowl
Whisk
Rectangular Pan or Casserole Dish
Charcoal Grill, Gas Grill, or Grill Pan
Tongs
Serving Dish
Measuring Spoons
Grilled Zucchini Ingredients
Zucchini- This green vegetable is the star of the dish! It's low in calories and packed full of nutrients.
Extra Virgin Olive Oil- To keep your grilled zucchini from sticking to the hot grates, brush them with oil before use.
Lemon Juice- Adds a contrasting tangy flavor to the marinade.
Kosher Salt- To bring out the flavor of the zucchini and other ingredients.
Ground Black Pepper- Adds a bit of spice to the marinade.
Garlic Cloves- Takes the already amazing marinade to the next level.
Italian Seasoning- Complements the other ingredients and adds a nice flavor.
Fresh Parsley- Optional for garnish.
Red Pepper Flakes- Also optional, but adds a bit of heat to your grilled zucchini.
How To Make Grilled Zucchini
To create the perfect zucchini spears, start by trimming off each end of the vegetable. Cut the zucchini lengthwise in half so you have two pieces. Then cut each half in half lengthwise again so that each zucchini has been quartered lengthwise.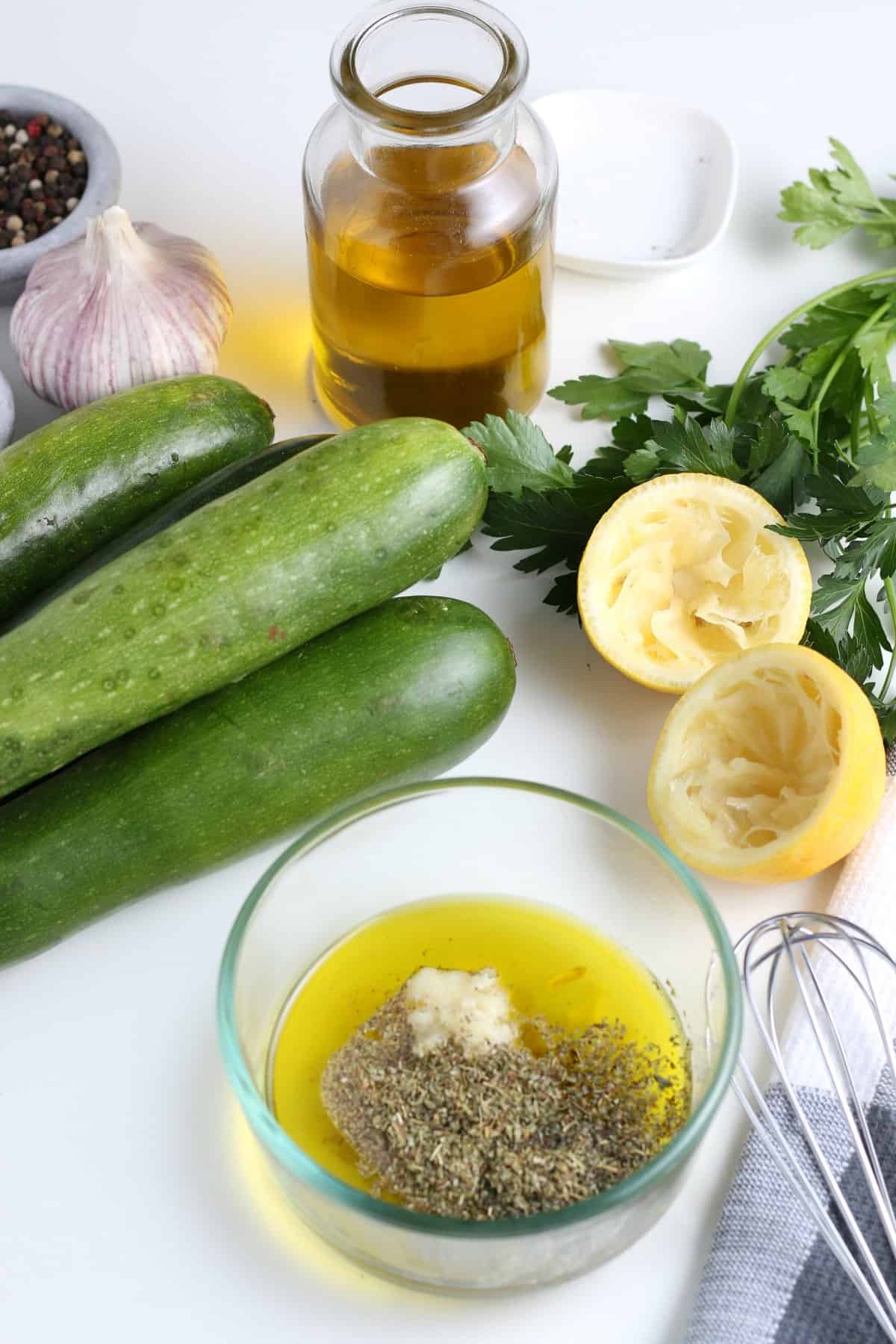 In a small bowl, whisk together the oil, lemon juice, Kosher salt, pepper, garlic, and Italian seasoning until thoroughly blended. Transfer the sliced zucchini to an oblong pan or casserole dish, then top with the homemade olive oil marinade making sure each piece is properly coated.
Preheat your grill or grill pan to medium-high heat, then use a paper towel and tongs to lightly oil the grill grates. Position the zucchini with skin side down onto the preheated grill and cook for 3-4 minutes on each side. Lightly press on the zucchini to get those nice grill marks.
Once it's done, transfer the grilled zucchini onto a plate, and sprinkle it with salt and pepper. Garnish the grilled zucchini with fresh chopped parsley or pepper flakes if desired. Serve immediately with fresh lemon wedges.
What To Serve With Grilled Zucchini
This summer side dish is so versatile that it can be served with just about any meal. Here are some delicious main courses to serve up alongside your grilled zucchini:
• Grilled Portobello Mushrooms
• Baked Falafel Patties
• Roasted Herbed Potatoes
• Quinoa & Veggie Burgers
• Grilled Tofu Steaks
• Stuffed Peppers
No matter what you pair it with, you'll be sure to love this delicious and easy grilled zucchini recipe!
Popular Substitutions & Additions
If you're looking to add more flavor or variety to this grilled zucchini recipe, here are some popular substitutes and additions:
Replace the olive oil with avocado oil.
Garlic powder or pre-minced garlic can be used in place of fresh minced garlic cloves.
Add fresh herbs like thyme, dried oregano, sage, or basil.
Instead of lemon juice, try using balsamic vinegar or red wine vinegar for that tangy flavor.
Try making other grilled vegetables with this marinade recipe, such as onions, asparagus, summer squash, and peppers.
Sprinkle the zucchini with vegan Parmesan cheese for a creamy finish.
Substitute Italian seasoning with Cajun or Mexican spices.
Use a light sprinkle of lemon zest to brighten up the flavor of the grilled zucchini.
Experiment with different types of marinades, like balsamic or Asian-inspired marinades.
For a creamy twist, add some nutritional yeast to the olive oil marinade.
Make your own Italian seasoning instead of using storebought.
Use yellow squash in place of zucchini.
Can You Freeze Grilled Zucchini?
Zucchini can be frozen, but it's best to freeze before you actually grill the zucchini. To do this, cut the zucchini lengthwise and marinate in a mixture of olive oil, lemon juice, salt, pepper, and garlic. Place the slices on a parchment paper-lined baking sheet and place in the freezer for 2-3 hours. When the zucchini slices are frozen, transfer them into a freezer bag or container and freeze them for up to 3 months. When ready to cook, thaw the zucchini in the fridge overnight, then cook according to the recipe instructions.
Leftover grilled zucchini will last in the fridge for up to 3 days. Store it in an airtight container and reheat it in the oven or microwave before serving.
Grilled Zucchini Recipe FAQs
What is the best type of zucchini for grilling?
The best zucchini for grilling is small fresh zucchini that is firm, has a uniform pattern, and has a vibrant green color. Larger zucchini tends to be too soft and watery for grilling.
How long should I grill zucchini for?
It's best to grill zucchini over medium-high heat for 3-4 minutes on each side. If you would like it to be a bit more charred, you can leave it on the grill for a few minutes longer.
Should I peel the zucchini before grilling?
No. To grill zucchini, you don't need to peel it. The skin helps to hold the shape of the zucchini while it's on the grill and also adds a nice crunchy texture when cooked.
Can I marinate the sliced zucchini overnight before grilling?
Yes, you can marinate the cut zucchini overnight for a deeper flavor. Place zucchini spears in an airtight container with the olive oil marinade and store in the fridge until ready to grill.
📋 Recipe
Grilled Zucchini Recipe
Grilling zucchini is a great way to turn a humble veggie into a superstar! With homemade marinade and subtle smokiness, this zucchini is the perfect side dish.
Ingredients
1

pound

zucchini

- small in size, up to 2 pounds total.

2

tablespoons

extra virgin olive oil

2

tablespoons

lemon juice

- one lemon

½

teaspoon

Kosher salt

¼

teaspoon

ground black pepper

2

cloves

garlic

- minced

1 ½

teaspoons

Italian seasoning

fresh parsley

- optional for garnish

red pepper flakes

- optional - very hot
Instructions
In a small bowl, whisk together the olive oil, lemon juice, salt, pepper, garlic, and Italian seasoning until well combined

Add zucchini to rectangle pan or casserole and toss with the olive oil mixture to coat.

Heat grill to medium-high. Brush grates of the grill with olive oil.

Place zucchini on grill and cook 3-4 minutes per side or until tender. Place on the grill skin side down first.

Remove from grill and place on serving plate.

Sprinkle with salt, pepper, and parsley if desired. Serve with lemon wedges if desired.
Notes
A serving is about ¼ to ½ pound. You can add another zucchini to the same mix if the zukes are very small.
Nutrition
Serving:
1
Serving
Calories:
87
kcal
Carbohydrates:
5
g
Protein:
2
g
Fat:
7
g
Saturated Fat:
1
g
Sodium:
300
mg
Potassium:
305
mg
Fiber:
1
g
Sugar:
3
g
Vitamin A:
240
IU
Vitamin C:
24
mg
Calcium:
33
mg
Iron:
1
mg