This Maitake Mushroom recipe is a side dish to cherish. Thai Marinated Maitake mushrooms are glistening with a flavorful Asian marinade and the grilled mushrooms hold together perfectly as hearty slices. One of the best tasting sides for the grill or grill pan. You will be amazed!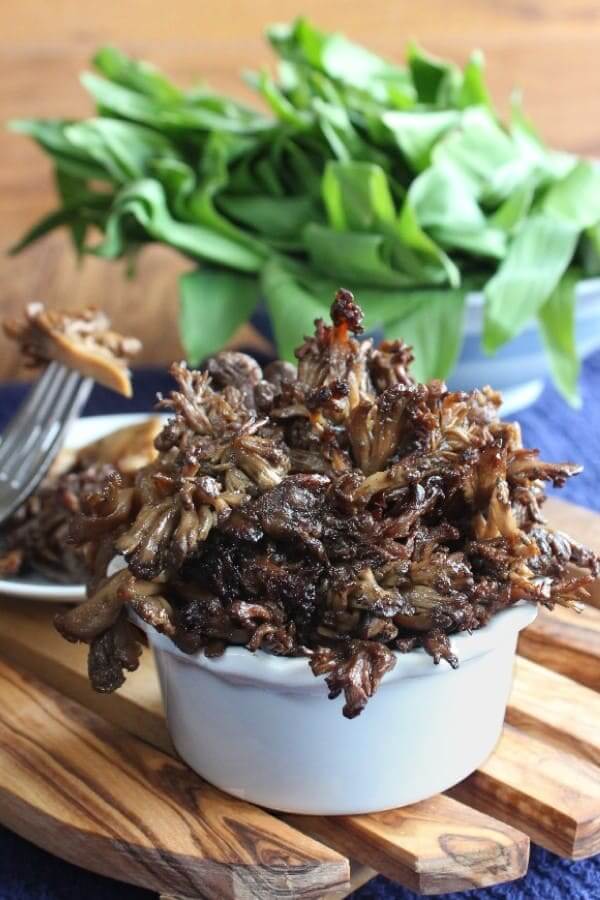 You know when you are planning a dinner for grilling and you would like to have an extra side dish for everyone? Well, this one is perfect.
Who thinks of grilling a nice thick slice of an earthy marinated mushroom that tastes like an Asian specialty. Not many, not often but they should. The mushrooms also pick up the nice color of the marinade.
Maitakes come to you as a big clump and for this dish, you make about ¾" thick slices straight through as you would a loaf of bread.
See how pretty they are in the photo below? That is one clump and they slice apart very easily and they also hold together with no problem for grilling.
Where Do You Find Maitake Mushrooms
My maitake mushroom sack came through the internet and this batch came from Whole Earth Harvest. When they arrived they looked perfectly clean with nothing to cut away. Check them out and clean them anyway, what the hey.
Update: 2020. They only have dried maitake at the moment so I can't help
To do that; quickly run the mushrooms under water and then set them out on a paper towel. You don't want them to soak up any of the water.
Mushrooms are absorbent and you want them to get as much of the marinade as possible. Then slice them as described above into nice thick slices for grilling. About ¾" thick.
Place in a large casserole for marinating. our the prepared marinade over the top. Cover the casserole with plastic wrap or the casserole lid and place in the refrigerator for about 4 hours.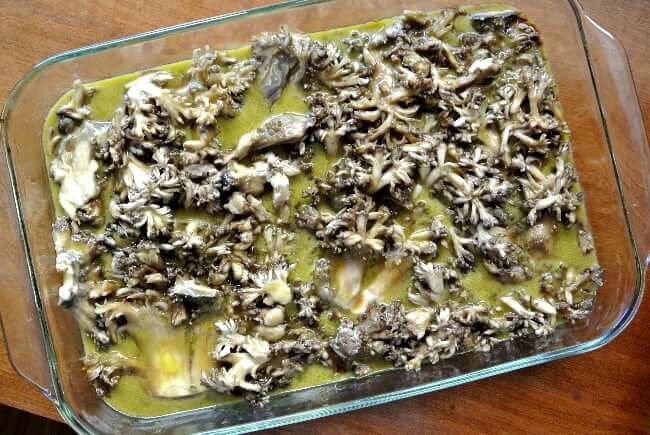 I used my grill pan but you could sure grill these on an actual grill. You could also put your pan on the grill, or use aluminum foil, for smaller pieces so that they don't fall through.
The picture below shows how they will look after marinating and while you're finishing off the delicious grilled mushrooms.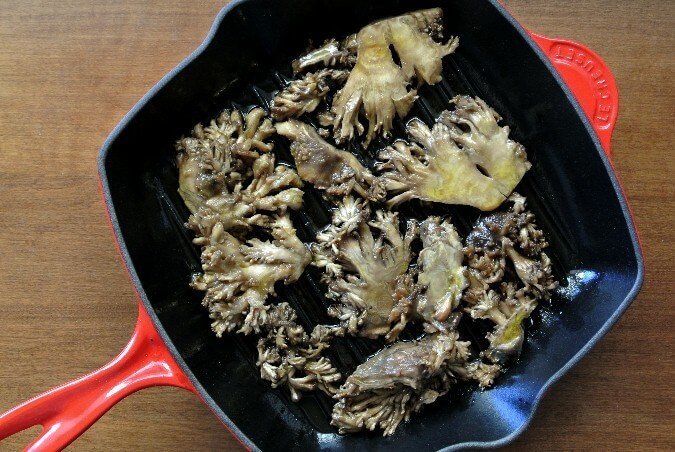 I am not kidding when I say this is one of the best tasting side dishes out there.
In the photo below I stacked the sliced and Thai Marinated grilled mushrooms side by side and let the tops flop over for a pretty display.
Is this a Hen of the Woods Recipe?
Yes! I forgot to mention that maitake mushrooms are also called Hen of the Woods. I bet you've heard of those.
They can be harvested in America on oak trees and can weigh several pounds and one oak tree can possibly have several hens.
If you're lucky enough to know where there is a tree holding such hens, cherish it. Also, make sure it's not on private land or in a state park. Foraging in those places is a big no-no.
Luckily we can order them on the internet and enjoy the deliciously edible mushrooms.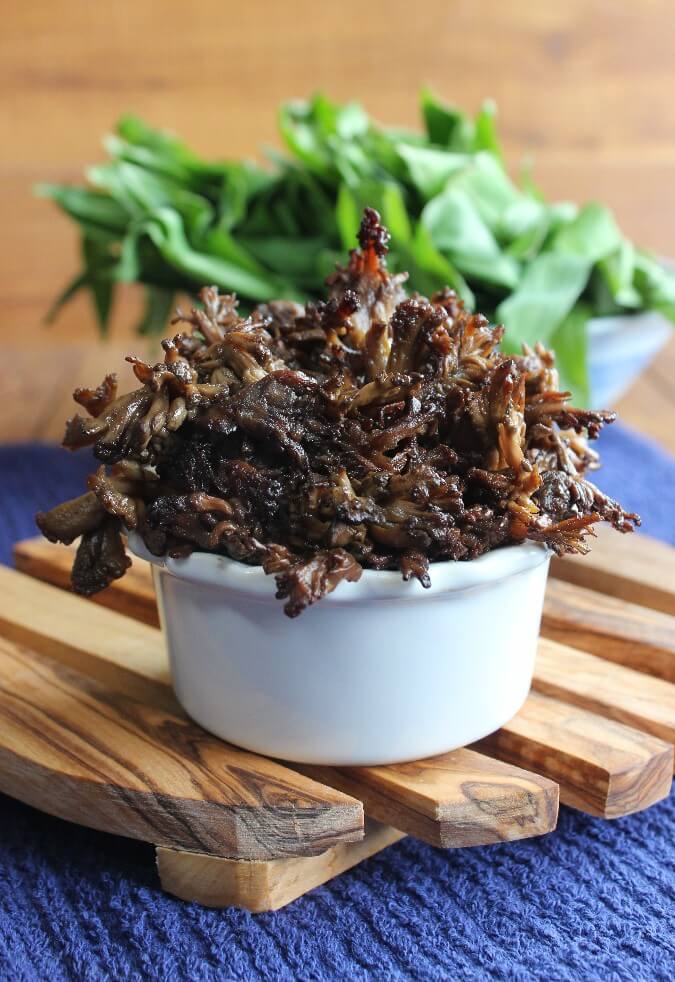 What Do You Think?
If you take a photo of your flavorful Maitake Mushroom Steaks I would love to see it. Follow me over on Instagram and tag me on your photo @vegan_in_the_freezer.
Your opinion means a lot to me and if you'd like to leave a comment and possibly a star rating I'd love to hear your thoughts.
This post contains affiliate links. Read my disclosure policy here.
Grilled Thai Marinated Maitake Mushrooms
Grilled Thai Marinated Maitake Mushrooms are glistening with a flavorful Asian marinade.
Ingredients
For the marinade
¾

cup

olive oil

¼

cup

tamari

6

wild leeks

- cut into small pieces, or you could use scallions in a pinch

3

tablespoons

maple syrup

1

teaspoon

curry powder

3

tablespoons

white wine

- dry, such as chardonnay

¼

teaspoon

sea salt

⅛

teaspoon

ground black pepper
Instructions
Clean the maitake's by quickly running them under water. Set on paper towels to drain.


Slice in ¾" thick slices and lay out in a casserole dish or two for marinading.
Making the marinade:
Add all of the marinade ingredients to a blender.


I forgot to mention that I got the wild leeks (ramps) from Whole Earth Harvest too!

Blend until everything is smooth and completely blended. It only takes about a minute.


Pour the marinade evenly over the prepared mushrooms.

Cover the casserole with plastic wrap and place in the refrigerator for at least 4 hours.

When ready to cook grill over medium high heat for 3-5 minutes on each side.


Ready to eat!
Notes
Grill about 3-5 minutes on each side for the perfect side dish.
Nutrition
Serving:
1
Serving
Calories:
281
kcal
Carbohydrates:
19
g
Protein:
6
g
Fat:
27
g
Saturated Fat:
3
g
Sodium:
669
mg
Potassium:
706
mg
Fiber:
3
g
Sugar:
8
g
Vitamin A:
340
IU
Vitamin C:
1.9
mg
Calcium:
27
mg
Iron:
2.8
mg
This recipe has been updated from when it was originally published in the April of 2015. There have been photos added to help for the recipe directions.