If you love cooking with mushrooms, you will love this recipe! Maitake mushrooms are one of my favorites, and grilling them is a great way to bring out their earthy and peppery flavor. They're hearty and hold up well against the heat, plus they take on whatever flavors you put with them. Grilled maitake mushrooms with Thai marinade make for a delicious and easy weeknight side dish. The Thai marinade is simple to make yet packed with flavor, and it's not too spicy. The whole family will love these Asian-inspired grilled mushrooms.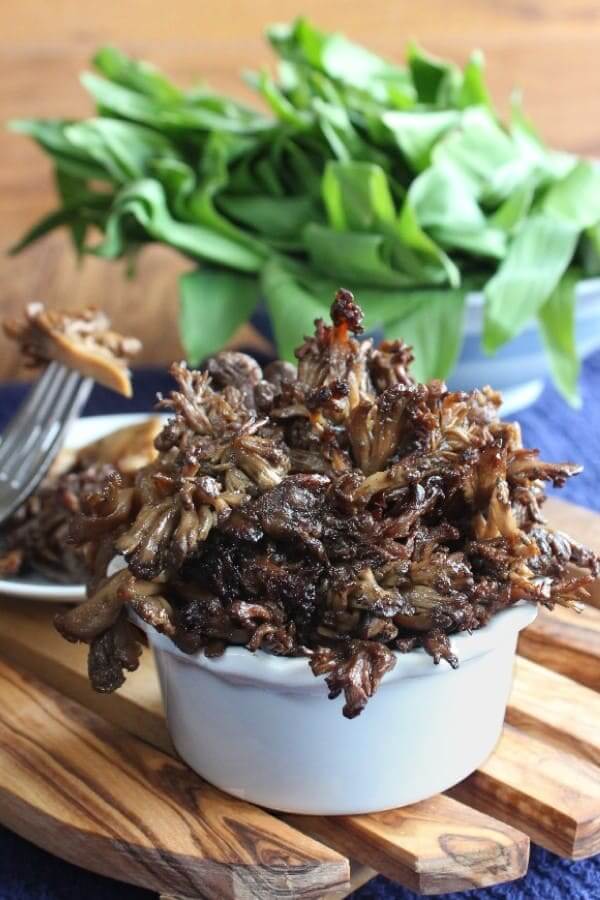 Why You'll Love This Grilled Maitake Mushroom Recipe
Packed With Flavor- Alone, maitake mushrooms have a hearty, earthy flavor, but they soak up whatever flavors you put with them, and this Thai marinade takes them to the next level.
Easy To Make- The Thai marinade is so simple, and your mushrooms will be bursting with flavor after soaking in it for a bit. They'll only take a few minutes to grill once they're done soaking, making this an incredibly easy dish to whip up!
Healthy- Maitake mushrooms are well known for their wide variety of health benefits. They are packed with nutrients and are a good source of fiber, vitamins, and minerals.
Family-Friendly- This Maitake mushroom recipe is infused with Thai marinade and is perfect for the whole family. It's not too spicy, and the mushrooms are a hit with kids and adults alike!
Versatile- Grilled mushrooms are great as a side dish or main course. Serve Thai Maitake mushrooms alongside some rice and steamed veggies for a complete meal, or enjoy them on their own as a light and healthy lunch or dinner.
What Are Maitake Mushrooms?
"Maitake" means dancing mushroom in Japanese. This edible mushroom is said to have derived its name after people joyously danced upon finding it in the wild. While they originated in Japan, they can also be found in the woods, growing wild at the bottom of Elm, Maple, and Oak trees in China and North America. They are one of the nutritionally densest mushrooms in the world. They're a good source of fiber, vitamin B6 and D, and minerals, including potassium, copper, and selenium. Maitake mushrooms also contain antioxidants and polysaccharides that have been shown to boost the immune system. They have a rich, earthy flavor and firm texture, making them a great meat substitute and perfect for cooking.

Equipment Needed To Make Thai Marinated Maitake Mushrooms
Knife

Cutting Board

Blender

Casserole Dish

Measuring Cups and Spoons

Grill or Grill Pan
Ingredients Needed For Grilled Maitake Mushrooms
Fresh Maitake Mushrooms-

Also known as hen of the woods mushrooms, they are the star of the show! Thickly sliced maitake mushrooms will soak up all of the savory Thai marinade in this recipe.

Olive Oil-

Helps form an emulsion with the other liquids in the marinade, helping all the flavors come together.

Tamari-

Tamari is a soy sauce-like condiment that adds savory flavor and umami to this recipe.

Wild Leeks or Scallions-

Adds a sweet, oniony flavor to the marinade.

Maple Syrup-

Balances out the salt and gives the marinade a touch of sweetness.

Curry Powder-

Gives the maitake mushroom marinade a little kick of heat and helps balance the flavors.

Dry White Wine-

White wine adds acidity and helps to bring out all of the flavors.

Sea Salt-

For

a nice salty flavor.

Ground Black Pepper-

Adds a nice peppery flavor.
How To Make Grilled Thai Marinated Maitake Mushrooms
Before making Thai Maitake mushrooms, you'll want to clean the mushrooms by giving them a quick rinse under some running water. Set them on paper towels to dry. Once dry, cut the mushrooms into larger pieces for grilling.
Place the mushroom slices in a large casserole dish to get ready to be marinated.
Now, it's time to make the marinade. Add all the marinade ingredients to a blender and blend until everything is smooth and thoroughly combined. Pour the marinade over the prepared mushrooms. Cover the casserole dish with plastic wrap and place it in the fridge for at least 4 hours to allow the mushrooms to soak up all the delicious juices.
Once the mushrooms have marinated, cook each mushroom over medium-high heat for about 4 minutes on each side. They should be brown and tender, Serve warm as desired, and enjoy!
What to Serve With Maitake Mushrooms
While these Thai Maitake mushrooms are amazing as a side dish, they would also be delicious served over rice or quinoa. For a heartier meal, serve the maitake mushrooms alongside some grilled vegetables and tofu, and add it to some stir fry. You could also add them to a salad or wrap.
Popular Substitutions & Additions
There are a few ways you could change this grilled Thai Maitake mushroom recipe to suit your taste buds or dietary needs better.
Feel free to swap out the hen of the woods mushrooms for another type of mushroom, such as oyster mushrooms or shiitake mushrooms.

If you're not a fan of curry powder, you could omit it from the recipe or replace it with another type of spice or seasoning, such as smoked paprika, chili powder, or minced garlic.

For some added protein, you could add fresh cooked tofu or tempeh to the dish.

To make this dish more substantial, add the mushrooms to a stir fry with chopped vegetables, such as bell peppers, zucchini, or eggplant.

A shallot makes a great alternative to wild leeks or scallions.

Use soy sauce in place of tamari. Double-check the ingredients of the soy sauce to ensure it is indeed vegan-friendly.

A large skillet can be used in place of a grill pan in this Maitake mushroom recipe. Sautee the mushrooms on medium-high heat with a drizzle of oil while stirring occasionally until each mushroom is brown.

Can You Freeze This Maitake Mushroom Recipe?
Yes! Store your mushrooms in a freezer-safe airtight container in the freezer for 3 months. Allow the frozen mushrooms to thaw in the fridge overnight before reheating. You can also store grilled maitake mushrooms in an airtight container in the refrigerator, where they will last up to 5 days. To reheat, use a pan over medium heat until warmed through. You could also reheat them in the microwave or oven by placing them on a baking sheet at 350 degrees Fahrenheit until warmed.
Grilled Thai Marinated Maitake Mushroom FAQs
What are Maitake mushrooms?
Maitake mushrooms, also known as dancing mushrooms or hen of the woods mushrooms, are edible mushrooms native to Japan and China. The mushrooms have a distinctive, fan-like shape and are often used to make stir fry, salad toppings, tea, and other Japanese and Chinese dishes. Maitake mushrooms have an earthy, slightly sweet taste with a hint of smokiness. They also have a meat-like texture that makes them perfect for grilling.
Do I need to wash fresh hen of the woods mushrooms before cooking them?
Yes, it is important to give your Maitake mushrooms a quick rinse under some running water to remove any dirt or debris. Set them on a paper towel to dry before slicing and cooking.
What is the difference between Maitake and other types of mushrooms?
The main difference between Maitake mushrooms and other mushrooms is their shape and size. Maitake mushrooms are large and have a ruffled or frilly appearance. They are also sometimes called hen-of-the-woods mushrooms. Different types of mushrooms, such as oyster mushrooms and shiitake mushrooms, are smaller with a smoother texture.
When are Maitake mushrooms in season?
Maitake mushrooms are typically in season from late summer to early fall. However, you may be able to find them at your local grocery store or Asian markets year-round.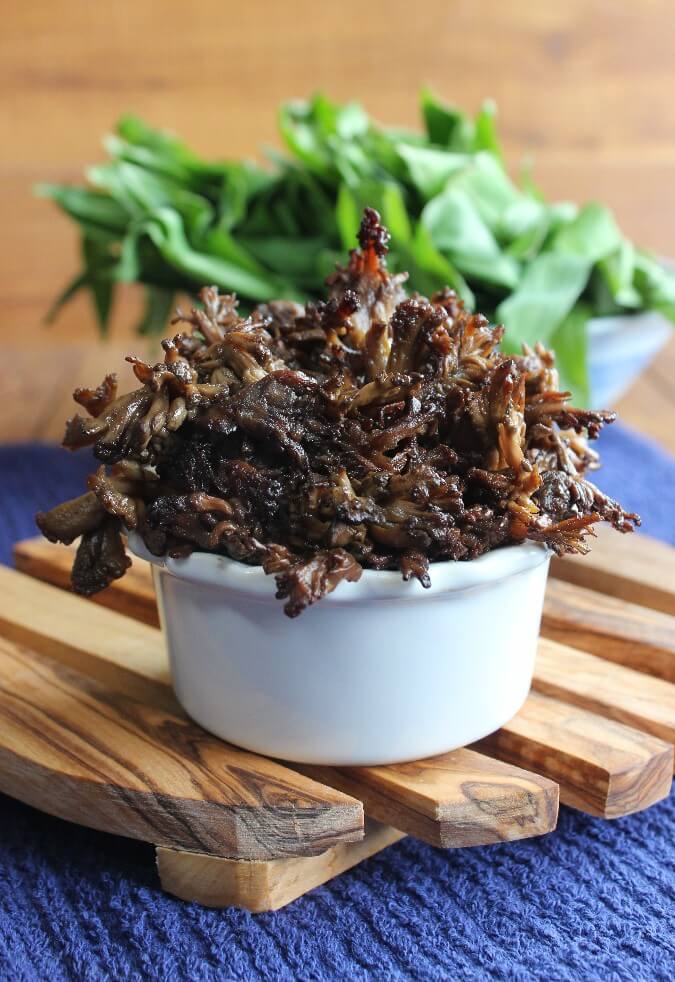 📋 Recipe
Grilled Thai Marinated Maitake Mushrooms
Maitake mushrooms sliced and soaked in a Thai marinade with leeks, tamari, and curry powder, are grilled and served as a side dish even picky eaters will love.
Ingredients
2

pounds

Maitake mushrooms
For the marinade
¾

cup

olive oil

¼

cup

tamari

6

wild leeks

- cut into small pieces, or you could use scallions in a pinch

3

tablespoons

maple syrup

1

teaspoon

curry powder

3

tablespoons

white wine

- dry, such as chardonnay

¼

teaspoon

sea salt

⅛

teaspoon

ground black pepper
Instructions
Clean the maitake's by quickly running them under water. Set on paper towels to drain.


Slice in ¾" thick slices and lay out in a casserole dish or two for marinading.
Making the marinade:
Add all of the marinade ingredients to a blender.


I forgot to mention that I got the wild leeks (ramps) from Whole Earth Harvest too!

Blend until everything is smooth and completely blended. It only takes about a minute.


Pour the marinade evenly over the prepared mushrooms.

Cover the casserole with plastic wrap and place in the refrigerator for at least 4 hours.

When ready to cook grill over medium high heat for 3-5 minutes on each side.


Ready to eat!
Notes
Grill about 3-5 minutes on each side for the perfect side dish.
Nutrition
Serving:
1
Serving
Calories:
281
kcal
Carbohydrates:
19
g
Protein:
6
g
Fat:
27
g
Saturated Fat:
3
g
Sodium:
669
mg
Potassium:
706
mg
Fiber:
3
g
Sugar:
8
g
Vitamin A:
340
IU
Vitamin C:
1.9
mg
Calcium:
27
mg
Iron:
2.8
mg