Grilled Potato Wedges use only potatoes, oil, and pantry spices! They're the perfect side dish in the summer and you can use your favorite dipping sauces. Great grilled potatoes on the grill without foil!
Nothing is nicer than being able to carry some dinner ingredients out to the grill. Whether you have a small hibachi or a large gas grill the ability to cook and dine al fresco is wonderful.
The weather outside is perfect today and I know there will be at least 100 more beautiful days ahead for some nice grilling.
We're concentrating on potatoes on the grill without foil today but you might also like to check out the Grilled Mixed Vegetables recipe that is on the blog too.
Oh, yeah! And zucchini will be here by the pounds pretty soon so you can take advantage of this Grilled Zucchini recipe too.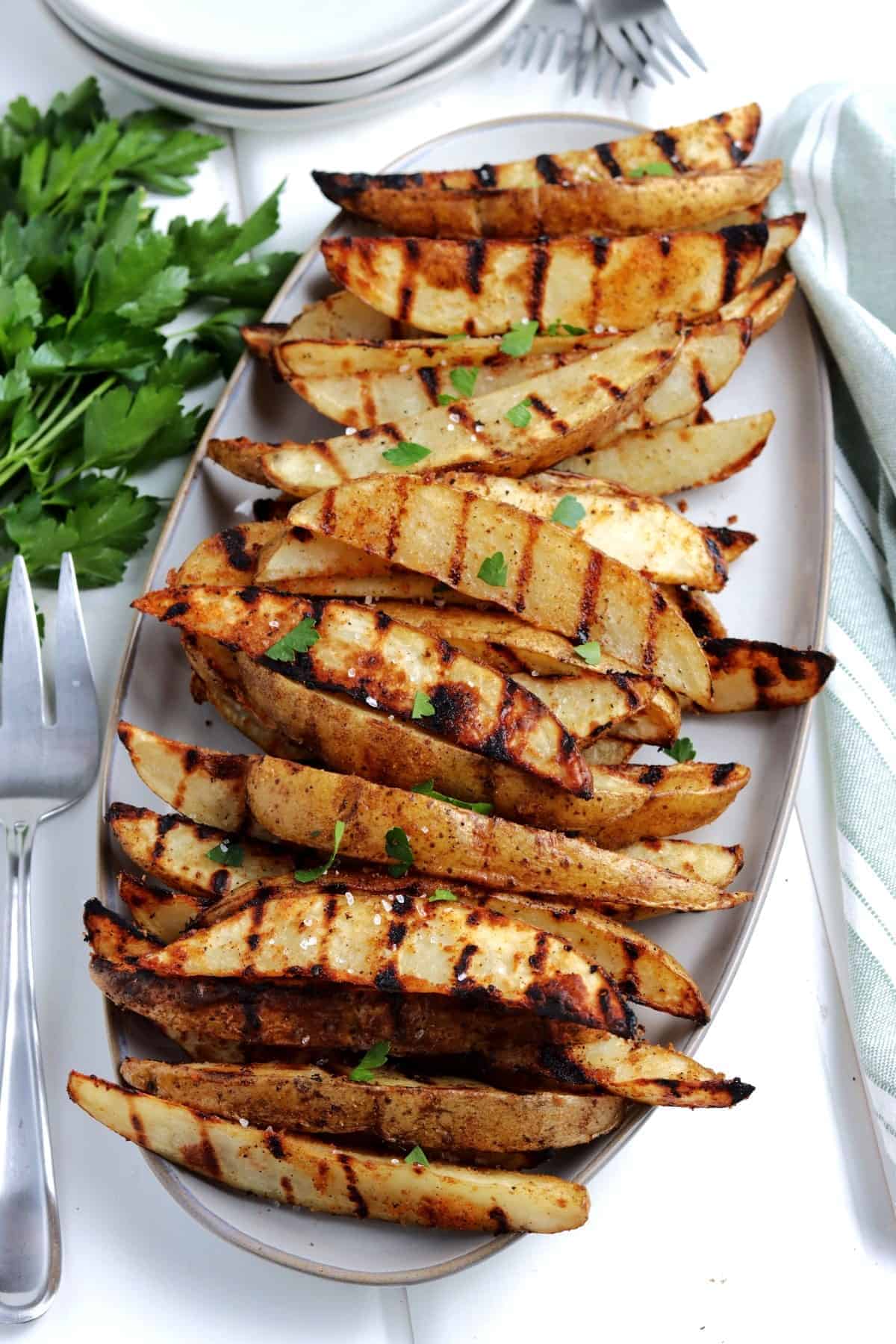 You only need some simple pantry staples to make this grilled potatoes recipe. Potatoes + oil + spices = a fantastic summer side dish! Here's what you need.
Ingredients
White Russet Potatoes - no need to peel! You'll just scrub them clean then slice into wedges.
Extra Virgin Olive Oil
Spices - Seasoned Salt, Garlic Powder, Onion Powder, Black Pepper, Coarse Salt (optional, for garnish)
Canola or Vegetable Oil - for greasing the grill grates.
Fresh Parsley - optional to sprinkle on at the end
It takes only minutes to prep the potatoes for grilling - no peeling needed! Check out the easy steps below for this grilled potatoes recipe.
Instructions
Prep the Potatoes - Scrub the potatoes clean and cut into long wedges. You don't need to peel them.
Toss with Oil and Spices - Add potato wedges to a large bowl or dish and drizzle with the oil. Mix up the spices in a small bowl and sprinkle about half of the spice mixture over the potatoes.
Toss to coat the potatoes in the oil and spices then add the rest of the spices and toss.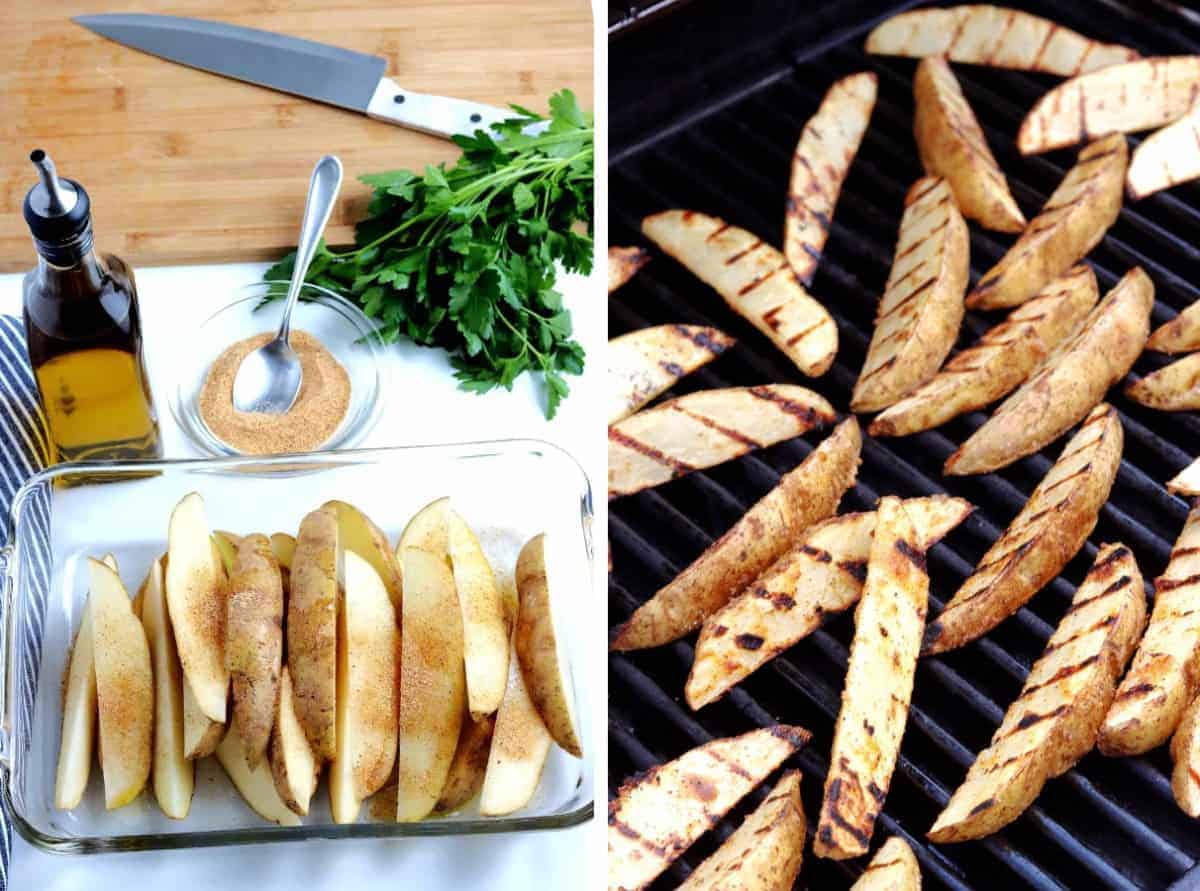 Grill - Preheat your grill to medium-high heat (about 350 degrees F). Coat the grates with a high-heat oil (like canola or vegetable oil).
Add the potato wedges to the grates and cook for 12-15 minutes turning every 4-5 minutes. The grilled potato wedges are done when they are fork tender with beautiful grill marks.
Serve - You can sprinkle the grilled potatoes with coarse salt, fresh parsley, or serve with a dipping sauce. See other serving ideas below!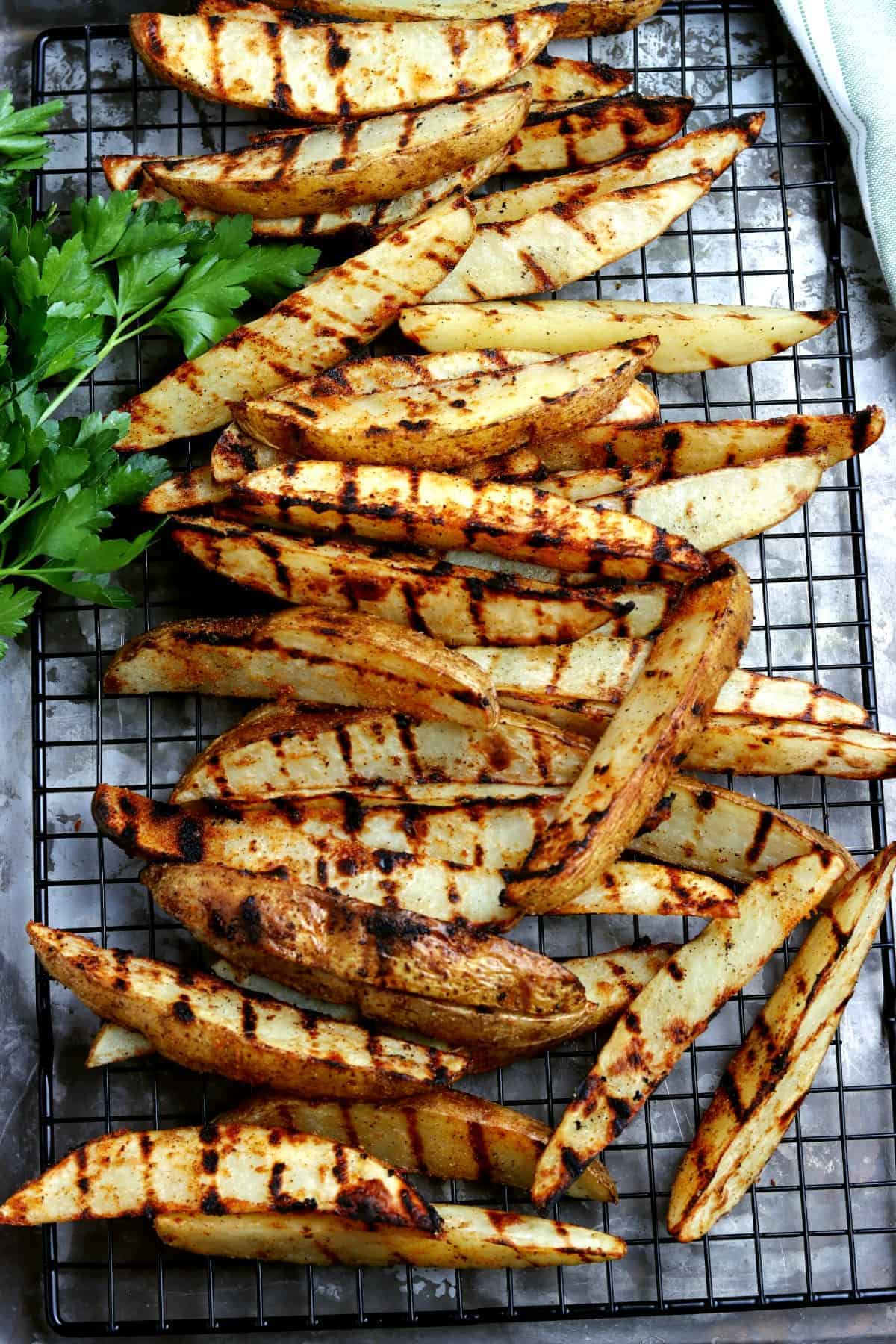 Grilled Potatoes can be customized and served in so many ways!
Serving suggestions
Seasonings - Sprinkle the potatoes with your favorite seasonings. I love using Emeril's Cajun mix or Zaatar seasoning.
Dressing - Drizzle a delicious dressing over the finished potatoes. You can use a creamy dressing such as this Vegan Ranch Dressing or a vegan Caesar dressing. For a lighter option, you can also serve with your favorite vinaigrette!
Fresh Herbs - After grilling and plating the potatoes on a serving platter, sprinkle on fresh chopped herbs for extra color and freshness. I love using parsley or cilantro.
FAQ's
Can you use any potato you like?
Yes, you can use other potatoes for grilling. I like to use russet potatoes, because you can cut them into long wedges.

If you use small baby potatoes then they can be cut in half and grilled face down. Flip the potatoes and grill for about 5 more minutes until fork tender.
How do you store the leftovers?
Leftover grilled potato wedges can be stored in an airtight container in the fridge for up to 5 days.

The potato wedges will lose their crispness and get soft from being stored in the fridge. For best results, you can reheat on the grill, in the oven, or in a skillet on the stove to crisp them back up.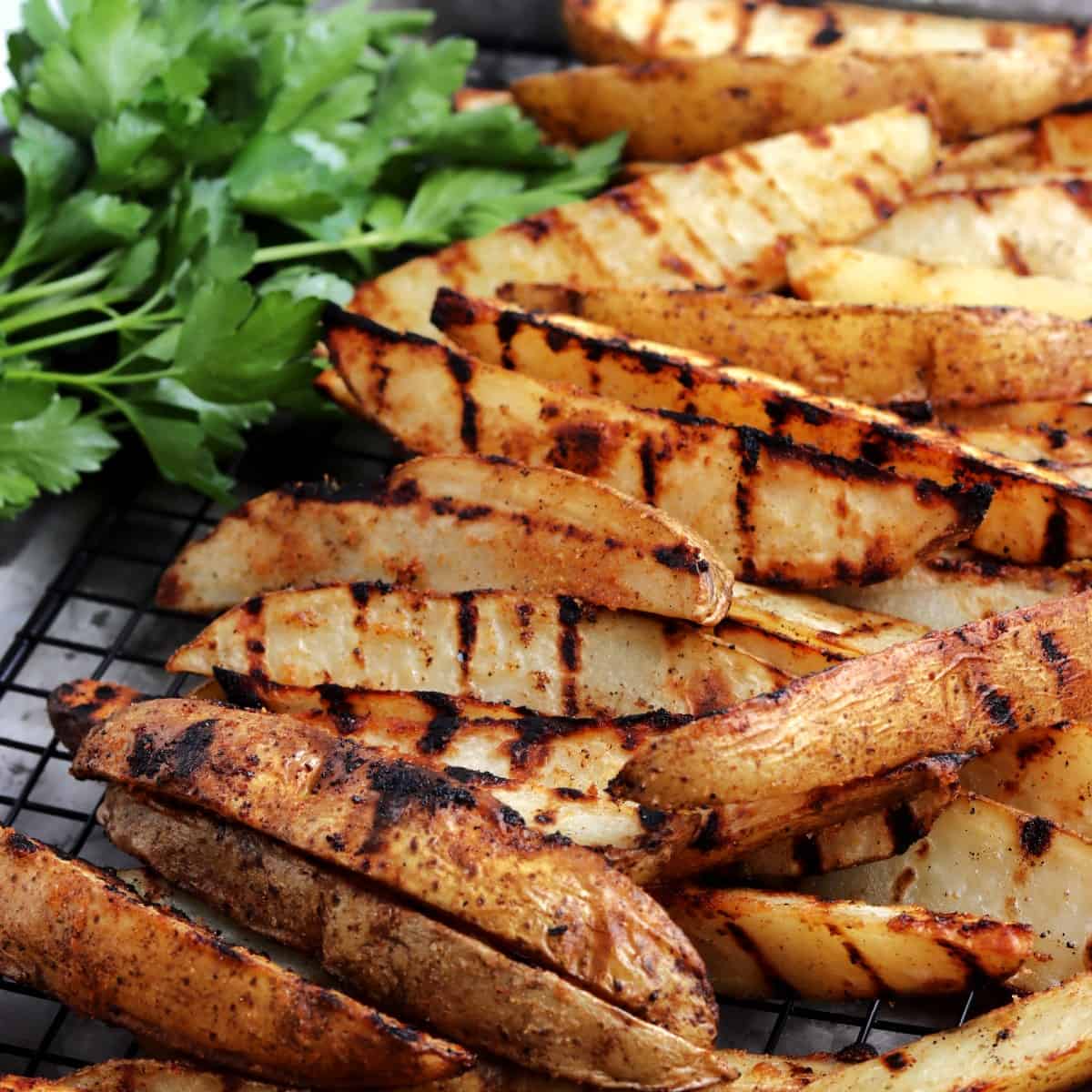 How do you keep potatoes from sticking to the grill?
While some recipes call for using foil, I prefer to have those pretty grill marks! There are two tricks that help keep foods from sticking to your grill.
Here is what helps me avoid sticking when making potatoes on the grill without foil:
Grease the Grates -
Oil the heated grates right before adding the food. I like to put some oil on a paper towel and use the grill tongs to grease the grates.
Wait to Flip - Don't turn the food too soon. Once the potatoes get cooked and crispy on one side they will naturally release to turn.
If you try to turn the potatoes and they are sticking to the grates then you need to wait a minute or two longer before flipping.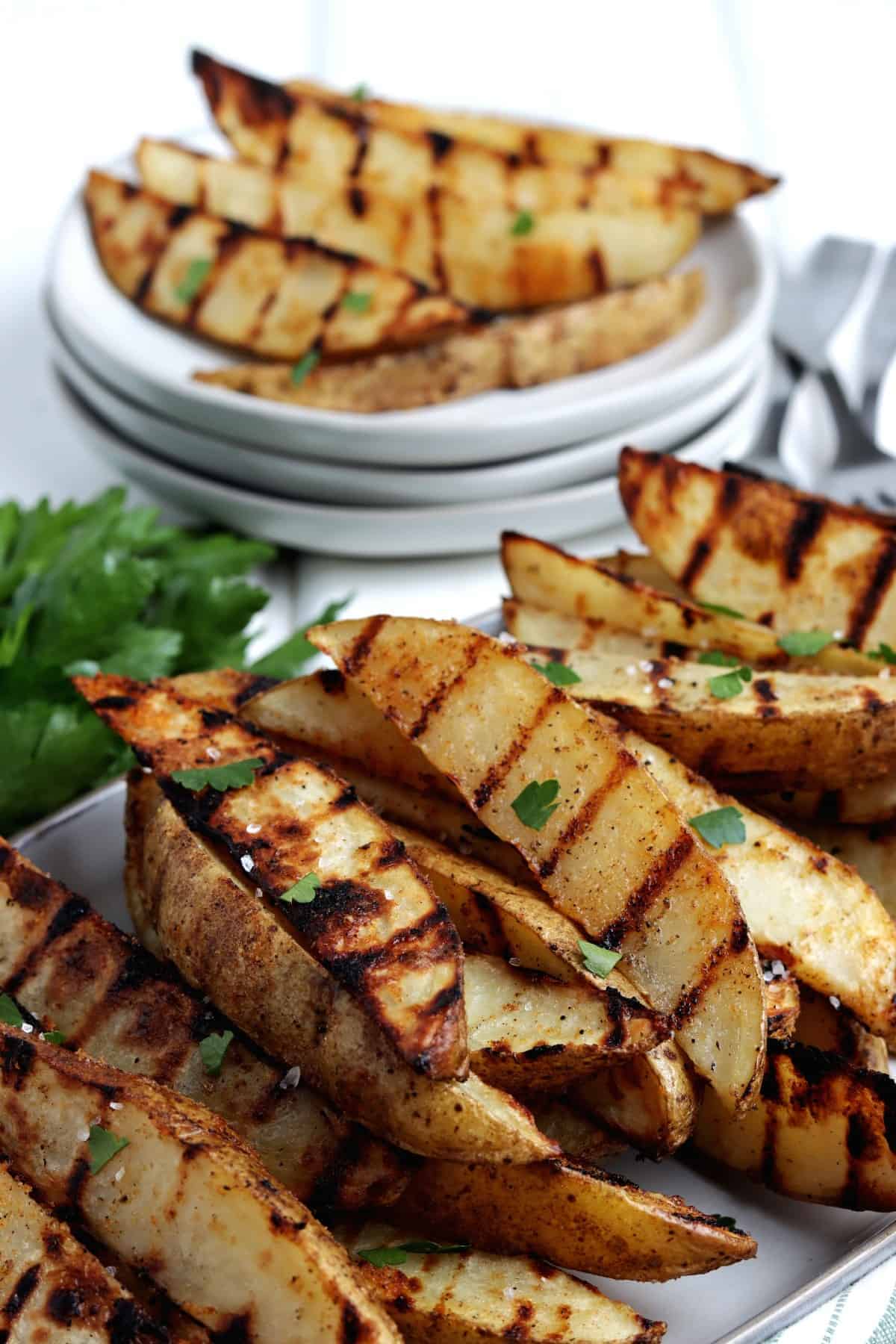 More potato recipes
Potatoes are such a versatile ingredient and can be turned into so many recipes. Here are a few of my favorites.
📋 Recipe
Grilled Potato Wedges
Grilled Potato Wedges are the perfect side dish in the summer and you can use your favorite dipping sauces.
Ingredients
3

pounds

white russet potatoes

3

tablespoons

extra virgin olive oil

1

tablespoon

seasoned salt

1

teaspoon

garlic powder

1

teaspoon

onion powder

½

teaspoon

black pepper

Fresh parsley for garnish

- optional

Coarse salt for garnish

- optional

Your favorite dipping sauce

- optional
Instructions
Wash potatoes and cut into wedges.

Place in baking dish or large bowl and drizzle with oil.

Combine spices and sprinkle about half over potatoes.

Toss to coat and add more oil and spices.

Preheat medium-high heat or 350 degrees F.

Coat grates with canola or vegetable oil.

Place potato wedges directly on grates.

Cook 12-15 minutes, turning every 4-5 minutes and cook until fork tender. Cooking time will vary depend on thickness and size of potatoes.

Serve immediately with parsley, salt and dipping sauce, if desired.
Nutrition
Serving:
1
Serving
Calories:
366
kcal
Carbohydrates:
63
g
Protein:
7
g
Fat:
11
g
Saturated Fat:
2
g
Polyunsaturated Fat:
1
g
Monounsaturated Fat:
8
g
Sodium:
1762
mg
Potassium:
1436
mg
Fiber:
5
g
Sugar:
2
g
Vitamin A:
5
IU
Vitamin C:
20
mg
Calcium:
49
mg
Iron:
3
mg