Ginger Rice has a bit of spicy heat. Along with all of the other spices and vegetables you will have a wonderful main or side dish. Under 30 minutes!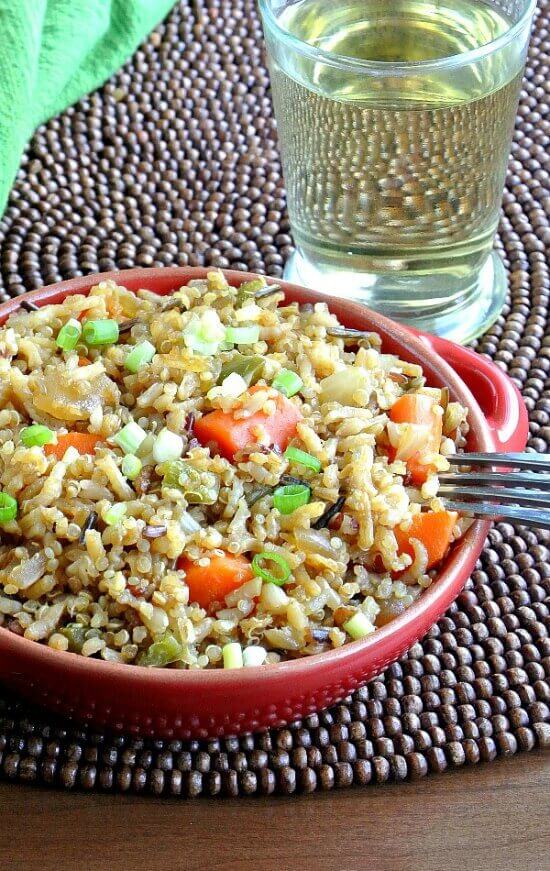 Rice is an amazing staple. It can be switched up in so many ways with the background of any ethnicity you can think of. Ginger Rice is my idea of American Japanese.
Ginger adds a bit of spicy heat. Fresh ginger has become such a staple in our house. Those little fingerlike roots are versatile and go into savory or sweets recipes. I even grated it on our BBQ Veggie Pizza.
If I slice a couple of little discs and add it to boiling water then it becomes medicinal. Sip it like tea and your chest opens up. I'm getting off course now! Let's talk about food.
Ginger Rice to be specific. You don't need much to get a nice ginger undertone of flavor. You can finely chop your ginger or mince it. A microplane works really fast for mincing.
In this recipe there's also garlic and tamari. Can you imagine? Mixed with rice and carrots you have a great main or side dish.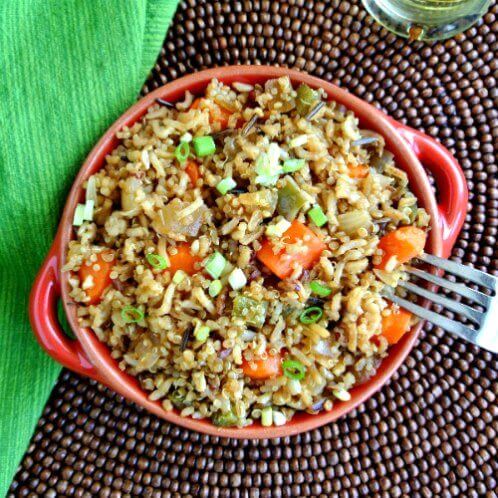 Ginger Rice
Ginger Rice has a bit of spicy heat. Along with all of the other spices and vegetables you will have a wonderful main or side dish. Under 30 minutes!
Ingredients
2

cups

vegetable stock

1

cup

rice

- of your choice, you can even use a blend

1

cup

carrots

- sliced thick

½

cup

onion

- diced

½

cup

green bell pepper

- finely diced

2

cloves

garlic

- finely chopped

1

tablespoon

fresh ginger

- very finely chopped

2

tablespoons

tamari sauce

¼

cup

scallions

- chopped, for garnish

½

teaspoon

sea salt

¼

teaspoon

black pepper
Instructions
In a medium saucepan, bring the vegetable stock to a boil.

Stir in the rice, cover and reduce heat. Simmer for 20 minutes. This can also be done in a Rice Cooker by adding the stock, salt and rice all at once and then push the start switch. It will finish when the chime dings.

In a saucepan cover the carrots with water and bring to a boil. Cook on at medium high simmer for 15 minutes. Drain and set aside.

In the meantime, heat oil in a skillet and saute the onion and bell peppers for 10 minutes.

Add garlic, ginger and carrots. Saute 2 more minutes. Set aside.

When the rice is finished add it to the skillet along with the carrot mixture and tamari.

Heat through and and add salt and pepper. Serve garnished with scallions.
Notes
So simple and so good.
IF FREEZING:
Please follow any of the directions defined in my article How to Prepare Food for the Freezer.
TO PREPARE AFTER FREEZING:
Take out of freezer and put in the refrigerator at least 6 to 8 hours before heating (or the day before). Heat in the microwave for about 3 minutes. Stir halfway through. Check for temperature and serve hot.
Nutrition
Serving:
1
Serving
Calories:
210
kcal
Carbohydrates:
46
g
Protein:
5
g
Sodium:
990
mg
Potassium:
253
mg
Fiber:
2
g
Sugar:
4
g
Vitamin A:
5725
IU
Vitamin C:
20
mg
Calcium:
35
mg
Iron:
0.8
mg
There's some more ginger information going on down here. But not the ginger you're thinking of. Not about food at all so be prepared. It's just some nostalgic fun.
I've been called Ginger. Rarely but it happened. Not because I loved ginger. Back then I didn't even know what ginger was.
You see I'm a Virginia and, evidently, in some circles the nickname for Virginia is Ginger not Ginny. Very small circles. I did meet a Ginger once though.
There's a TV character named Ginger and a movie star. That is the extent of Ginger names in my life. I bet you only know Ginger of Gillligan's Island, Ginger Rogers and maybe one other Ginger too. Maybe.
But ... then again. I bet you don't know many Ginny's either. We're a rare breed. Now you see way I put this information way down at the bottom of the page.
It's nothing to do with the recipe just oldish old fashioned names. Vivian, Suzanne, Margaret, Alice, Irene, Patricia, Sandra, Judith and Virginia to name a few.