Rice dishes, whether it be brown, white rice, long grain, short grain, basmati, or jasmine rice, is one of the most versatile dishes out there, and this recipe for ginger rice takes it to another level! If you love rice and are feeling adventurous, this rice dish is sure to satisfy you. It's easy enough to make at home with minimal ingredients but has a taste that could rival any restaurant meal. With a hint of sweetness and a slight bite from the ginger combined with tender fluffy rice grains, each mouthful will leave you craving more!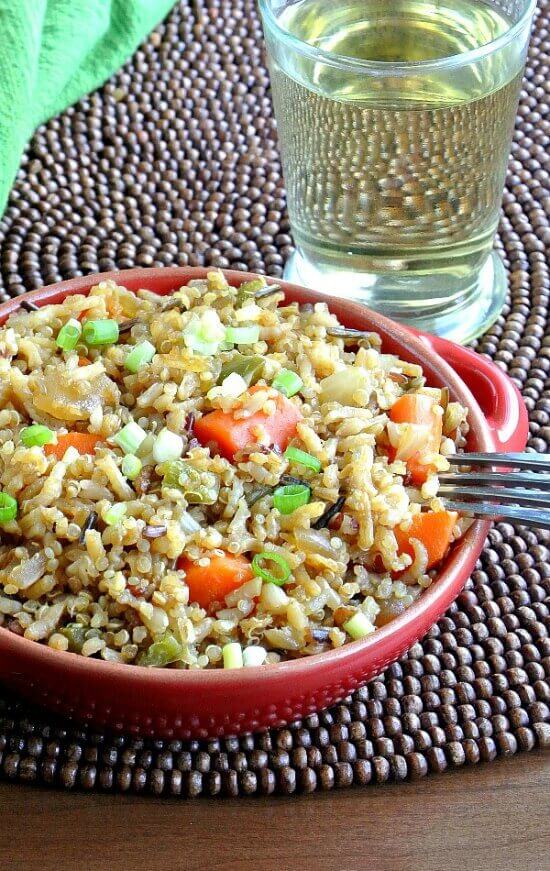 Why You'll Love This Vegan Ginger Rice Recipe
Easy To Make- Ginger rice is surprisingly easy to make and requires minimal ingredients. With just a handful of pantry staples like rice, ginger, garlic, and soy sauce, you can whip up a delicious side dish in no time at all!
Flavorful- The combination of sweet and savory ingredients creates a flavor explosion in your mouth. The ginger flavor gives this rice dish a slight kick, while the garlic adds depth. Garlic and ginger rice is a recipe you won't want to miss out on!
Great For Meal Prepping- Fragrant ginger rice recipe is perfect for meal prepping. You can make a big batch ahead of time and portion it out into individual servings, making it a great option for busy weeknights or lunchboxes on the go. Plus, you can customize the flavors to suit your tastes!
30-Minute Recipe- The greatest thing about this vegan ginger rice recipe is that it only takes 30 minutes to make! This makes it the perfect go-to recipe when you're short on time and need a quick, satisfying meal.
What Is Ginger Rice?
Ginger rice is a simple Asian dish flavored with fresh ginger, garlic, homemade chicken broth or chicken stock, and soy sauce. Typically, jasmine rice is cooked until tender, it absorbs the savory flavors from the aromatics and sauce. Fluff with a fork and serve. The result is a flavorful side dish or main course. The ginger provides a slightly spicy kick, while the garlic adds depth of flavor. This vegan recipe is easy to make, customizable, and perfect for meal prepping. If you're looking for an exciting way to spice up plain rice, this garlic and ginger rice is the way to go!
Equipment Needed
Medium Sauce Pan With Lid
Small Saucepan
Collander
Skillet
Stirring Spoon
Cutting Board
Knife
Measuring Cups and Spoons
Rice Cooker (Optional)
Ingredients
Vegetable Stock- The vegetable stock adds a savory flavor and helps to keep the rice moist and fluffy.
Rice- The base of this recipe. Your favorite plain rice will work perfectly for this recipe.
Carrots- Gives the ginger rice dish a subtle sweetness and adds a pop of color.
Oil- For sauteeing the vegetables.
Onion- Adds depth of flavor and texture.
Green Bell Pepper- Gives the rice a crunchy texture as well as more bright colors.
Garlic- Enhances the flavor of the dish.
Fresh Ginger- Provides a slight bite and warmth to the rice.
Tamari Sauce- Adds a savory flavor and boosts the umami.
Scallions- Used as a garnish and adds flavor.
Sea Salt- Enhances the flavor of the rice.
Pepper- For additional flavor.
How To Make Fragrant Ginger Rice
To make ginger rice, start by cooking the rice, add the vegetable stock to a medium-sized saucepan, and bring to a boil, then add the rice and reduce heat. Cover and simmer for 20 minutes while you stir rice occasionally. Alternatively, use a rice cooker by adding the stock, salt, and rice at once and pressing the start button. The cooker will signal when it's done. Set the cooked rice aside for later.
Place the carrots in a saucepan and cover them with water. Bring the water to a boil and let the carrots simmer on medium-high heat for approximately 15 minutes. After they become soft, drain the water and set them aside.
In the meantime, heat oil in a skillet over medium heat and saute the onion and bell pepper for about 10 minutes. Add ginger, garlic, and carrots to the onion and pepper mixture, sautee for a couple more minutes, and set it aside.
Once the rice is done cooking, add it to the skillet along with the carrot mixture and add the tamari. Heat all ingredients evenly. Add salt and pepper to taste, fluff the rice with a fork, then serve garnished with scallions. Enjoy!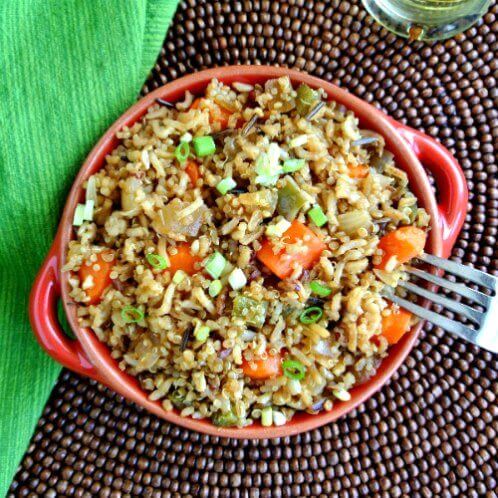 What To Serve With Ginger Rice
This vegan ginger rice is a great side dish that pairs perfectly with practically any main dish. Some of our favorite dishes to pair it with include vegetable stir-fry, grilled tofu, roasted vegetables, and seitan skewers. If you're looking for something more filling, try adding beans or tempeh for some extra protein! It also makes a great base for Buddha bowls or as an alternative to plain white or brown rice in your favorite burrito bowl.
Popular Substitutions & Additions
This vegan garlic and ginger rice is incredibly versatile and can be customized to your taste. Get creative and have fun with it!
If you don't have tamari on hand, you can use soy sauce or coconut aminos instead.
Add a squeeze of fresh lime juice or lemon juice for an extra zing.
This garlic and ginger rice recipe pairs perfectly with your favorite type of rice. Jasmine rice, basmati rice, long-grain white rice, and brown rice all make excellent options.
If you prefer a bit of heat, add some red chili pepper flakes or sliced jalapenos to the mix.
For added protein, try adding cooked chickpeas, lentils, edamame, or even scrambled tofu.
Vegan chicken broth, vegetable broth, and vegan chicken stock make a great alternative to vegetable stock.
Green onions would make a great alternative to scallions as a garnish.
If you don't have carrots, feel free to use other vegetables like celery, peas, or corn.
Use coconut oil, extra virgin olive oil, or almond oil to sautee the vegetables.
To make it more flavorful, add fresh herbs such as cilantro, parsley, basil, or fresh garlic cloves for an extra burst of flavor!
Can You Freeze Ginger Rice?
Yes! To freeze cooked rice, let the rice cool completely before transferring it to an airtight container or a freezer bag. Label and date the container and place it in the freezer. The frozen ginger rice will last for up to three months. When ready to use, thaw overnight in the refrigerator and reheat in the microwave or stovetop.
Leftover ginger rice can be stored in an airtight container or covered with plastic wrap and kept in the refrigerator for up to 4-5 days. Reheat it on the stove top, in a skillet, or in the microwave until warm.
Ginger Rice FAQs
Can I use any type of rice I want to make this ginger rice recipe?
Yes, you can use any type of long-grain or short-grain rice, such as basmati rice, jasmine rice, arborio, plain white rice, or brown rice. The cook time may vary slightly depending on the type of rice used.
Can I use a rice cooker for this ginger rice recipe?
Yes, you can absolutely make this ginger rice recipe in a rice cooker. Add all the ingredients to the rice cooker, select the rice setting, and press start. The rice cooker will automatically switch to the keep warm setting once the rice is done cooking. Using a rice cooker is a great hands-free way to make this recipe and ensures the rice is cooked perfectly every time.
What should I do if my ginger rice is too dry?
If your ginger rice turns out too dry, you can add some extra vegetable stock or vegan chicken broth to it and heat through until the desired consistency is reached. Alternatively, you could also add a tablespoon of olive oil or vegan butter for added moisture.
Can I make this recipe gluten-free?
Absolutely! To make this recipe gluten-free, use tamari or coconut aminos, and make sure to check the labels on all ingredients for possible traces of gluten.
📋 Recipe
Ginger Rice
Make your dinner time more exciting! Fluffy rice with a sweet and mild ginger flavor. Every delicious bite will leave you feeling more satisfied than the last.
Ingredients
2

cups

vegetable stock

1

cup

rice

- of your choice, you can even use a blend

1

cup

carrots

- sliced thick

½

cup

onion

- diced

½

cup

green bell pepper

- finely diced

2

cloves

garlic

- finely chopped

1

tablespoon

fresh ginger

- very finely chopped

2

tablespoons

tamari sauce

¼

cup

scallions

- chopped, for garnish

½

teaspoon

sea salt

¼

teaspoon

black pepper
Instructions
In a medium saucepan, bring the vegetable stock to a boil.

Stir in the rice, cover and reduce heat. Simmer for 20 minutes. This can also be done in a Rice Cooker by adding the stock, salt and rice all at once and then push the start switch. It will finish when the chime dings.

In a saucepan cover the carrots with water and bring to a boil. Cook on at medium high simmer for 15 minutes. Drain and set aside.

In the meantime, heat oil in a skillet and saute the onion and bell peppers for 10 minutes.

Add garlic, ginger and carrots. Saute 2 more minutes. Set aside.

When the rice is finished add it to the skillet along with the carrot mixture and tamari.

Heat through and and add salt and pepper. Serve garnished with scallions.
Notes
So simple and so good.
IF FREEZING:
Please follow any of the directions defined in my article How to Prepare Food for the Freezer.
TO PREPARE AFTER FREEZING:
Take out of freezer and put in the refrigerator at least 6 to 8 hours before heating (or the day before). Heat in the microwave for about 3 minutes. Stir halfway through. Check for temperature and serve hot.
Nutrition
Serving:
1
Serving
Calories:
210
kcal
Carbohydrates:
46
g
Protein:
5
g
Sodium:
990
mg
Potassium:
253
mg
Fiber:
2
g
Sugar:
4
g
Vitamin A:
5725
IU
Vitamin C:
20
mg
Calcium:
35
mg
Iron:
0.8
mg