Garden Vegetable Rice Pilaf is a one pot meal with everybody's favorite vegetables. It's easy to throw together and any leftovers makes great fried rice.
There are five different vegetables gracing this one-pot meal. If you're lucky enough to have a garden then you probably have at least a couple of them growing in it right now.
And that reminds, me if you have fresh tomatoes then you can use those instead of canned. Just dice up the tomatoes and add a little water to measure 15 ounces. Try to mimic what comes in a can.
It is so nice to have a healthy meal at your fingertips. This pilaf recipe is very easy and without the zuke it also freezes great. That means I remove the zucchini before freezing and I add them to tofu scramble or some other such recipe.
Lots of people do freeze zukes but I don't like them that way. I like the crisp fresh texture so I add them right before serving when they have been barely sauted.
I talk a little bit about different ways people treat zucchini in the next section below.
Tips for Making Garden Vegetable Rice Pilaf
As I said above, I like my zucchini lightly cooked and would even call it al dente if I could. That is why in the recipe they are lightly sauted and then removed from the skillet before adding everything else.
Now I've heard that some people like zucchini cooked until it's soft soft soft. If that's the way you like it then don't pre-saute them. Instead add them to the pot about 10 minutes into the cooking process. You won't need to stir them it. Just drop on top and close the lid quickly.
Use a large deep skillet if you can because it's a lot of food going into one pot.
The liquid won't be completely gone at the end of cooking but that is just what you want. A little moisture for the pilaf.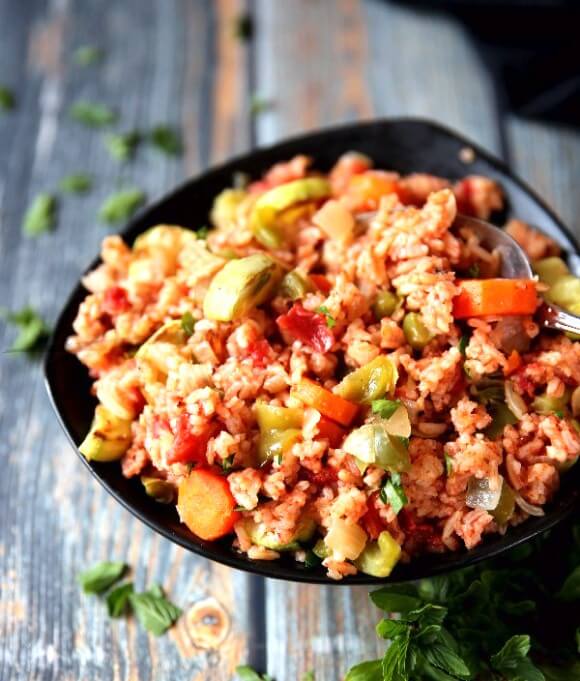 I have to tell you I made this recipe for the blog 5 years ago. The recipe was delicious then but the photos were not very (I'll admit it) good.
Lucky for all of us, I have improved in the photography department. For this recipe I even played with the settings a bit so I got a little moody in a couple of the photos.
I've used different fresh herbs for garnishing this dish over the years but I think I like parsley the best. If everyone in your family likes cilantro that is delicious too.
Do you know that some people taste soap when they have cilantro? I'm not kidding and if you're one of those people you're shaking your head 'Yes'!
It's just some chemical/genetic (or whatever) makeup that causes the phenomenon. That's why I mentioned not to freely use cilantro in this - just in case.
.
This post contains affiliate links. Read my disclosure policy here.
Before you get started on the pilaf recipe let me tell you about another rice dish that only takes 30 minutes. It's Cashew Rice Bowl and so worth exploring.
It's completely different from this one so I think you'll want to check that one out too. Okay! Back to Garden Vegetable Rice Pilaf!
Garden Vegetable Rice Pilaf
Garden Vegetable Rice Pilaf is a one pot meal with everybody's favorite vegetables.
Ingredients
1

cup

rice

1

cup

vegetable broth

1 ½

cups

2 carrots, measurement is 'about'

15

ounces

can diced tomatoes with the liquid

1

cup

zucchini cut into discs - about one medium zucchini

½

cup

onion, diced

¾

cup

small green bell pepper, chopped

½

teaspoon

dried basil

¼

teaspoon

dried rosemary

1

teaspoon

salt

¼

teaspoon

ground black pepper
Instructions
Heat about 3 tablespoons of water in a skillet that has a tight fitting lid.

Add the zucchini and quickly saute for about 3-4 minutes. Remove the zucchini and set aside.

Add the onion and bell pepper to the skillet and saute about 10 minutes.

Add the tomatoes with it's liquid, broth, uncooked rice, carrots, basil, rosemary, salt and pepper.

Bring to a boil and then cover. Lower the heat and simmer 20 minutes.

The liquid should be absorbed by almost this time.

Right before serving - add the zucchini and toss.
Nutrition
Serving:
1
Serving
Calories:
235
kcal
Carbohydrates:
50
g
Protein:
6
g
Fat:
1
g
Sodium:
649
mg
Potassium:
616
mg
Fiber:
4
g
Sugar:
7
g
Vitamin A:
8310
IU
Vitamin C:
42.2
mg
Calcium:
77
mg
Iron:
2
mg
How Do You Freeze Garden Vegetable Rice Pilaf?
IF FREEZING:
Freeze the pilaf without the zucchini for the freshest texture.
Pack in a hard sided freezer container for up to 6 months.
TO SERVE AFTER FREEZING:
Take out of the freezer the day before. Let it defrost in the refrigerator overnight. Quickly saute fresh sliced zucchini and then toss with the pilaf. Heat through in a skillet.
Serve with a nice big piece of Italian bread and a salad.