Tomato Bruschetta- Chopped fresh tomatoes, fragrant garlic, and flavorful shallots seasoned with salt and pepper, then marinated in olive oil and balsamic vinegar. Serve atop crostini toast, bruschetta bread, or a dip with pita chips. This fresh garden tomato bruschetta recipe is so good that you'll want to enjoy it all summer.
Tomatoes are finally in season, and that means one thing- bruschetta! If you've never had bruschetta, you're in for a real treat. This classic Italian appetizer is simplicity at its finest, and once you try it, you'll be hooked. Bruschetta is traditionally made with fresh chopped tomatoes, garlic, olive oil, and balsamic vinegar. The ingredients are chopped and then left to marinate for a bit so that the flavors can come together. The key to great bruschetta is using the freshest ingredients possible. That's why this recipe is best made in the summer when ripe tomatoes are at their peak.
If you're looking for a quick and easy appetizer that is sure to please, look no further than this fresh garden tomato bruschetta recipe. It comes together in no time and can be served in various ways. I like to serve it on crostini toast, but it would also be great on bruschetta bread or as a dip with pita chips. Guaranteed to be a hit, no matter how you serve it!
Why You'll Love This Garden Tomato Bruschetta Recipe
Refreshing- Fresh ripe tomatoes, garlic, and a tangy balsamic vinegarette make this bruschetta a light and refreshing dish perfect for summertime.
Simple- This recipe only requires a few simple ingredients that you probably already have in your kitchen.
Delicious- The combination of sweet tomatoes, savory garlic, and zesty balsamic vinegarette is simply mouthwatering!
Beautiful- This dish is as beautiful as it is delicious. The vibrant colors of the fresh tomatoes and herbs are sure to impress everyone.
Light- Garden fresh bruschetta is the ideal snack or appetizer. It's filling without being too heavy while still bursting with flavor!
Equipment Needed To Make This Tomato Bruschetta
Mixing Bowl
Cutting Board
Knife
Measuring Cups and Spoons
Large Spoon for Mixing
Ingredients For Fresh Garden Tomato Bruschetta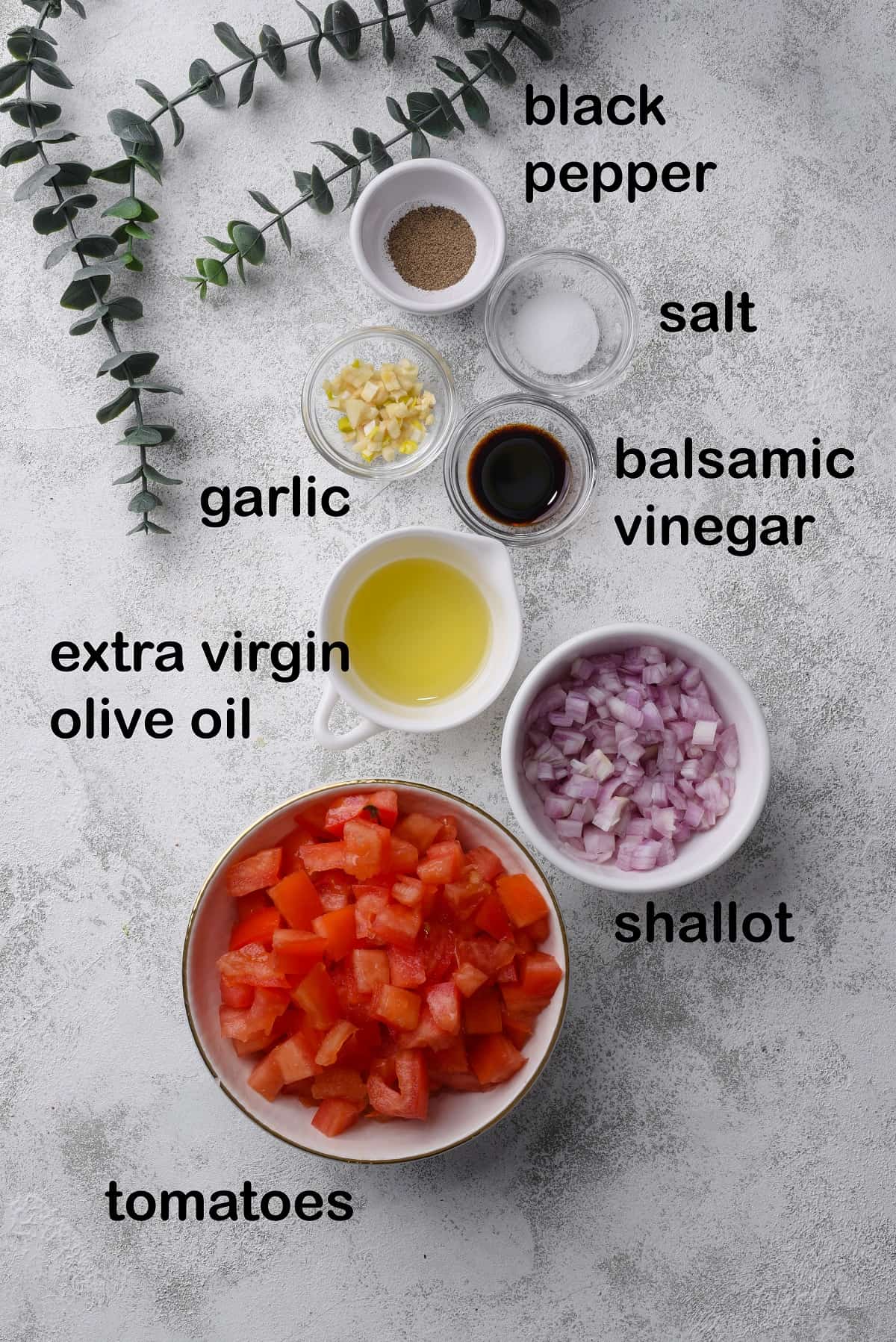 Tomatoes
Salt
Black Pepper
Garlic
Shallot
Extra Virgin Olive Oil
Balsamic Vinegar
How To Make Homemade Tomato Bruschetta
To make this fresh bruschetta, start by chopping the tomatoes into small pieces. Sprinkle them with salt and pepper. Finely chop the garlic and shallot, then add to the tomato mixture. Drizzle with olive oil and balsamic vinegar and mix well. Cover the mixing bowl with an airtight lid and allow the tomatoes to marinate.
Bruschetta is best if allowed to marinate for a while, allowing the tomatoes to absorb all of the other ingredients' flavors. Try to make it at least an hour before serving it, but it's best if made the day before.
What to Serve/Pair With Fresh Garden Tomato Bruschetta
This bruschetta is delicious by the spoonful but also pairs well with other dishes.
Serve it as part of an appetizer spread with other small bites like cheeses, olives, and fruit.
Pair it with a light salad for a simple lunch or dinner.
Serve it alongside grilled tofu, tempeh, or seitan
Top off a veggie burger or wrap with a spoonful of bruschetta.
Use it as a topping for crostini or bruschetta bread.
As a dip, serve alongside pita bread, chips, or crackers
Popular Substitutions & Additions
There are a few common substitutions and additions that you can make to this recipe.
Add Fresh Herbs- Fresh basil, oregano, and thyme all pair well with tomatoes. Chop up a few fresh leaves and add them to the bruschetta mixture.
Use Diced Onion- If you don't have shallot on hand or are not a fan of its flavor, you can use a small diced onion as a substitute.
Try Different Kinds of Vinegar- Balsamic vinegar is most commonly used in bruschetta recipes. However, you can also use red wine vinegar or white vinegar.
Spice It Up- If you like your bruschetta with a little bit of a kick, add a pinch of red pepper flakes or diced jalapenos to the tomato mixture.
How To Reheat & Store Bruschetta
What Is The Best Way To Store Tomato Bruschetta?
Homemade bruschetta is best stored in an airtight container in the refrigerator.
How Long Will Homemade Bruschetta Last In the Fridge?
When stored in an airtight container, bruschetta will last in the fridge for up to 5 days.
Can I Freeze Tomato Bruschetta?
Yes! You can freeze this bruschetta recipe for up to 3 months. To freeze, place the desired amount of bruschetta in a freezer-safe container or bag.
When ready to enjoy, thaw in the fridge overnight, then reheat if desired.
How To Reheat Tomato Bruschetta?
This bruschetta can be served cold, at room temperature, or warmed.
To reheat, place the desired amount in a small skillet over medium heat.
Cook for 3-5 minutes, occasionally stirring, until heated through.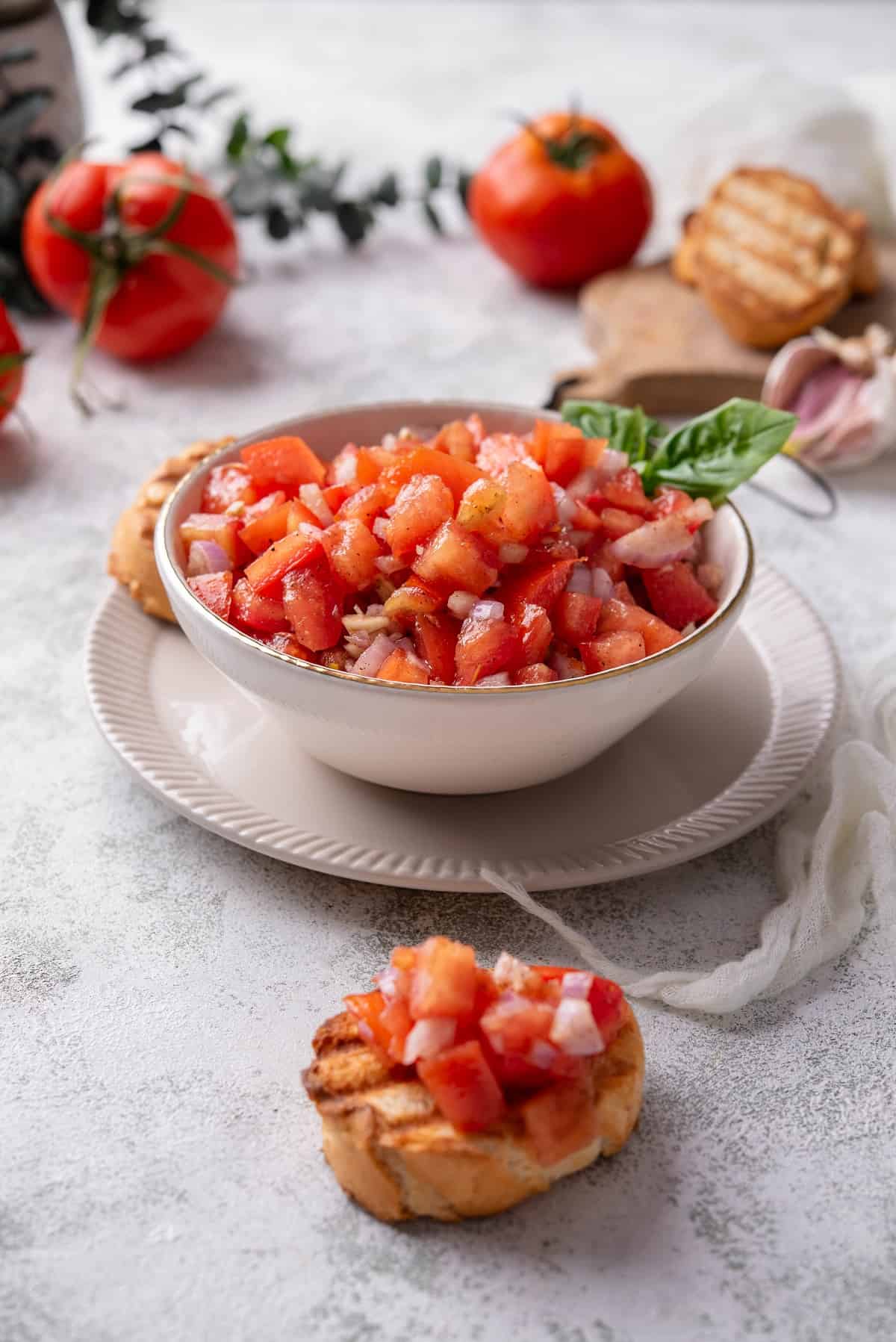 Fresh Garden Tomato Burschetta FAQs
What is the best type of tomato to use for bruschetta?
When choosing the best tomatoes for bruschetta, you'll want to use ripe, fresh tomatoes. While many different types of tomatoes can be used, some of the best include:
Roma Tomatoes
Beefsteak Tomatoes
Cherry Tomatoes
Grape Tomatoes
Do I need to peel the tomatoes before dicing them?
No, there's no need to peel the tomatoes before dicing them. The skin will soften as the tomatoes marinate and will be easy to eat.
Can I make bruschetta ahead of time?
Yes, you can make this recipe for fresh bruschetta ahead of time. In fact, it's best to make bruschetta a few hours or even the day before you plan to serve it. This allows the flavors to meld together, and the tomatoes absorb all of the other ingredients' flavors.
Why is my bruschetta bitter?
If your bruschetta is bitter, it's likely because the tomatoes you used were not ripe enough. Be sure to use ripe, fresh tomatoes for the best flavor.
Is there something I can use instead of balsamic vinegar?
Yes. Balsamic vinegar is the most common vinegar used in tomato bruschetta. However, you can also use red wine vinegar or white vinegar.
Can I use canned tomatoes for this bruschetta recipe?
Yes. You can use canned tomatoes in this recipe, but they will not taste as good as fresh tomatoes. If you use canned tomatoes, make sure to drain them well and chop them into small pieces.
📋 Recipe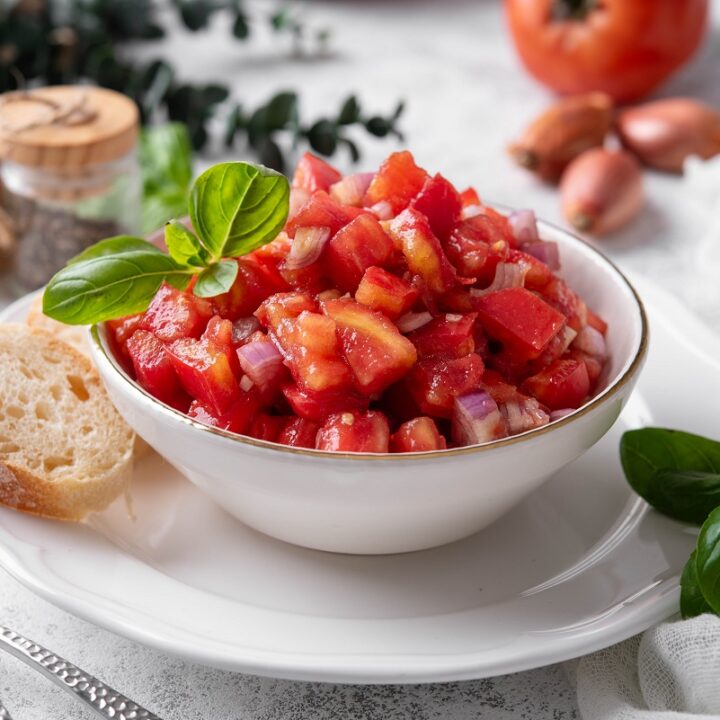 Garden Tomato Bruschetta
Homemade Tomato Bruschetta flavors are fresh and tasty on little crostini toasts and also great as a dip.
Ingredients
6

cups

tomatoes

roma, finely chopped to equal about 2

½

teaspoon

salt

¼

teaspoon

black pepper

3-4

cloves

garlic

finely chopped

1

cup

shallot

finely chopped equals about ¼

⅛

cup

extra virgin olive oil

1

Tablespoon

Balsamic Vinegar
Instructions
So easy - Put all the ingredients in a bowl and mix well.

Put in the fridge overnight. This is great for letting the flavors meld.
Notes
Fresh Basil is my favorite bruschetta topping
Nutrition
Serving:
4
ounces
Calories:
27
kcal
Carbohydrates:
2
g
Fat:
1
g
Sodium:
75
mg
Potassium:
134
mg
Sugar:
1
g
Vitamin A:
465
IU
Vitamin C:
7.8
mg
Calcium:
7
mg
Iron:
0.1
mg