Fried Corn is simple and the recipe utilizes either fresh organic corn on the cob or canned organic corn. A few ingredients and you will have a new side dish that everyone enjoys.

You can never have too many side dishes. I'd like to say that's what my mother always said but it's actually what I always say.
You see my mother was always the one with sage advise. Now I guess it's my turn.
So 'You can never have too many side dishes and you need more corn side dishes'. Corn on the cob is one of the best vegetables out there. It was sweet and crispy and nothing else is needed to help it out.
Well, almost nothing needs to be done. That's another quote from my life and this one came from a neighbor. She said 'Corn isn't corn without a worm on the end'.
Well, I'd like to pass on that saying but I do still watch for the worm when it's organically grown and ready to be shucked - by me. I've seen quite a few when picking from the field.
But now we have organically grown corn that has already been shucked for us with the tip cut off so it's 'all pretty and such'. Perfect for ease in making Southern Fried Corn.
They usually come in three or four packs and are pretty easy to find in larger grocery stores. How did we get so lucky!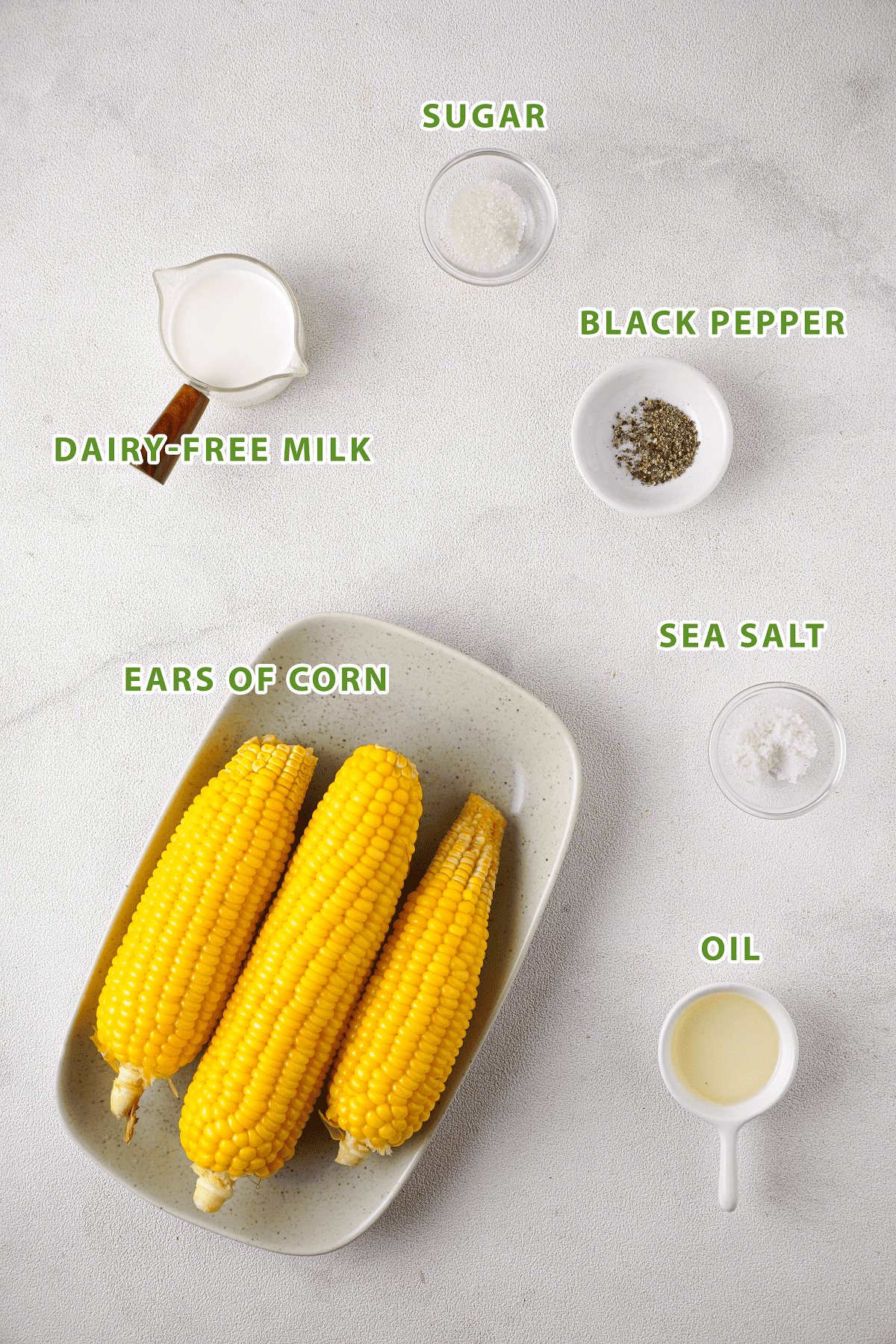 I'm always looking for simple side dishes that will WOW even the pickiest eaters. Who doesn't want to be asked for 'the recipe'?
There are fried corn recipes out there but this one has no bacon and still packs tons of flavor. Plant-based all the way!
Corn Facts that are Super-Interesting!
A few facts here that might be interesting – Corn seed is actually a vegetable, a grain, and a fruit.
Corn seed is a vegetable because it is harvested for eating, a grain because it is a dry seed of a grass species and a fruit because that is the botanical definition.
I belong to an heirloom seed group where you trade heirloom seeds. I have a few corn seeds and can't wait until I can plant again and get a little patch of cornstalks going. I'll save some seeds too for future plantings.
It's hard to argue with the pure delicious flavor of corn. Have you ever taken a bite before it is even cooked, right off the cob? The stuff is good.
My dad used to do that and I completely understood it. Sweet and with the perfect texture. Whatever you call it - vegetable, grain or fruit - it's loved by all because it is so tasty.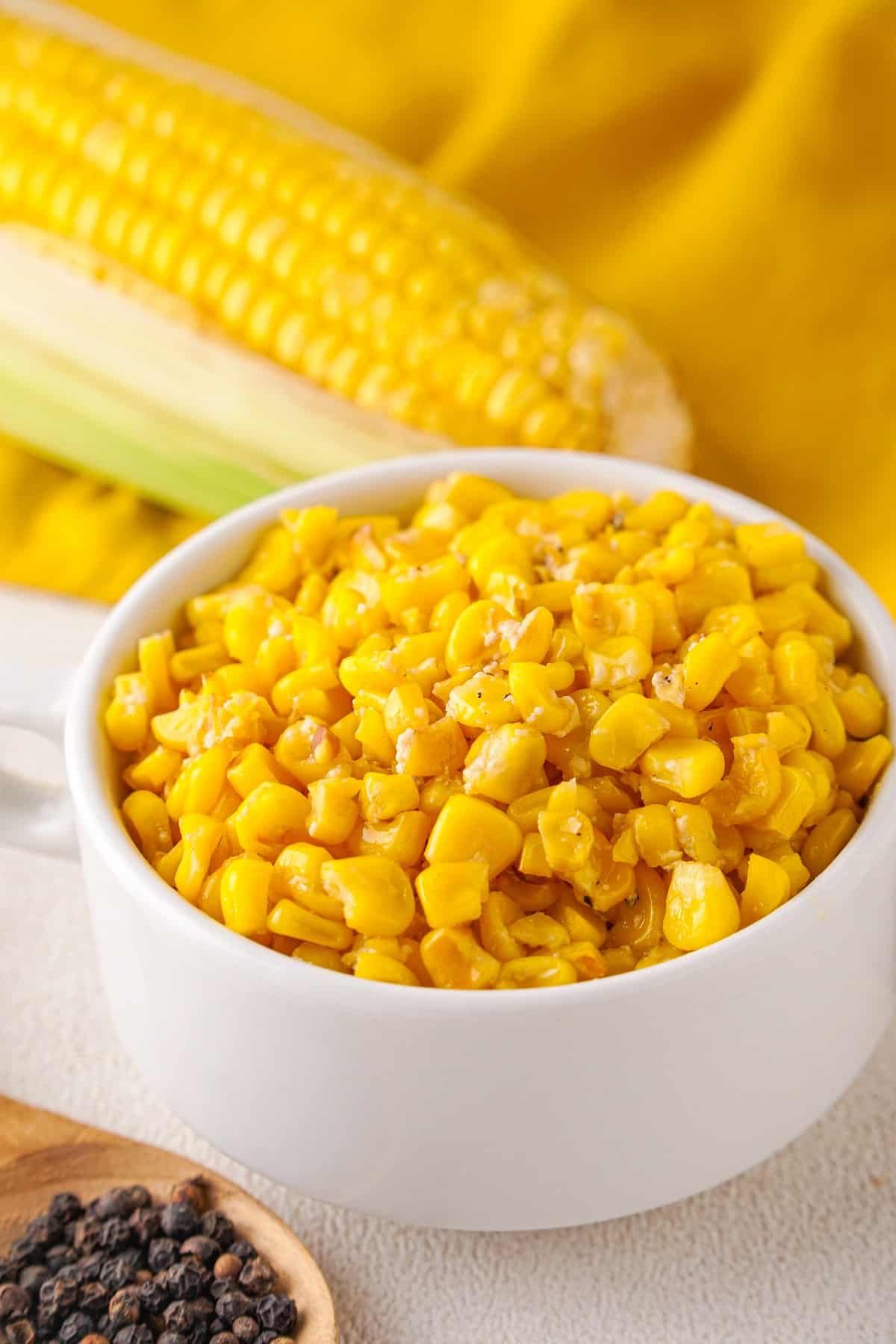 What About GMO and non-GMO Corn?
I know corn has got a bad rap lately because of all of the genetic engineering (GMO) going on nowadays. But genetically modified organisms are prohibited in organic products.
It all starts with the seed. Corn is the most genetically modified vegetable today so you really need to keep aware of what you're buying.
That goes for fresh or canned so watch for the tags and read the labels. Make sure they are organic and more clearly they need to have "100% organic" label or the 'non-GMO project" verified label.
What is the Healthiest Oil for Fried Corn and Frying?
There are a few and I have listed the top three below.
Avocado Oil can promote your healthy cholesterol levels, HDL.
Grapeseed oil has a high smoke point (as does avocado oil) and is low in saturated fat.
Use light sesame oil for frying and it is one of the heart-healthy cooking oils.
Although olive oil is one of the healthier oils it has a low smoke point so it isn't so great for frying.
TO FREEZE:
Let cool to room temperature. Pack in rigid sided containers as defined in my article Preparing Food for the Freezer
TO PREPARE AFTER FREEZING:
Remove from the freezer and put in the refrigerator overnight for about 6 to 8 hours. The night of serving - Zap it in the microwave for 2 minutes stirring after one minute. or Heat through in a saucepan and serve.
📋 Recipe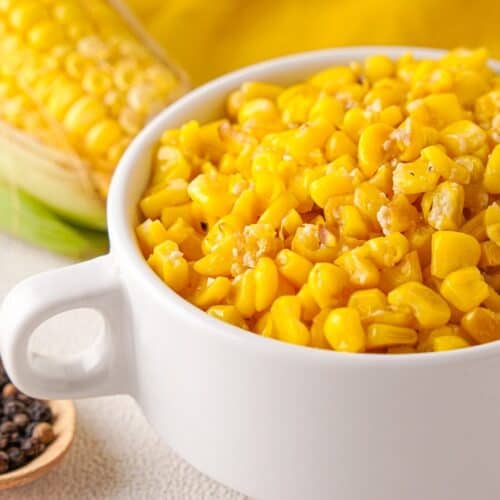 Fried Corn aka Southern Fried Corn
Fried Corn is simple and the recipe utilizes either fresh organic corn on the cob or canned organic corn.
Ingredients
3

ears

3 to 4 ears corn on the cob - or 2 cans 15 ounces canned organic corn

1

tablespoon

oil of your choice

1

teaspoon

sugar

⅓

cup

dairy-free milk

1

teaspoon

sea salt

¼

teaspoon

black pepper
Instructions
Cut the kernels off the cob and pick out any of the little tassels that are still clinging to the corn.

Flip the knife over and with the back of your knife scrape down all of the cobs and get all the 'milk' you can. This will make extra flavor.

In a skillet add the oil and heat to medium. Add the corn and the sugar.

Cook over medium heat without stirring until golden about 5 minutes.

Flip all of the corn over and cook on medium for about 5 more minutes. Scrap the pan and add the salt pepper and dairy-free milk.

Bring to a boil, turn down to medium and let cook about 10 minutes.

Scrape the pan again and it should be done. The liquid should be gone but the corn is still moist.
Nutrition
Serving:
1
Serving
Calories:
79
kcal
Carbohydrates:
8
g
Protein:
1
g
Fat:
5
g
Saturated Fat:
4
g
Sodium:
6
mg
Potassium:
121
mg
Sugar:
2
g
Vitamin A:
85
IU
Vitamin C:
3.1
mg
Iron:
0.2
mg