Easy Grilled Vegetables in Foil are wrapped up in individual packages along with herbs and spices. A simple way to serve a healthy side dish while keeping an outdoorsy atmosphere. The freshest, most tender cooked vegetables imaginable.
I have grilled these veggies on a gas grill and in a grill pan, and both ways turned out tender fresh veggies. In fact, I've cooked them on a hibachi too. Way way back when but it worked just as well.
This is a summer story, but you can get your 'grill on' without going outside too.
Even if it is snowing outside, you can still make these wonderfully fresh and healthy Easy Grilled Vegetables in Foil. There are so many really cool stovetop grill pans out there that you can pretend the temps are in the 70's all year round.
It's funny how grilling makes the atmosphere feel festive. Grilling outside just seemed like a party for some reason.
If you've got a little bit of lawn, you might as well pull out an old fashioned game such as croquet and badminton. Or heck, if everybody wants to play touch football, that would be fun too.
One way or the other, with this grilled vegetables recipe, you'll have the freshest cooked vegetables imaginable.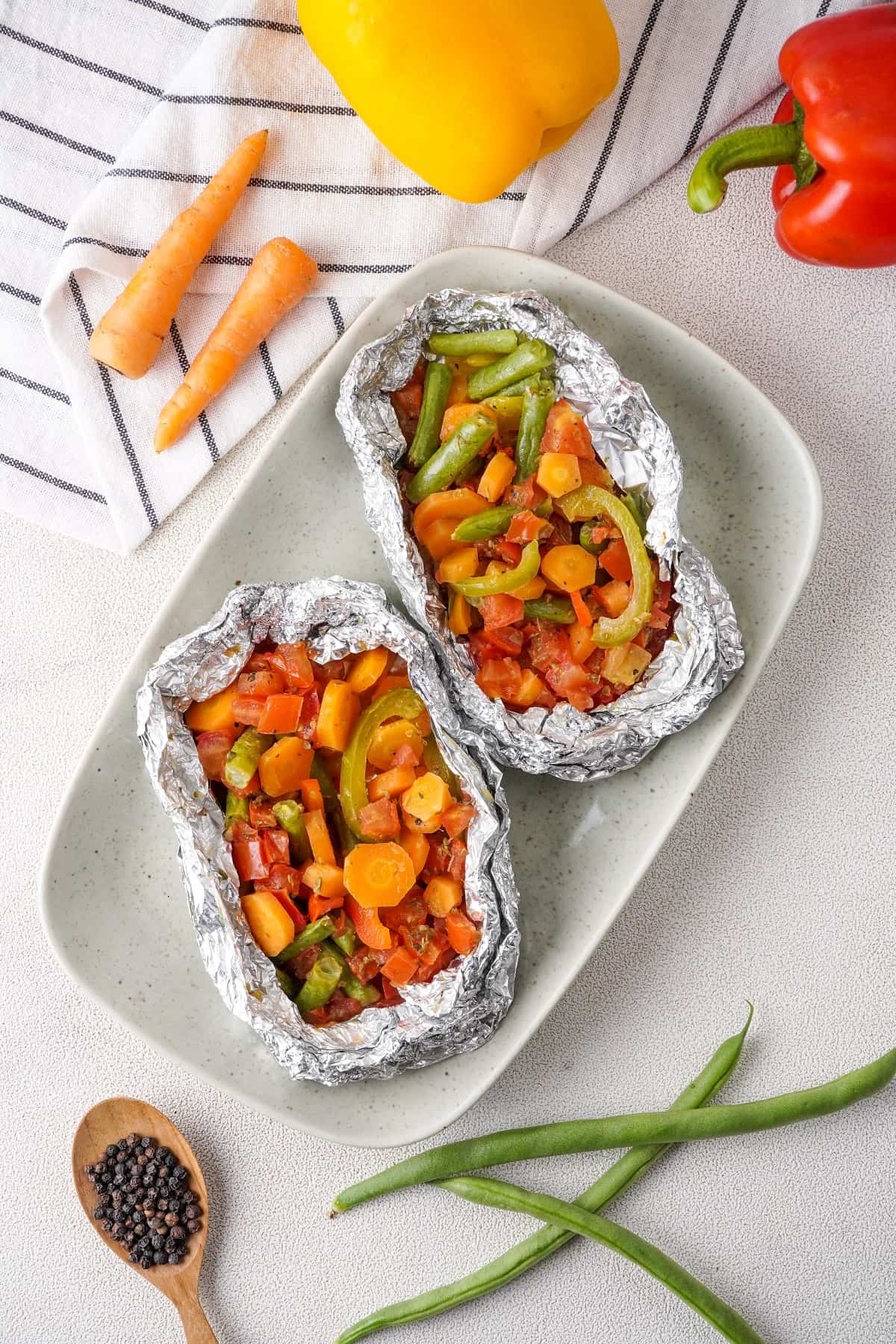 How to Prepare for Easy Grilled Vegetables in Foil Packets
Check out the photo below.
All the veggies are sliced thin - either julienned or in disc shapes.
Fresh Vegetables are just waiting to be sprinkled with a little melted dairy-free butter, herbs, and spices.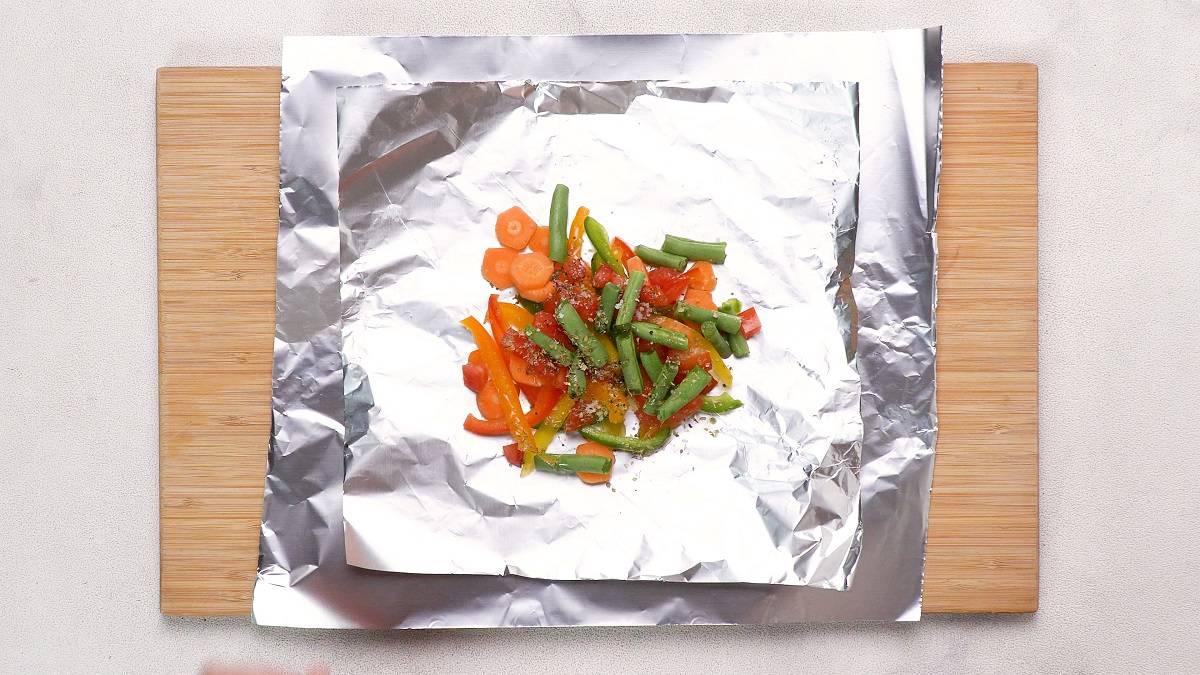 How to Wrap Vegetables in Foil
Layout the veggies on a path that's longer than wider. This keeps enough veggies for a serving without piling them too thick.
Grab the long edges on each side and pull up to meet in the middle.
Carefully fold over the top length by about one inch. Fold over again by about one inch so that you are double sealing the top. Fold over again.
Lay flat with the fold down the center. See the photo below.
Now fold each short end up and fold over again and again. This makes very secure edges so the moisture and dairy-free butter doesn't drip out of the packets.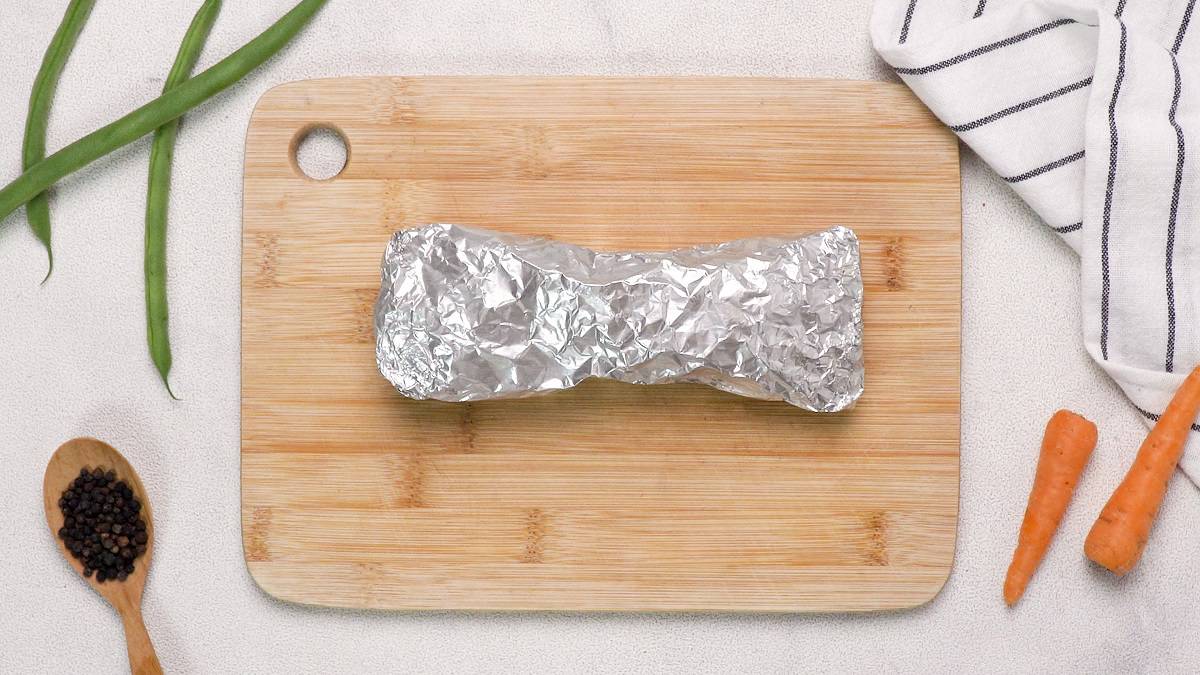 Grilling in Foil
If you'd like to have a buffer between your food and the foil, there is an easy solution.
Cut the pieces of foil to the size that you want to use.
Cut a piece of parchment paper that is a little bit smaller than the foil.
Lay the parchment paper on the inside of the foil. Place your food on the parchment paper.
Now seal the foil just as you would normally. Don't use wax paper as the wax will melt at high temps. It has to be parchment paper.
Your food is protected from the foil.
📋 Recipe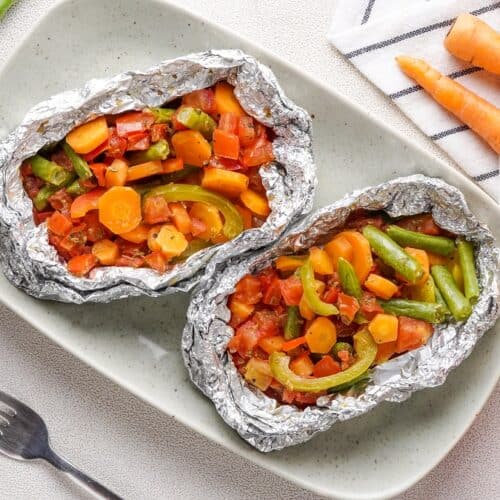 Easy Grilled Vegetables in Foil
Easy Grilled Vegetables in foil are wrapped up in individual packages along with herbs and spices.
Ingredients
1

cup

red, green, orange and yellow bell peppers (I bought one of those bags of small/mini bell peppers and had many left over for other recipes and fresh eating), sliced thin

1

cup

baby carrots, cut in thin discs

4

medium plum tomatoes, diced small, roma

1

cup

whole green beans, snapped

3

tablespoons

dairy-free butter, divided

2

teaspoons

dried oregano

½

teaspoon

black pepper

1

teaspoon

sea salt
Instructions
Tear off 4 squares of foil that are 12" x 12".

Divide the vegetables by four and place in the center of each foil square.

Drizzle a little bit of the melted dairy-free butter over each pile of vegetables.

Pinch and scatter a little bit of the oregano, salt and pepper all over the veggies.

Spread the vegetables in a longer flat rectangle on the foil. This is so there is a larger area touching the heat and they cook evenly.

Pull up the long side of the foil to meet at the top and fold over three to four times to make a good seal.

Flatten down, lightly. Be careful not to tear the foil.

Fold over each end three to four times. See the photo above so that you can visually see what I mean.

Place on the grill over medium indirect heat (or grill pan) and cook about 14 minutes (7 minutes on each side) or until tender.

You can set them aside, unopened, and they will stay warm a while.
Notes
This recipe can easily be doubled, tripled, etc.
Nutrition
Serving:
1
Cup
Calories:
136
kcal
Carbohydrates:
10
g
Protein:
1
g
Fat:
10
g
Saturated Fat:
9
g
Sodium:
612
mg
Potassium:
372
mg
Fiber:
3
g
Sugar:
5
g
Vitamin A:
6300
IU
Vitamin C:
60.2
mg
Calcium:
45
mg
Iron:
1.3
mg