Espresso Chocolate Chip Breakfast Muffins have deep rich flavors. They are super easy to make and great as a snack too. You deserve the extra oomph for vegan breakfast muffins with chocolate goodness.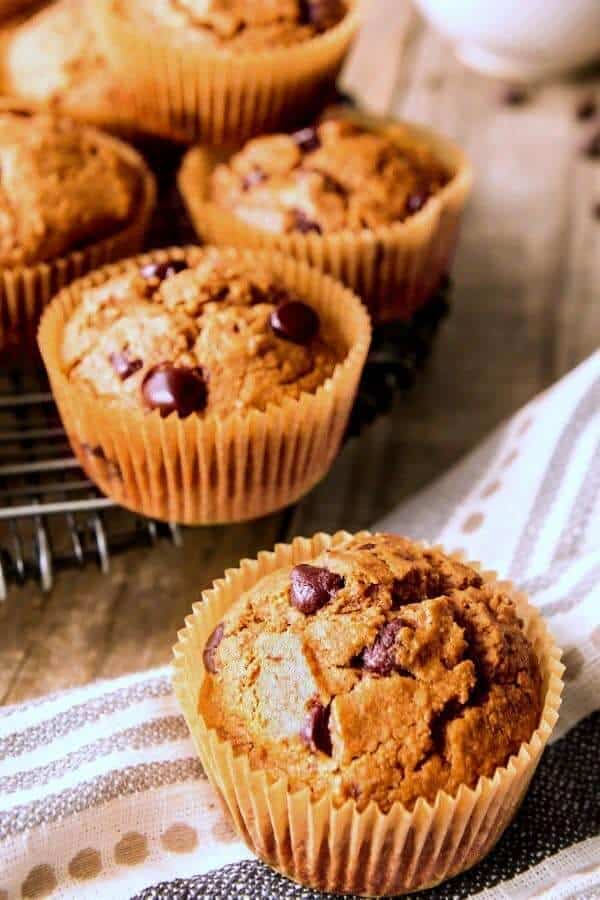 Are you thinking that these are called Espresso Chocolate Chip Breakfast muffins because they go good with coffee?
Well, that is definitely true but it is really because there is a little bit of espresso in the muffins.
It's an instant coffee powder espresso but you don't taste any of the coffee. It just makes the muffin flavors extra rich - with all of the other ingredients it's like dark double chocolate.
We don't drink instant coffee but I keep it on hand. It is one of those things that keeps forever and I use it in baking.
Every once in a while I will add espresso to recipes for muffins, cookies or chocolate frosting. It also makes you feel like you're getting fancy.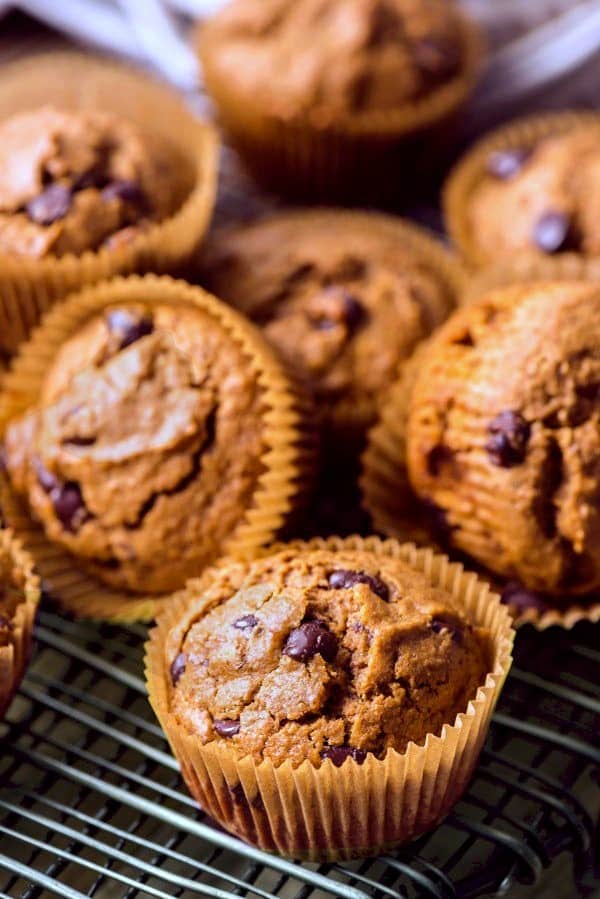 Muffins are really very easy to make and actually quick too.
You can whip up a dozen in about a half an hour and then you'll be on your way to having easy to grab delicious breakfasts and snacks.
They all freeze really well too. I'm kind of a muffin freak and have quite a few on the blog. For a very good reason, many of them have chocolate chips in them.
Just look at some of these Vegan Chocolate Chip Muffins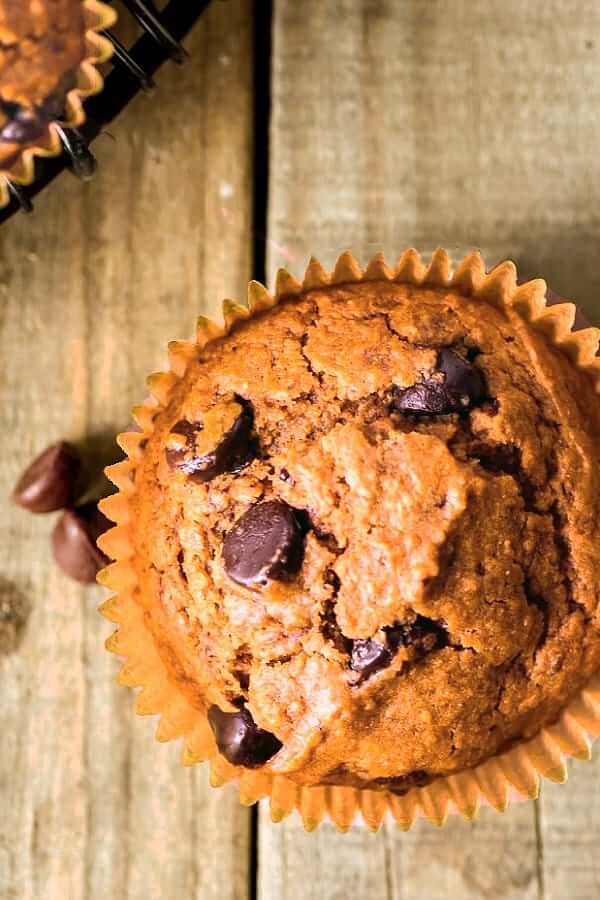 WHAT IS INSTANT ESPRESSO POWDER?
It's like a secret ingredient. It's just that little something extra that goes so well with chocolate.
Instant espresso powder is kind of like plain instant coffee but much more concentrated with a very deep flavor.
Adding a couple of teaspoons to the ingredients is not going to make these muffins taste like coffee at all.
It just makes for an extra intense luxurious sweetened chocolaty depth of flavor.
I highly recommend storing some in your pantry if you love baking with chocolate like me.
THE PERFECT INGREDIENTS
Whole wheat pastry flour - creates super light and soft baked muffins while still incorporating whole grains.
Coconut sugar - is a healthier unrefined sugar that makes these muffins slightly sweet without overpowering the chocolate flavors.
Baking powder - adds volume to the muffins and a lighter texture.
Cinnamon - is a warm, aromatic spice that balances the sweetness in these muffins.
Salt - is a baking necessity.
Instant espresso powder - intensifies the sweetened chocolaty flavor.
Egg replacer (flaxseed meal) - one is sufficient here to add enough moisture to the flour and a good structure to these baked goods.
Unsweetened Almond milk - has proteins and adds moisture to create a stable batter.
Dairy-free butter - adds moisture and creates a more delicate crumb to each bite.
Vanilla extract - enhances the flavors in these muffins.
Chocolate chips - add delicious chocolate streaks and chunks in the muffins once baked.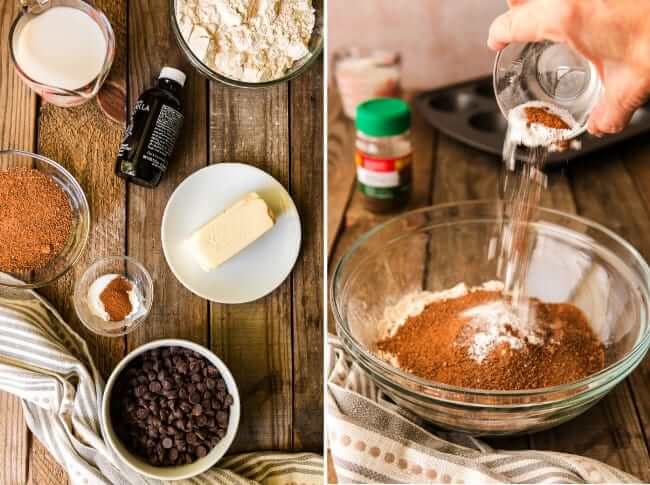 HOW DO YOU MAKE VEGAN BREAKFAST MUFFINS?
CHEF'S TIPS:

You need a muffin tin or two muffin tins to hold 12 muffins.
If you don't want to oil the muffin tins you can use paper muffin cups.
You need one large bowl for the final mixing and a medium bowl to mix the liquids.
Mix the liquids well and the dry ingredients (except the chocolate chips) well in their separate bowls.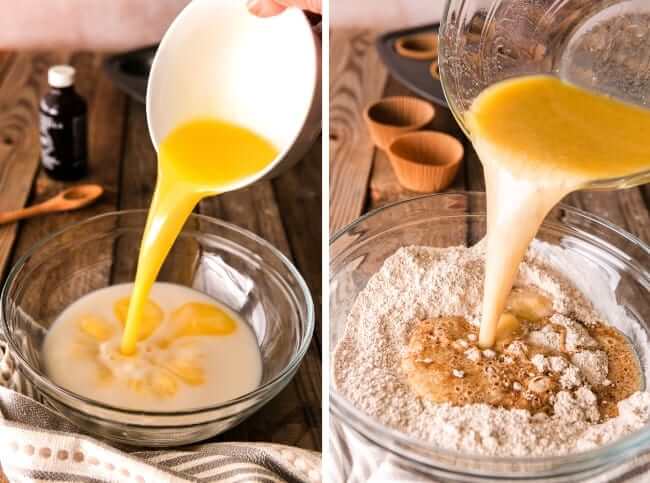 Add the liquid ingredients to the dry and mix until JUST blended. They'll be a bit lumpy.
Add the chocolate chips and fold in. Divide among 12 muffin cups.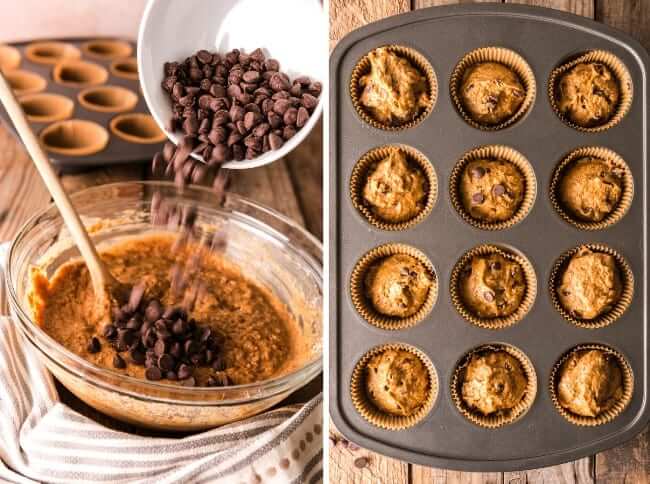 Bake at 400° for 15 to 18 minutes or until a toothpick inserted in the center comes out clean.
CHOCOLATE CHIP BREAKFAST MUFFINS
You have got to try these healthy breakfast muffins! It's a super simple recipe with healthy ingredients, yet every bite feels like comfort food!
And don't forget;
They're the perfect baked goods to enjoy with your morning coffee - like a match made in heaven.
Every bit of these vegan Chocolate Chip Breakfast Muffins tastes like comfort food.
Another good thing is that they are nourishing enough for breakfast or as a healthier snack
More Easy Breakfast Recipes that Can Double as a Snack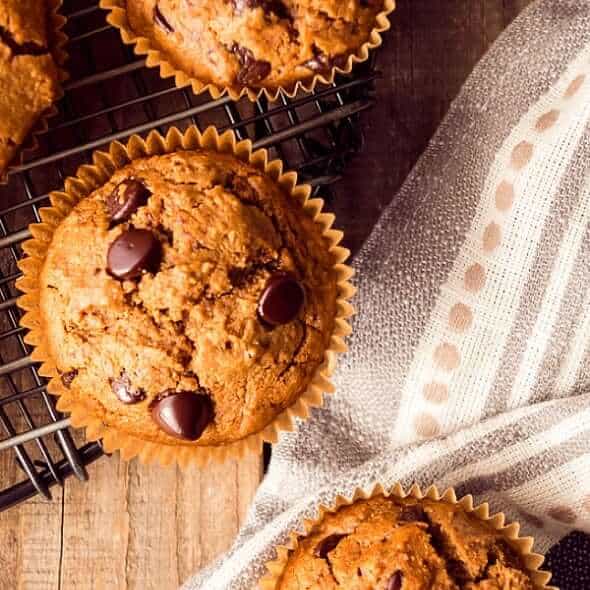 What Do You Think?
If you take a photo of your deliciously satisfying muffins I would love to see it. Follow me over on Instagram and tag me on your photo @vegan_in_the_freezer.
📋 Recipe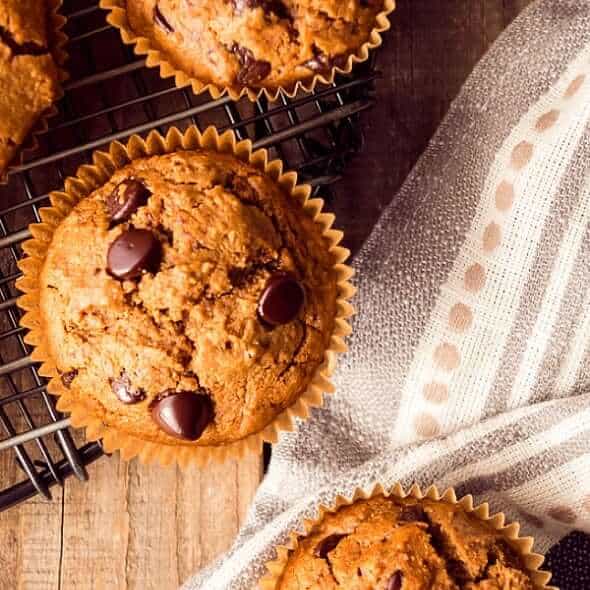 Espresso Chocolate Chip Muffins
Espresso Chocolate Chip Muffins are deep rich muffins that are easy to make and you deserve that extra oomph of chocolaty goodness.
Ingredients
2

cups

whole wheat pastry flour

½

cup

coconut sugar

1 ½

teaspoons

baking powder

¼

teaspoon

baking soda

½

teaspoon

cinnamon

½

teaspoon

salt

2

teaspoons

instant espresso powder

1

tablespoon

flaxseed meal mixed with 3 tablespoons water

- set aside - this is used as the egg replacer

1

cup

unsweetened dairy free milk

- I used almond

4

ounces

dairy free butter

- melted and slightly cooled

1

teaspoon

vanilla extract

¾

cup

chocolate chips
Instructions
Lightly oil 12 cup muffin tin

In a large bowl combine the flour, coconut sugar, baking powder, baking soda, espresso, cinnamon and salt. Mix.


In another bowl add the dairy-free egg mixture, milk, butter and vanilla.


Mix well.

Add to the dry ingredients and mix until JUST blended. A bit lumpy.

Add the chocolate chips and fold in.

Divide among 12 muffin cups.

Bale at 400° for 15 to 18 minutes or until a toothpick inserted in the center comes out clean.
Notes
IF FREEZING:
After they have cooled you may freeze them in a freezer safe ziploc bag or in any rigid sided freezer safe container.
They defrost quickly so it really doesn't take any planning. The microwave will also zap them in 20 seconds.
Nutrition
Serving:
1
Muffin
Calories:
219
kcal
Carbohydrates:
28
g
Protein:
3
g
Fat:
11
g
Saturated Fat:
3
g
Cholesterol:
1
mg
Sodium:
207
mg
Potassium:
162
mg
Fiber:
2
g
Sugar:
11
g
Vitamin A:
25
IU
Calcium:
83
mg
Iron:
0.9
mg