Espresso Chocolate Chip Muffins are deep rich muffins that are easy to make and you deserve that extra oomph of chocolaty goodness.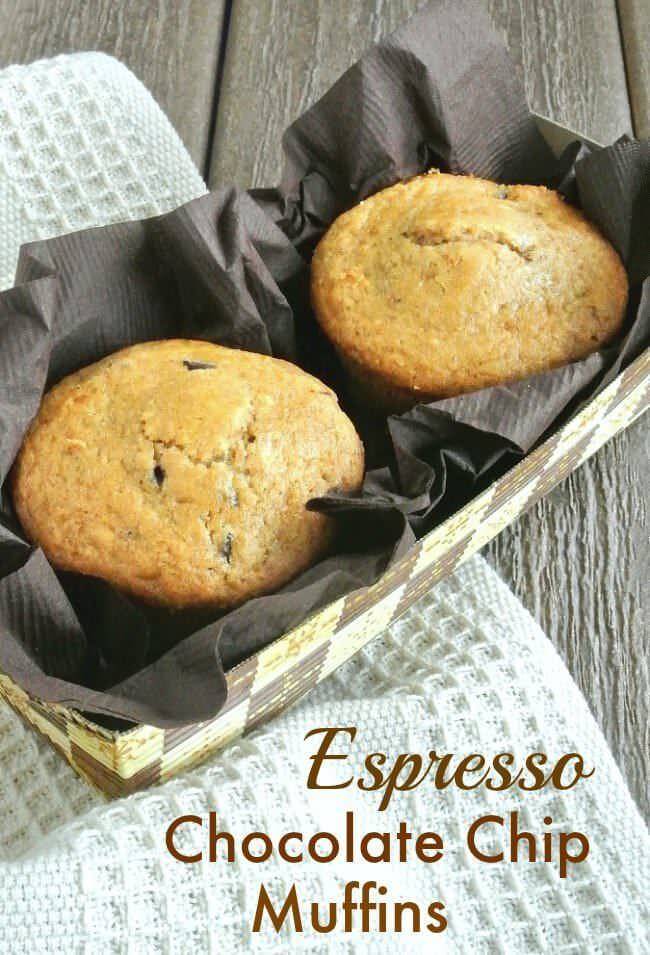 Great for breakfast as well as for a snack.   The espresso is an instant coffee powder but you don't taste any of the coffee.  It just makes the chocolate flavor extra rich – Like dark double chocolate.
We don't drink instant coffee but I keep it on hand.   It is one of those things that keeps forever and I use it in baking.  Every once in a while I will add espresso to recipes for muffins, cookies or chocolate frosting.  It also makes you feel like you're getting fancy.
Simply made and it feels like comfort food.
Connect with Vegan in the Freezer
Facebook | Pinterest | Instagram | Bloglovin
Espresso Chocolate Chip Muffins
Ingredients
2

cups

whole wheat pastry flour

1/2

cup

coconut sugar

2 1/2

teaspoons

baking powder

1/2

teaspoon

cinnamon

1/2

teaspoon

salt

2

teaspoons

instant espresso powder

1

egg replacer - mix according to your package directions, set aside

1

cup

almond milk

4

ounces

dairy free butter, melted and slightly cooled

1

teaspoon

vanilla extract

3/4

cup

chocolate chips
Instructions
Lightly oil 12 cup muffin tin

In a large bowl combine the flour, coconut sugar, baking powder, espresso, cinnamon and salt. Mix.

In another bowl add the egg mixture, milk, butter and vanilla.

Mix well.

Add to the dry ingredients and mix until JUST blended. A bit lumpy.

Add the chocolate chips and fold in.

Divide among 12 muffin cups.

Bale at 400° for 15 to 18 minutes or until a toothpick inserted in the center comes out clean.
Recipe Notes
IF FREEZING::
After they have cooled you may freeze them in any of the methods shown in my article Preparing Food for the Freezer.
They defrost quickly so it really doesn't take any planning. The microwave will also zap them in 20 seconds.