Chewy Chocolate Chip Bars Recipe is layers of crunchy goodness all starting with a graham cracker crust. There's a middle toffee-like layer and then it's all topped with chocolate.
One of my mother's favorite candies was English Toffee and I found out about that when she bought it on Main Street in Disneyland. It was something we always made sure we bought after that.
When I was old enough to go without my mom I never came home without a bag from the Candy Palace.
Just for her. It still holds special memories in my heart and this is what I was thinking about as I made these treats.
I thought I'd try to make it easier and as a big fat bar that would be easy to cut out of a pan. English Toffee Bars turned out to be layers of multiple goodies that still have the original flavors and crunch.
Jump to:
They are chocolaty and perfect. I was amazed at how beautiful they looked too.
Those Disneyland days were so much fun. We pretty much ran down Main Street to get to the rides.
One exception was that there was a man in one of the windows making little glass animals with long rods of glass and a blow torch. That intrigued me to no end.
I remember one time we decided to take advantage of all the attractions that were always missed. So we took the horse-drawn coach down Main Street.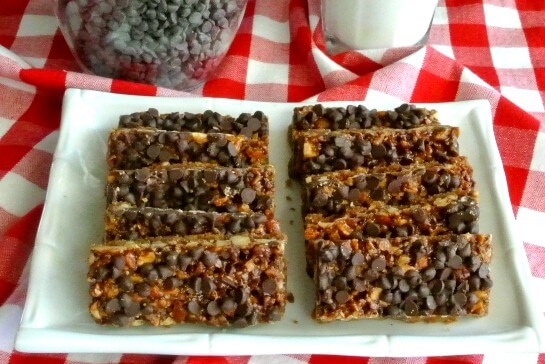 Then we went into the Lincoln exhibit and even sat in the theater over in Fantasyland and watched old cartoons.
That one isn't there anymore but back then, it turned out to be a good place to go when we were close to exhaustion.
Now that mom has passed I also have the memory of pushing her in her wheelchair around Disneyland.
There was an additional generation of loved ones all around her. We even bought English Toffee.
Ingredients
Instructions for chocolate chip bars
You can cut the chewy chocolate chip bars in half for half the calories 🙂
More easy dessert bars
📋 Recipe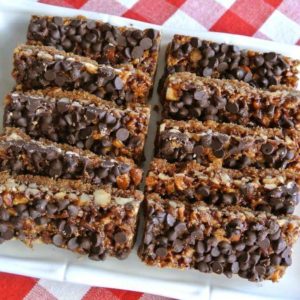 Chewy Chocolate Chip Bars
English Toffee Bars are chocolaty and perfect - amazingly beautiful too.
Ingredients
For the topping:
½

cup

dairy-free butter

½

cup

brown sugar

1 ½

cups

pecan and almond

- mixed, chopped

¾

cup

semi sweet chocolate chips
Instructions
Preheat the oven to 350° to bake your graham cracker base.

Lightly oil a 13" x 9" x 2" pan.
To make the base:
I was taught in high school, the way to make crumbs was to put the graham crackers in a big baggie, seal and then roll with a rolling pin. Works great and I still do it but you can use the food processor if you prefer.

Mix the graham cracker crumbs, ¼ cup sugar and melted butter together.

Press evenly into your prepared pan.

Bake at 350° for 8 minutes.

While this is baking make the topping because you want to add the top as soon as you take the base out of the oven.
To make the topping:
In a saucepan melt the butter and add the brown sugar.

Bring to a slow boil and boil 1 minute. Stirring.

Add the nuts and boil another minute.

Spread the sugar and nut mixture over the hot baked base.

Bake 15 more minutes.

Remove from the oven and sprinkle the chocolate chips over the top. The chips will melt a bit, automatically, into the base.

Let stand for 5 minutes.

Cut into bars and let cool about 10 more minutes before removing from the bar.

Cool completely on wire rack.
Notes
TO FREEZE:
After they have cooled you may freeze them in any of the methods shown in my article Preparing Food for the Freezer They defrost quickly so it really doesn't take any planning. Just put them on a plate for an hour or two and enjoy.
Nutrition
Serving:
1
Bar
Calories:
434
kcal
Carbohydrates:
36
g
Protein:
3
g
Fat:
31
g
Saturated Fat:
6
g
Sodium:
239
mg
Potassium:
181
mg
Fiber:
3
g
Sugar:
22
g
Vitamin A:
15
IU
Vitamin C:
0.2
mg
Calcium:
41
mg
Iron:
2
mg