Vegan Pumpkin Waffles have all the seasonings of a pumpkin pie. Really good flavor and texture that you can top with your favorite syrup.
I did it! I made a pumpkin recipe for the blog before Thanksgiving was over. You know how time flies especially around the holidays!
Well, I just stopped everything and got out a can of pumpkin puree, stared at the can and concentrated. A delicious recipe was going down and I was determined.
Yay! How about some light and fluffy pumpkin waffles? No kidding. Really easy to make and more than satisfying.
Something else - I couldn't find a regular waffle maker in any of the stores. They are all Belgian Waffle makers.
I have my mother's original but, you see, we may be moving and I packed it. Don't ask me where it is. I couldn't even attempt looking for it so I relied on Amazon - again!
It is so tempting on Amazon. I even broke down and bought an iron that you can use on a wood stove
.
Do I have a wood stove? No, I live in the desert. My husband just looks at me with this funny face sometimes.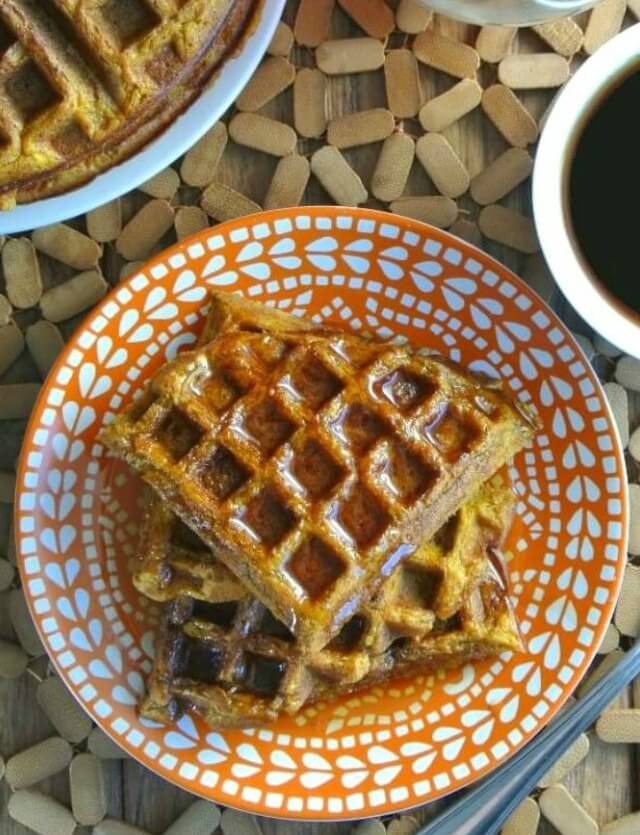 What's the Difference Between Pumpkin Puree and Pumpkin Pie Filling?
Canned pumpkin is pure pumpkin that has been cooked and pureed.
Pumpkin Pie Filling is pumpkin puree but it has had all of the spices and sugar that you would add to your homemade pumpkin puree already added.
This is great if you're in a super hurry but if you can start with a can of pumpkin puree then it is fun too.
Or really start from scratch and clean your own pumpkin and then puree it and continue on with any of your favorite pumpkin recipes.
As I'm writing this post I can see two photos of these waffles on my page. Gosh, is my stomach growling! They were so good.
Last year I missed making a new pumpkin recipe but the year before there were Pumpkin Muffins with or without chocolate chips.
You could take your choice with that recipe and either choice would be the right one.
Helpful Tools for Making Vegan Pumpkin Waffles
First and foremost, a waffle maker. This classic round one is the one I have.
Sturdy glass mixing bowls are my favorite and this set from the famous Anchor Hocking Company are the best.
A silicone brush makes oiling the waffle maker very neat and easy.
This post contains affiliate links. Read my disclosure policy here.
This year these Vegan Pumpkin Waffles will offer you a unique breakfast and, as we all love, breakfast for dinner. They are so simple.
Mix in a bowl, pour in a waffle iron and wait a few minutes. Waffles are on!
Vegan Pumpkin Waffles
Vegan Pumpkin Waffles have all the seasonings of a pumpkin pie.
Ingredients
2

cups

all-purpose flour

3

teaspoons

baking powder

2

teaspoon

ground cinnamon

¼

teaspoon

ground cloves

¼

teaspoon

sea salt

2

egg substitutes

- I use chia seed eggs = 1 egg equals 1 Tbsp. chia flour and 3 Tbsp. water so double that for 2 eggs

2

cups

dairy-free milk

- I used almond milk

15

ounces

pumpkin puree

- about 15 oz.

½

cup

brown sugar

- packed

1

tablespoon

extra virgin olive oil
Instructions
Prepare the 'eggs' and set aside.

To a large bowl add the flour, baking powder, cinnamon, ground cloves and salt.

In another bowl add the milk, chia eggs, pumpkin puree, brown sugar and oil.

Mix the chia eggs in really well.

Pour the liquid mixture into the flour mixture and mix until just blended.

Lightly brush the waffle iron with coconut oil. I have one of these Silicone Brushes and it is wonderful. I put it in the dishwasher and it turns out just like new.

Cook the waffles according to your waffle iron directions. Mine worked with the heat dial on #3 ½ for about 6 minutes.

Serve hot with maple syrup.

They will keep in the fridge for about 4 days.
Nutrition
Serving:
2
Waffles
Calories:
168
kcal
Carbohydrates:
32
g
Protein:
4
g
Fat:
2
g
Sodium:
87
mg
Potassium:
222
mg
Fiber:
1
g
Sugar:
12
g
Vitamin A:
335
IU
Calcium:
129
mg
Iron:
1.6
mg
To reheat a large amount - put on a baking sheet and crisp up at 350 degrees for about 3 minutes.
If you just want a couple - break them in half on their waffle crease and use the toaster.
H

ow Do You Make A Chia Egg?
A chia egg is actually made with ground chia seed meal/flour, not the bare seed. The way you make meal/flour is by grinding the chia seed in a processor such as one for your coffee beans or a spice grinder. I use mine to strictly grind seeds so that I do not mix flavors. Grind until it is a fine meal. I do about 4 ounces at a time and keep it in a little freezer safe canning jar - in the freezer. When I need a Tablespoon or so it is all ready to go.
To Freeze:
After they have cooled you may freeze them in any of the methods shown in my article Preparing Food For the Freezer.
To Prepare After Freezing:
They defrost quickly so it really doesn't take any planning. Reheat the same as above - put on a baking sheet and crisp up at 350 degrees for about 3 minutes. If you just want a couple - break them in half on their waffle crease and use the toaster.