Easy Curry Rice is a curry powder recipe with beautifully sautéd vegetables, and it also has the perfect combo of rice and peas. Six basic ingredients and only 30 minutes for a rice side dish recipe everyone will love.
This Curry Rice recipe is an easy-to-make side dish. There are chopped fresh green onions for the garnish, and there's an extra punch of natural sweetness with peas.
The flavor has an ethnic flare - think Mid-East or Asian meals—yet it's not too overpowering so that it can be served as a complimentary side with any American-style meal.
Whichever way you choose to use it, you can't go wrong.
The rice gets jazzed up with fine curry powder. Curry in itself is a unique blend of spices, which can differ significantly in taste and heat intensity.
I also like how it adds warmth and changes up the rice enough to make it taste very different.
This savory, earthy spice comes with a bit of heat, but there's just enough added as not to overpower the dish.
Note: I use an Indian type of curry powder in this dish. You can substitute it with Jamaican curry powder, which is a tad milder in its intensity and slightly sweeter!
A Simple Spiced Curry Rice Recipe
Along with the onions, there is also green bell pepper. When sautéd, these versatile vegetables not only add a great aroma and a different taste but also give a mildly crunchy texture that perfectly compliments a softer cooked grain.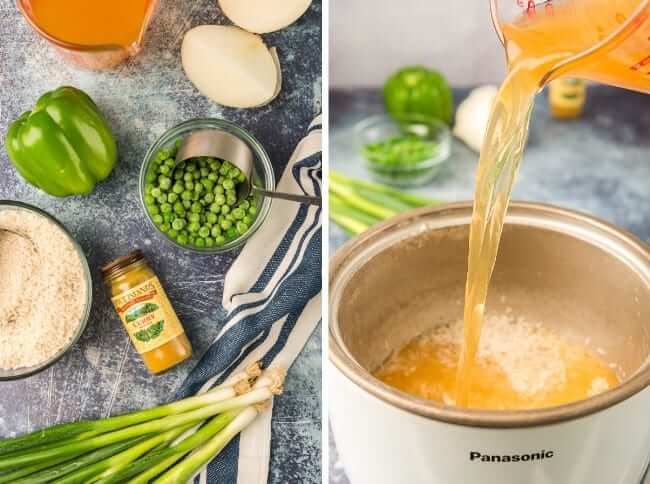 Peas are a wonderful sweet vegetable, and they also add great contrast to the flavors. They get added right at the end and add that beautiful pop of color. The mild sweetness is irresistible when combined with rice.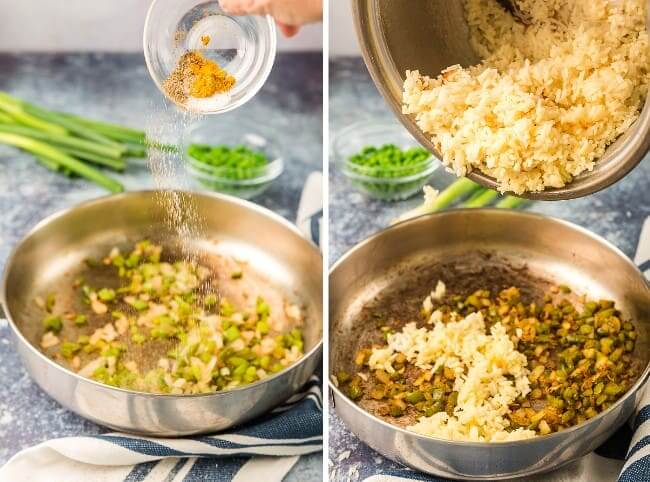 And last but certainly not least, you have to top it off with some raw scallions or fresh marjoram if you have it on hand.
They add a subtle earthy punch and a beautiful green color. It is optional, but I highly recommend it!

I'm a big fan of deliciously spiced rice dishes because it makes for quick and easy sides.
Not only that, but this curry rice recipe is super versatile. You can add many other vegetables or healthy faux meat protein for an amazing main dish.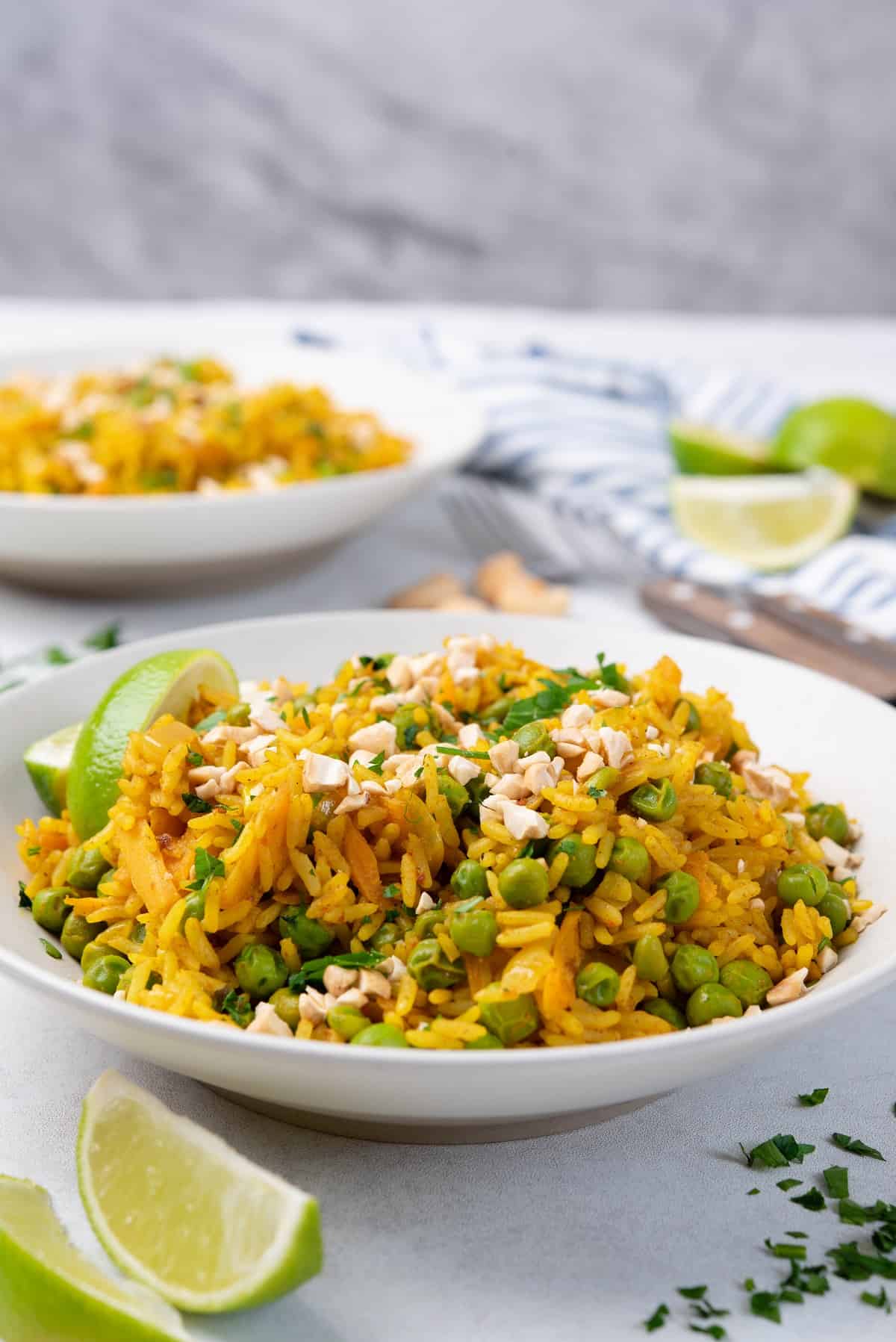 Curry Rice and Peas Variations:
You can pre-steam some red potatoes and then add the chopped pieces to the dish before it's final heating.
Any faux meat, such as a faux chicken type of meatless protein or your own homemade seitan, would be really nice. Cut them into smaller pieces before adding to the dish, making a great main meal.
Add a splash of coconut milk at the end and heat through for a creamier dish.
You can switch up the rice for basmati for a stickier type of rice.
THE EASE OF A RICE COOKER
This recipe calls for a rice cooker. But you can make the rice the traditional way on a stovetop or even use an Instant pot if you already own one.
Because rice is a regular staple in my vegan diet, I have grown to love this little kitchen appliance. If you have one or are thinking about getting one, here are some reasons why I love mine so much.
Convenience isn't the only reason:
I love that I can switch it on and do other things. It is as simple as adding uncooked rice, liquid, pop on the lid, and turn on the heat.
It gets rice perfectly cooked every time. It's never mushy or too watery. I know that it just makes for better and fluffier rice, no matter the type of grain I choose.
Rice cookers are really affordable. There is one for almost every budget, and they can easily be stored away.
You can also choose one that doesn't take up much space on your kitchen counter and maybe choose a pretty color.
You can easily use it for other things, too, such as cooking lentils or steaming vegetables. A little booklet comes with rice makers and helps you with cooking times.
Not to worry if you don't want to invest in one or you already have an all-purpose machine. You can cook this rice in any of your favorite ways. I just wanted to point out how rice cookers are to use.
More Easy Rice Side Dishes
I have over 20 on the blog, but here are just a few that offer up different ethnic tastes.
I hope you'll like this versatile and healthy rice recipe that you can have ready in about 30 minutes, including prep time! YAY!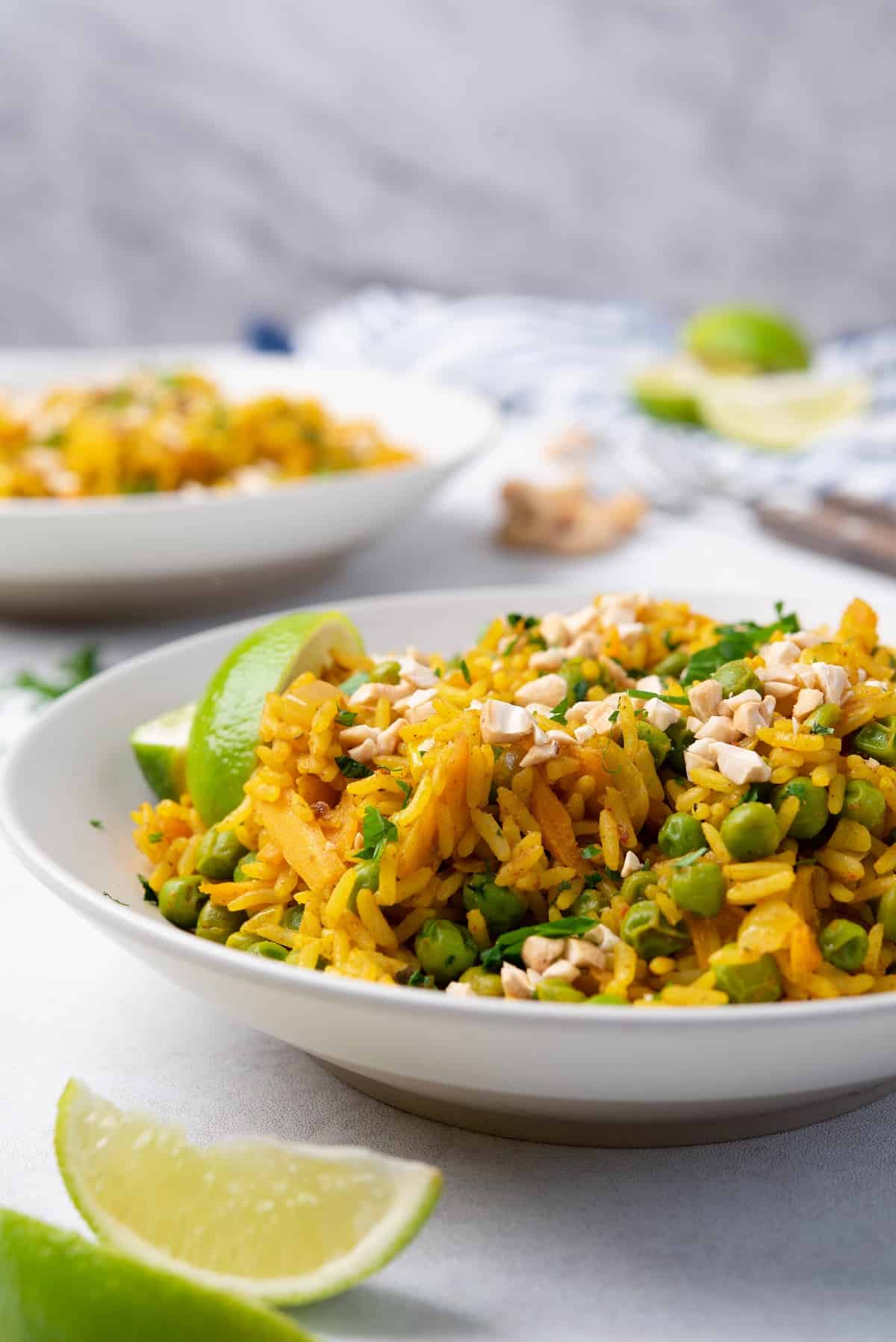 What Do You Think?
If you take a photo of your spiced just right rice and peas dish, I would love to see it. Follow me over on Instagram and tag me on your photo @vegan_in_the_freezer.
📋 Recipe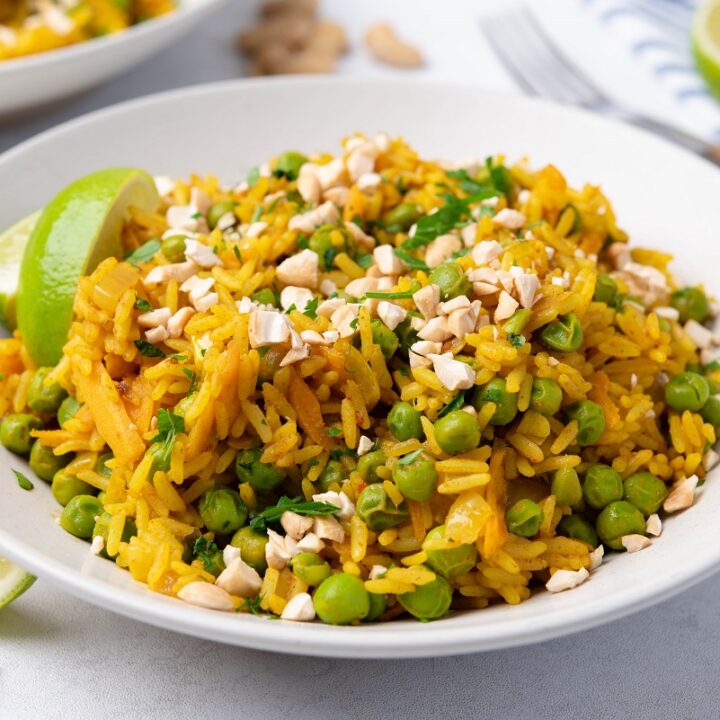 Curry rice
Curry Rice is a curry powder recipe with beautifully sautéd vegetables and has the perfect combo of rice and peas.
Ingredients
1

tbsp

olive oil

1

onion

2

garlic cloves

¾

tsp

salt

¾

tsp

cayenne pepper

¼

tsp

paprika

½

tsp

ground ginger

2

tsp

curry powder

1 ½

cup

frozen peas

2

carrots

1

cup

long-grain rice

2

cups

vegetable stock
Instructions
Peel and finely chop the onion and garlic. Heat the olive oil in a large pan over medium heat.

Add the chopped onion, garlic, salt, cayenne pepper, paprika, ginger, and curry powder.

Mix all well and cook for 3-4 minutes.

Grate the carrots. Add the peas and carrots to the pan and mix well.

Continue to cook for another 2-3 minutes, stirring constantly.

Add the rice and pour in the stock.

Mix well again and cover. Cook for 15 minutes over medium-low heat.

When done, transfer to serving plates.

Optionally, top with finely chopped cashews or cilantro and garnish with lime wedges. Enjoy!