Easy Apple Strudel uses a pre-made puff pastry and you tweak it with a few ingredients. You will think it came from one of the finest bakeries. Perfection!

Easy Apple Strudel is SO GOOD it will make you think it is a hard to make Apple Strudel From The Finest Bakery.  Today I told my husband that the photos turned out so beautiful and he said 'Oh, you made some more?"  He was so excited but I had to tell him that these were the original photos – I just hadn't got to them yet.
That is so funny how 'The photos turned out beautiful' changed in Ed's head and became "I made more apple strudel and the photos turned out beautiful".  Guess I can take a hint. No problem here.  Did I tell you they were easy? You buy a pre-made puff pastry (yep, it's vegan) and tweak it with a few ingredients.  Perfection.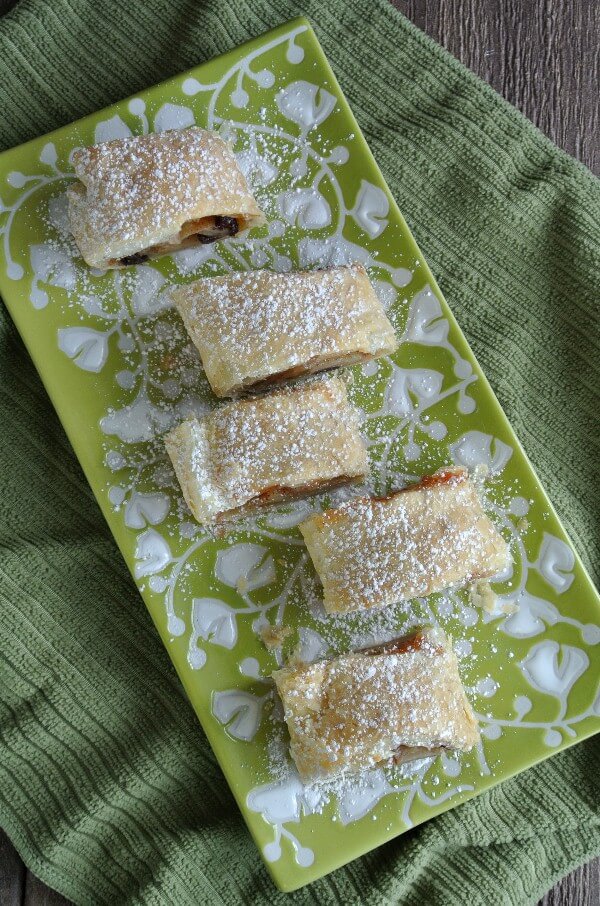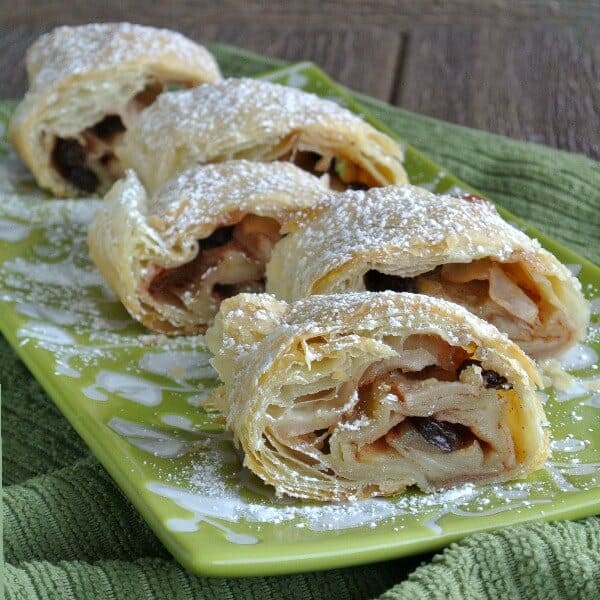 Easy Apple Strudel
Ingredients
Pepperidge Farms Puff Pastry Sheets, you will use one sheet from the package of two

1

tart apple such as a granny smith, peeled and thinly sliced - don' peel until right before you use it because apples turn brown quickly when peeled

1/8

cup

Raisins

1

tablespoon

granulated sugar

1/2

teaspoon

ground cinnamon
Instructions
Take out one sheet of the puff pastry and let it thaw for 20 to 30 minutes.

Mix the sugar and cinnamon together and set aside.

On a lightly floured surface open the puff pastry sheet and roll it out to about 12" x 13".

Pick the pastry up on one end and lay it on a Baking Pan.

Now slice up your apple and lay the slices all in one direction going with the longest side.

This is because you will be rolling up the puff pastry from the longest side and it will be much easier to roll if the apple slices aren't fighting you - vertically.

Lay them all over the puff pastry.

Sprinkle the raisins all over the apple layer.

Sprinkle the cinnamon sugar all over the top layer.

Roll up like a jelly roll starting with the long edge.

Lay in the center of the baking sheet, seam side down.

Fold under the ends.

Make diagonal slices along the top - 2" apart. Just through the pastry.

Bake at 350 degrees for 35 to 40 minutes.

Serve and store in an airtight container.
Recipe Notes
IF FREEZING:
This is a little tricky to freeze but it is possible.
Package in rigid sided containers as defined in my article How to Prepare Food for the Freezer.

TO PREPARE AFTER FREEZING:

To defrost - put in the refrigerator overnight.
To heat put on a baking safe pan and bake at 350 degrees for 15 minutes.
This is to heat through and also to keep crispy.
A little bit of work but very good.
One more pic … why not 🙂