Creme Brulee- Sweet dried dates boiled with quick-cooking oats and dairy-free milk make the rich custard-like mixture that is topped with sugar and broiled until melted. The cooked creme brulee is set aside until the melted sugar coating has hardened, then served as a decadent dessert that will impress the whole family.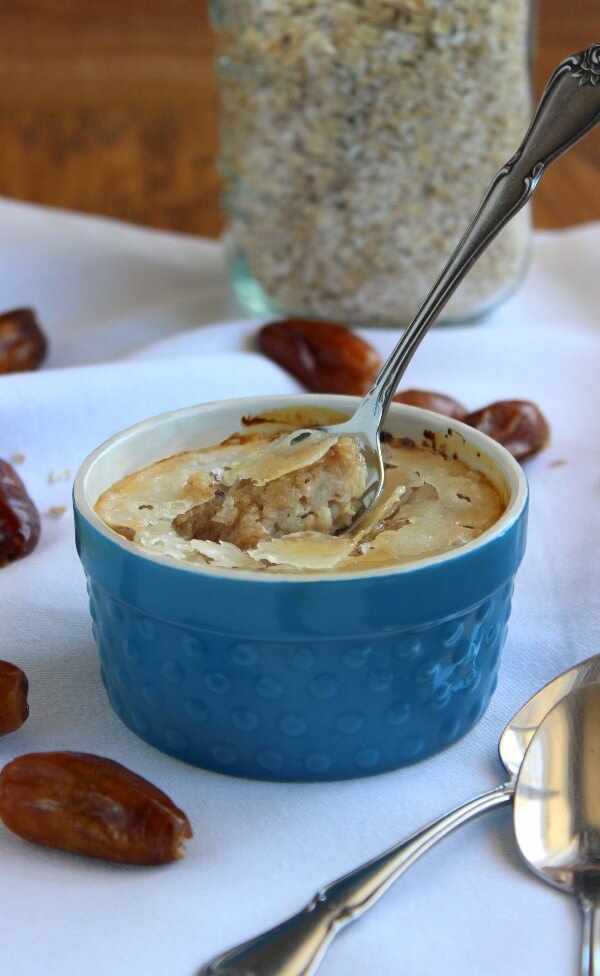 Creme brulee is a luxurious French dessert that is made with a layer of rich, creamy custard and topped with a hard caramel shell. It's one of those desserts that often feels like a special occasion dish. You know, the type of thing you order at a restaurant when you want to feel a little bit fancy. But guess what? It's actually really easy to make your own vegan version at home.
This vegan creme brulee recipe is just as delicious as the traditional version, but it's made without any animal byproducts. It's perfect for parties or gatherings because it can be made ahead of time and doesn't require complicated equipment. If you've been looking for a new dessert that everyone will enjoy, this vegan creme brulee is a must-try!
Jump to:
Why You'll Love This Vegan Creme Brulee Recipe
Luxurious- With its rich, creamy middle and crisp sugar top, this creme brulee is absolutely fantastic!
Minimal Ingredients- 4 ingredients are all it takes to make a dessert that is so good people will ask for it over and over again.
Great For Parties- Creme brulee can be made ahead of time, so it's perfect for entertaining a crowd.
Looks Fancy- Impress all your guests with this beautiful creme brulee! It looks like something you spent hours making in the kitchen, but it actually doesn't take much time.
Easy To Make- Don't be intimidated by creme brulee! This recipe is simple to follow and easy to make without any special equipment!
Family-Friendly- The whole family will love this creme brulee, from the oldest member of the family to the youngest and everyone in between.
Equipment Needed To Make Date And Oat Creme Brulee
Saucepan
Spoon
Ramekins
Baking Sheet
Measuring Cups
Ingredients For Creme Brulee
Dairy-Free Milk
Quick Cooking Oats
Dried Dates
Sugar
How To Make Date And Oat Creme Brulee
Mix milk, oats, and dates in a saucepan over medium heat. Bring to a boil, lower the heat and let simmer for a few minutes while stirring frequently.
Spoon the filling into individual ceramic ramekins and allow them to cool for at least an hour.
Place the ramekins on a baking sheet and broil for a few minutes in a preheated oven. The oven rack should be on the second from the top shelf. Sprinkle sugar evenly over the top of the oat mixture. The sugar should liquefy and bubble before being removed from the oven. Remove the baking sheet from the oven once the melted sugar has become liquid and bubbled. Allow the sugar to cool and harden before serving it.
What to Serve/Pair With Vegan Creme Brulee?
This vegan creme brulee can be served as a standalone dessert or paired with various items. Here are some suggestions:
A scoop of your favorite vegan-friendly ice cream
Fresh berries
Vegan whipped cream (dairy-free or vegan)
Pecans or other nuts
Caramel sauce
Drizzle with syrup or fruit compote
Popular Substitutions & Addition
While this recipe is perfect as-is, I understand that not everyone has the same ingredients on hand. Here are some popular substitutions and additions:
-If you don't have quick oats on hand, you can use old-fashioned oats instead. Just keep in mind that they will take a bit longer to cook.
-Not a fan of dates? You can omit them from the recipe or substitute raisins, dried apricots, or even dried cranberries.
-This creme brulee is naturally sweetened with dates and doesn't require any additional sugar. However, if you prefer your desserts on the sweeter side, feel free to add a tablespoon or two of sugar when cooking the oat mixture.
-Add in a teaspoon of vanilla extract for extra flavor.
-Try topping your creme brulee with vegan chocolate chips, toffee bits, or even crushed candy canes.
How To Reheat & Store Creme Brulee
What Is The Best Way To Store Creme Brulee?
As with most desserts, this vegan creme brulee is best enjoyed fresh. However, if you don't plan on eating it right away, it's best stored in an airtight container in the refrigerator.
How Long Will Date And Oats Creme Brulee Last In The Fridge?
When stored properly in an airtight container, creme brulee will last up to a week in the refrigerator.
Can I Freeze This Vegan Creme Brulee?
I do not recommend freezing this vegan creme brulee as it can cause the texture to change. If you must freeze it, be sure to thaw it in the refrigerator overnight before reheating and serving.
How To Reheat Creme Brulee?
Simply place the ramekins in a 350-degree oven for 5-10 minutes until they're warmed. Alternatively, you can reheat them in the microwave for 1-2 minutes.
Vegan Creme Brulee FAQs
Is this creme brulee recipe gluten-free?
Yes, as long as you use gluten-free oats, this vegan creme brulee is naturally gluten-free.
Can I make this creme brulee ahead of time?
Yes! This creme brulee can be made up to a week in advance and stored in the fridge until you're ready to serve. Just be sure to reheat it before serving.
I don't have dates. Can I use something else?
Yes. If you don't have dates on hand, you can use raisins, dried apricots, or even dried cranberries.
Can I still make this creme brulee if I don't have ramekins?
Of course! You can use any oven-safe dish in place of the ramekins. Just keep in mind that the cooking time may vary depending on the type of dish that you use.
Do I have to use a broiler to harden the sugar on top?
No, you could also use a handheld culinary torch if you have one.
My creme brulee didn't set correctly. What did I do wrong?
If your creme brulee doesn't set properly, it's likely because the mixture wasn't cooked long enough. Be sure to cook the oat mixture until it's thick and creamy before adding it to the ramekins.
Don't Forget To Come Back And Let Me Know How Your Vegan Date And Oat Creme Brulee Turned Out!
📋 Recipe
Dates and Oats Creme Brulee
Dates and Oats Creme Brulee is delicious and the kids will love it too.
Ingredients
4 ½

cups

dairy free milk

1 ½

cup

quick cooking oats

12

pieces

pitted dried dates snipped with scissors into small

¼

cup

sugar for crisping the top

- organic
Instructions
In a saucepan, over medium-high heat add the milk, oats, and dates. Bring to a low boil and then turn down to a simmer and cook 6 minutes, stirring often.

Spoon into little round bowls. About a cup each. I was able to do 6 of these bowls. Let sit until cooled about ½ to 1 hour.

Sprinkle sugar, evenly, over the tops of the oats. I experimented with raw (turbinado) sugar and also coconut sugar. All three were delicious but the granulated sugar is the one that gave the traditional hard topping that you can tap with a spoon.
Now to get the topping to melt and harden.
Turn on the broiler with the rack on the second from the top shelf.

Place the bowls on a baking sheet. Slip the baking sheet, with the bowls, on the top rack.

Broil them for 7 top 8 minutes. The sugar will eventually turn to liquid and bubble all over. When the time is up take the baking sheet out of the oven and let cool.

If you use turbinado or coconut sugar you need to watch them and turn the bowls because the sugar actually browns and you don't want them to burn.

Keep in the refrigerator and eat cold or zap in the microwave for a very short time so you do not wreck the hard topping.
Notes
If you have one of those little kitchen blow torches then you can use that instead of the broiler.
Nutrition
Serving:
1
Serving
Calories:
187
kcal
Carbohydrates:
29
g
Protein:
8
g
Fat:
4
g
Sodium:
90
mg
Potassium:
309
mg
Fiber:
2
g
Sugar:
14
g
Vitamin A:
375
IU
Calcium:
234
mg
Iron:
1.7
mg