Dairy Free Strawberry Ice Cream Bonbons are little bites of strawberry nice cream that starts with full fat coconut cream and strawberries. Then dip in creamy smooth chocolate.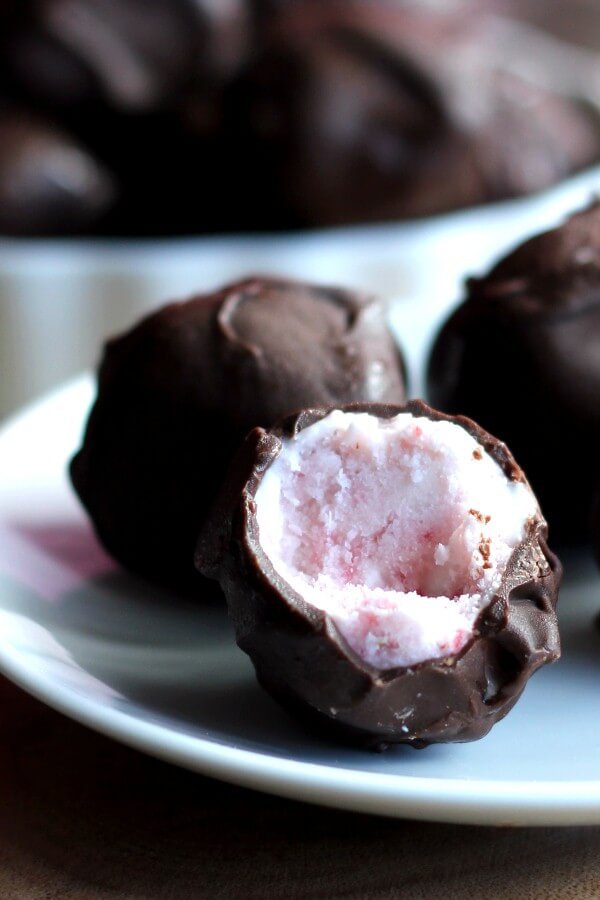 Have you ever had bonbons at the movies? When I was a kid growing up they were in the ice cream refrigerator that was over by the wall. You know, the one with the sliding glass top. Bonbons were my go-to.
Then those little refrigerators disappeared for a while. Maybe they just disappeared in small town theaters.
I'm thinking this because because I lived in a small town for 25 years or so and our old theater with a big screen didn't have ice cream. Now I'm in the big city again and I'm seeing ice cream is in the theaters.
Of course, there's sandwiches and wine too. I'm in the really big city!
Ice cream's not my go-to anymore because of the dairy but I do remember those wonderful little bonbons. Leave it to me to come up with a recipe so we want for nothing!
That's my goal in life. Think of all of my favorite foods and create a homemade recipe. I want to be able to veganize them and also to share them.
I don't think veganize is a word yet but you know what I mean. I'm sure it'll be showing up in the dictionaries before long.
These little balls of chocolate are filled with fruity strawberry ice cream and they are the nicest creamiest Dairy Free Strawberry Ice Cream Bonbons in the world!
Really!
What Varieties of Bonbons Can I Make?
The possibilities seem endless but the ones below are some of my favorite.
Vanilla is a classic. It takes just a drop or so of pure vanilla extract or vanilla bean and that's about it.
Mint Chocolate Chip. A few drops of mint extract will get that minty flavor and I'd pulse the chips a few times so there are just tiny pieces instead of whole chocolate chips.
Cookies and Cream. Pick your favorite chocolate cookie, place in a ziploc bag, zip closed and lightly pound to get small pieces.
Blackberry or any berry for that matter. Put your berries in a blender and blend until as smooth as you like then add to your ice cream. Just as the strawberries were done for these Dairy free Strawberry Ice Cream Bonbons.
This post contains affiliate links. Read my disclosure policy here.
Helpful Tools to make Dairy Free Strawberry Ice Cream Bonbons
This may just be me but I like using frozen strawberries in ice cream mixtures. They just seems to break down better and give a creamier ice cream.
What works well with fresh strawberries is to slice them and then sit a bit to macerate. That means that they soften a bit and they become more pliable.
As you can see there are very few ingredients for this bonbons recipe. Six to be exact and they're all easy to work with.
Sometimes the cans of coconut cream are marked coconut milk but check the ingredients and if it says it is 17% to 22% fat then it's coconut cream.
So now, let's move on to making this sweet, cold, fresh and delicious strawberry bonbons recipe!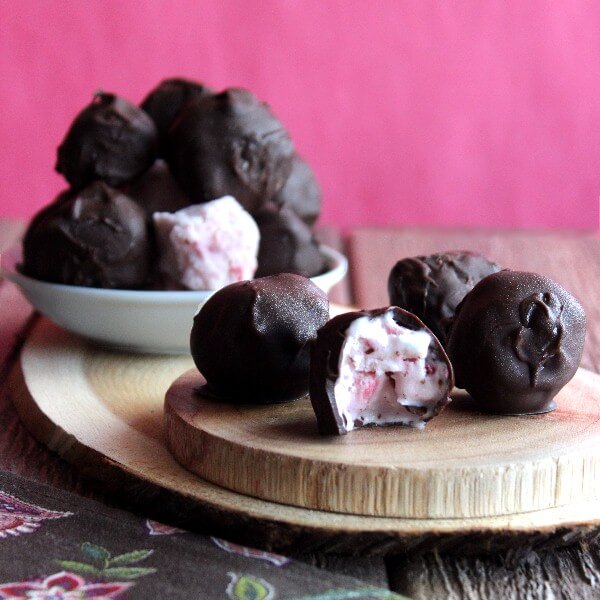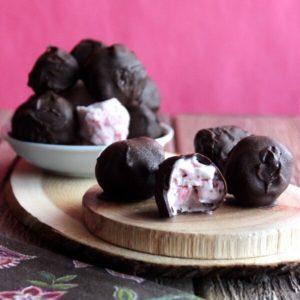 Dairy Free Strawberry Ice Cream Bonbons
These little balls of chocolate are filled with fruity strawberry ice cream.

Ingredients
14

ounces

can full-fat coconut cream (17% to 22% fat)

¼

cup

frozen strawberries, partially defrosted and chopped, juices reserved

3

tablespoons

maple syrup

1

teaspoon

vanilla extract

pinch

salt

1

cup

vegan chocolate melts for dipping
Instructions
Put the ice-cream maker's bucket into the freezer at

least 18 hours before making the ice cream.

maker. Attach the paddle.

Combine all of the ingredients, except the chocolate

melts, in a medium-size bowl. Mix well.

Pour the ice-cream mixture into the ice-cream maker,

put on the lid, and turn on the machine.

Let it mix for 15 to 20 minutes.

Transfer to a freezersafe

container so that it can get hard enough for

scooping into 1-inch balls. It takes about an hour.

The edges freeze first, so for easier scooping, go ahead

and scoop the edges before the whole thing is solid.

Put

the original ice cream back into the freezer to get hard

again for more scooping. Place the balls in a separate

container and stick into the freezer every few balls so

they stay hard. Continue until all of the ice cream is

scooped into balls.

Melt the chocolate according to the package directions.

Line two baking sheets with waxed paper and set next

to where you are working.

Take the frozen balls out of the freezer and start rolling

them very quickly in the melted chocolate. Use two forks

to lift and place on one lined baking sheet.

Place the

baking sheet back in the freezer every so often to keep

the ice cream hard. Now you can use the other baking

sheet and continue in this process until all the balls are

dipped.

When all the bonbons are coated, place in a

freezer-safe container with a tight-fitting lid.

The ice cream will keep in the freezer for 6 months.
Nutrition
Serving:
2
Bonbons
Calories:
45
kcal
Carbohydrates:
5
g
Fat:
2
g
Saturated Fat:
1
g
Potassium:
6
mg
Sugar:
4
g
Vitamin C:
0.7
mg
Calcium:
10
mg
Iron:
0.4
mg