Vegan Frozen Yogurt Popsicles only have three ingredients. Strawberry and yogurt are the stars! They're fun to make, refreshing, mildly sweet, gluten free, dairy free and easy.
It's hot outside and I think it probably is all across the nation by now. This is the time to indulge and have cold treats as a refreshment and treat.
What could be more satisfying than popsicles. And ... This recipe had three great ingredients!
Dairy free strawberry yogurt, strawberries and maple syrup! And it's so easy you can make them in minutes any time you want.
Place dairy free yogurt in a food processor and top it with strawberries and maple syrup. Blend in a food processor and there you are.
That reminds me. When I was working on this recipe and it was blended - off to see my taste tester I went. That husband of mine works cheap.
I handed him a spoon and he tasted and tasted and tasted. I mean this is a full grown man that needed all that tasting.
I started laughing halfway through because obviously it was a winner. Sweet tart and just right.
That's a bonus! You could eat this from a cup just like strawberry frozen yogurt. Use yogurt toppings such as ground up almonds and little bits of fresh strawberries and celebrate #TopItTuesday.
Toppings for Vegan Frozen Yogurt
As I mentioned above ground almonds or finely chopped strawberries would be great. But there's more!
A kids favorite would be chunky crushed vanilla shortbread cookies.
Dang! Another kids favorite. Well, alright an adult favorite too. Chocolate shavings!
Cookie dough crumbles is good for sure!
It's also cold and delicious right out of the food processor. A silky smooth treat so go ahead and fill up those popsicle molds as this recipe shows.
I like it that way because the popsicles keep perfectly in the freezer. Then they are available as handy little pops any time in the future.
You could have them as a snack but they are so delicious that you might even want one for breakfast. Truly, I'm into that. I mean it's plant based yogurt!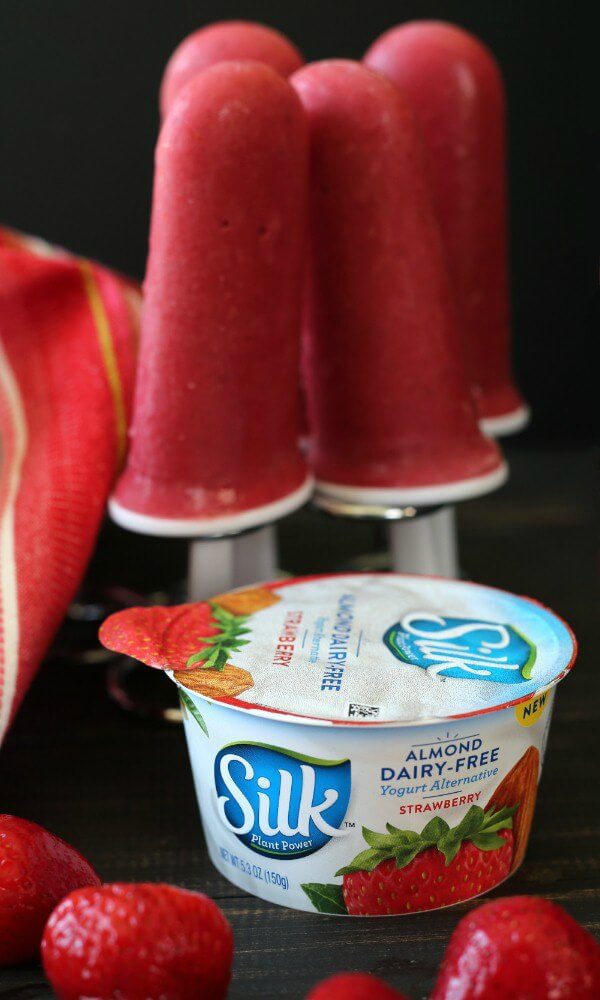 📋 Recipe
Vegan Frozen Yogurt Popsicles
Dairy Free Strawberry Frozen Yogurt Popsicles are fun to make, refreshing, mildly sweet, gluten free and easy.
Ingredients
5 ⅓

Ounces

Almond Strawberry Dairy Free Yogurt

- one of Silk's single cup servings

4

Cups

Strawberries

Frozen, about 18 ounces by weight

¼

cup

maple syrup
Instructions
Add the yogurt to a food processor.

Add the strawberries and maple syrup.

Process on medium until smooth. It doesn't take long at all.

If you use a blender you'll have to turn off the blender and poke the strawberries around then turn the blender back on.

Pour into popsicle molds and freeze until hard. About 4 hours.
Notes
You could also add this to an airtight freezer container and store in the freezer to use as you would dairy free ice cream.
Nutrition
Serving:
1
Popsicle
Calories:
83
kcal
Carbohydrates:
18
g
Protein:
1
g
Sodium:
5
mg
Potassium:
177
mg
Fiber:
2
g
Sugar:
14
g
Vitamin A:
10
IU
Vitamin C:
59.8
mg
Calcium:
63
mg
Iron:
0.4
mg