Dairy Free Slow Cooker Chunky Potatoes comes with a creamy sauce that is spicy. Homemade vegan sour cream is enhanced with exotic spices and green beans for a great side dish. Get it all in the crockpot and be proud of your dinner.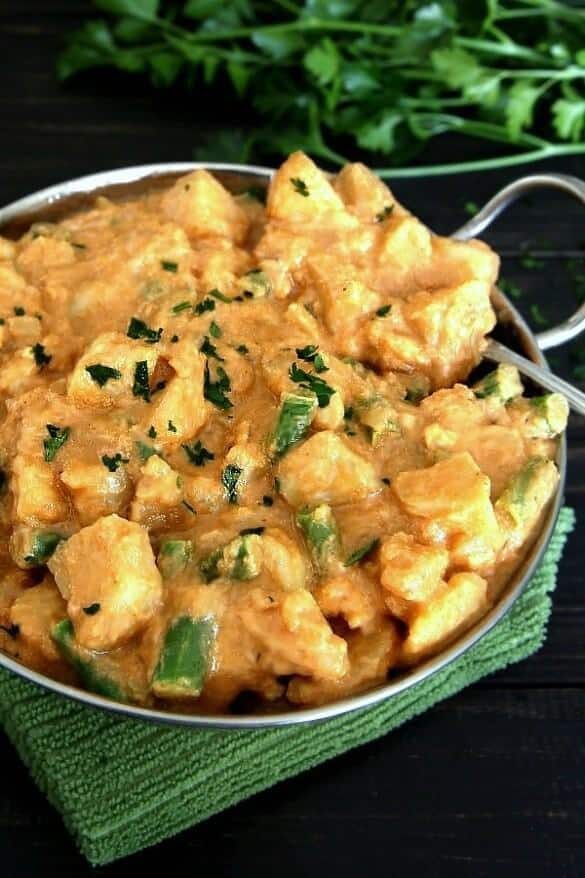 I wonder how many potato recipes there really are out there. It never ceases to amaze me how versatile potatoes are. The varieties are wonderful too!
Have you tried the little purple potatoes yet? I haven't and they aren't in our grocery store. Oh, the color! I don't know how they taste but I never had a potato I didn't like. Need. To. Find.
Now, these potatoes aren't red on the inside but red potatoes are used in this recipe. They don't have as much starch as russet potatoes and they're just a little bit sweeter. The perfect potato for this recipe!
The very best part about this recipe is its uniqueness - and the potato - and the sauce. The potatoes are really delicious, of course, but the sauce is so flavorful you'll want to take each bite with a spoon.
How to Make Dairy-Free Slow Cooker Chunky Potatoes
First things first. Make your sour cream and put it in the fridge. You can even make it a day or two ahead.
Choose your red potatoes. Try not to get those tiny ones because you do peel the potatoes for this recipe. It is almost comical when you're trying to hold one of those tiny potatoes and peel it at the same time.
Cut the potatoes so that they're a nice size chunk. Something like quarters or eighths if they are quite big.
The reason for sautéing at the beginning is that it actually does add more flavor. The onions turn sweeter, even in this short of a time, and sweeter goes very nice with spicy.
Now just add all the rest (except the cashew sour cream) and that is the slow cooker way. Stir and set the timer.
About 30 minutes to 15 minutes before the time is up, pierce the potatoes and see if they are done (or close to it) then add your sour cream. The finishing touch. Let it heat through.
Can You Make This Recipe in a Skillet
You can absolutely make these saucy potatoes in a skillet. You can almost follow the exact same steps all the way through. The only thing you change is the time.
Use a skillet (not cast iron) that has a lid. Follow the instructions all the way through No. 2 in the last section.
Now bring the ingredients to a boil, cover, turn down the heat to simmer and cook for 20 minutes. Peek after 15 minutes and make sure the liquid hasn't cooked away too much and test the potatoes.
When the potatoes are done you will be able to easily pierce the potatoes with a fork. Add the cashew sour cream and heat through.
Find me on Pinterest for more great recipes!
Want to Try This Slow Cooker Chunky Potatoes Recipe?
📋 Recipe
Dairy Free Slow Cooker Chunky Potatoes
Dairy Free Slow Cooker Chunky Potatoes comes with a creamy sauce that is spicy.
Ingredients
Cashew Sour Cream
½

cup

cashews, raw

¼

cup

water

1

tablespoon

plus 1 teaspoon lemon juice, fresh squeezed

½

teaspoon

nutritional yeast

dash

sea salt
Potato Mix
1

cup

onion, sliced

2

cloves

garlic, minced or chopped fine

½

teaspoon

cayenne pepper

1

tablespoon

paprika

¼

teaspoon

sea salt

1

pound

red potatoes, peeled and cut into large chunks

½

cup

green beans, fresh or frozen

1

cup

vegetable broth

1

tablespoon

tomato paste
Instructions
Cashew Sour Cream:
If you have a powerful mixer you don't need to pre-soak the cashews. Otherwise soak cashews in water from one hour to overnight. You can also cover them with water in a saucepan, bring to a boil and simmer 30 minutes.
Drain cashews and place in blender.
Add the remaining ingredients.
Blend until smooth. Use a spatula to scrap down the sides and if it seems too dry add water a teaspoon at a time.

Put in the refrigerator until you are ready to add to the potatoes at the end of cooking in the crock pot.
Preparing the Potatoes and Slow Cooker Instructions:
Heat 1 tablespoon water in a skillet. Add the onion immediately and start sautéing. Cook for about 2 to 3 minutes and add garlic, cayenne pepper, paprika and salt. Heat through for a minute.

Add the skillet mixture to the slow cooker. Add the potatoes, green beans, broth, and tomato paste. Stir well.

Cook on low for 5 hours or on high for 2 ½ hours or until the potatoes are tender.

Add the sour cream and stir carefully as to keep the potatoes in chunks. Let heat through for about 15 minutes.
Nutrition
Serving:
1
Serving
Calories:
210
kcal
Carbohydrates:
30
g
Protein:
7
g
Fat:
7
g
Saturated Fat:
1
g
Sodium:
221
mg
Potassium:
840
mg
Fiber:
4
g
Sugar:
5
g
Vitamin A:
1120
IU
Vitamin C:
17.2
mg
Calcium:
38
mg
Iron:
2.7
mg
Let's Get Connected!
Facebook | Pinterest | Instagram | Bloglovin