Dairy Free Chunky Cauliflower Soup is lightly spiced comfort food. Easy to make and it will have everyone coming back for more.
At the moment you have your first taste of Dairy Free Chunky Cauliflower Soup you will be glad you decided to make this warming and flavorful soup.
The flavors are mild enough that the pickiest of eaters will like it too.
It's cold outside but even when you're indoors and feeling cozy it's still a real treat to have a nice hot soup to warm you from the inside out.
It can't exactly get your toes toasty but Dairy Free Chunky Cauliflower Soup goes a long way on getting you there.
Have you ever had a soup party? They are so much fun and everyone is pleasantly surprised when they see the cauldrons/slow cookers lined up.
Imagine very few appetizers, such as stuffed mushrooms and maybe one other finger food. Cocktails, beer, and wine round out your setting.
Four different soups would be a lot of fun with plenty of bowls for people who want to try more than one or two or three.
Since Dairy Free Chunky Cauliflower Soup is a while creamy soup I would also have a broth soup such as Vegetable Barley Soup. Then possibly Homemade Tomato Soup from the Slow Cooker because everybody loves tomato soup. Lastly, how about Slow Cooker Red Lentil Soup?
Lentils are the 'new favorite'. Here's a pic to tempt you.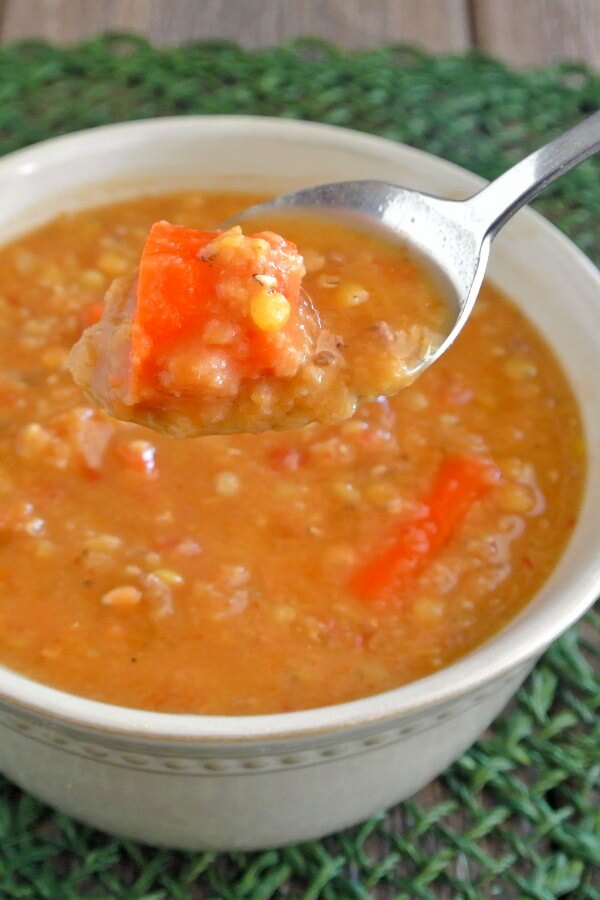 So there you have it. A wonderful soup for your family or pull out all the stops and have a party.
Cauliflower has become a favorite for families over the past 10 years. I think a lot has to do with the internet. Before you had to depend on cookbooks and recipes to find their way to you through friends and family.
Well, now there is such a wonderful plethora of cauliflower recipes at our fingertips. Right here on the internet. I actually have 14 different, very different, recipes on my blog alone.
What Are Some Other Cauliflower Side Dish Recipes
I have so so many cauliflower recipes but I promise I won't leave you a big long list. Just a couple.
Mexican Cauliflower is another unique recipe. It's quite a spice list.
Pure Delicious Cauliflower is an old recipe that I turned vegan. Choose your very favorite dairy-free cream cheese.
This post contains affiliate links. Read my disclosure policy here.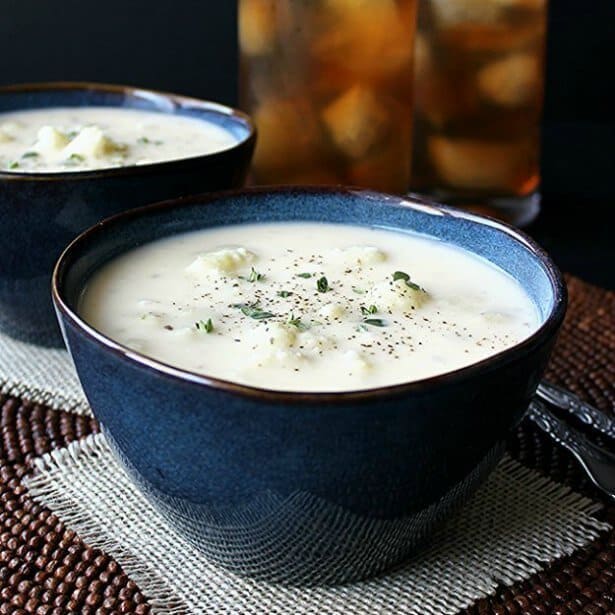 Print
Dairy Free Chunky Cauliflower Soup
Dairy Free Chunky Cauliflower Soup is lightly spiced comfort food.
Instructions
In a medium saucepan and medium-high heat, melt 4 tablespoons dairy free butter.

Add onion and sauté about 10 minutes until translucent.

Add garlic and chipotle powder, heat through, stirring. his takes just a few seconds.

Add flour, stirring to combine cook for one minute.

Add dairy-free milk and one cup of the vegetable broth. Stir to combine. Bring to a slow boil stirring so that the mix does not burn. It takes about 15 to 20 minutes to thicken.

Take off the heat and set aside.

In a large stockpot add 3 cups vegetable broth. Add cauliflower florets, cover and bring to a boil.

Turn down heat and simmer 15 minutes.

Pour white sauce into the stockpot along with the vegetable broth and cauliflower.

Add parsley, salt and pepper.

Taste to see if you would like to add more salt.

If it is thicker than you like add up to 1/4 cup dry white wine or more vegetable broth.
Nutrition
Nutrition Facts
Dairy Free Chunky Cauliflower Soup
Amount Per Serving (12 Ounces)
Calories 141
Calories from Fat 72
% Daily Value*
Fat 8g12%
Sodium 1131mg47%
Potassium 357mg10%
Carbohydrates 13g4%
Protein 3g6%
Vitamin A 540IU11%
Vitamin C 47.2mg57%
Calcium 75mg8%
Iron 0.9mg5%
* Percent Daily Values are based on a 2000 calorie diet.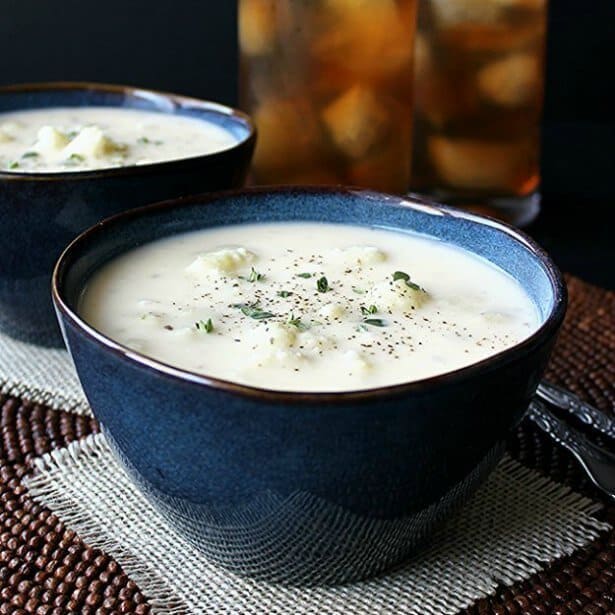 Dairy Free Chunky Cauliflower Soup is great for the family, friends, and parties.