Crispy Anasazi Bean Burger is unusual and flavorful. The pretty purple and cream splotched beans are a bit sweeter than pinto or kidney beans. It makes a big batch from dried beans so look for them in the bulk section and indulge.
Anasazi beans have a pretty purple and cream pattern that looks exactly like an appaloosa horse. That fact alone made me gravitate to them. I've only seen Anasazi beans in bulk before and in larger specialty grocery stores such as Whole Foods.
You can buy them in bulk or by the pound bag on amazon so they aren't too hard to find. Besides their beautiful look I also enjoy them because that the cooked beans are just the tiniest bit sweeter than kidney beans.
Not that kidney beans or pinto beans aren't good - I love them! It's just that Anasazi's are different. Being able to have a flavor change once in a while just adds to you culinary pleasure.
In fact, here's a chili recipe with both kidney and pinto beans together. Two Bean Camp Chili has got all kinds of good taste going on too. I'm going to sneak in a photo of it right here.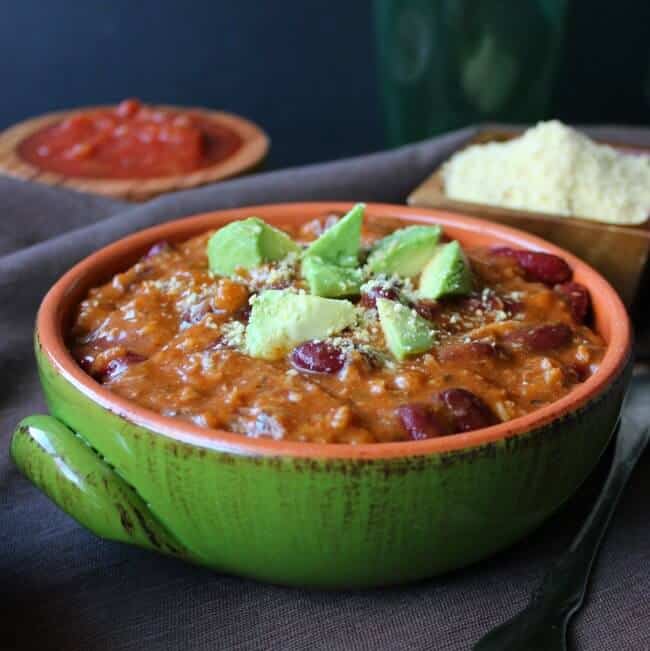 Back to a great sandwich: This Anasazi Bean Burger recipe makes a large batch from scratch using dried beans and you can turn out 20 burgers. They freeze really well and you will always have one on hand for a quick lunch.
Or they'd be great to have on hand for one of those nights when you just don't want to cook. Go ahead and get out as many as you want for dinner. It's all good and they cook up very quickly.
How Can I Make a Crispy Bean Burger?
For a fat patty the trick is in the pan with oil. If you have one of the new non-stick pans you can brown up the bean burgers with just a swipe of oil. In fact, you can use no oil at all. Cook on medium high until one side is crispy brown and then flip. Flip only once.
If you're using an iron or stainless steel pan then you need to use oil to get them crispy. Again, flip only once.
Pressing thin pattys in a panini press is my favorite way to make bean burgers. Not in bread but just as a patty. I like the panini plate that presses grooves into the patty. Lots of edges and ridges to get crispy. I love the panini presses that have the removable plates the best. Much easier to wash. A sandwich maker would work too.
In the case of thin patties another thing you can do is put two on your bun, separate them with a nice thin slice of onion and load on all of your other condiments. That's a delicious double decker.
How Do You Freeze Bean Burgers?
There are multiple ways to freeze bean burgers and I like to freeze them before they're cooked. That way when you fry them it tastes just the same as a freshly made burger.
My favorite way is to lay the patties on a baking sheet. Stick the whole thing in the freezer and wait for about an hour or two. Then remove the baking sheet and use a spatula to pop off the patties. Now you can lay a small square piece of parchment paper in between each patty so they won't stick together when frozen solid.
After the pattys have been prepared to this stage you can slide them in a freezer bag or a rigid sided freezer container. I have some round and square glass containers that are freezer safe and their lids snap on tight. The containers look like this but I hand pick the sizes I want at places like Marshalls.
So with pattys made from this recipe starting with dried beans I have about four or five of these containers full of bean burgers.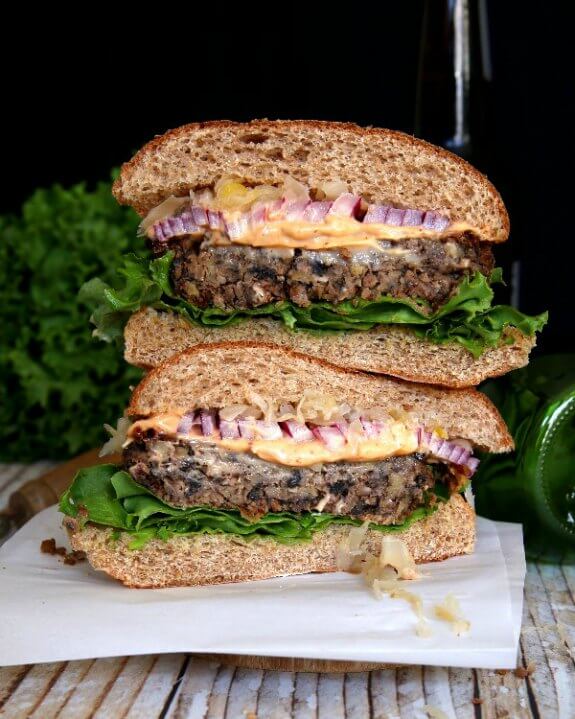 📋 Recipe
Crispy Anasazi Bean Burger
Crispy Anasazi Bean Burger is unusual and flavorful.
Ingredients
1

package - 1 lb. 11 oz. Anasazi Beans

27 ounces dried

1

red bell pepper

finely chopped

1

onion

finely chopped

1

carrot

finely chopped

1 ½

cups

pepitas

½

teaspoon

garlic powder

1

teaspoon

cayenne pepper

1

teaspoon

ground coriander

2-½

cups

bread crumbs

2

tablespoons

flaxseed meal mixed with 6 tablespoons water

1

teaspoon

salt

¼

teaspoon

black pepper
Instructions
Put the beans in a large stockpot and cover with water that comes 2" above the beans. Bring to a boil and and turn down to a medium high heat. Cook for 1 hour.

While this is cooking add the carrot to another small pan of water to cover. Bring to a boil and then turn down and cook for 15 minutes. Drain and set aside.

Mix the flaxseed meal and water and set aside to thicken.

In a skillet add the oil and saute the onion and bell pepper for about 10 to 15 minutes until the onion is translucent.

At the end of the sauteing - add the garlic powder, cayenne pepper, and coriander. Stir and cook on low heat for 5 minutes.

Drain the beans and add to a large mixing bowl. Mash with a potato masher or a large fork.

To the beans - add the onion mixture from the skillet.

Add the cooked carrot, pepitas, bread crumbs, salt and pepper and prepared flaxseed mixture and mix well.

Make into patties to cook or to freeze or both.

If you are cooking now heat your skillet or panini press. Lightly oil.

Place your burgers in the press. I like to use the grooved insert but the flat will work just as well.

Fry on medium high until crisp about 5 to 10 minutes. Remove and serve on a bun with your favorite condiments.
Notes
If you have frozen your burgers there is no defrosting necessary. Just put in you hot pan and fry up.
20 patties to double up on your sandwich!
Nutrition
Serving:
1
Burger
Calories:
58
kcal
Carbohydrates:
5
g
Protein:
4
g
Fat:
2
g
Sodium:
159
mg
Potassium:
87
mg
Fiber:
1
g
Sugar:
1
g
Vitamin A:
735
IU
Vitamin C:
8.3
mg
Calcium:
16
mg
Iron:
0.8
mg
Anasazi Dried Beans for Bean Burgers!
So there you have it. Dried beans turned into the most delicious pattys so that everyone can have a Crispy Anasazi Bean Burger or two.