Vegan Creamy Quinoa Soup with Coconut & Mushrooms - is a nutrient-packed, filling soup with a rich vegetable-based broth, mushrooms, carrots, coconut milk, and protein-packed quinoa for a nourishing soup that is easy to make.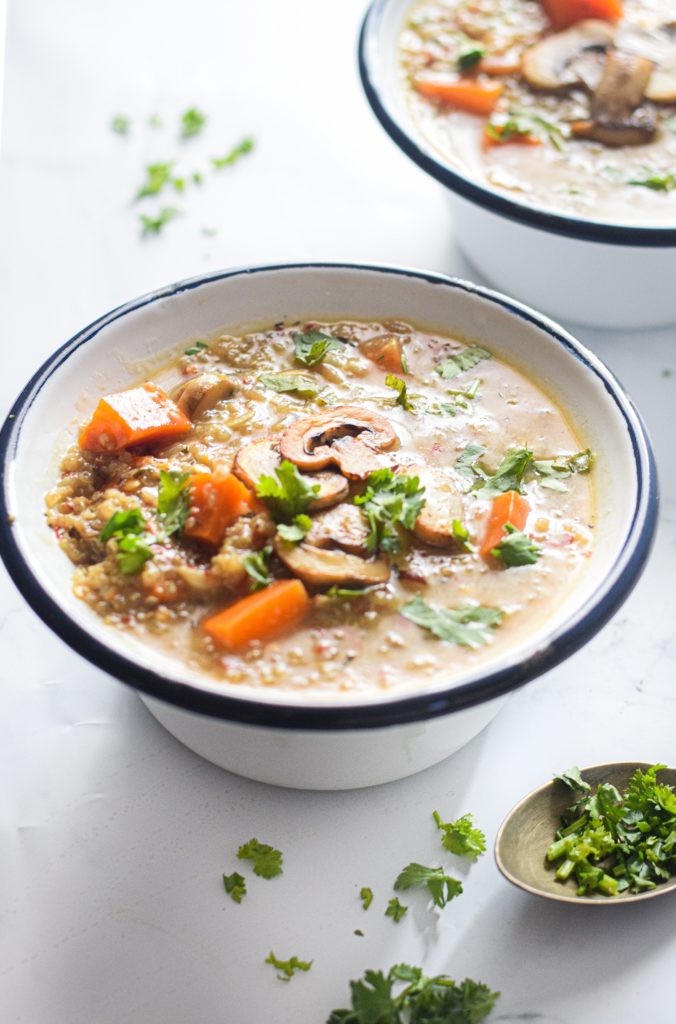 I can't think of a more comforting food on a cold, winter night than this creamy, vegan quinoa soup. One of my favorite things about this soup (besides the fact that it is absolutely delicious and super filling), is that it is a great option for meal prepping. You can make a giant pot of this soup and eat on it throughout the week, making it a perfect choice for this busy time of the year.
Did you know that quinoa is full of fiber, antioxidants, and minerals? It is also rich in essential amino acids. Because of all of these health benefits, I try to fit it into my diet whenever I can. Not only does this creamy, vegan mushroom soup have healthy quinoa, but it also has vitamin A rich carrots and fiber-packed mushrooms. You will love all of the health benefits of this creamy soup recipe. Mix those with the comforting, delicious taste, and you have a perfect weeknight dinner on your hands!
Why You'll Love This Vegan Mushroom Soup
It is packed with health benefits!
This soup is a great option for meal prep. It tastes just as good when eaten leftover.
This yummy soup is dairy free and vegan.
It's delicious and very filling. The quinoa will keep you full for hours!
You don't need many supplies - just a saucepan, a whisk, and a pot, making cleanup a breeze.
Equipment Needed To Make Best Vegan Mushroom Soup
Ingredients For Your Creamy Quinoa Soup Recipe
2 tbsp olive oil
200 gm button mushrooms
1 cup diced carrot
1 onion chopped
4 - 5 cloves garlic minced
2 tbsp corn flour
1 cup full fat coconut milk
2 - 3 cups vegetable broth
½ cup cooked quinoa*
1 tsp lemon juice
salt and pepper to taste
dried thyme and rosemary to taste
chili flakes to taste
coriander leaves / parsley to garnish
additional sauteed mushrooms
*For Cooking Quinoa
1 cup uncooked quinoa (any variety — white or golden, red, or black)
1 tsp olive oil
1 ¾ cups water or vegetable broth
½ tsp salt
How To Make A Creamy Quinoa Soup (With Coconut & Mushrooms, Vegan!)
To make this creamy quinoa soup, start by sauteing your onions, garlic, mushrooms, and carrots until aromatic. Add in your cornflour, mix until incorporated, add in your vegetable broth and let simmer. Finish it off with coconut milk, quinoa, and spices, and enjoy!
What to Serve/Pair with Your Vegan Creamy Mushroom Soup
This creamy soup has so many filling, healthy ingredients that you really don't need anything with it. Sometimes I do like to have a French baguette or crackers on the side to dip into it. They really soak up the delicious flavors. If you want some extra veggies or just something as a cold side, you can enjoy this soup with a side salad.
If you're craving something sweet after you've eaten your soup, a great dessert pairing is white chocolate-covered strawberries or vegan cherry fruit bars (I think that these two desserts pair well with just about anything!).
Are you craving a cocktail with your quinoa soup? Try it with my homemade Kahlua - yum!

How To Reheat & Store Creamy Quinoa Soup (With Coconut & Mushrooms, Vegan!)
The best way to store this soup is in a sealed, air-tight container in the fridge. This soup will last for up to 5 days in the refrigerator. This makes it a great option for meal prep! The spices really soak into the mixture when it is sitting, and this makes it taste just as yummy leftover.
Can I Freeze Vegan Creamy Mushroom Soup?
Yes, you can freeze this soup. Transfer it to an air-tight container, and it can stay in the freezer for up to 2 months!
How To Reheat Coconut Mushroom Soup
Refrigerated quinoa soup can be reheated in the microwave or on the stovetop. To reheat the frozen soup, let it thaw completely in the fridge, then reheat it the same way.
Vegan Mushroom Soup with Coconut Milk FAQs
Can I use canned mushrooms?
I think that this recipe tastes best with fresh, sauteed mushrooms, but if canned mushrooms are all that you have on hand, you can definitely use these.
Does it matter what kind of quinoa I use?
Nope! You can use your favorite kind. I've tried it with golden, red, and black, and they were all delicious!
How do I know when my quinoa is fully cooked?
Cooking quinoa is very similar to cooking rice. It will soften as it cooks and will soak up most of the water. When you can fluff it easily with a fork, you'll know that it's done.
What Can I Use In Place Of The Coconut Milk?
You can use any other plant-based milk that holds up well to heating to replace the coconut milk.
Why Is My Creamy Quinoa Soup (With Coconut & Mushrooms, Vegan!) Too Thick?
If your soup is too thick, you may have added too much cornflour into it while whisking. Try adding a bit more broth or water and mix it in.
Can I Make Creamy Quinoa Soup (With Coconut & Mushrooms, Vegan!) Without The Mushrooms?
Of course! This soup is just as delicious without the mushrooms too. You can add any veggies you want to it or even leave it out all together. It's really up to your taste preferences and what you have on hand.
Why Did The Coconut Milk Separate In My Soup?
The milk may have separated if it was cold when you added it to the soup. To prevent this, you can warm the milk before adding it in or mix well before serving.
What Can I Use As A Garnish?
Parsley or cilantro leaves make a great garnish for this soup! You could also use some chili flakes if you want it to have a bit of heat.
Other Vegan Soup Recipes You'll Love
Don't Forget To Come Back And Let Me Know How Your Vegan Creamy Quinoa Soup (With Coconut & Mushrooms) Turned Out!ve
📋 Recipe
Creamy Coconut Milk and Mushroom Quinoa Soup
This creamy quinoa soup is made with coconut milk, mushrooms and quinoa and is vegan-friendly! It's a filling and nutritious recipe for a cold winter day!
Ingredients
2

tbsp

olive oil

200

gm

button mushrooms

1

cup

diced carrot

1

onion chopped

4 - 5

cloves garlic minced

2

tbsp

corn flour

1

cup

full fat coconut milk

2 - 3

cups

vegetable broth

½

cup

cooked quinoa*

1

tsp

lemon juice

salt and pepper

to taste

dried thyme and rosemary

to taste

chilli flakes

to taste

coriander leaves / parsley

to garnish

additional sauteed mushrooms
*For cooking quinoa
1

cup

uncooked quinoa (any variety — white or golden, red, or black)

1

tsp

olive oil

1 ¾

cups

water or vegetable broth

½

tsp

salt
Instructions
In a saucepan over medium heat, sauté onions and garlic with a tbsp of oil, until fragrant. Add mushrooms, and carrots and sauté until aromatic

Add mushrooms and carrots and sauté until aromatic.

Next add corn flour and toss to coat, until flour disappears.

Add veggie broth and bring to a boil. Cover and let cook on medium heat for about 5-10 minutes, stirring occasionally.

Finally, add coconut milk and cooked quinoa.

Season it with dried rosemary, thyme, chilli flakes, salt, pepper and a dash of lemon juice.
*For cooking quinoa
Place the quinoa in a fine-mesh strainer. Rinse thoroughly under cool, running water. Rub the quinoa with your hand while rinsing. Drain.

Heat the olive oil in a small saucepan over medium-high heat until shimmering. Add the drained quinoa and cook, stirring constantly, to let the water evaporate and toast the quinoa, about 2 minutes.

Stir in the water or broth and the salt. Bring to a rolling boil.

Turn the heat down to the lowest. Cover and cook for 15 minutes.

Remove the pot from heat and let stand for 5 more minutes, covered.
Nutrition
Calories:
373
kcal
Carbohydrates:
33
g
Protein:
13
g
Fat:
23
g
Saturated Fat:
13
g
Polyunsaturated Fat:
2
g
Monounsaturated Fat:
8
g
Sodium:
826
mg
Potassium:
828
mg
Fiber:
4
g
Sugar:
5
g
Vitamin A:
5569
IU
Vitamin C:
8
mg
Calcium:
63
mg
Iron:
4
mg