Crazy Brownies bake up rich and chocolaty and taste just like the best fudgy brownies you have ever had. Fun to make with amazing ingredients.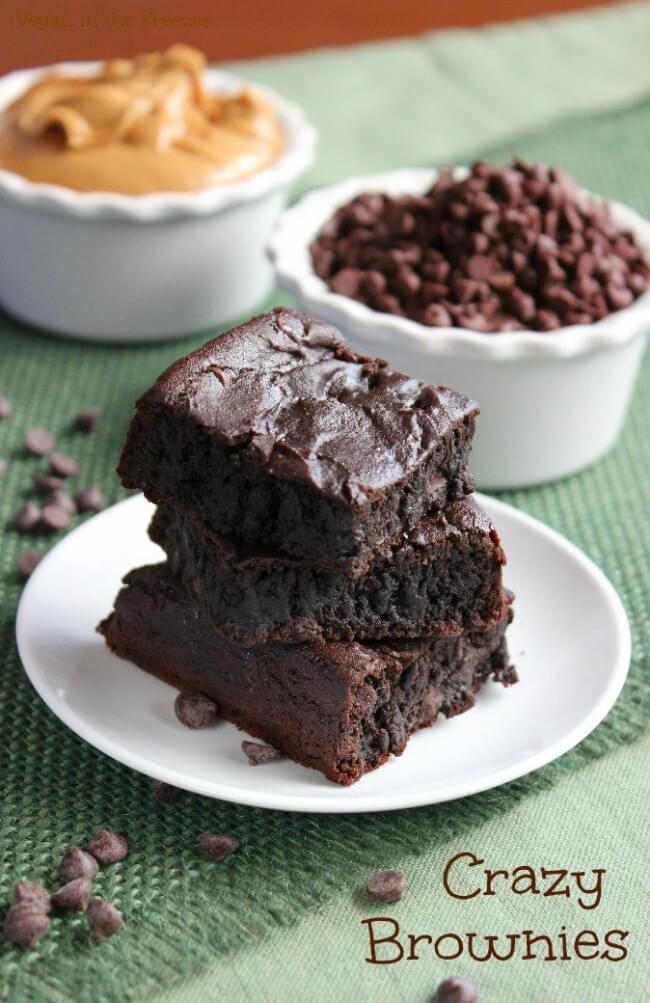 These fudgy, dense and sweet brownies come straight out of Dreena Burton's new cookbook – Plant Powered Families, over 100 Kid-tested Whole-foods Vegan Recipes. Quite a mouthful and quite a book full.
Her newest book has lots of colorful photos to drool over and the recipes will keep you enthralled.  There are also wonderful personal photos scattered throughout.
I have been admiring Dreena's  recipes since the very beginning of my vegan days. Every one I have tried has been worth remaking and this recipe is no exception.  In fact, Crazy Brownies is one of my favorites!
Just look at this recipe. Scroll on down this page and take a gander at the ingredients.  The outcome is fantastic!
Connect with Vegan in the Freezer
Facebook   |   Pinterest   |   Instagram   |   Bloglovin
Dreena Burtons Cookbook and Crazy Brownies Recipe
Ingredients
1/2

cup

kidney beans

1/2

cup

pitted dates

1/3

cup

peeled, precooked, and cooled yellow or red potato (see note)

2

tablespoons

tahini or nut butter, see note and nut-free option

2

tablespoons

coconut butter, see note

1/4

cup

pure maple syrup

3

tablespoons

nondairy milk

1/2

cup

plus 2 tablespoons cocoa powder

1/2

cup

coconut sugar

2

tablespoons

arrowroot powder

1

teaspoon

vanilla bean powder or 11/2 teaspoons pure vanilla extract

1/2

teaspoon

baking powder

1/2

teaspoon

baking soda 1/2 teaspoon sea salt

3

tablespoons

nondairy chocolate chips

mini are nice
Instructions
Preheat oven to 350°F. Line an 8" × 8" brownie pan with parchment paper.

Using a small or mini food processor, puree the beans, dates, potato, tahini, and coconut butter until smooth, and then add the maple syrup and milk and puree again.

Add the cocoa powder, sugar, arrowroot, vanilla bean powder, baking powder, baking soda, and sea salt to the processor and puree until combined. (If your processor is too small, transfer the date mixture to a bowl, and use a spatula to incorporate the dry ingredients.) Stir in the chocolate chips.

Transfer the mixture to the brownie pan, and spread evenly with a spatula. Bake for 22–24 minutes (brownies will firm with cooling and are more fudgy with less baking, so don't overbake). Remove, let cool completely, frost if desired, and cut into squares.

Potato Note: Potatoes add moisture and density when combined with the beans. If you don't have cooked potato, substitute 1/4 cup of potato starch and increase the milk to 5 tablespoons.

Nut-Free Option/Tahini Note: I use a good-quality tahini, with a mellow, buttery flavor and smooth texture. If you don't have nut allergies, try substituting macadamia or almond butter. Another 1 tablespoon of nondairy milk may be needed if the nut butter is quite thick/dense.

Coconut Butter Note: If you don't have coconut butter, you can substitute another 11/2 tablespoons of a nut butter like macadamia, almond, or cashew butter—or more tahini.

Frosting Note: Chocolate Ganache, (also in the cookbook), is wickedly good on these brownies!
Isn't that great!  I want to make every recipe out of this cookbook and I bet you will too.  Everything is plant based – we are so lucky!
Click here if you would like to take a look at the cookbook over at Amazon.
Here are a few more titles:
Artichoke

 Sunflower Burgers
Baconut
Blueberry Lassy Muffins
Cinnamon French Toast
Creamy Fettuccine
Saucy BBQ Chickpeas and Green Beans
Ta-Quinos
White Bean Guacamole
If you don't own any of Dreenas cookbooks yet or havn't been to her website you have got to check her out. I am always hopping over to her blog to see what is new.