Cranberry Orange Bread is one of the most popular quick bread recipes during the holidays. This vegan version is moist, easy, and can use fresh, frozen, or dried cranberries.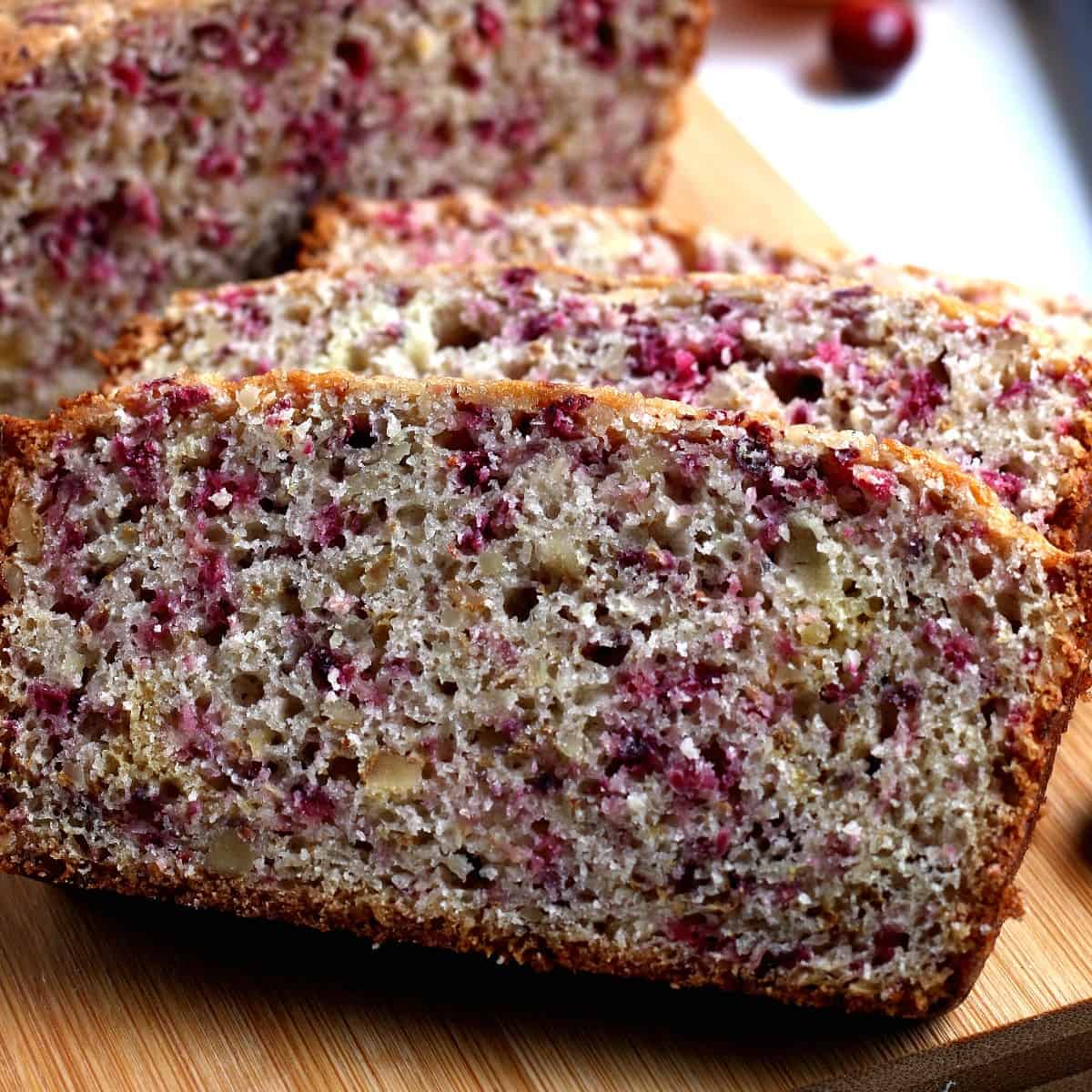 Cranberry and orange is a classic holiday flavor combination. It's also a favorite to just about everyone.
The cranberries are tart (even if you're using dried) and the sweetness of orange brightens up the flavors of the bread. The colors are so beautiful and festive.
And not only that besides enjoying your sweet quick bread at breakfast time you can also wrap it up pretty for a gift. Wrap it up in a clear wrapper and tie it up with a pretty ribbon and gift card. Pinterest has some great visuals.
Take advantage of this cranberry orange bread recipe and double the recipe for two loaves and save one for later in the month.
The color even makes me think of Christmas and the colors of the season. Just look at that pretty burgundy color! I'm definitely eating with my eyes first with this quick bread.
Nothing is more fun than having some great smelling baked goods filling up your house with wonderful smells while you're wrapping gifts or decorating.
What is a quick bread
Quick bread is a bread that doesn't have yeast. It is almost always made with fruit or fruit juices and can be eaten plain or with dairy free butter. There is no rise time, therefore making it a "quick" bread.
They are more like cake than bread but are traditionally baked in a loaf pan and sliced. This vegan cranberry orange bread leads the pack.
Main Ingredients
All-purpose flour is the basis for this baked good.
Organic granulated sugar is a necessity for this recipe to balance out the tartness of the cranberries and orange.
Baking soda and baking powder work together to help the bread rise well.
Flax seed meal is used as an egg substitute and binds the ingredients together along with helping the bread stay light.
Fresh orange juice is ideal for this recipe for added moisture.
Dairy free unsalted butter brings an extra layer of flavor and richness
Nuts are a treat to me and in this recipe I prefer walnuts or pecans. If you have a nut allergy you can sure skip them though.
Fresh or frozen cranberries, chopped finely add a nice tartness to combine with the sweet ingredients.
Bakers tips and tricks
Spray a 9" x 5" loaf pan with cooking spray. You can use a smaller loaf pan too such as an 8 ½" x 4 ½" but the baking time will be a little different.
Mix the flax seed meal together and set aside. You can use ground chia seeds too. I use them a lot.
Melt the butter and let it cool. You don't have to melt it all the way as the heat will continue to melt it as it sits.
Pulse the cranberries in a food processor a few times or by hand with a sharp knife. Be careful not to over process and make them mushy.
Use a large bowl and mix the dry ingredients together.
In another large bowl mix together add the dairy free butter, flax seed meal mix and orange juice together.
Add the flour and mix together.
Now you have the basic batter.
Add the chopped nuts, cranberries and water.
Mix until just combined.
Pour into the pre-prepared loaf pan and spread out evenly.
Bake at 350° F. for 60 minutes.
Check to see if it's done. Ovens vary in their cooking times so when you think the cooking time is done then stick a butter knife straight down into the bread and pull it out. If it comes out clean, it's done.
Let it cool in the pan. Remove from pan and make sure the bread is cool before cutting. If you try to cut the it to early then it very well might not give you a clean slice. It may smash down a bit.
FAQ's
Can you substitute dried cranberries
Yes, you can! Dried cranberries can be hard to find though but you can use Craisins. Use 1 cup instead of ½ cup as used for fresh or frozen. Also, let them soak in boiling water for about 15 minutes to plump them up..
Can orange zest be added?
Yes, especially if you have fresh oranges right there. Freshly zest the orange rind without hitting the pith and add it to the sugar. If it sits a little while it will infuse the orange zest flavors and smell into the sugar. Many people use a mini zester plane nowadays.
Can I make this vegan cranberry orange bread in other size pans?
Yes! That makes it fun for gifting when you can fill up the little mini loaf pans. Those will bake for about 30 minutes. You can also make 12 muffins with this recipe. Muffins will take about 18 minutes. Check out these cute really mini loaf pan. They are more muffin size.
Can this recipe be doubled?
Yes, no problem. Mix it all together as one and then divide it amongst the size pans that you'd like to use.
Can I substitute coconut sugar for the granulated sugar?
Yes, taste the batter before adding the cranberries and nuts and see if you should add a little more coconut sugar. Just a couple of tablespoons if at all. The bread will be a little darker but still beautiful.
How to store or freeze
Store in an airtight container at room temperature. It was last up to 4 or 5 days.
Let cool completely and place it in a freezer bag or container. This vegan cranberry orange bread freezes really well for up to 3 months. When you're ready to eat it, allow the bread to thaw in the refrigerator, covered overnight.
There's something magical about those bright little pops of tart cranberry mixed in with all that sweet bread. Adding a little orange glaze to the mix really puts this bread over the top. You will love it!
More cranberry and orange combination recipes
📋 Recipe
Cranberry Orange Bread
Cranberry Orange Bread is one of the most popular quick bread recipes during the holidays.
Ingredients
2

cups

All-purpose flour

1

cup

Organic granulated sugar

½

teaspoon

Salt

½

teaspoon

Baking soda

1 ½

teaspoon

Baking powder

1

tablespoon

Flax seed meal

- mixed with 3 tablespoons water

½

cup

Fresh orange juice

2

tablespoons

Unsalted Dairy free butter

- melted

2

tablespoons

Hot water

½

cup

Nuts

- walnuts or pecans, chopped

1 ½

cups

Fresh or frozen cranberries

- chopped finely
Instructions
Spray bread pan with cooking spray.

In a medium bowl, mix together flour, sugar, salt, baking soda, and baking powder.

Mix together the flaxseed meal and water and set aside.

In another large bowl add the prepared flaxseed meal mixture, orange juice and dairy free butter. Mix until well combined.

Add the dry ingredients to wet ingredients and mix until well combined.

Pulse cranberries in a food processor or chop with a sharp knife.

Chop nuts in a food processor or chop with a sharp knife.

Stir water, nuts and cranberries into the batter JUST until combined but don't overmix.

Spread batter evenly into a loaf pan.

Bake for 60 minutes or until a knife inserted in the center comes out clean.

Remove from oven and cool on wire rack. Remove from pan.

Store in airtight container
Notes
The nutrition calculator is based on 8 big slices.
Nutrition
Serving:
1
serving
Calories:
310
kcal
Carbohydrates:
56
g
Protein:
5
g
Fat:
8
g
Saturated Fat:
1
g
Sodium:
240
mg
Potassium:
217
mg
Fiber:
3
g
Sugar:
27
g
Vitamin A:
42
IU
Vitamin C:
10
mg
Calcium:
49
mg
Iron:
2
mg