Cranberry Caramel Popcorn has a lovely light sweetness and a little bit of cranberry  tartness for just the right balance.  14 cups for you and your friends!
I made some Cranberry Caramel Popcorn and I am feeling proud.
This is not the thick covering like you get in those tins.  It has that great sweet/tart combo in a large quantity with little effort.
Besides peanuts getting thrown into the mix you also have dried cranberry that completes the goodness in this recipe.  If you can bear to part with any of the popcorn it would also make a wonderful homemade gift.
So whether you keep it all or part with a bit for your friends – enjoy!
Connect with Vegan in the Freezer
Facebook | Pinterest | Instagram | Bloglovin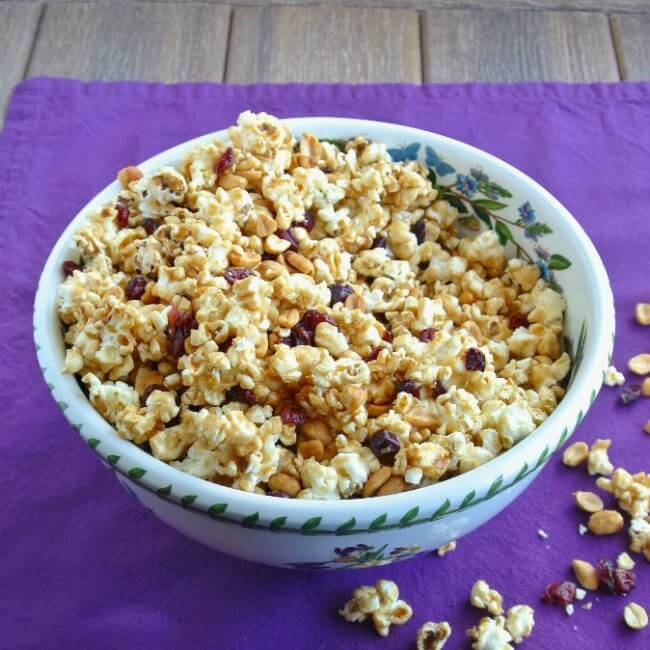 Cranberry Caramel Popcorn
Cranberry Caramel Popcorn has a lovely light sweetness and a little bit of cranberry tartness for just the right balance.
Ingredients
12

cups

popped popcorn

1/2

cup

organic granulated sugar

1/2

cup

Brown Sugar

1/4

cup

maple syrup

1/2

cup

vegan butter

1

cup

peanuts, NOT chopped

1

cup

dried cranberries, NOT chopped
Instructions
After you pop your popcorn - go through it and make sure there are no unpopped kernals and throw them away.

Place the popped popcorn on a huge oven safe pan or dish (I used 2 baking sheets) and keep warm in the oven at 250°.

In a medium saucepan - heat the butter and maple syrup to boiling over medium high heat. Stir while this is coming to a boil.

Carefully clip on a candy thermometer.

Continue to cook over medium high heat to the hard ball stage of 255°.

This will take 10 minutes or so. Stir occasionally but be very very careful.

Remove from heat and remove thermometer (again, carefully).

Take the popcorn out of the oven and immediately pour the mixture over the popcorn and stir gently.

Put into the oven and bake at 300° for 10 minutes.

Stir and bake 5 more minutes.

Stir in the dried cranberries and peanuts.

Turn out onto a cool baking sheet and let cool completely.

Break apart and store in an airtight container . The popcorn keeps a very long time so I can't see the need to freeze. It will be eaten fast!
Nutrition Facts
Cranberry Caramel Popcorn
Amount Per Serving (1 Cup)
Calories 242
Calories from Fat 90
% Daily Value*
Total Fat 10g 15%
Sodium 58mg 2%
Potassium 135mg 4%
Total Carbohydrates 34g 11%
Protein 3g 6%
* Percent Daily Values are based on a 2000 calorie diet.