Crackerjack Cookies bring back lots of good memories. The peanuts and molasses-coated popcorn gets mixed into special cookie dough and bakes up into perfect cookies.
Do you know that crackerjack is an old-fashioned word that meant 'super' and 'great'? That's how the name Cracker Jack came about for the famous popcorn and peanut snack.
It was coined all the way back in 1896 and that delicious little snack is still around today. And do you know there are still prizes in the boxes and bags?
Well, that's what Crackerjack Cookies are all about. A super and great cookie that takes advantage of the peanuts and molasses-coated popcorn to enhance an already promising cookie.
This post contains affiliate links. Read my disclosure policy here.
Since they are so easy to make and liked by everyone it is a perfect recipe to use for school bakes, church bazaars, and baseball parties.
I mean the song 'Take me out to the ballgame' even sings out 'Give me some peanuts and crackerjacks'.
It might as well be Crackerjack Cookies.
When I was mixing up the recipe for Dairy-Free Oatmeal Cranberry Cookies (see pic below)I was also daydreaming about how I use to go to ballgames and what fun they were.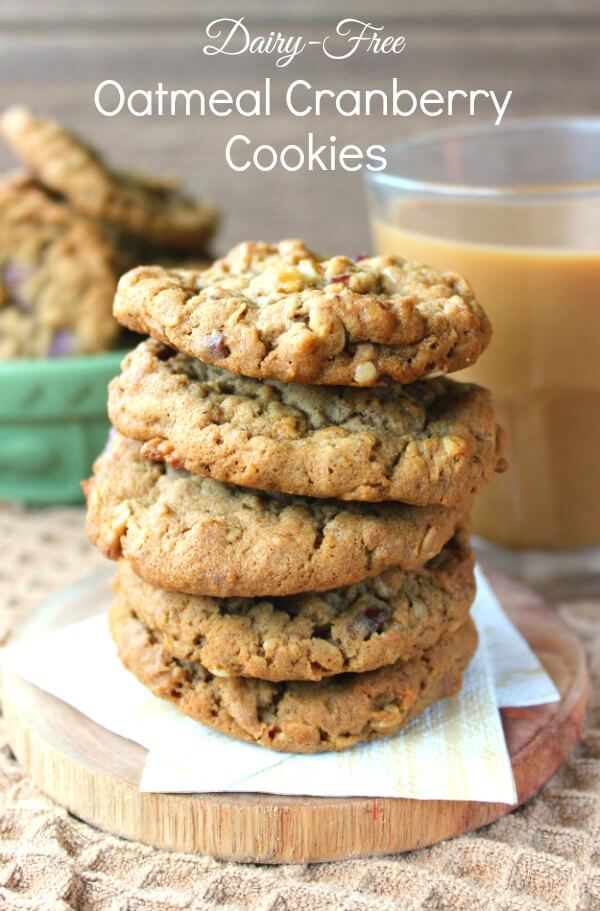 And you know how the brain works. You're thinking about one thing and then another and then another and then that short little daydream brings you to a new idea. So - a new cookie recipe is born and here it is!
I can guarantee that you and your 'crackerjack little ones' will all love them.
Helpful Tools
If you have an electric mixer then that takes a lot of the work out of cookies. Hand mixers work great too. Don't use the electric mixer when you're adding the crackerjacks, peanuts and rice crispies though.
Often I'll just pull out my mixing bowls and wooden spoons though. You'll need sturdy wooden spoons for stirring in the cracker jacks..
Electric or by hand something you'll need for sure is the measuring cups and spoons. This set has lots of sizes.
Crackerjack Cookies
Crackerjack Cookies bring back lots of good memories.
Ingredients
2

tablespoons

flaxseed meal

this will be mixed with 6 tablespoons water and used as two eggs

1

cup

dairy free butter

softened

1

cup

sugar

organic will be vegan

1

cup

coconut sugar

1

teaspoon

vanilla extract

2 ¼

cup

whole wheat flour

1

teaspoon

baking soda

1

teaspoon

baking powder

½

cup

peanuts

chopped coarsely

2 ½

cups

Cracker Jacks

chop the popcorn in half or so

3

cups

rice krispies

use a vegan type usually spelled rice crispies
Instructions
Use a silpat type of pad if you can. If not grease a cookie baking sheet.

Mix the 2 tablespoons of flax seed meal with 6 tablespoons water, set aside.

In a large bowl cream the butter and sugars.

Add the flax 'egg' mixture and the vanilla extract. Stir well.

Stir in the flour, baking soda and baking powder.

Mix in peanuts, Cracker Jack and rice crispies.

Roll into about 60 to 70 balls.

Place on the silpat that has been placed on the cookie sheet (or on the greased cookie sheet).

Bake at 350• for 10 about 8-10 minutes. Do not overcook.

They need to be taken out before they spread much. They will still taste good but they will turn into a thinner cookie that is crispier like a 'lacy cookie'.

Remove to a wire rack to cool.
Nutrition
Serving:
72
calories each
Calories:
72
kcal
Carbohydrates:
9
g
Fat:
3
g
Sodium:
52
mg
Potassium:
33
mg
Sugar:
4
g
Vitamin A:
85
IU
Vitamin C:
0.8
mg
Calcium:
6
mg
Iron:
0.6
mg
You may freeze the cookies in a freezer bag.
They defrost quickly so it really doesn't take any planning. Just put them on a plate for an hour or so and enjoy.
Here's another cookie recipe that would travel well to any ball game! Coconut Chocolate Chip Cookies!