Cowboy Caviar is also lovingly known as Texas Caviar. It's a zesty and easy recipe that's full of your favorite veggies and is made with a tangy vinegar dressing. It's a healthy vegan dip, salsa or salad topping.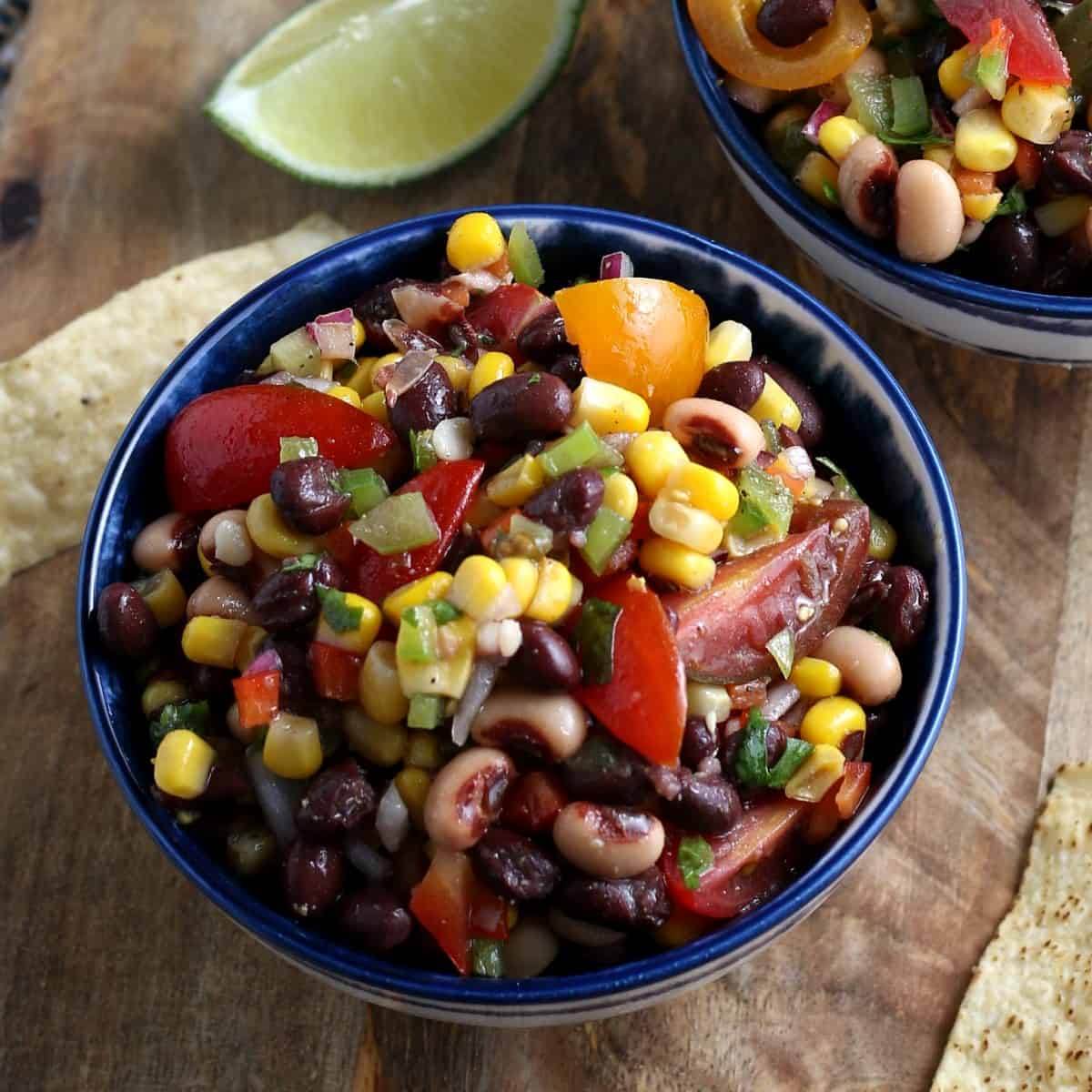 Full of fresh vegetables, beans, corn, and a tangy red wine vinegar dressing, this cowboy caviar recipe is a hit in our household — and with all of our friends.
Plus, it's ready to serve in minutes.
This delicious recipe is also called "Texas caviar" and it is the perfect companion for any get-together.
👩🏻‍🍳 What is Texas caviar
Texas caviar is commonly referred to as a salad or a dip. It can be used as a condiment on things like sandwiches, salads, and bean burgers or can be eaten as a dip on chips, crackers etc.
But it is also splendid to eat by itself. It is extremely versatile and one of the easiest dishes to make. Just like this Loaded Black Bean Salad recipe you can also have it as a side dish with no problem.
The dressing adds a zestiness to the dip, all while the vegetables remain crunchy. It's the perfect mix.
To make Texas caviar, you simply chop, pour, stir and chill.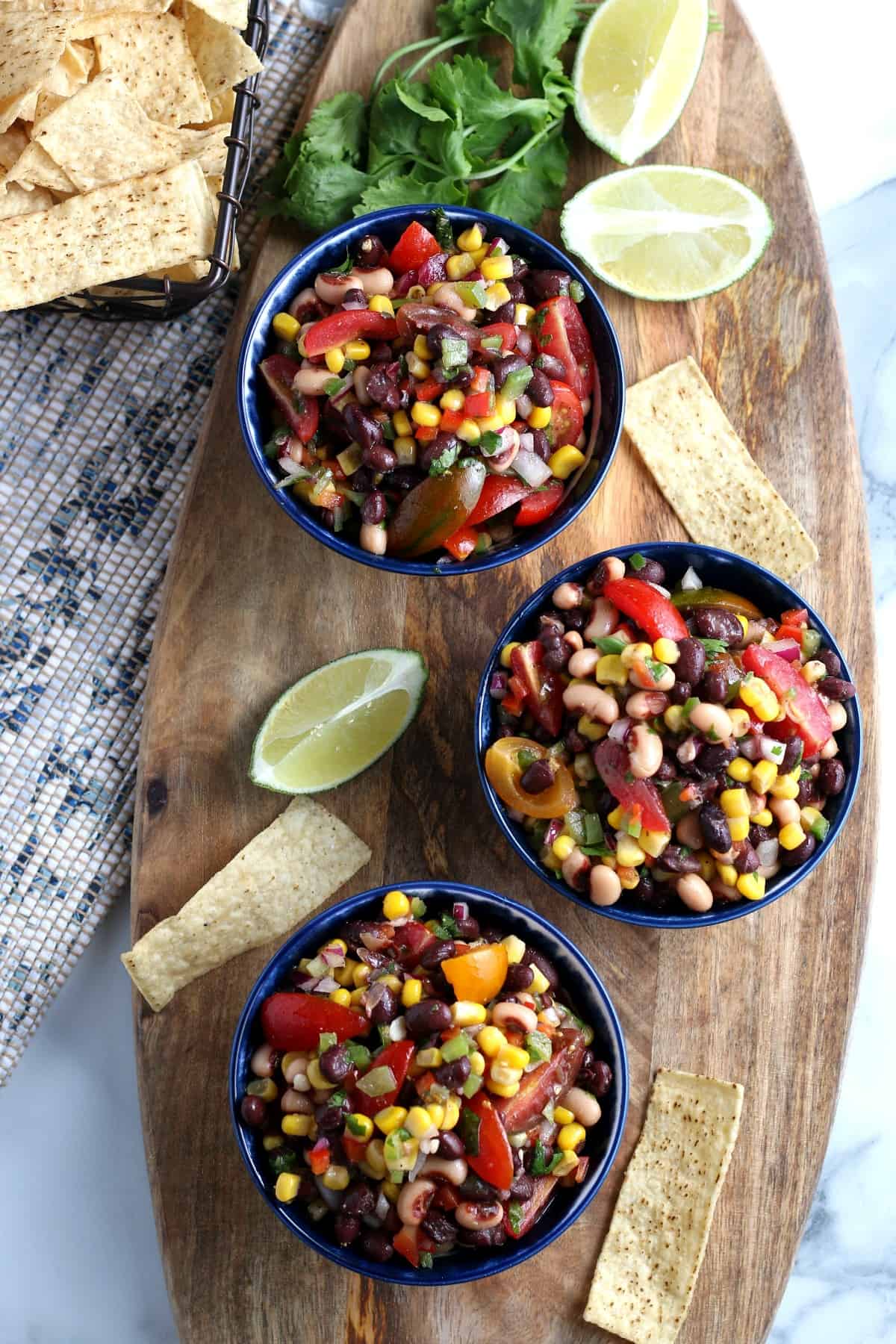 🍅 Cowboy caviar health benefits
If the rainbow of colors don't have you hooked on this recipe, the flavor will.
At our house, we make a batch of this Cowboy Caviar recipe as our go-to snack (and sometimes even lunch) for the week. This recipe makes so much, you don't have to worry about running out in one sitting.
What's in Texas caviar? Boundless goodness.
But really, there are so many beneficial ingredients in this dip, that I don't ever feel bad eating it multiple times a day.
This dip is full of beans — black beans and black-eyed peas. These nutrient-dense beans are full of fiber and protein.
It's great getting to have a recipe where you can add black-eyed peas. They are overlooked way too much.
They're also a great source of iron and manganese. If you're looking for an energy boost throughout your day, this dip is the perfect solution.
Just look at all of these beautiful ingredients.
Tomatoes are a great source of vitamin C and antioxidants — perfect to fuel your immune system and rid your body of free radicals.
Compared to other vegetables, corn is also high in protein — making this cowboy caviar especially great for vegetarians, vegans, and people looking to add more protein into their diets.
Increased eye health and reduced risks of several chronic diseases are only a couple of benefits that come from eating red and green bell peppers.
Eating red onions comes with its benefits too — they contain fiber, folic acid, and vitamin B which helps the body make new cells.
Rich in vitamins A and C, potassium, and carotene — an antioxidant that may help fight cell damage — jalapeños add a kick and added benefits to your diet.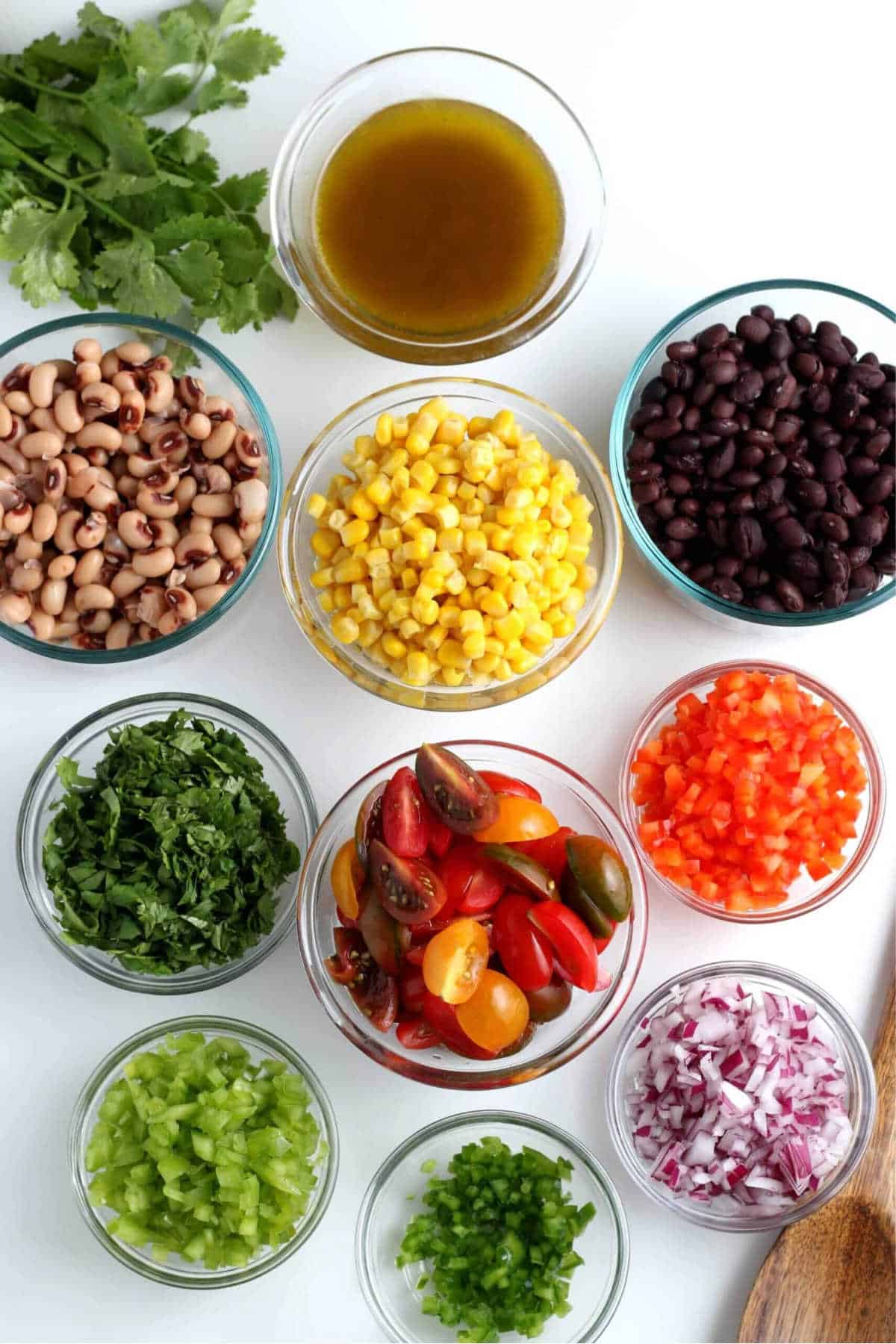 This cowboy caviar dip is the perfect healthy dish to bring along to any summer picnic — your family and friends will be asking for it on every occasion after the first bite.
💭 FAQ's
How long does Cowboy caviar keep
Texas caviar typically does well in the refrigerator for three to four days.
Can you add avocado to this salad
Yes, you can. Although Texas Caviar typically does not call for avocado, it is an excellent addition to the dip. Simply chop an avocado and add it into the dip right before serving to keep it from discoloring.
I like the flavors, but I don't like spice — can I omit the jalapeno
Jalapenos are pretty darn good and add a lot but you can sure omit them if you aren't a fan of the heat that it brings, consider adding a quarter of the amount called for in the recipe and add more in as desired.
I don't have red wine vinegar, what can I use instead?
If you don't have any red wine vinegar on hand, you could substitute apple cider vinegar, white vinegar, or lime juice.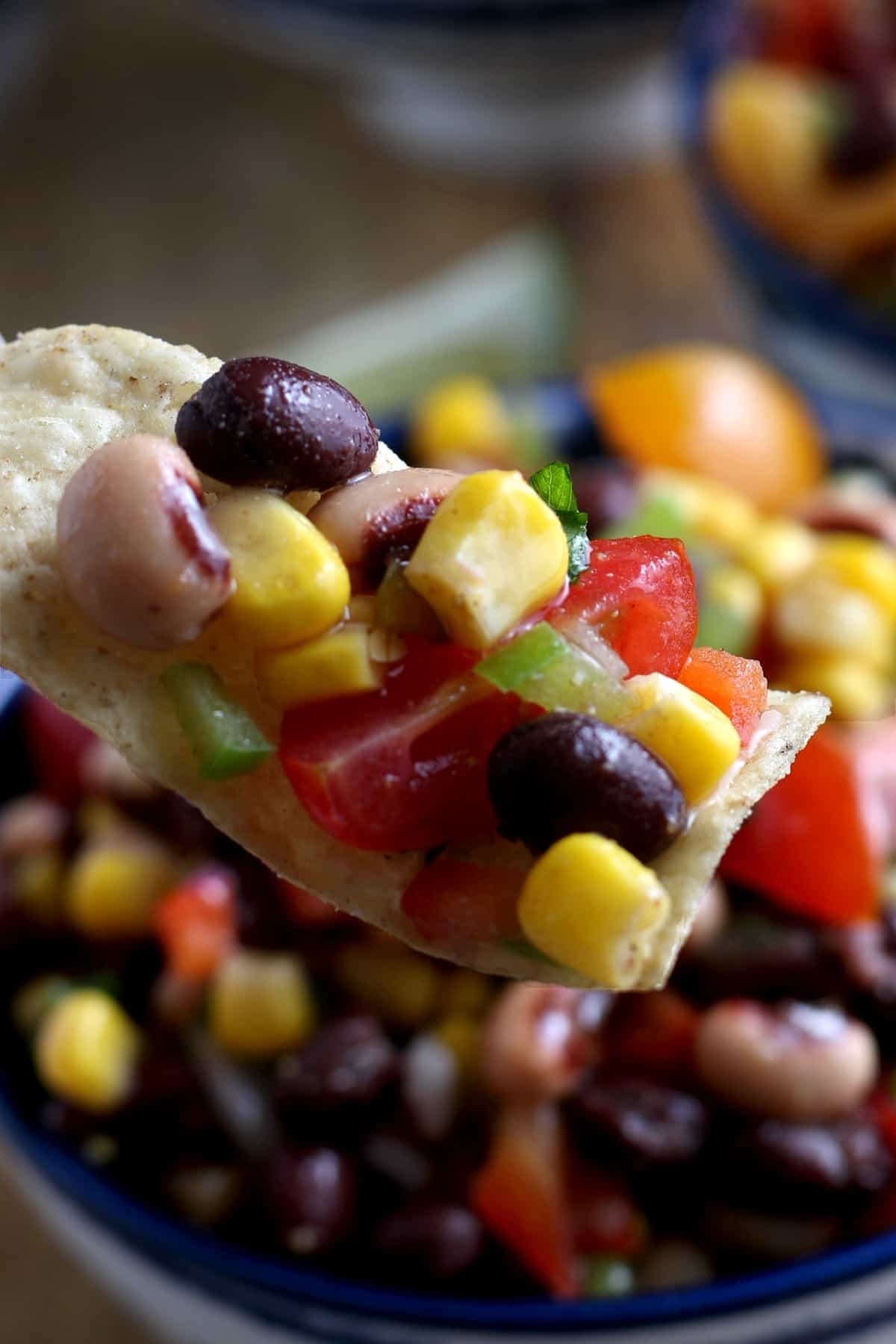 📋 Making the dressing
You can't beat the simplicity and special flavors using lime along with red wine vinegar. Just mix all of the ingredients together in the measurements called for in the recipe card.
Extra virgin olive oil has deep rich flavors that are perfect for an addition to a vinegar dressing.
Red wine vinegar is richer than white vinegar and works well with bean salads.
Lime juice is such a nice alternative to lemon and offers a milder dressing.
Ground cumin gives a little bit of a spicy twist.
Salt and pepper are the perfect seasonings.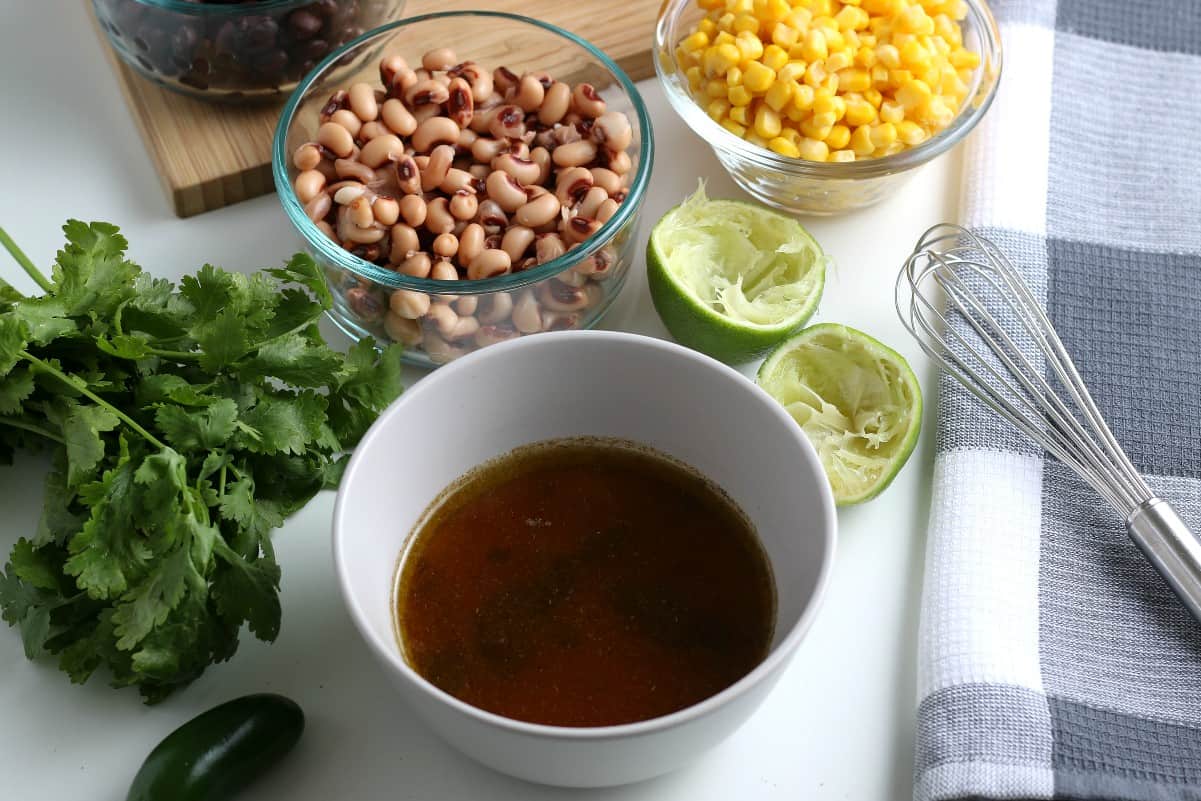 📖 Cowboy caviar dip serving suggestions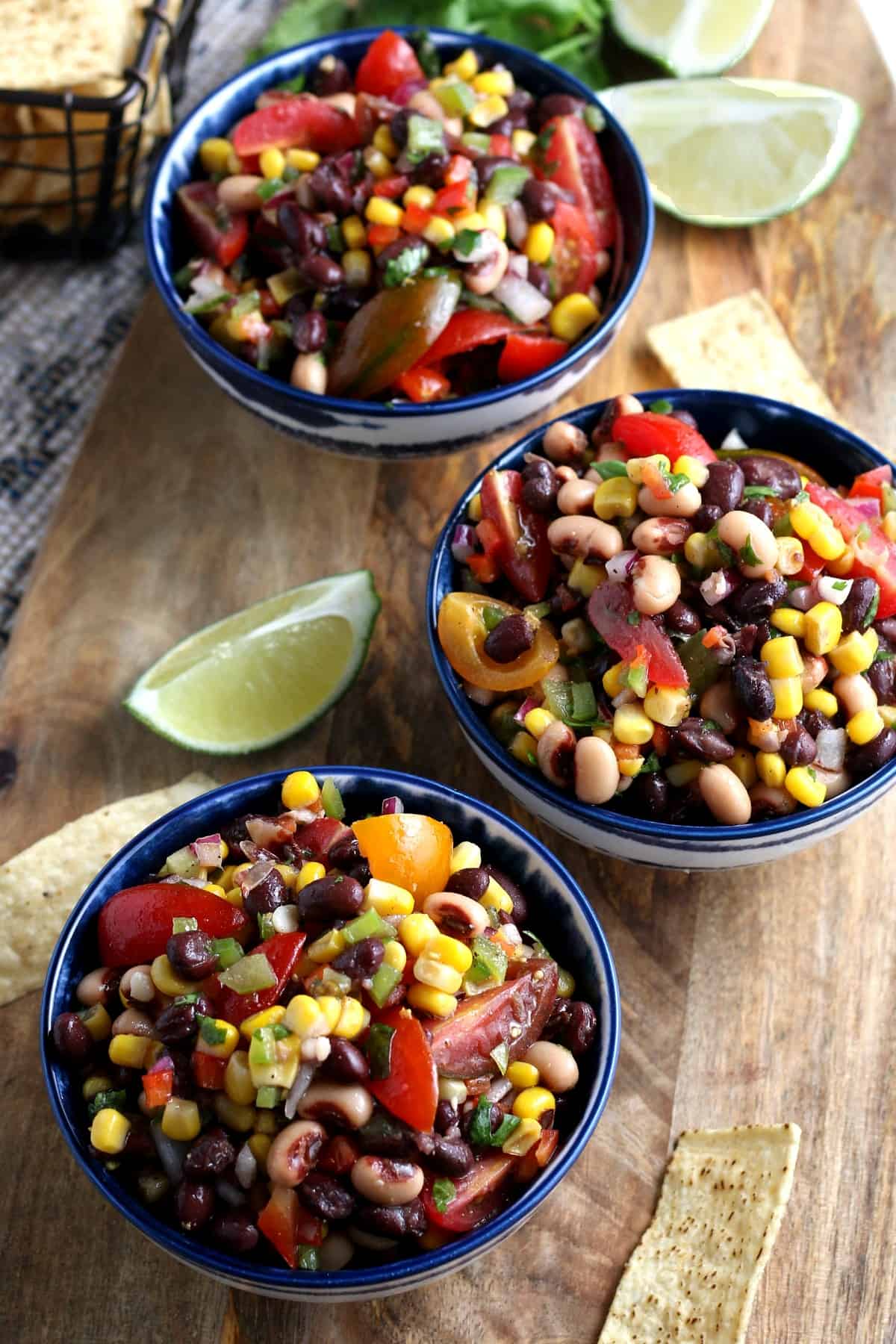 📋 Recipe
Cowboy Caviar Recipe
Cowboy Caviar is also lovingly known as Texas Caviar. It's a zesty and easy recipe that is made with a tangy vinegar dressing
Ingredients
1

pint

cherry tomatoes

- quartered

16

ounces

black beans

- can, drained and rinsed well

16

ounces

black-eyed peas

- can, drained and rinsed well

15

ounces

corn

- can, drained

½

cup

red onions

- diced

½

cup

green bell pepper

- chopped

½

cup

red bell pepper

- chopped

1

jalapeno pepper

- cleaned, seeded and chopped - more or less pepper for preference

½

cup

cilantro

- or parsley, chopped

tortilla chips
Dressing:
⅓

cup

extra virgin olive oil

2

tablespoons

red wine vinegar

2

tablespoons

lime juice

1 ½

teaspoons

ground cumin

1

teaspoon

salt

¼

teaspoon

ground black pepper
Instructions
In a small bowl, whisk together ingredients for the dressing, set aside.Mix well

In a large bowl, add drained beans, black-eyed peas and corn.

Cut vegetables if you have not already done that and add to a large bowl. Mix well.

Pour dressing over mixture and mix until well combined.

Cover with plastic wrap and chill for at least 30 minutes before serving,

Serve with tortilla chips.
Notes
A serving is about 5 ounces.
Nutrition
Serving:
1
Serving
Calories:
196
kcal
Carbohydrates:
28
g
Protein:
8
g
Fat:
7
g
Saturated Fat:
1
g
Sodium:
202
mg
Potassium:
444
mg
Fiber:
7
g
Sugar:
5
g
Vitamin A:
567
IU
Vitamin C:
27
mg
Calcium:
29
mg
Iron:
2
mg