Corn Pone Skillet Cornbread comes from 'the old days' and is a great substitute for bread to go with big pots of beans, stews and soups. This is an updated version.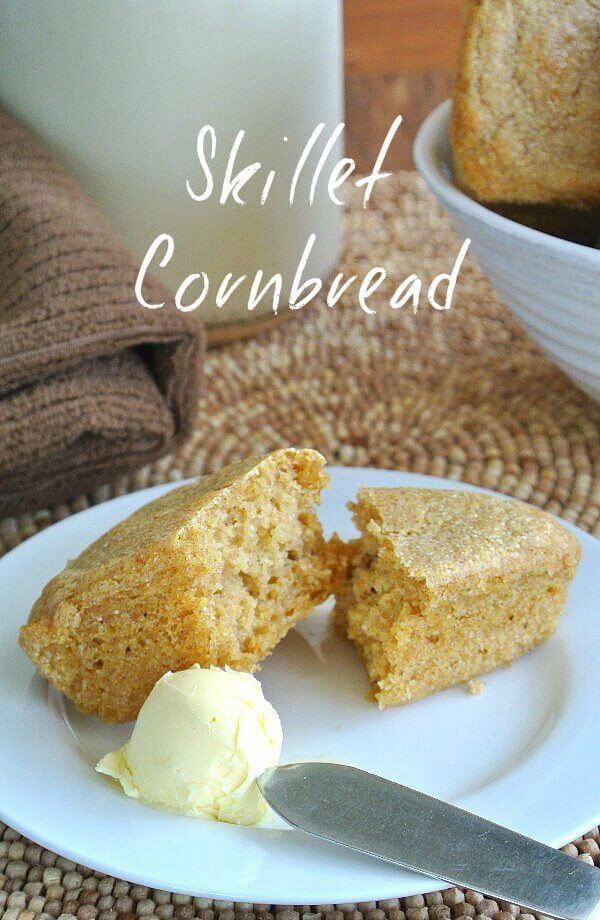 The old meets the new in this updated recipe for Skillet Cornbread.  Baking cornbread in an iron skillet comes from way back when and was made with a few simple and inexpensive ingredients.  It took no time to make and was a great substitute for bread to go with big pots of beans, stews and soups.
I have an antique wedge skillet but you can use any kind of iron skillet that you have. There are also corn pone skillets that have indentations that look like ears of corn.  A round iron skillet works great – you just cut the bread into wedges after it is done baking.  I would say to NOT use an iron skillet that was larger than 8 or 9″ in diameter.
Corn Pone Skillet Cornbread
Ingredients
1

cup

cornmeal

1

cup

whole wheat flour

4

teaspoons

baking powder

1

teaspoon

salt

1-1/2

cup

nondairy milk

4

teaspoons

coconut oil for the skillet
Instructions
Put the oil in the skillet and slide into the oven. There will be quite a bit of oil in the pan but that is part of the cooking process.

Turn the oven on to 375°.

In a large bowl add the cornmeal, whole wheat flour, baking powder and salt. Stir.

Add the nondairy milk and stir until just blended.

Carefully, take the hot skillet out of the oven.

Be careful not to burn yourself in the next step.

Pour and press your batter into the skillet, wedges or corn pone pan.

You will see that oil has pushed up a bit on the sides.

That is good.

Put back in the oven and bake for 20 minutes.

Take out of the oven. You can remove the individual cornbread slices or slice wedges right from the pan while it is still hot. Alternately let it cool until you would like to remove it from the pan. It releases very easily.