Do you love the smell of freshly baked corn muffins? Or maybe you just enjoy snacking on something warm with a delicious flavor. Well, if that's the case, then you're in luck – today, we'll be making the best vegan cornbread! Whether you're accustomed to baking or simply want to try your hand at something new, this easy vegan recipe is simple to follow and even more rewarding once it comes out of the oven. There's no need for eggs, butter, or any other animal products; just a few simple ingredients like cornmeal and plant-based milk are all that stand between us and these deliciously wholesome little snacks. So roll up your sleeves, gather some supplies from the pantry, and let's get started on creating these delectably perfect vegan cornbread muffins!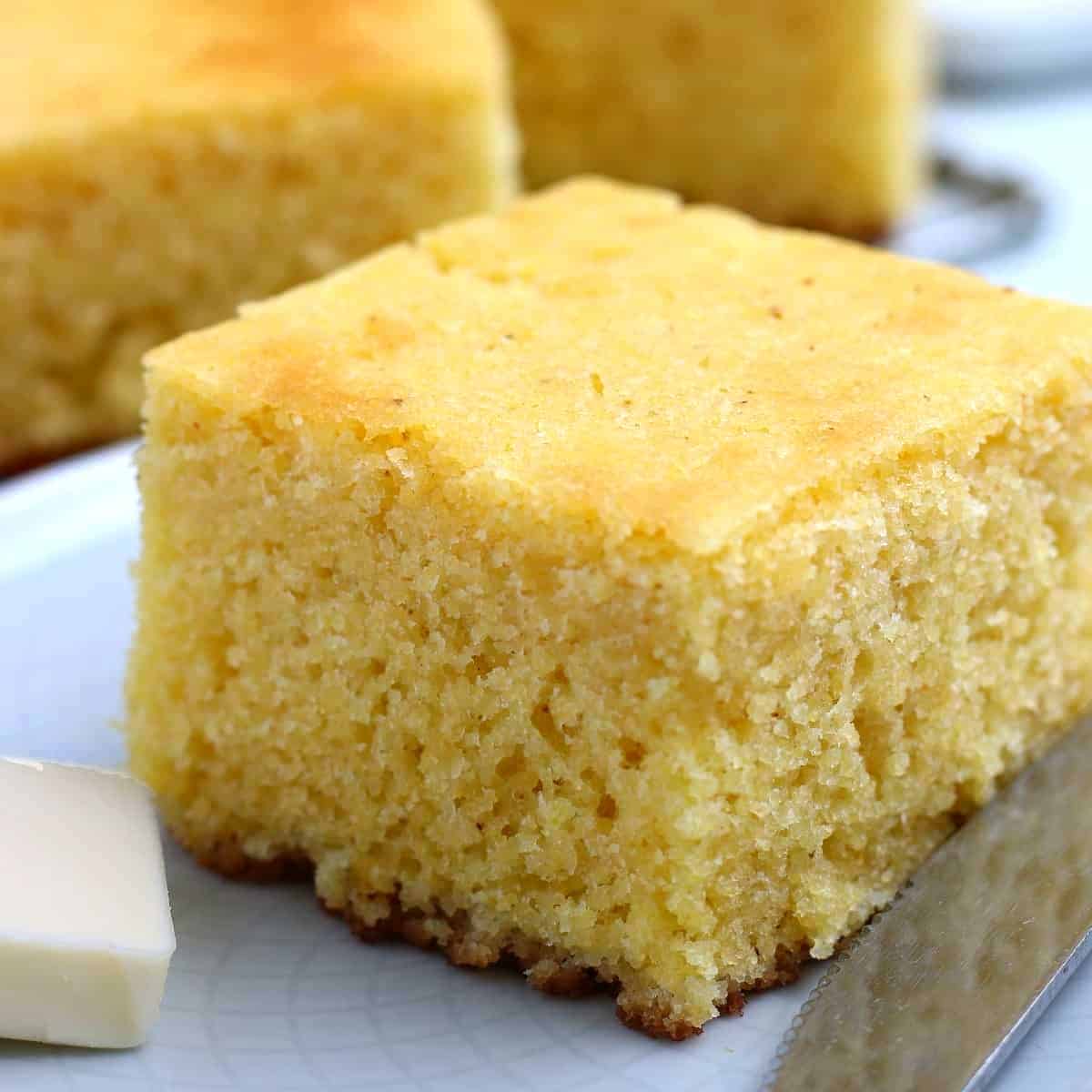 Why You'll Love This Vegan Cornbread Muffin Recipe
Perfect For Any Occasion- Whether it's a potluck, Sunday brunch, or just an afternoon snack, these cornbread muffins are sure to be a hit. Enjoy them warm with some vegan butter or jam for an extra special treat.
Easy To Make- You don't need any special ingredients or equipment to make this recipe. Just whip up the batter, pop them in the oven, and you're done!
Deliciously Moist- Each vegan cornbread muffin is incredibly moist, thanks to the combination of vegan butter and almond milk. Plus, the addition of a bit of sugar makes them perfectly sweet.
Healthy, Too- Thanks to their plant-based ingredients, these vegan cornbread muffins are healthier than traditional recipes. With all-purpose flour and no eggs or butter, you can feel good about serving them to the whole family.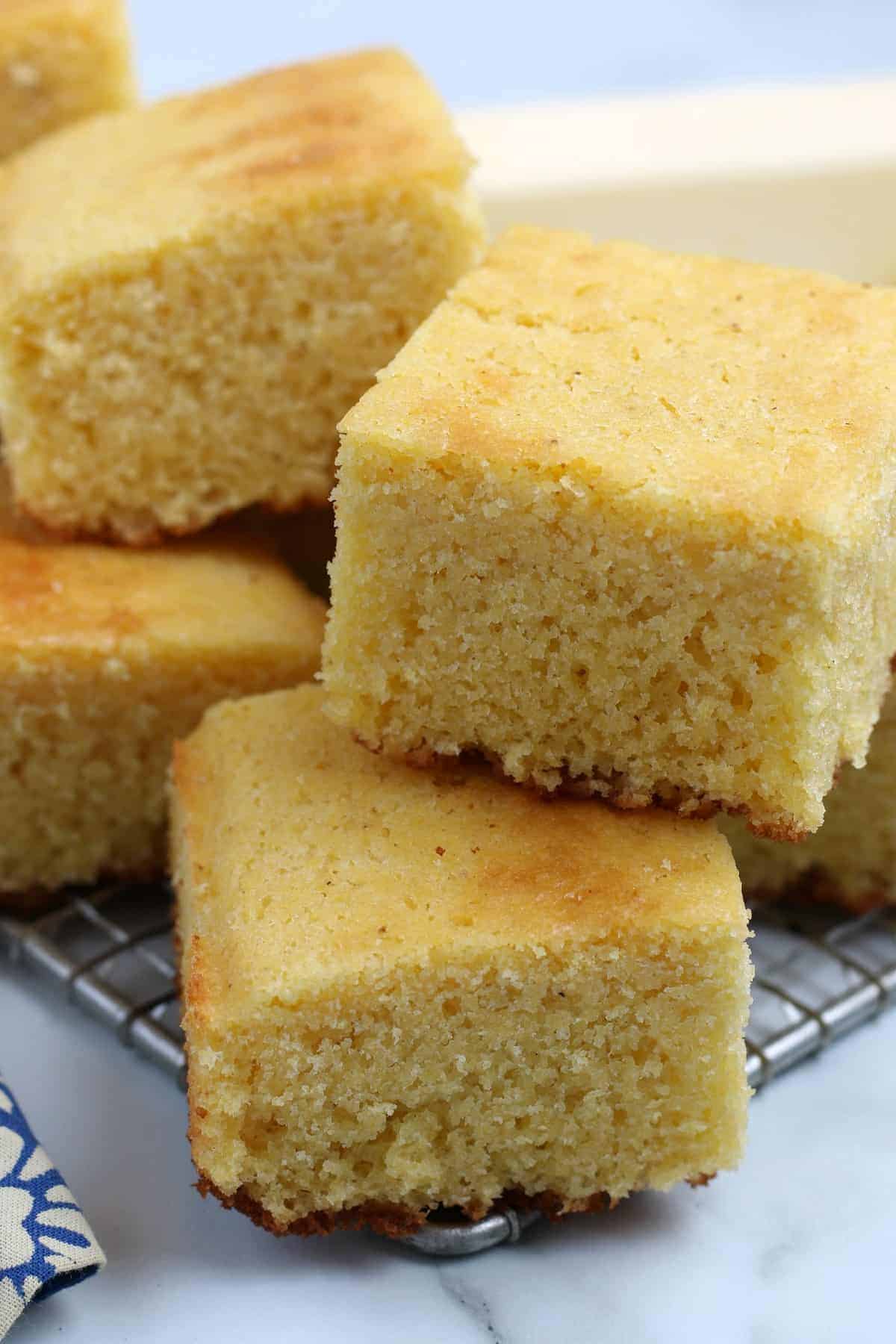 What Is A Cornbread Muffin?
Cornbread muffins are small, moist cakes made with cornmeal and other ingredients like sugar, oil or butter, and sometimes even vegetables. They're a traditional American snack that has been around for centuries, but vegan recipes have become increasingly popular in recent years. Our vegan version uses vegan butter and plant-based milk to make it completely animal product-free!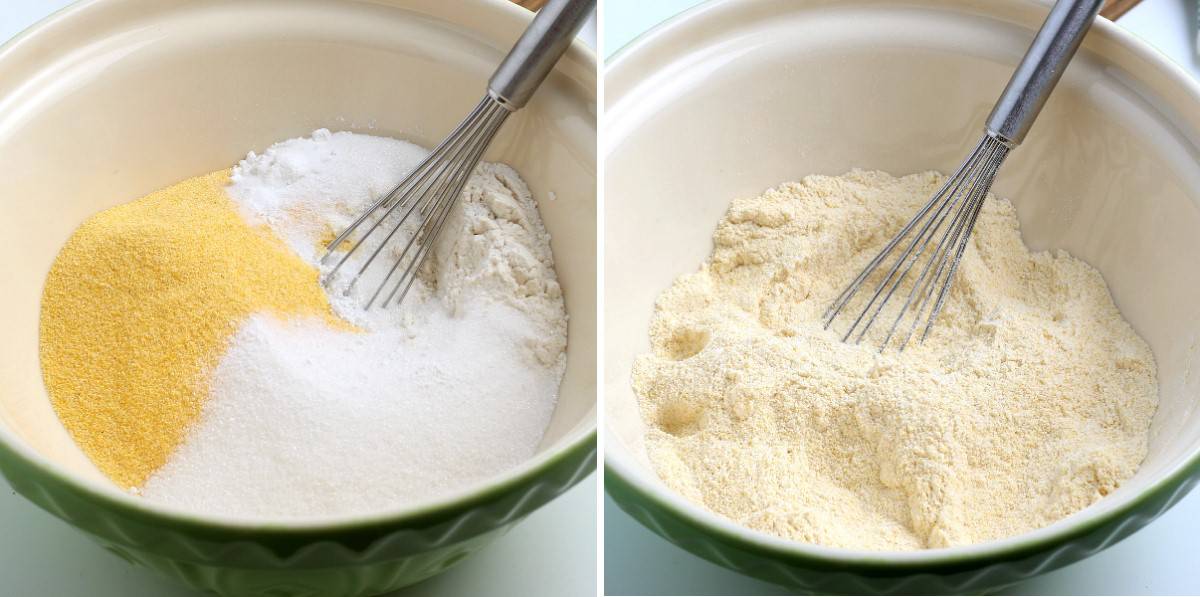 Equipment Needed
Muffin Tin or Muffin Pan
Medium Bowl
Small Bowl
Stirring Spoon
Measuring Cups and Spoons
Ingredients
Oil- Olive oil, canola oil, or vegetable oil is used for oiling the muffin tins.
All-Purpose Unbleached Flour- Mixing all-purpose flour with cornmeal gives these muffins a good tender base while still allowing the natural sweetness of the corn to dominate the flavor.
Whole Wheat Pastry Flour- A more finely ground flour compared to traditional whole wheat flour. Not only does it provide a great-tasting corn muffin, but it also adds a light and crumbly texture.
Canned Corn- The corn kernels add texture, extra flavor, and sweetness.
Cornmeal- Gives the muffins a nice corn flavor and texture.
Sugar- Sweetens the muffins.
Baking Powder- Makes the muffins rise.
Salt- Adds flavor and helps bring out the sweetness of the other ingredients.
Vegan Butter- Gives the muffins a rich, buttery flavor and moist texture.
Almond Milk- Helps to bind the dry ingredients and adds moisture to the muffins.
Egg Replacer- Also used as a binding agent.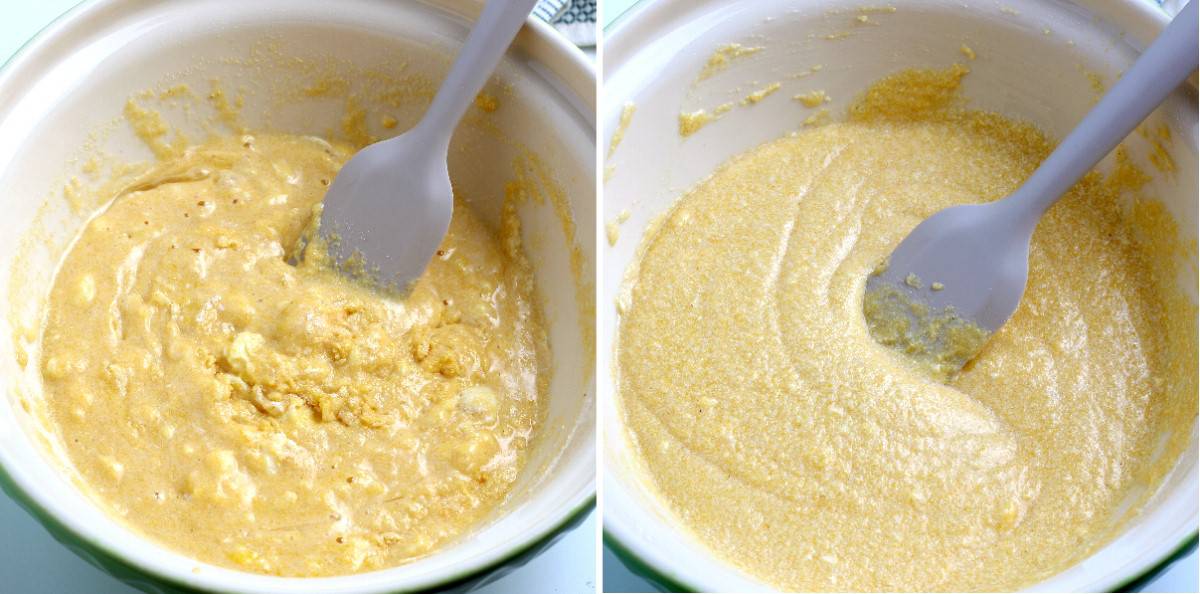 How To Make Savory Vegan Cornbread Muffins
Preheat the oven to 425 degrees F and lightly grease a muffin tin with oil. In a medium bowl, combine both types of flour, cornmeal, sugar, baking powder, and salt. Prepare the egg replacer in a small bowl according to the package directions and set aside to thicken. To the dry ingredients, add the dairy-free milk, vegan butter, and prepared egg replacer, then mix until just combined. Lastly, gently fold in the canned corn.
Spoon the cornbread batter into prepared muffin tins and fill each one about ¾ of the way full. Bake in preheated oven for 25-30 minutes or until golden brown on top. Serve warm with vegan butter, and enjoy!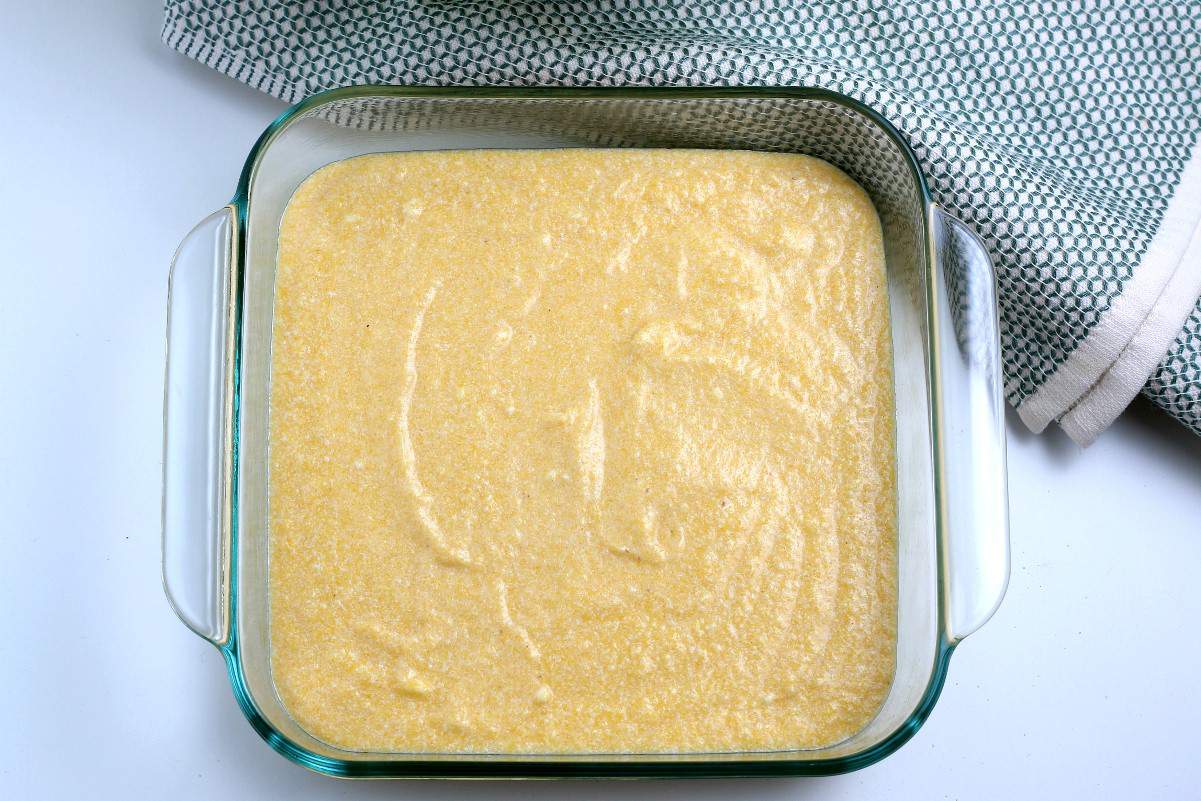 What to Serve With Vegan Corn Muffins
These vegan cornbread muffins are delicious on their own as a quick grab-and-go snack and a savory addition to brunch, but if you're looking to take your meal up a notch, then try serving them with some of these tasty pairings:
Chili- Nothing beats a warm bowl of chili and some freshly baked cornbread muffins.
Soup- Try dipping the muffins in your favorite veggie-filled soup, like vegan minestrone or split pea soup.
Salad- For a light lunch, serve the muffins with a side of your favorite salad.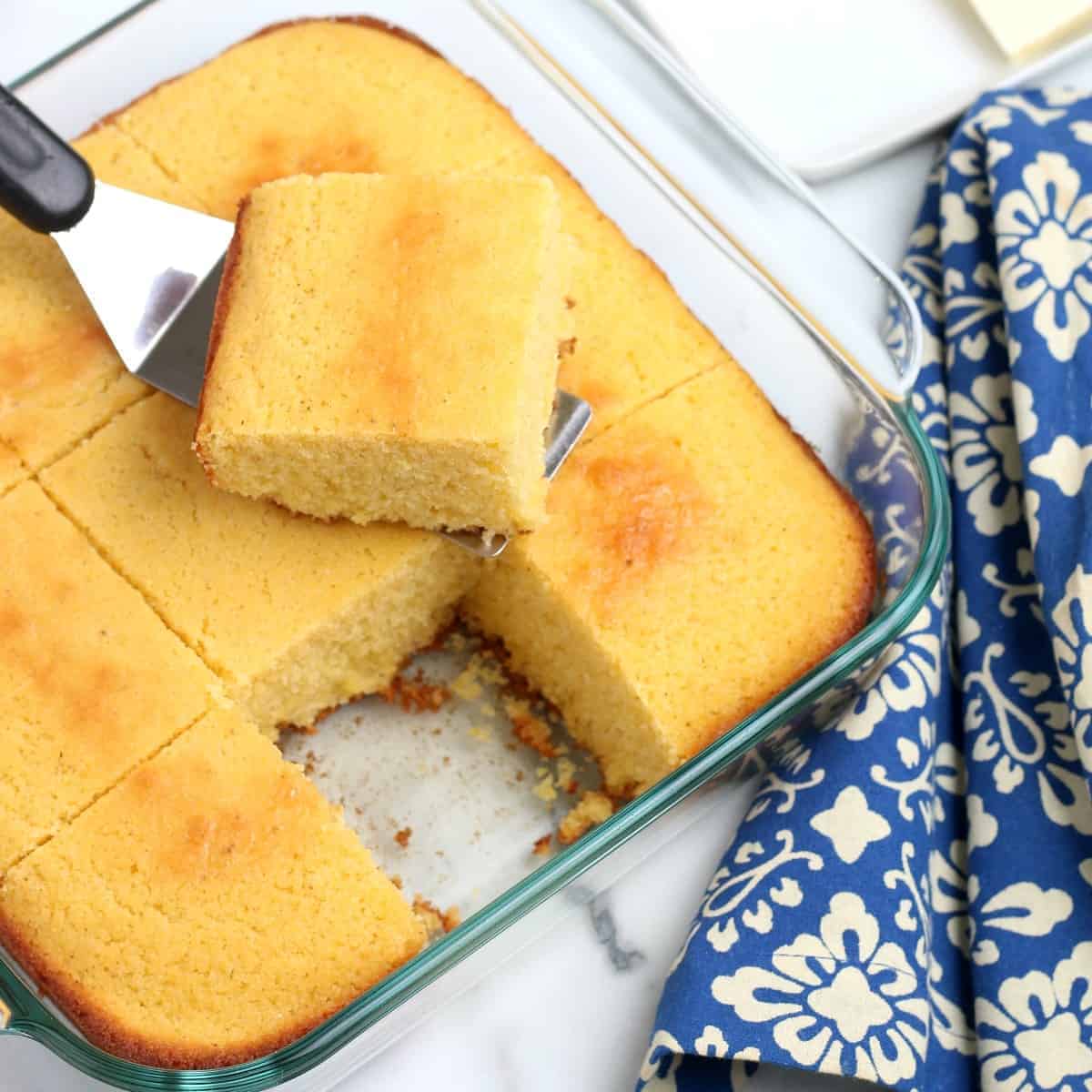 Popular Substitutions & Additions
If you don't have all the ingredients listed, there are a few easy substitutions and additions you can make to still get delicious vegan cornbread muffins.
Flour- You can use any type of flour that you like in this recipe. Whole wheat flour or oat flour are both great options and will give the muffins a slightly different flavor and texture. Just make sure to adjust the amount of liquid accordingly —you may need more or less depending on the type you choose. Gluten-free flour can also be used for a gluten-free version.
Non-Dairy Milk- Any type of dairy-free milk, such as oat milk, soy milk, or cashew milk, will work just as well to make this cornbread muffin recipe.
Vegetables- Add some finely chopped vegetables like bell peppers, onions, or zucchini to the batter for even more flavor.
Sweetener- To take your muffins up a notch, add in some agave nectar or maple syrup. Maple syrup adds a sweet and nutty flavor.
Vegan Cheese- Try adding some vegan cheese shreds to the batter to make this recipe even more rich and savory.
No matter what you choose to add, you can be sure that these vegan cornbread muffins will be the star of your next gathering.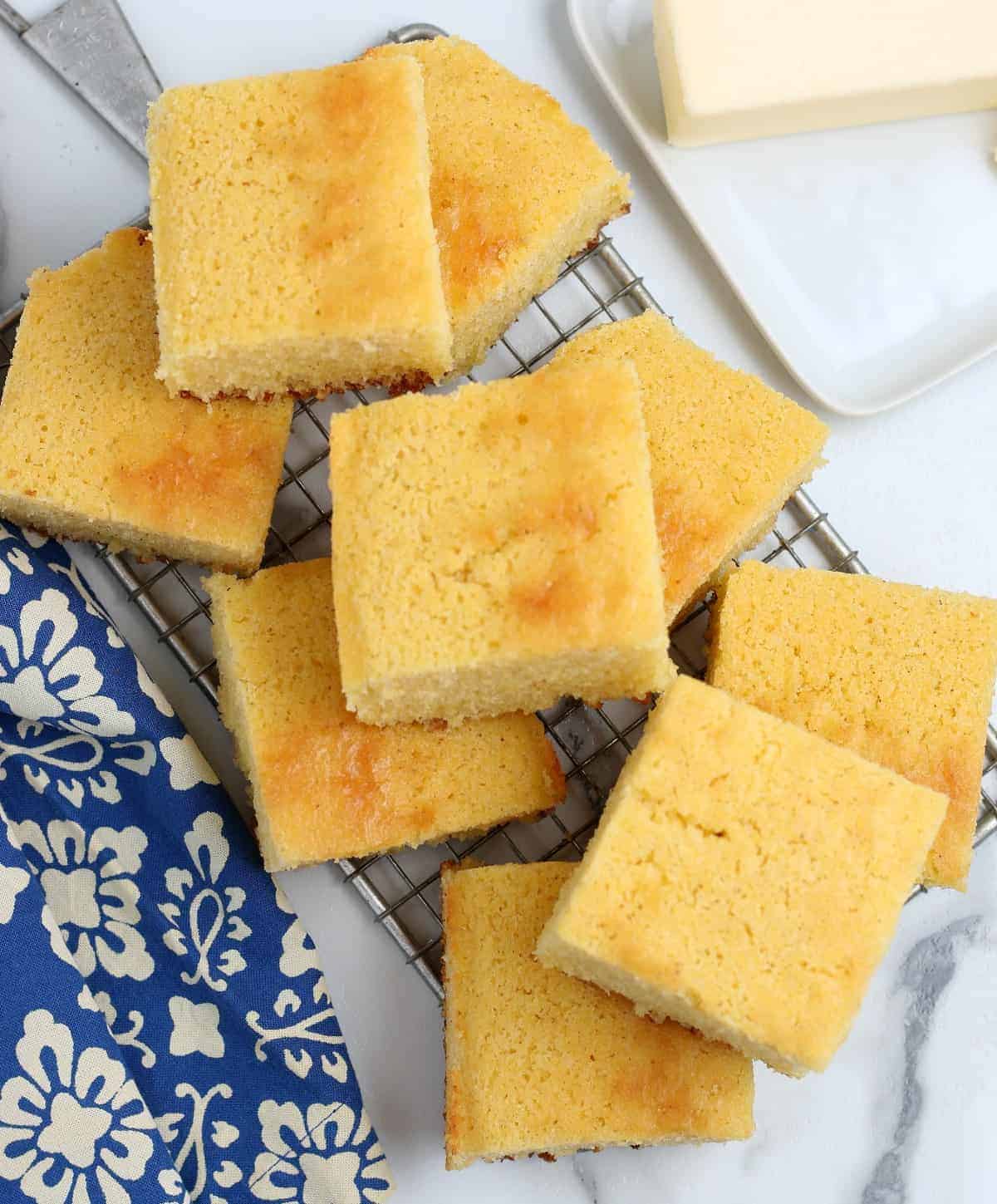 Can You Freeze Cornbread Muffins?
Yes, you can freeze these vegan cornbread muffins! Simply place the cooled muffins in a freezer-safe bag or container and store them in the freezer for up to 3 months. When you're ready to eat, simply thaw the muffins at room temperature or microwave them for 30 seconds to 1 minute before serving. You won't be able to tell the difference between freshly-made and frozen cornbread muffins!
If you have leftover muffins, but don't want to freeze them, simply store them in an airtight container in the refrigerator for up to 5 days.
Vegan Cornbread Corn Muffin FAQs
Can I make this corn muffin recipe gluten-free?
Yes, you can make these vegan cornbread muffins gluten-free! Simply swap out the flours that the recipe calls for to a 1-to-1 baking blend like Bob's Red Mill Gluten Free Baking Flour. You'll still get delicious corn muffins without the gluten.
Is there something I can use instead of an egg replacer?
Yes, you can use a flax egg, apple sauce, or mashed banana in place of the egg replacer. For one flax egg, mix 1 tablespoon of ground flaxseed meal (or finely ground chia seeds) with 3 tablespoons of water and let sit for 10 minutes before mixing into the batter. If substituting apple sauce, use ¼ cup of unsweetened applesauce in place of the egg replacer. For mashed bananas, use ½ a ripe banana instead of the egg replacer.
What type of corn should I use in this cornbread recipe?
For this recipe, you'll want to use canned cream-style corn. This type of corn is sweeter and creamier than regular whole-kernel corn and gives the muffins a nice texture. You can also use fresh or frozen corn if desired. Just make sure it's cooked and drained well before adding it to the batter.
Are cornmeal and corn flour the same thing?
No, cornmeal and corn flour are not the same things. Cornmeal is a coarsely ground grain made from dried field corn, while corn flour is a finely ground powder made from soft corn varieties. Both can be used to make vegan cornbread muffins, but they will have slightly different textures. For this recipe, we recommend using fine-ground cornmeal for the best results.
📋 Recipe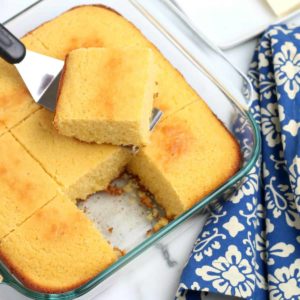 Easy Vegan Cornbread Muffin Recipe
A savory treat made with simple, plant-based ingredients. The result is a moist, fluffy, and slightly sweet corn muffin that pairs perfectly with chili or soup.
Ingredients
2

tablespoons

flaxseed meal

- mixed with 6 tablespoons water

1

cup

Cornmeal

1

cup

All-purpose flour

⅔

cup

Organic granulated sugar

1

tablespoon

Baking powder

½

teaspoon

Salt

1

cup

Dairy-free milk

½

cup

Dairy-free butter

- softened
Instructions
Mix the flaxseed meal and water together and set aside.

Spray a square 8x8 baking pan with cooking spray or lightly grease it with butter.

Turn the oven on to 400° F.

In a large bowl, mix together the cornmeal, flour, sugar, baking powder, and salt.

Add the dairy-free milk, prepared flaxseed meal, and dairy-free butter. Beat until smooth.

Pour into the prepared pan.

Bake for 20-30 or until a toothpick inserted in the center comes out clean
Nutrition
Serving:
1
Serving
Calories:
270
kcal
Carbohydrates:
39
g
Protein:
3
g
Fat:
11
g
Saturated Fat:
2
g
Sodium:
209
mg
Potassium:
219
mg
Fiber:
2
g
Sugar:
15
g
Calcium:
64
mg
Iron:
1
mg