This Easy Vegan Cornbread Recipe is a classic and a great substitute for bread to go with big pots of beans, stews, and soups. A healthy updated version.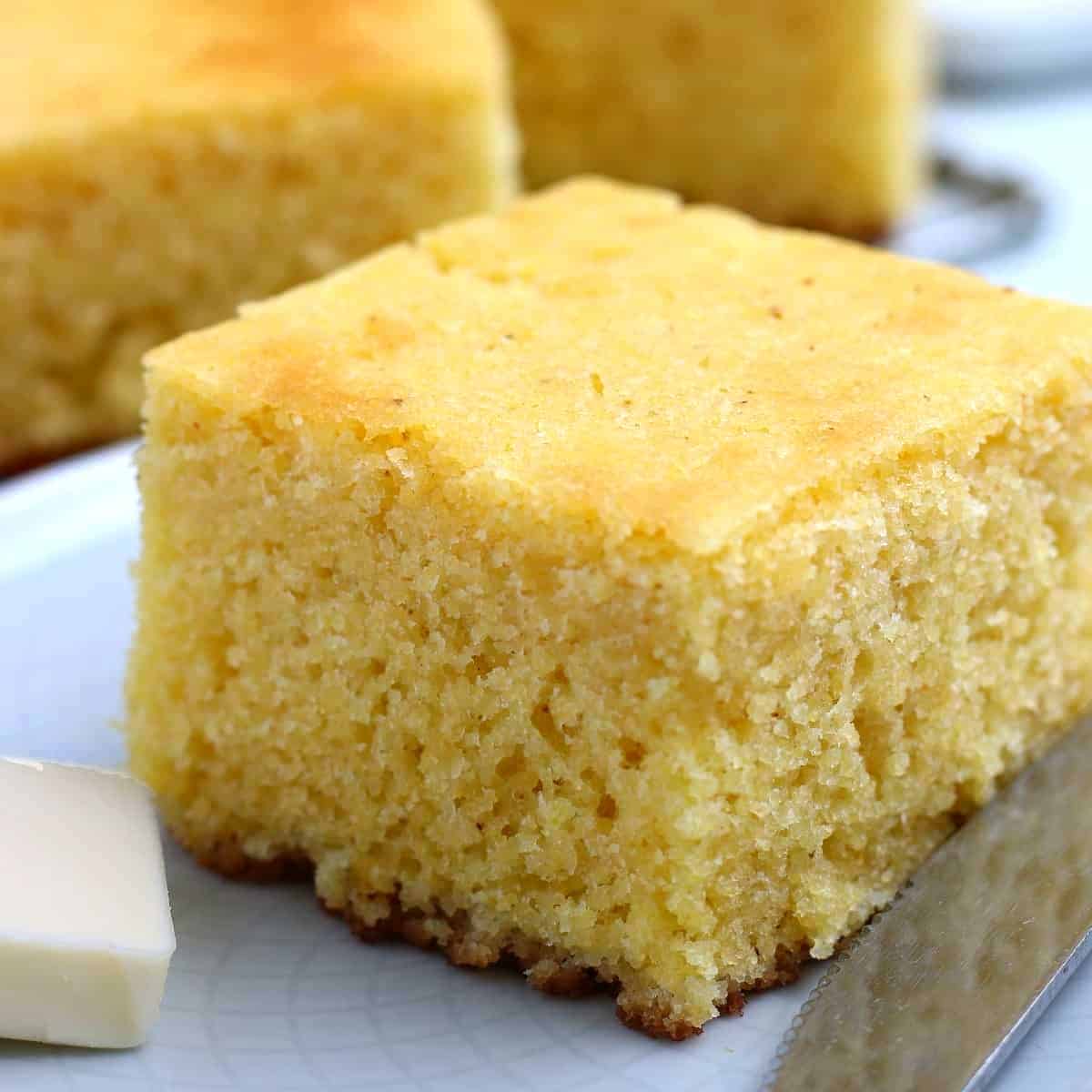 The old meets the new in this updated vegan for classic Cornbread.
Cornbread has been showing up on dinner tables for a very long time. It was made by Native Americans and throughout Mexico for eons.
Even to this day, it's made with a few simple and inexpensive ingredients. I mean you can fancy it up but the basics are very straightforward.
It's been made over open fires, in iron skillets and corn pone pans, square pans, loaf pans, and even muffin tins. In fact, I have four different cornbread recipes on the blog and they are all very different. One is even a sweet one.
As always with cornbread, this recipe takes no time to make and it's a great substitute for bread. Vegan cornbread goes with big pots of beans, stews, soups, tofu scramble, many Mexican recipes such as enchiladas and so much more.
Jump to:
Cornmeal and flour are added in this vegan cornbread recipe and that makes a much smoother bread. Check out the ingredients.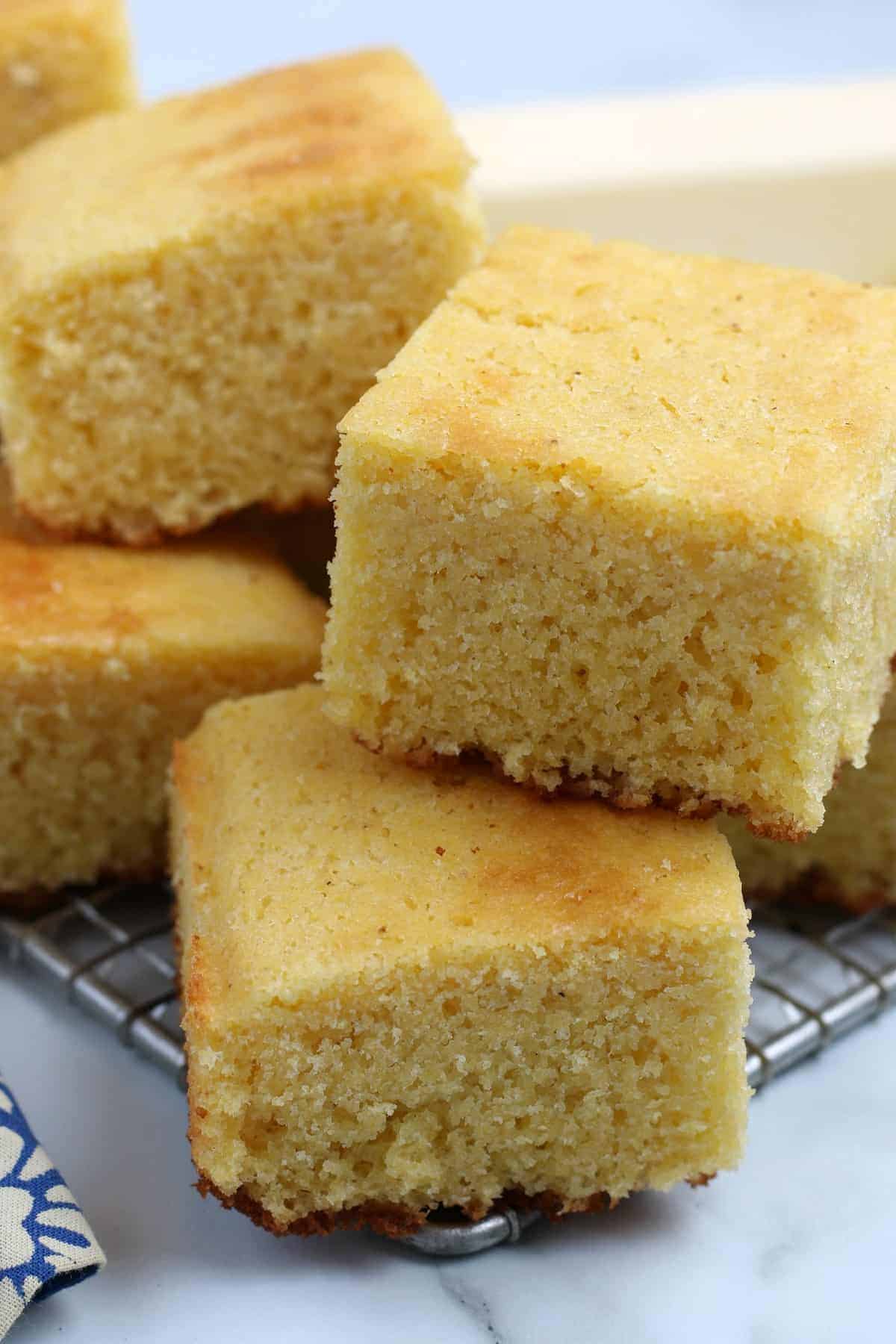 Ingredients
Cornmeal is what cornbread is all about and makes a hearty bread.
Whole wheat flour adds fiber and nutrients to the main base of this cornbread.
Organic granulated sugar adds a classic mild sweetness.
Baking powder helps the bread rise.
Salt a little bit goes a long way for this seasoning.
Dairy-free milk adds flavor and necessary liquid.
Flaxseed meal is used to help keep the bread moist and tender.
Dairy-free butter also helps the bread stay tasty.
Instructions
It needs high heat to bake so heat the oven to 400° F.
Mix the flaxseed meal and water together and set aside.
Lightly spray a square 8x8 baking dish with cooking spray or you can rub some dairy-free butter around the bottom and sides of the baking dish.
In a large bowl, mix or whisk together cornmeal, flour, sugar, baking powder, and salt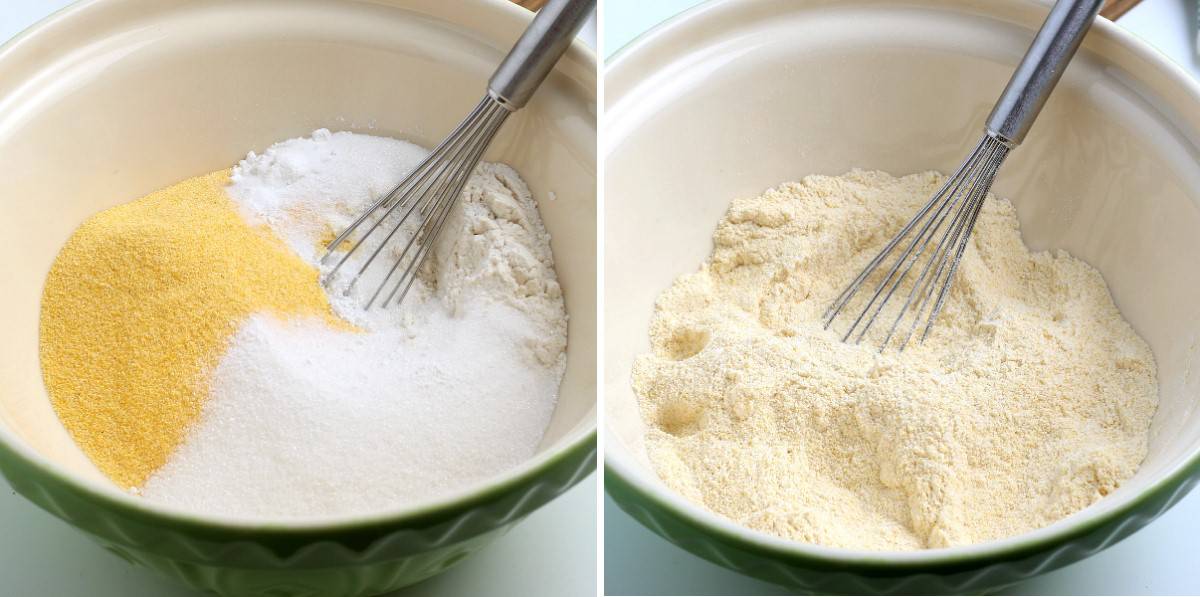 Add the dairy-free milk, prepared flaxseed meal eggs and dairy-free butter,
Beat until smooth. By hand or with a mixer/hand mixer.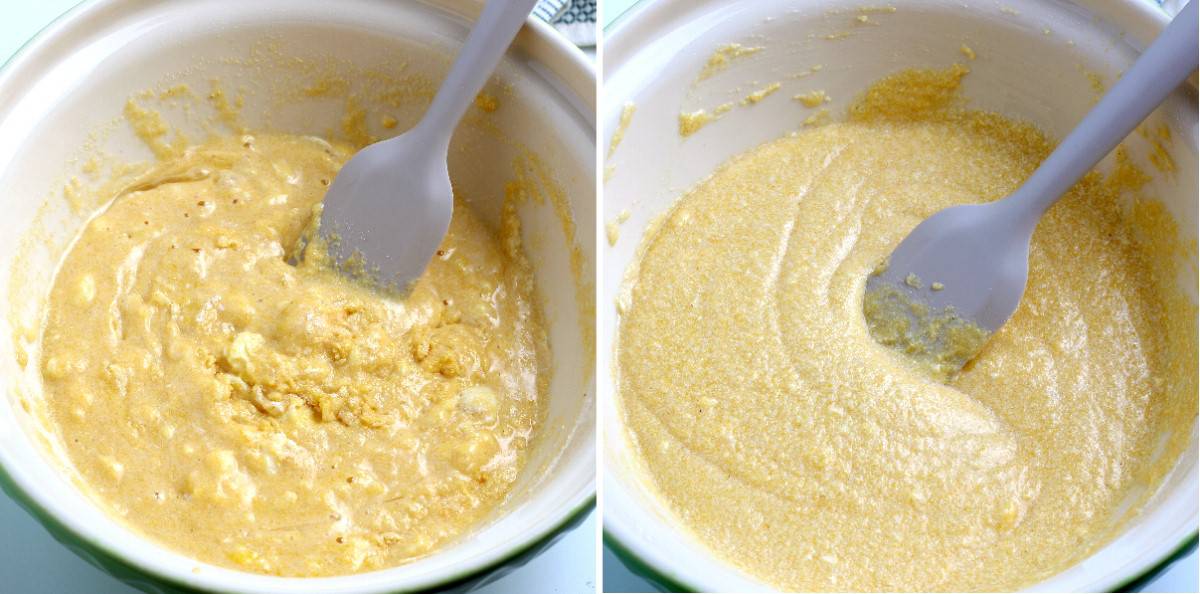 Pour into the prepared dish.
Bake for 20-30 or until toothpick inserted in the center comes out clean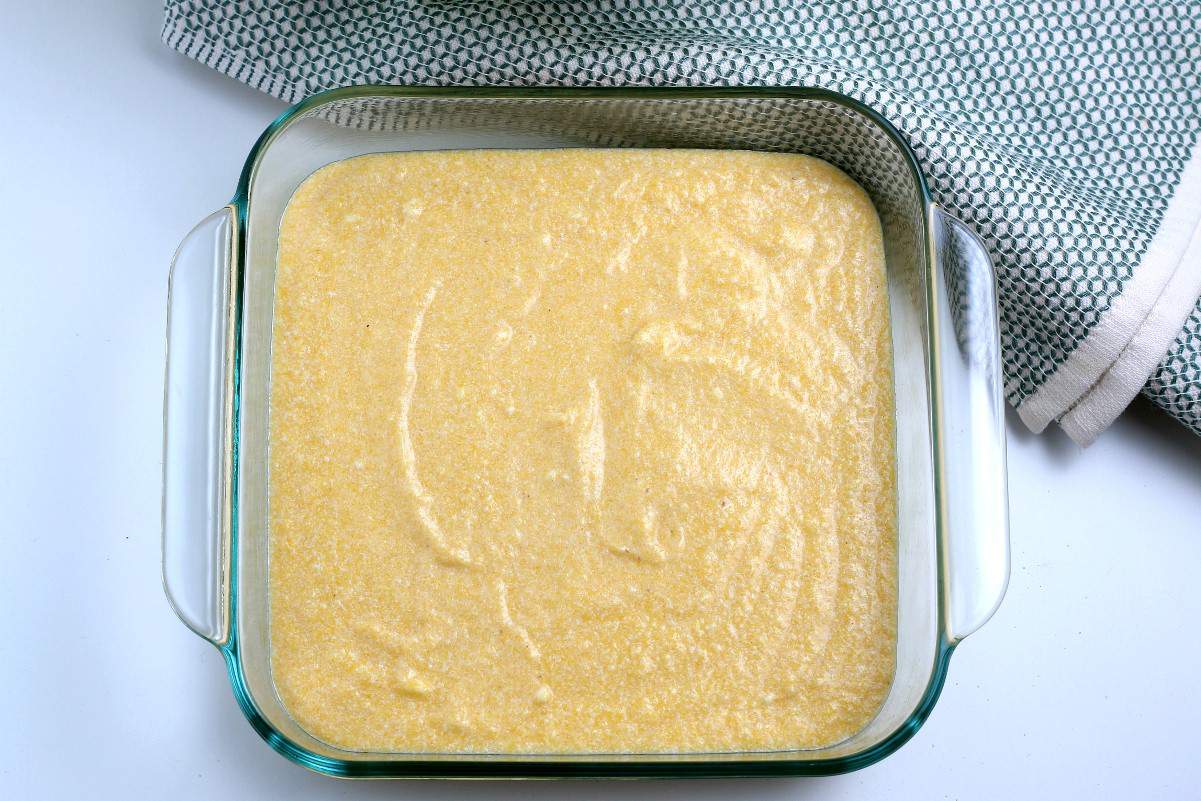 Storing and freezing cornbread
Store the bread in a large ziploc refrigerator bag. You can leave it whole, cut it in half or have it cut into squares.
TO FREEZE:
You can freeze skillet cornbread very easily. I double bag everything so pack it in a freezer bag and then slip it into another freezer bag.
The cornbread defrosts quickly so it really doesn't take any planning. Just take out of the freezer and put it in the refrigerator the night before.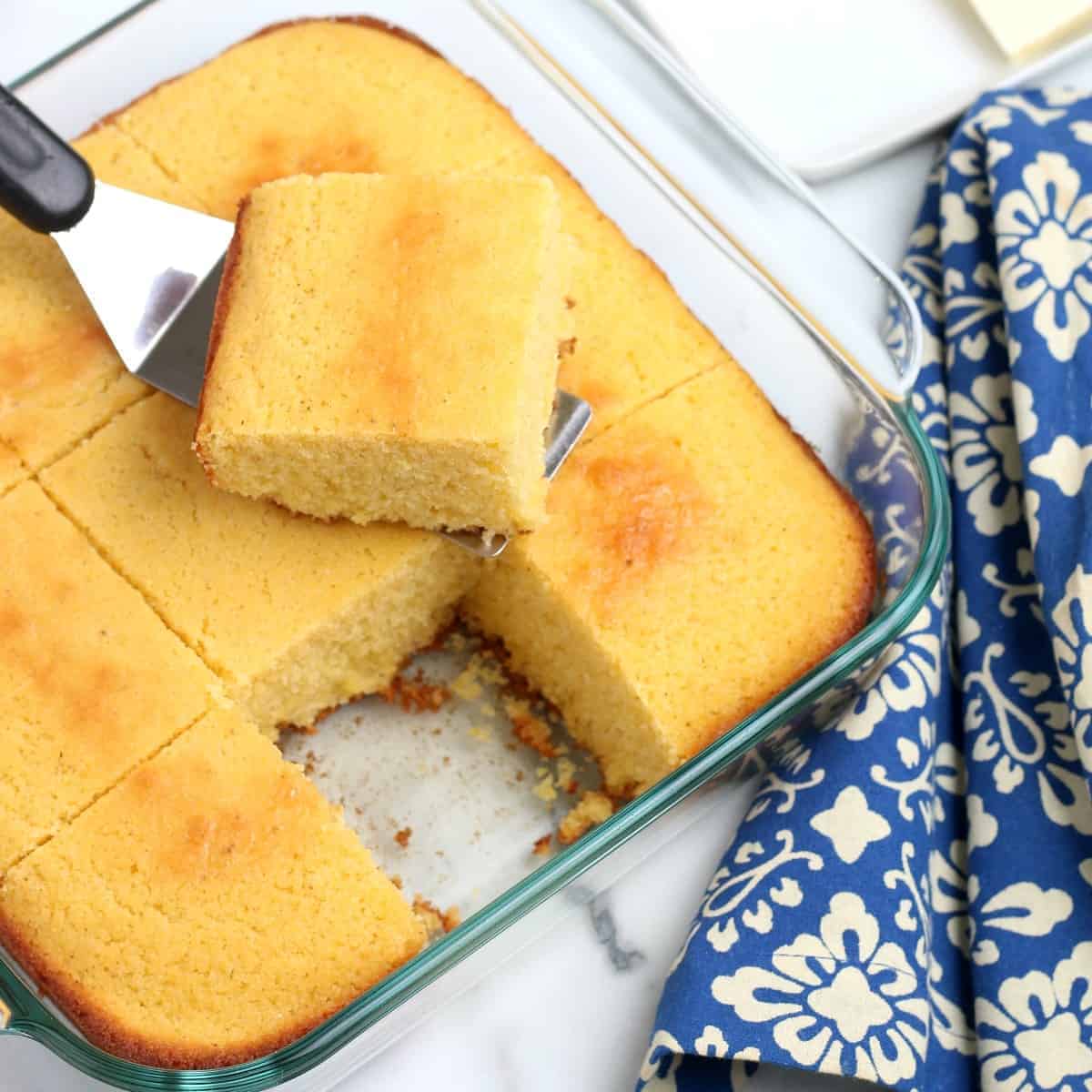 FAQ's
Can this recipe be made in an iron skillet?
Yes! Put an oiled iron skillet in a 375° oven to get hot. Then take it out and pour in the batter. Return the pan to the oven and bake 20 minutes. There you have it - Skillet cornbread!
Can I use a baking pan instead of a glass baking dish?
Yes, you can but you may need to bake as much as 10 minutes longer. Check it at 20 minutes, 25 minutes and 30 minutes. When a toothpick comes out clean the cornbread is ready.
What egg substitutes can be used?
This recipe gives instructions for flaxseed meal but you can switch out with the same measurements with ground chia seed. You can also use any of your favorite egg substitutes but not applesauce or banana.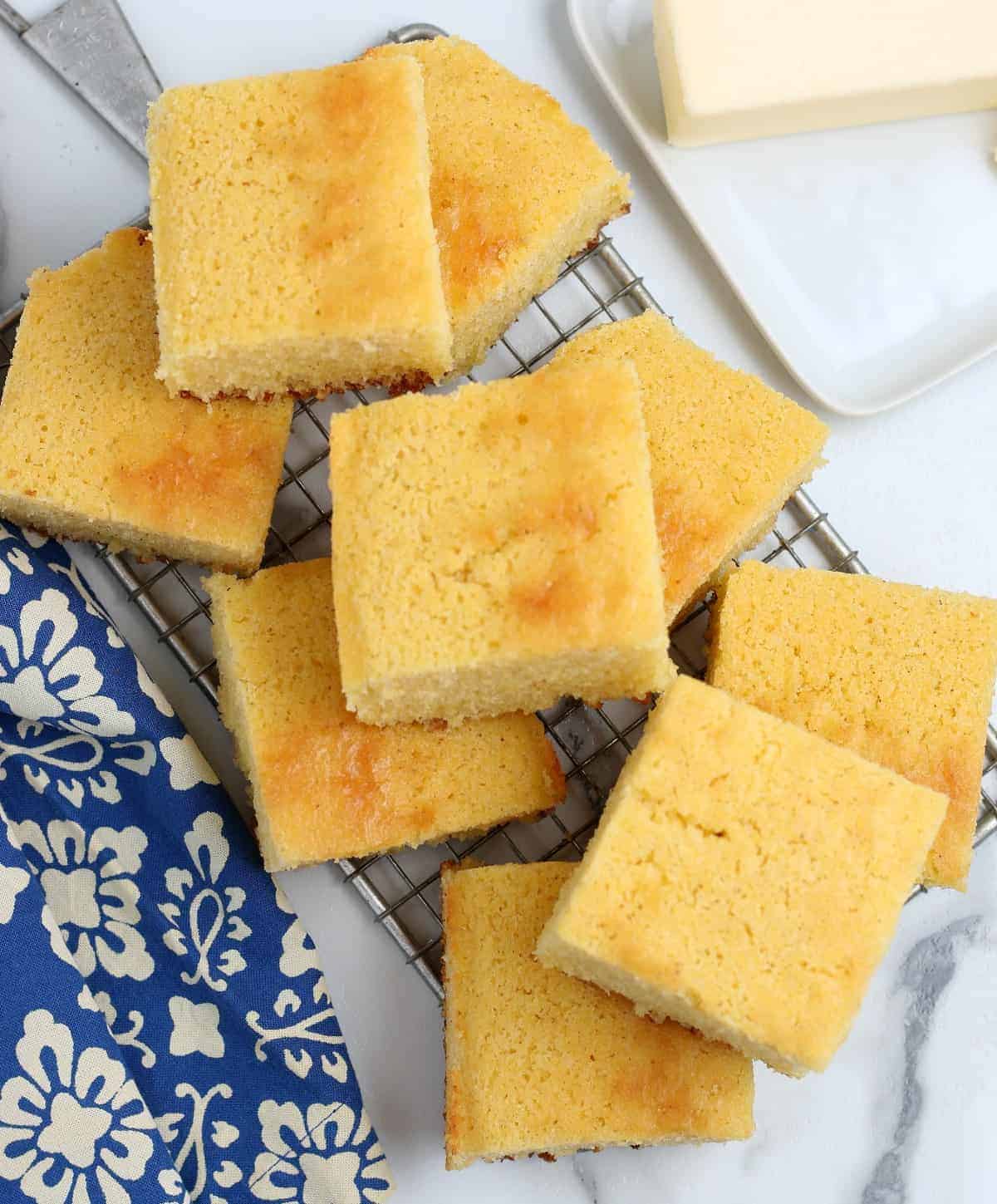 Can I make corn muffins with this cornbread recipe? Yep! To make corn muffins, simply grease 12 muffin cups or line with liners and divide the batter equally. Bake the corn muffins for the same amount of time.
Cornbread Muffins out of this recipe
It is so simple. Just grease a 12 muffin cup tin and divide the batter equally between the cups. bake at 20 minutes and that's it.
Cornbread varieties
You know how I mentioned that I have more cornbread recipes on the blog? Well, Green Chili Cornbread is very tasty and also goes with a lot of different types of meals.
Cornbread Corn Muffins have fresh corn kernels inside and makes a delicious muffin.
Now for that Sweet Cornbread Recipe that is very much like a quick bread. Just add dates and pecans to the batter.
If you take a photo of your southern style skillet cornbread I would love to see it. Follow me over on Instagram and tag me on your photo @vegan_in_the_freezer.
📋 Recipe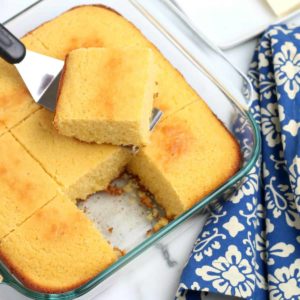 Vegan Cornbread Recipe
This Easy Vegan Cornbread Recipe is a classic. It's a great substitute for bread to go with big pots of beans, stews, soups, and more.
Ingredients
2

tablespoons

flaxseed meal

- mixed with 6 tablespoons water

1

cup

Cornmeal

1

cup

All-purpose flour

⅔

cup

Organic granulated sugar

1

tablespoon

Baking powder

½

teaspoon

Salt

1

cup

Dairy-free milk

½

cup

Dairy-free butter

- softened
Instructions
Mix the flaxseed meal and water together and set aside.

Spray a square 8x8 baking pan with cooking spray or lightly grease it with butter.

Turn the oven on to 400° F.

In a large bowl, mix together the cornmeal, flour, sugar, baking powder, and salt.

Add the dairy-free milk, prepared flaxseed meal, and dairy-free butter. Beat until smooth.

Pour into the prepared pan.

Bake for 20-30 or until a toothpick inserted in the center comes out clean
Nutrition
Serving:
1
Serving
Calories:
270
kcal
Carbohydrates:
39
g
Protein:
3
g
Fat:
11
g
Saturated Fat:
2
g
Sodium:
209
mg
Potassium:
219
mg
Fiber:
2
g
Sugar:
15
g
Calcium:
64
mg
Iron:
1
mg