Corn and Black Bean Salsa Tacos are a fresh twist for taco night. There are lots of spices added to traditional salsa - then amped up with veggies. Serve it hot or cold.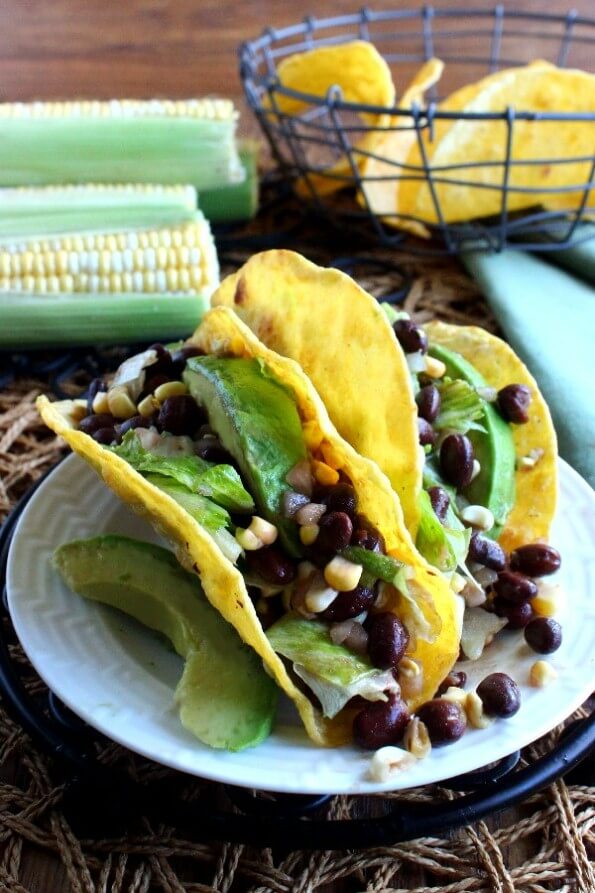 Are you wondering where in the heck I got his idea from? First of all you can't beat a good salsa and second of all you can't have too many taco recipes.
Truth be told this recipe started as black bean salsa. Then I realized it should really be a corn and black bean salsa. Then I thought it should have some heat so ... enter chipotle chili in adobo sauce.
Man! Is this salsa good!
So I got out some tortilla chips to do some scooping and my mind wanders some more and I say to myself 'Tacos!'
So you really do start with the corn and black bean salsa recipe. It can even be frozen after letting marinate for about an hour. This makes it perfect for a make-ahead party or meal.
The flavors for this corn and black bean salsa are a cross between tangy, sweet and spicy. It is so hard to explain. If you're an avocado lover like me then load those up too!
If you shred you lettuce or even add shredded coleslaw it would be delicious to pile on too. It's a great contrast.
Black Beans are Protein Packed
Unbelievably, a cup of black beans is 15g of protein. I repeat, 15 grams.
Not only that, beans have lots of fiber.
There are Omega 3 and Omega 6 fatty acids.
NO cholesterol or sugar.
11 minerals including around 30% of your daily minimum requirements of magnesium.
7 vitamins and even more. Black Beans are good!
What are some Tomato Salsa Recipes to Have on Hand?
There is a Chunky Tomato Salsa that can be used on just about everything. From a dip to toppings on fajitas, tacos, burritos and so much more. It can also be frozen.
Slow Cooker Salsa is such a simple way to get a ultra flavorful salsa. It doesn't take long, is unique and is also very versatile.
Tomato salsa is not needed on this black bean salsa recipe because the flavor is already built in. These recipes are just to add to your repertoire.
My Mexican style recipe repertoire is looonnnng. Since I was born in Southern California I was around taco stands and Mexican restaurants all the time.
Orange Country sure wasn't as crowded back then as it is now but there was always a place we could go and get tacos or nachos.
This post contains affiliate links. Read my disclosure policy here.
I just scanned the internet to try to get a hint of how many Mexican restaurants there are in Orange County today. I bet there are 500 including the little mom and pop places.
That's how good the stuff is. It's high demand and the good thing is you can also make so much of it easily at home.
Do you know I have 29 different Mexican inspired recipes on this blog? Only about 4 are truly Mexican cuisine but the rest are heavily inspired.
I mean Ranch California Tacos would never be found in Mexico but they'd fit in just fine in any southwest themed party. Here's a picture of those too!
Maybe you can make those next week. But for this week let's get some Corn and Black Bean Salsa Tacos going!
Print
Corn and Black Beans Salsa Tacos
Corn and Black Bean Salsa Tacos are a fresh twist for taco night.
Ingredients
1

chipotle chile in adobo sauce, finley chopped

2

tablespoons

salsa

1

tablespoon

balsamic vinegar

1

tablespoon

lime juice, fresh

1

tablespoon

coconut oil

15

ounces

black beans, one can drained and rinsed

1

ear

organic corn with kernels cut from the cob

1/2

cup

onion

- red onion, finely diced

1/2

teaspoon

ground cumin

1`/2

teaspoon

organic granulated sugar

1/2

teaspoon

salt

1/4

teaspoon

ground black pepper
Instructions
Put all the ingredients in a microwave-safe bowl and mix

well. Let marinate for 1 hour in the refrigerator.

The salsa may be refrigerated or frozen at this point or continue to heat for eating now.

Place in a saucepan and heat through or place in the microwave and cook on HIGH for 2 minutes,

stirring after a minute and every 20 seconds after that,

checking for heat.

Serve on your favorite taco shells with avocado and

lettuce.
Nutrition
Nutrition Facts
Corn and Black Beans Salsa Tacos
Amount Per Serving (1 Taco)
Calories 189
Calories from Fat 36
% Daily Value*
Fat 4g6%
Sodium 413mg17%
Potassium 429mg12%
Carbohydrates 29g10%
Protein 9g18%
Vitamin A 100IU2%
Vitamin C 3mg4%
Calcium 33mg3%
Iron 2.5mg14%
* Percent Daily Values are based on a 2000 calorie diet.
Storing in the refrigerator:
The salsa will keep in the refrigerator before heating for up to 5 days and after heating for up to 3 days.
Freezing:
Freeze the salsa in a hard-sided freezer-safe container for up to 3 months.
To prepare after freezing, defrost in the refrigerator