There's a wide variety of containers for freezing food. From plastic to glass from flimsy to rigid. I use all of them and here is a description of each type and my favorites.
Options for Containers for Freezing Food
Glass containers with lids that are not airtight so they still need to go into a freezer bag.
Glass canning jars that are made for freezing (read the packaging). The only ones I have found are wide mouth jars. None have been over the size of a pint either.
Plastic rigid sided containers that are not airtight but they also need to go in a freezer bag.
Freezer bags from the grocery store in different sizes.
Aluminum foil works in some situations. I also slide these meals into a freezer bag - just in case.
The glass containers with the airtight lids are very easy. All you do is put your food inside and snap on the lids. They do take up a bit more space in the freezer but they stack so neatly and I can move them much easier for finding foods.
Glass containers with lids are great for ease also but they are not airtight so you will need to slide the whole container into a freezer bag. I point out a handy technique in Preparing Dishes for the Freezer that will enable you to remove your empty casserole dish after the food is frozen.
Glass canning jars are also easy. You just need to remember to leave 1-2" of space between the food and the lid because liquids expand when frozen. Do not use cleaned out jars that use to hold spaghetti sauce or other items because they were not made for freezing and may break or not hold a good seal.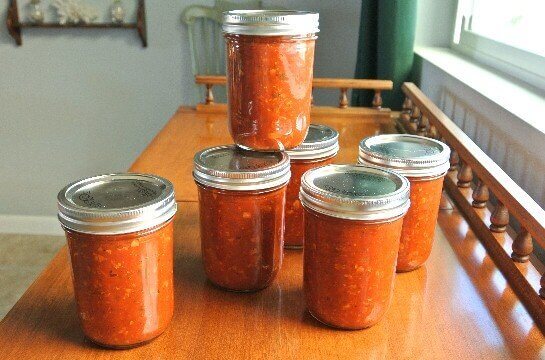 Spaghetti Sauce ready for the freezer.
The heavier plastic sided containers with lids that you buy new in the store. These will need to be slipped into a freezer bag.
Freezer bags will hold baked goods, other containers that are not airtight, liquid mixes and just about anything. They have zip lock tops and can be used over and over. If the freezer bags are just holding closed containers they are very simple to save. I save an older empty freezer bag box and after they have dried out I roll them, one at a time, and slide back into the box. Nice and neat.
When freezing food in a freezer bag without a container try to push out as much air as possible before sealing.
Aluminum foil for wrapping around solids after they have already been pre-wrapped in plastic wrap. The foil could cause a reaction with some food when touched in storage.
Click on any of the links below for the nitty gritty of freezing:
How Do You Freeze ...
Containers for Freezing Food (this is the page you are on)
To Freeze or Not to Freeze
Freezer Storage Time
Blanching Vegetables
Stocking the Freezer
Food Freezing Tips