Coconut Oat Vanilla Nut Creamer is flavorful, easy, unique, fast and has a slightly sweet taste!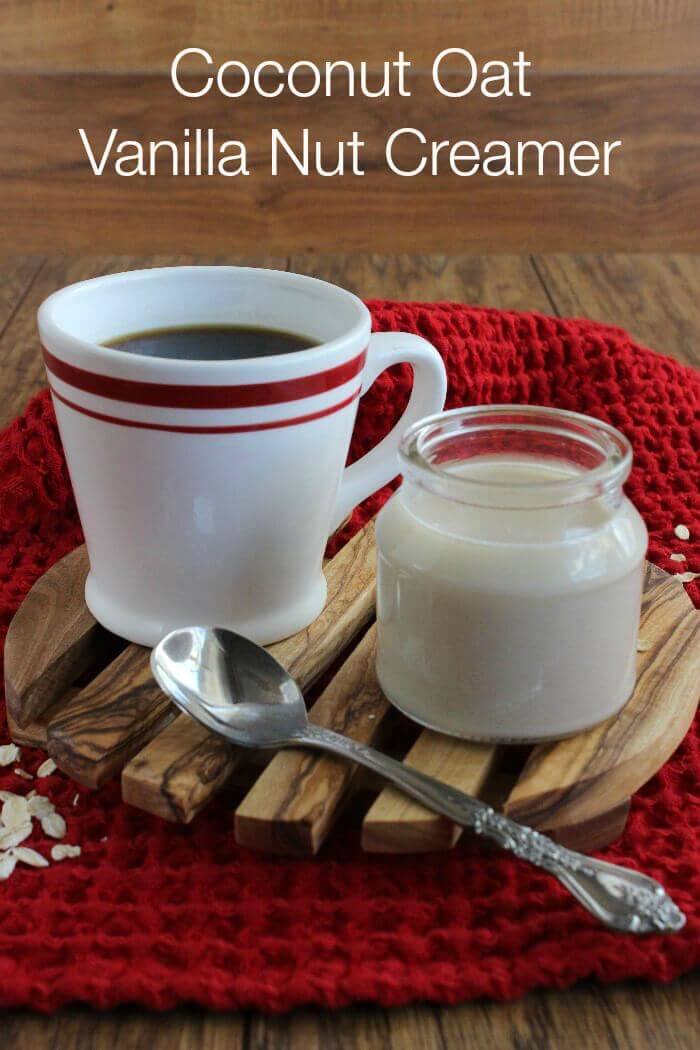 Look what I found!  A recipe for Coconut Oat Vanilla Nut Creamer in the new cookbook from Kathy Hester titled
OATrageous Oatmeal
s.
I had quite a time trying to decide on which recipe I wanted to showcase for this post.  There are so many good recipes but the reason I choose this nut creamer was because the combination of ingredients are so unique and the results are perfect.  I use 'creamer' daily and now I have a new addition that is slightly sweet and very flavorful.
If you are looking for healthier meals with lots of flavor you have got to pick up this cookbook. I already have mine splattered with ingredients from multiple recipes.
There are homemade staples such as Do It Yourself Golden Gravy Mix, a variety of oatmeals and pancakes like Caramel Delight Oatmeal, smoothies, granolas, bars, soups, lunch and dinner specialities and … more!  Mini Raspberry Cakes sound darn good too.  I can not wait to try the Oat-chata. So clever.  Just the photography will have you drooling.
Without further ado here is the talented Kathy's recipe for Coconut Oat Vanilla Nut Creamer.
Connect with Vegan in the Freezer
Facebook | Pinterest | Instagram | Bloglovin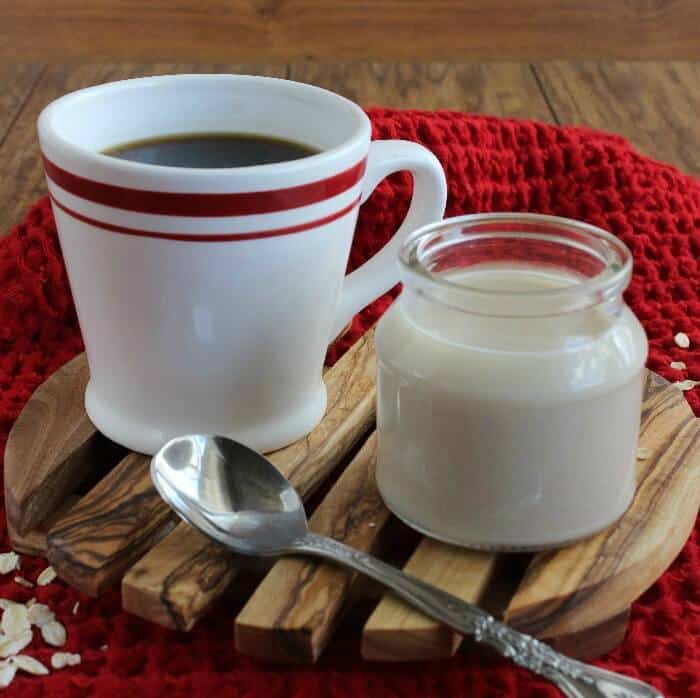 Coconut Oat Vanilla Nut Creamer
Ingredients
1/4

cup

rolled oats

1/4

cup

finely shredded coconut

1

cup

water

1

tablespoon

agave nectar (or sweetener of choice to taste)

1

teaspoon

vanilla extract

1/4

teaspoon

to 1/2 almond extract, to taste
Instructions
Break the oats and coconut into tiny pieces with your blender. Add the water and let soak for 10 minutes.

Blend again for about 3 minutes or until smooth, then run the creamer through a fine mesh strainer over a small bowl to strain out the oat pieces.

Put the liquid, sweetener and extracts back in the blender and blend until the sweetener is incorporated and dissolved.
Recipe Notes
Per 1/4 cup (60 ml) serving with no pulp removed: Calories 83.8, protein 1.1 g, total fat 5.4 g, carbohydrates 9.4 g, sodium 2.5 mg, fiber 1.5 g
This creamer gives you the same fun flavor without all the fillers. You can play with the extracts you use to change flavors.
Coconut Oat Vanilla Nut Creamer by Kathy Hester From OATrageous Oatmeals by Kathy Hester printed with permission of Page Street Publishing