Christmas Crockpot Candy makes it so easy to add delicious chocolate candy to your dessert table. Just a few ingredients for a vegan treat and make them early for gifts too.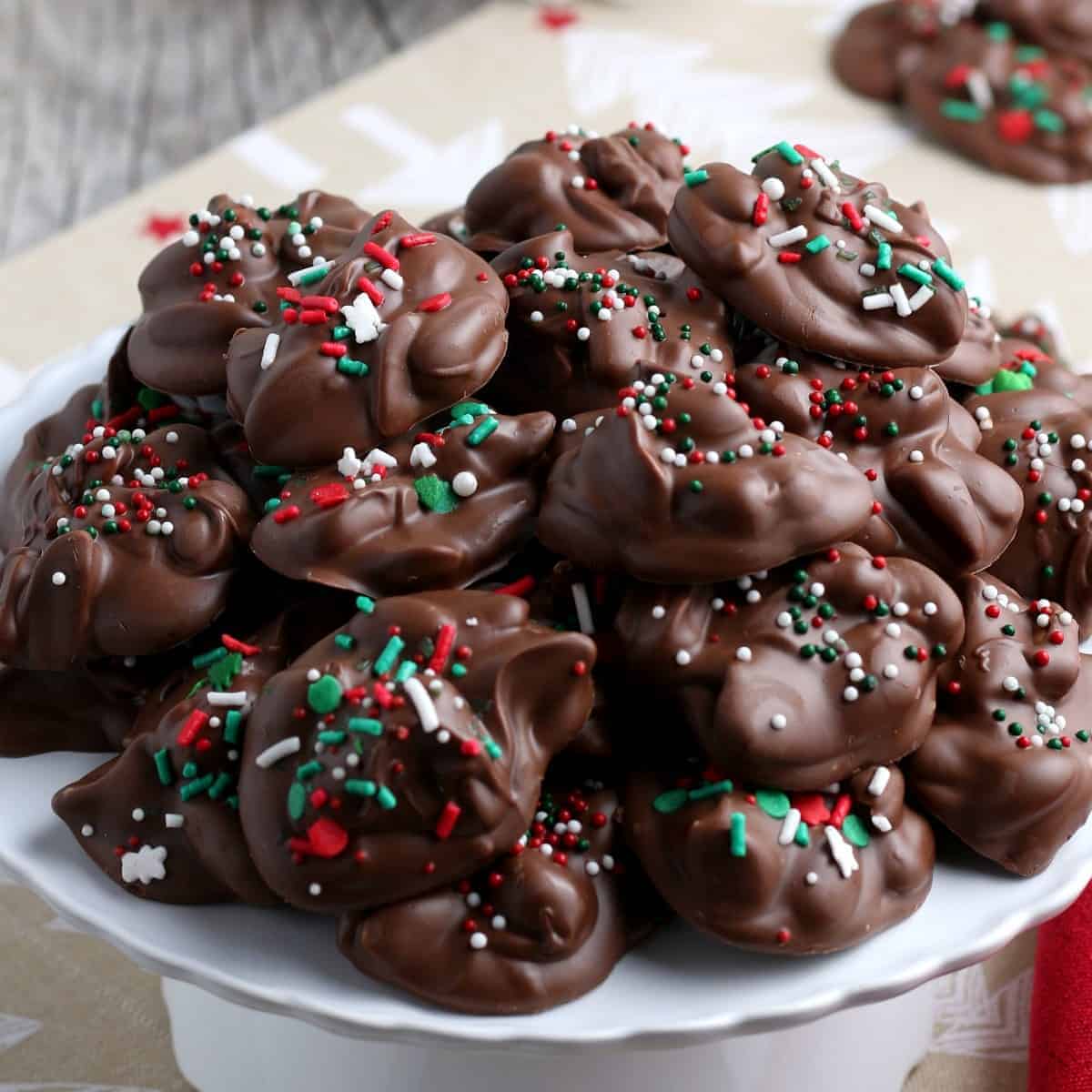 It's that time of the year when baking gets ramped up for the holidays. Make one of those delicious treats the easy way and use your crockpot.
Chocolate is popular year round so you know that it will be a welcome addition. When you sprinkle on holiday colors the festivities can begin.
The original recipe for this crockpot candy is not vegan but it is easily changed so that everyone can grab a treat. The ingredient that is not vegan is Almond Bark. That's a white chocolate that has milk in it.
Luckily there is store-bought white chocolate out there that is vegan. The two types of vegan white chocolate that I have highlighted here are to give you a visual of what you are looking for. There are others too so just check out the labels.
Don't skip it though because the white chocolate helps the candy get hard again after being cooked with peanut butter. Chocolate also helps it get hard but you'll need both for the special flavor.
Ingredients and Instructions
There aren't many ingredients and there are two that make the most delicious combination. That's chocolate and peanut butter. This recipe also has peanuts to go along with the peanut butter. It's pretty darn good.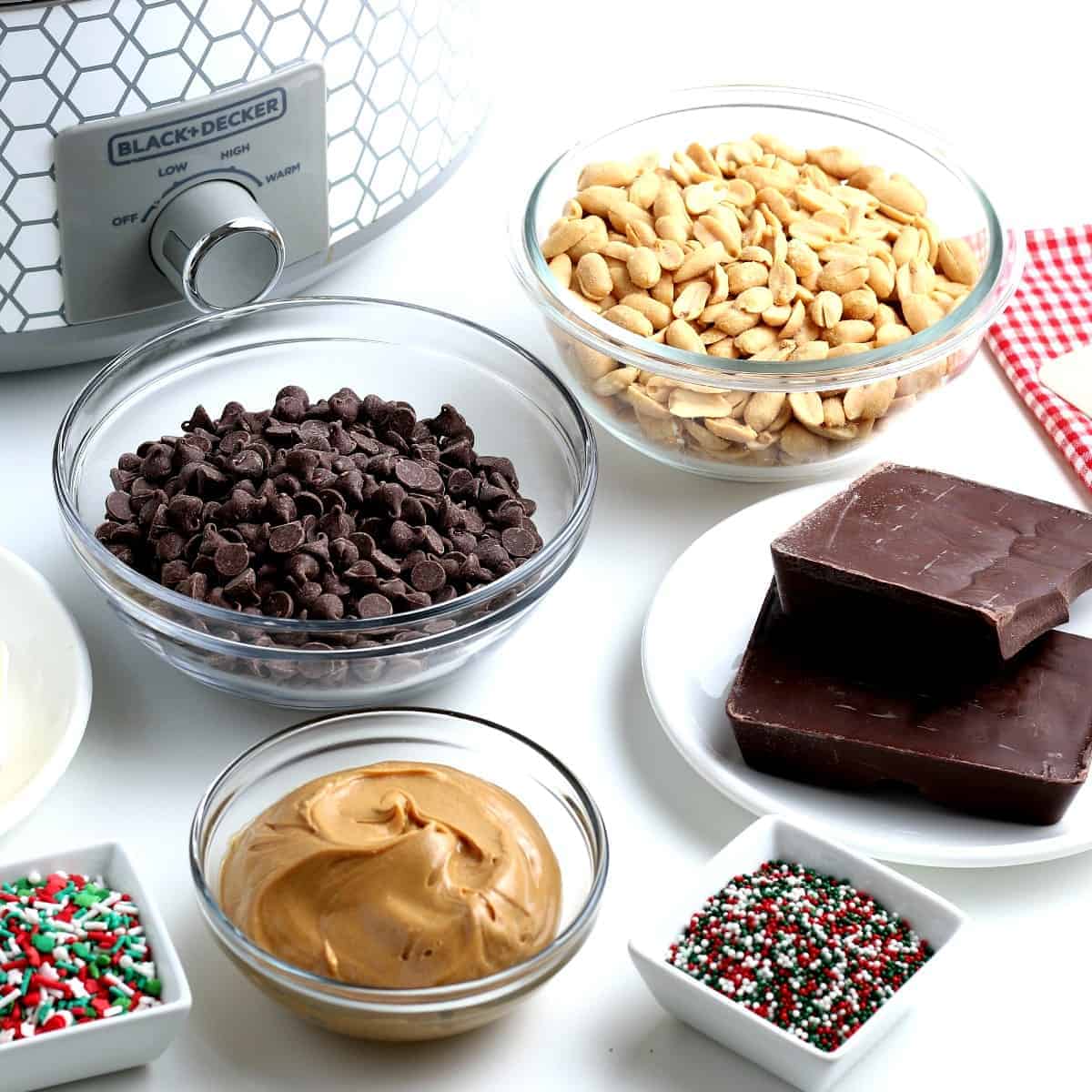 Now you just start adding the ingredients into the slow cooker. I always put the white chocolate and chocolate in first so that the heat starts to melt them faster.
Cook on low for 15 minutes and then stir to combine. Everything stirs together easier after if it has been heated for a short time.
Cover and cook for another 15 to 30 minutes and stir so that you can see that ell chocolate has melted and everything is completely combined.
See how creamy and crunchy it is all at the same time? You won't believe how tasty this Christmas crockpot candy is.
Candymaker tips
Pick chocolate that you really like. It's a major player so make sure it's one that tastes good to you.
Make it beforehand. They are quick and easy to make but you have to give them time to harden. Don't rush yourself at the last minute.
Line a few baking sheets with parchment paper or waxed paper. This way you can move the candy out of the way while it hardens.
All you need is a large spoon to scoop out the chocolate to drop onto the parchment paper. They don't have to be perfect. Let them find their own shape.
If you are adding sprinkles only drop about 5 collops onto the parchment and then cover with sprinkles. This is how the sprinkles will stick to the chocolate.
Change the sprinkles colors for any holiday! Greens for St. Patrick's Day, Pinks and reds for Valentine's Day or Mother's Day, Blue and white for Chanukah and on and on. Love celebrations!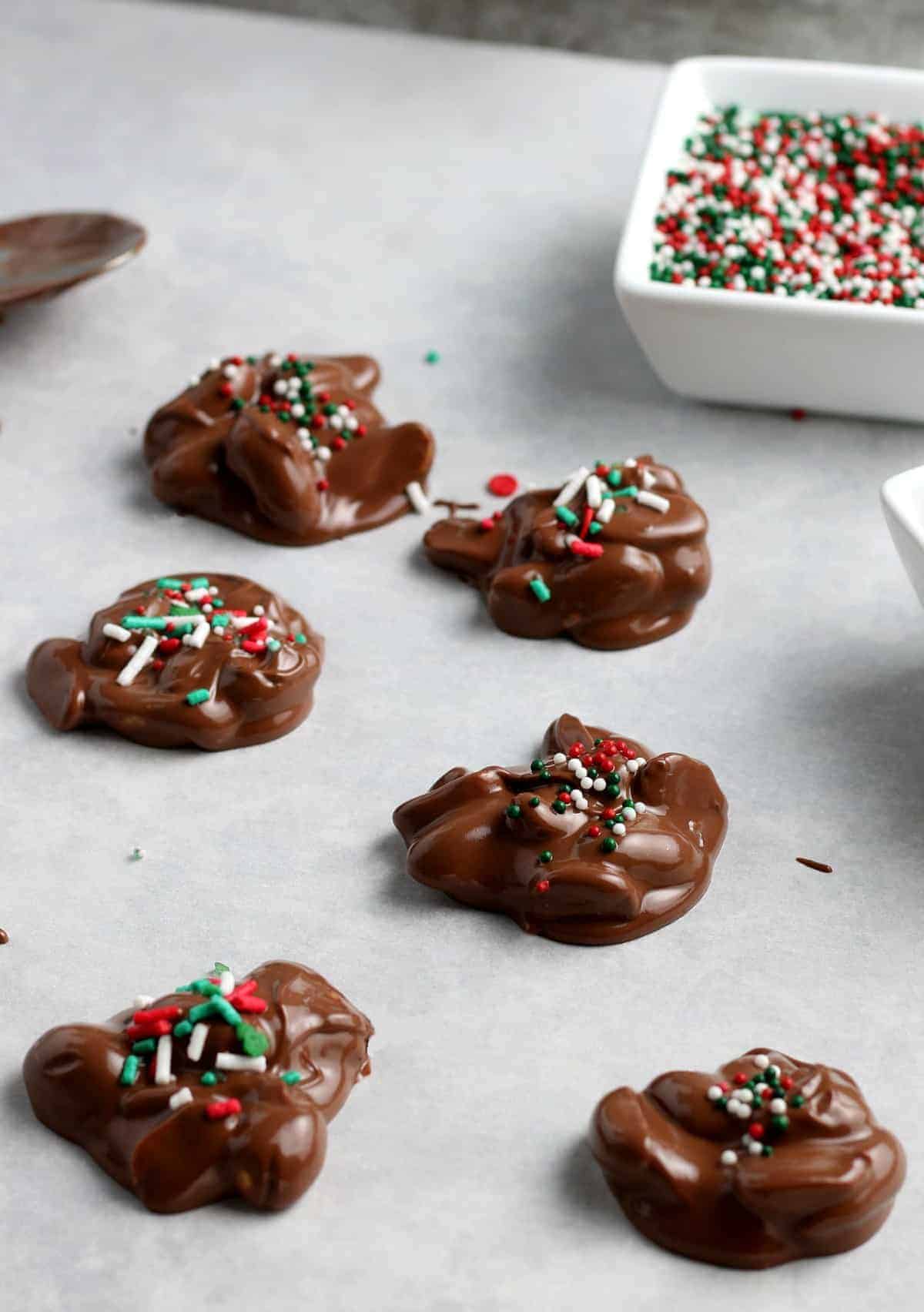 Why should I use a slow cooker
It just makes everything so easy. You don't have to stand around watching and stirring.
It handles a big batch easily.
Keep it on warm or low while you're making your dollops and sprinkling your sprinkles. It will stay melted and perfect.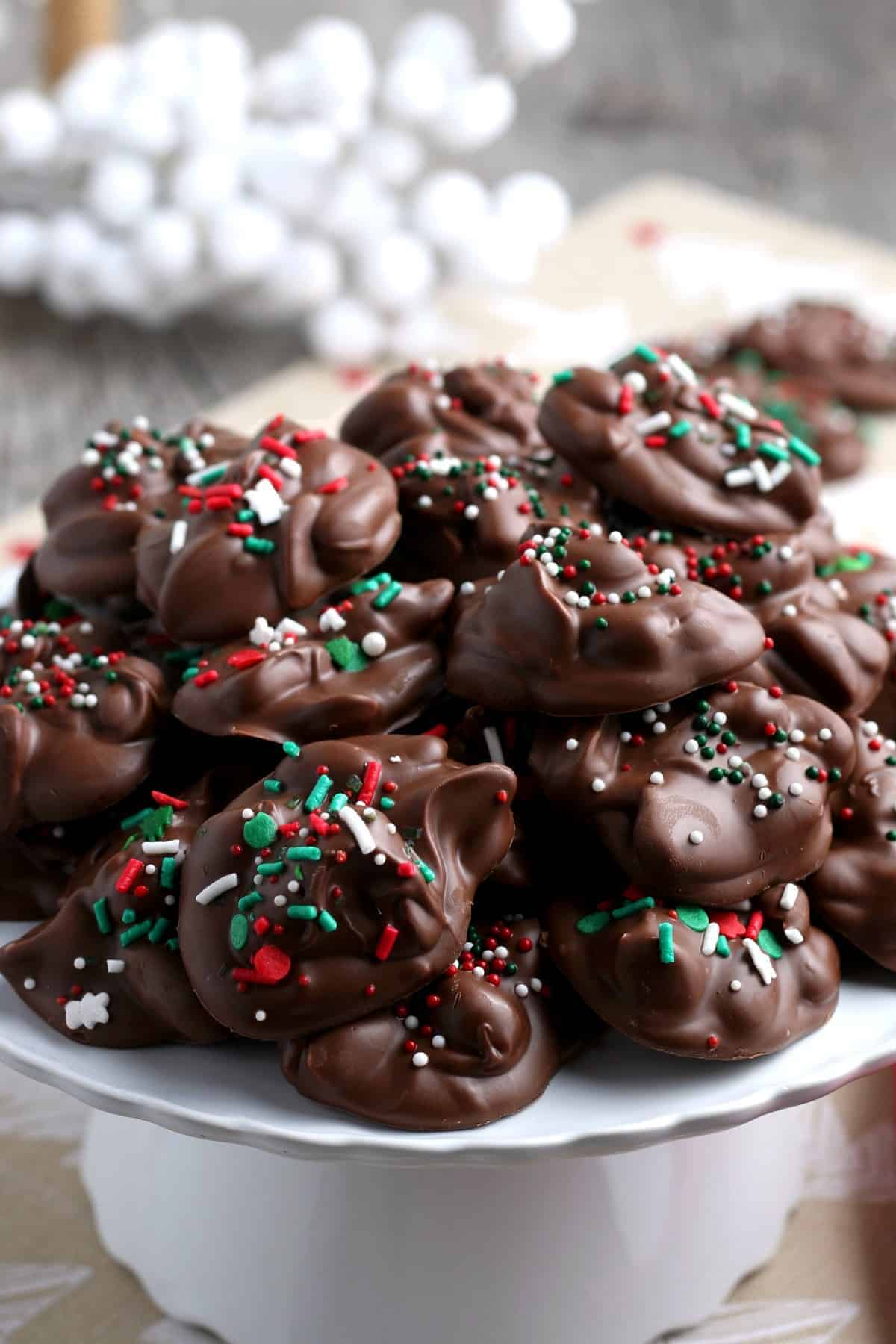 FAQ's
Can all chocolate be used instead of using some white chocolate?
Yes, that will still work but the flavor will change and the candies won't be quite as hard unless they are straight out of the refrigerator. They will still be delicious - just different.
Are dry roasted peanuts used?
Yes, that is the traditional type of peanut used for Christmas crock pot candy but I have had them with cocktail peanuts too. If you use cocktail peanuts rub them between your hands for some of the peanut skins to fall off.
Do the candies need to be refrigerated?
They are fine at room temperature unless your house is too warm. Keep in the coolest part of the room if they are left out. They will actually keep in the refrigerator for weeks.
Should these candies be a certain size?
They usually turn out to be about 1 tablespoon. I say that this recipes makes about 100 candies but make them a little larger if you like.
Do I have to use peanuts? We have peanut allergies in the family.
No! You can switch the nuts out. You can use pretzel pieces, macadamia nuts, almonds pieces and just about any seed you like.
Can I use raw peanuts?
Not for this recipe. You want the extra seasoning that comes with roasted peanuts.
Helpful tools
A Slow Cooker makes it really easy to make this vegan crockpot candy with no fear of burning any chocolate. A 4 qt. size works well.
Parchment paper makes it easy to remove your candies and keeps everything clean.
Gift tins to help spread the cheer.
More holidays treats
Cookie Dough Truffles are another candy treat where the colors can be changed out to meet the holiday. These are no bake too!
I've never met anyone who doesn't love classic Snowball Cookies.
Mulling spices are added to apple juice or wine for a warming and festive drink.
📋 Recipe
Crockpot Christmas Candy
Christmas Crockpot Candy makes it so easy to add a delicious candy to your dessert table.
Ingredients
1

pound

Dairy-free white chocolate

1

pound

Chocolate, bar or squares

- one that you love the taste of - not baking chocolate

2

cups

Dairy-free semi-sweet chocolate chips

3

cups

Roasted peanuts

1

cup

Peanut butter

Sprinkles
Instructions
Place the ingredients in the crockpot ending with the peanuts and peanut butter.

Cook on low for 15 minutes, stir.

Continue cooking for 15-30 minutes, stir.

While the candy is cooking line baking sheets with parchment paper. Get out a large spoon for scooping out chocolate.

Get sprinkles ready for sprinkling onto the chocolate before it is cooled.

Spoon about 5 chocolate tablespoonfuls onto the prepared baking sheet and Immediately add sprinkles, if desired.

Continue until all chocolate had been scooped out of the crockpot. Let set to harden. You may want to place them in the refrigerator for about an hour to harden but leave them on the baking sheet.

Store in an airtight container.
Nutrition
Serving:
1
Candy
Calories:
79
kcal
Carbohydrates:
9
g
Protein:
3
g
Fat:
6
g
Saturated Fat:
1
g
Sodium:
36
mg
Potassium:
97
mg
Fiber:
1
g
Sugar:
7
g
Vitamin A:
3
IU
Vitamin C:
1
mg
Calcium:
18
mg
Iron:
1
mg