Chocolate Lava Cupcakes are great at any celebration. Peek inside for the recipe and different decoration options.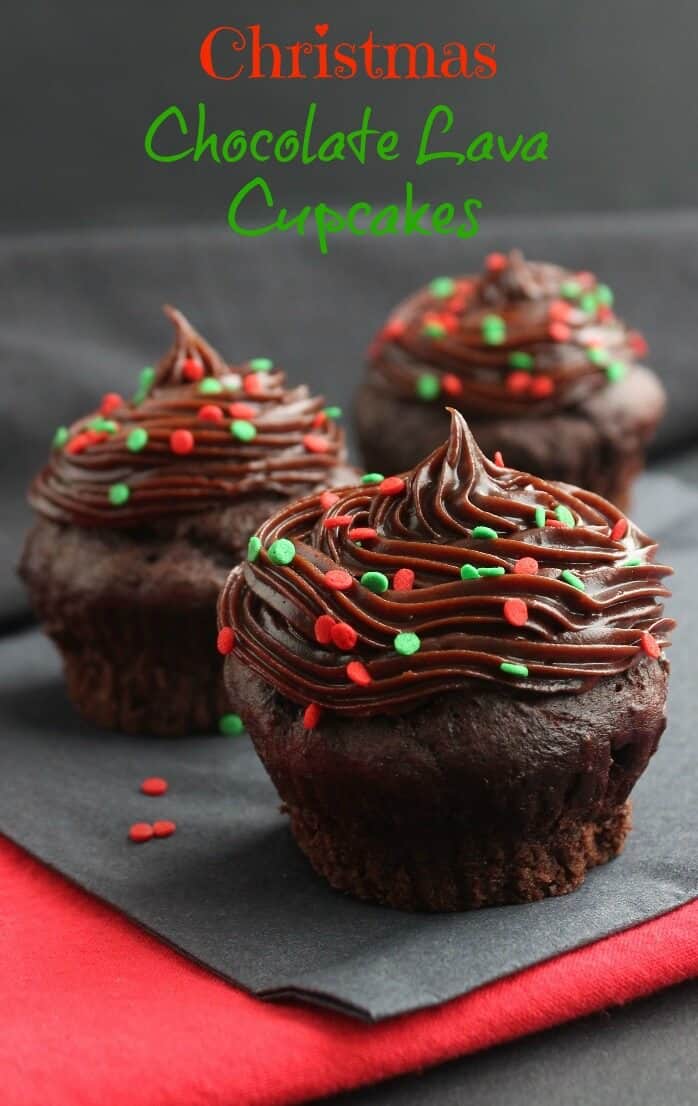 Today we are in the celebration mode so let's party on. Chocolate Lava Cupcakes are special to the max!
I've included other colorful photos - one with chocolate frosting and one with the infamous purple - different sprinkles color combinations included. This will give you ideas of ways you can make this recipe throughout the year. Delicious in every color!
Let me tell you a story about the purple frosting. Well, it is more about a story of a dingbat, but hey, that's me. ...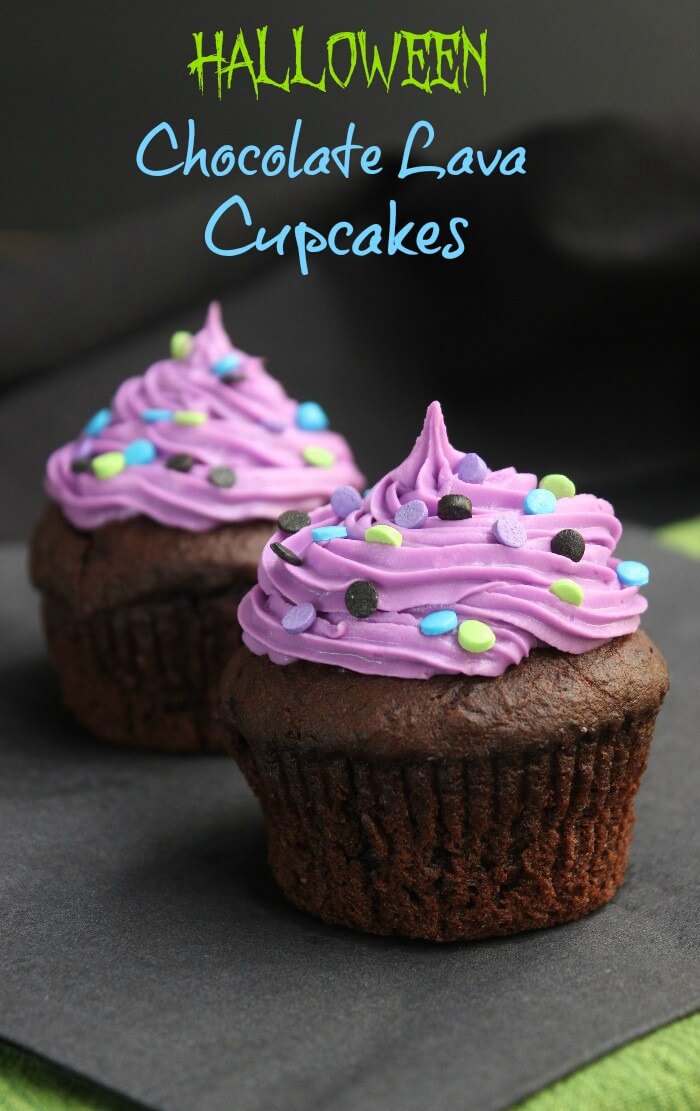 Here is a story of my sprinkles adventure - You see, I have never bought sprinkles before this year. It's true!
I really wanted to do some Halloween looking treats for the blog because I love Halloween so much.
It was turning out that I wasn't going to have the time to make sprinkles so I thought I would go to the store and see what they had and if there were any vegans ones. Yay, they all were so I was thrilled.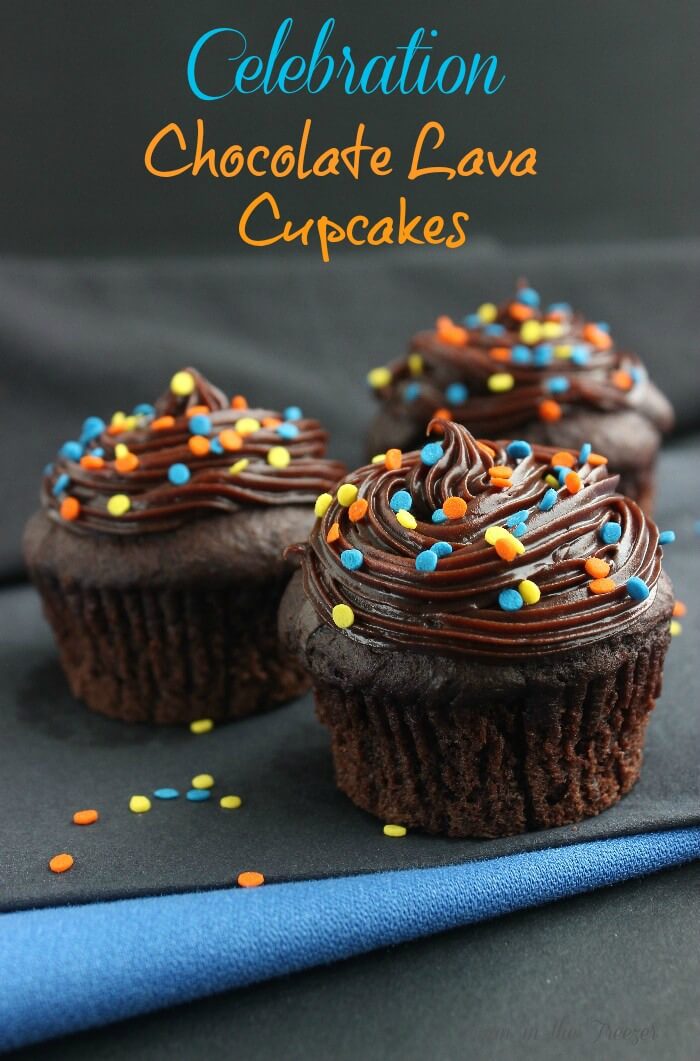 I started to look at color mixes that could be for Halloween or fall. There was this one mix that was black, purple, blue and green. Perfect. The price was great so I brought it home.
Well, I got home and thought I would open it and separate some of the green for another recipe. That is true too.
I like tedious work. When I was a kid I separated the M&M's by color and ate them in groups of three. I probably shouldn't have told you that!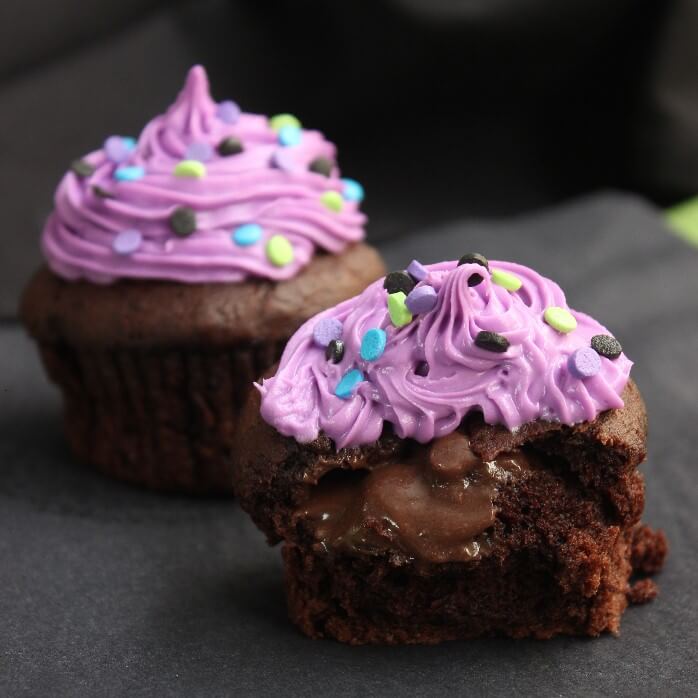 Anyway, to my surprise the sprinkles were only on top of the container. You know what I mean. The actual container was full of this purple frosting.
There was a see-through plastic lid that was holding the sprinkles in corresponding colors. Told you I thought the price was great!
The purple frosting does look very Halloweeny. Don't you think? And it's even a little scary. Boo!
📋 Recipe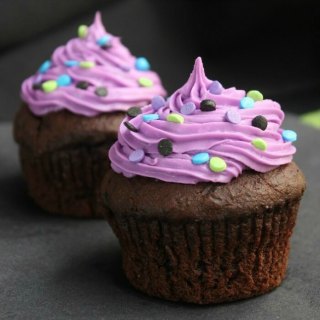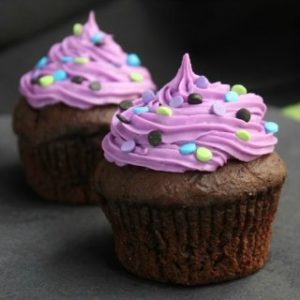 Chocolate Lava Cupcakes
Chocolate Lava Cupcakes are great at any celebration.
Ingredients
For the Cupcake Batter:
1

cup

almond milk

or non dairy milk of your choice

1

tablespoon

Apple Cider Vinegar

1

cup

granulated sugar

⅓

cup

Coconut Oil

warmed until liquid

1 ¼

teaspoons

Vanilla Extract

1 ½

cups

all-purpose flour

⅓

cup

Cocoa Powder

2

teaspoons

baking powder

¼

teaspoon

salt
For the Cupcake Filling:
6

ounces

semi-sweet chocolate

¼

cup

non dairy milk

2

tablespoons

powdered sugar
For the Frosting:
I bought the purple frosting. You can make a vanilla frosting and add blue and red food coloring to make purple.
For the Chocolate Frosting:
1

cup

organic powdered sugar

⅛

cup

vegan butter

⅛

cup

coconut milk

¼

teaspoon

organic vanilla extract
Instructions
Line a muffin tin with 12 cupcake liners.
For the Filling:
Chop the chocolate into little bits.

Place in a small microwave safe bowl along with the non dairy milk.

Heat on medium heat and stir in 20 seconds. Keep heating and stirring at 20 second intervals until melted.

Add the powdered sugar and mix in.

Set aside until time to use.
For the Cupcakes:
In a large bowl add the non-dairy milk, apple cider vinegar, granulated sugar, oil and vanilla extract.

Beat at medium speed with an electric mixer for about a minute or two until well mixed. Scraping down a couple of times.

To the same bowl add the flour, cocoa powder, baking powder and salt.

Mix until well blended, scrapping down the sides.

Cover the bottom of each cupcake liner with a heaping tablespoon full of the batter.

Place a dollop (a little more than a teaspoon) of the chocolate filling in the center. Do not let the filling touch the side of the liners because when you put the rest of the cupcake batter on top you want it yo be all around the filling so the cupcakes bake closed.

Evenly divide the rest of the batter on top of each cupcake and have this touch the liners enclosing the filling.

Bake at 350 degrees for 23 minutes.

Let cool completely before frosting.
For the Frosting
While the cupcakes are baking, make the frosting.

Cream the powdered sugar and vegan butter together.

Add the remaining ingredients and mix well.

Scoop the frosting into a decorating bag with any tip you like, and frost the cooled cupcakes.

Sprinkle with any sprinkles colors that you like.
Nutrition
Serving:
1
Cupcake
Calories:
339
kcal
Carbohydrates:
51
g
Protein:
3
g
Fat:
14
g
Saturated Fat:
9
g
Sodium:
97
mg
Potassium:
266
mg
Fiber:
3
g
Sugar:
33
g
Vitamin A:
105
IU
Calcium:
79
mg
Iron:
2.6
mg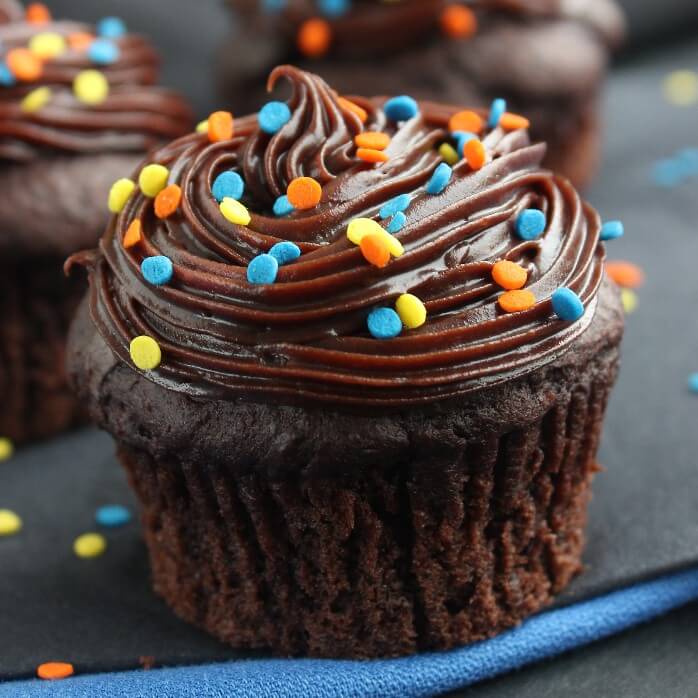 IF FREEZING:
Freeze without the frosting.
You may freeze them in any of the methods shown in my article Preparing Food for the Freezer.
They defrost quickly so it really doesn't take any planning. Just put them in the refrigerator to defrost overnight or set out on a plate and it will take an hour or so to defrost.
Make your frosting and frost.